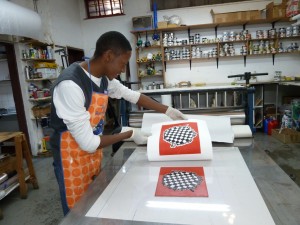 Ever since Senzo started working in residence at DKW this year, we have enjoyed watching his talent develop and blossom. In a conversation, not so long ago, he recalled his very first experience as an artist when he was only in standard 4. His school in Mpumalanga did not offer art as a subject and the students were not exposed to galleries, museums or even art books. His English teacher at the time tried to inspire the students by illustrating lessons on the board. Students were usually greeted by a board full of colourful images as they entered the class. For a school that did not offer art classes, this was one teacher who managed to really capture the students' attention through their imagination. Unfortunately for Senzo's teachers, this creativity spread across to his other subjects and into his school books. He was often kicked out of classes for drawing on every reachable surface during lesson time.
One day in class, Senzo even managed to sketch a portrait of the English teacher in one of his English exercise books. Sadly his teacher passed away later in the same year. Senzo, known for his artistic talent, was soon hounded by other teachers for a photocopy of the portrait in memory of the late English teacher. In no time he developed a reputation for his work. He was encouraged to enter creative competitions within school and his confidence grew as an artist.
Despite his flair for art, Shabangu eventually left school and came to Johannesburg in pursuit of a career as a pilot. He was faced with the challenges of living in inner-city Johannesburg at the time. His brother, who had already settled in Johannesburg to follow a career in the music industry, really pushed him to continue drawing as he enjoyed it so much. Although his ambition was to learn to fly, he found himself constantly surrounded by artists in his everyday life. He met many artists around the Carlton Centre. In no time he was attending art classes at the Johannesburg Library where he networked with and befriended many artists from South Africa and neighbouring countries. In 2006 he came across the Artist Proof Studios in Newtown, where decided to enrol in their 3 year printmaking course. He admits to feeling completely overwhelmed and often wanting to quit, however he persevered and by his third year he had regained the confidence he once had and embarked on his first group exhibition "Many Voices One Movement".
Senzo Shabangu's solo exhibition
Naked Pressure
is open for viewing until 10 September 2011 at the Workshop Gallery, 140 Jan Smuts Avenue Parkwood.