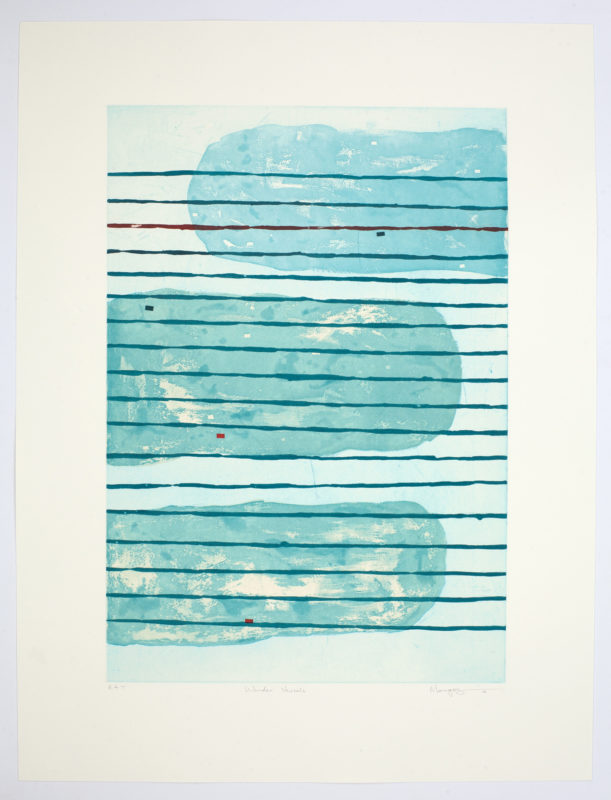 Collaboration History
Mongezi Ncaphayi first collaborated with David Krut Workshop (DKW) in 2013 when he created a number of prints combining monotype and drypoint on perspex (acrylic glass) which were exhibited at Turbine Art Fair later that same year.
In the following years, Ncaphayi continued his collaboration with DKW on various print projects, including in 2016, when he produced a series of monotypes and a print in an edition of 12 titled Wonder Vessels for the Joburg Art Fair of the same year.
In 2017, he produced four predominantly water colour monotype prints together with DKW.
In 2018, he started work on three series of monotype prints together with Master Printer Jillian Ross and the team from DKW, resulting in 26 total prints. These series were the central part of his 2018 exhibition with David Krut Projects (DKP) Johannesburg, titled Anecdotes of the Sound, showing the inspiration Ncaphayi got from famous Jazz musicians.
Ncaphayi has also been part of various group exhibitions at DKP.
Biography
Mongezi Ncaphayi was born in 1983 in Benoni in Eastern Gauteng, South Africa, where he currently lives and works. Following his graduation with a Diploma in Art and Design from the Ekurhuleni East College, Benoni, in 2005, Ncaphayi completed a Professional Printmaking Course at Artist Proof Studio in 2008. In 2012, Ncaphayi obtained a Certificate in Advanced Studies from School of the Museum of Fine Arts in Boston, USA.
In 2013, Mongezi Ncaphayi was the recipient of the Gerard Sekoto Award at Absa L'Atelier Awards. His work explores politics, power, gender and social atrocities underpinned by a collective history of displacement from the homelands into urban spaces.
Ncaphayi also tackles themes of migration in terms of a spiritual sense of mapping one's path. He collects maps to spark a creative desire to make art on literal and metaphysical notions of movement.
When making prints, Ncaphayi holds these maps in his mind and etches from intuition. He says that he sometimes looks at his work much later on and, only then, can he map meaning. He likens this process to a spiritual receiving of guidance from the galaxies.
As an equally accomplished jazz musician, Ncaphayi's art is inspired by musical scores, indicated by the titles he attributes to some of his works.
Ncaphayi's work is included in a number of important collections, including: Smithsonian National Museum of African Art, Washington DC, USA; Museum of Fine Arts, Boston, USA; Southern New Hampshire University (SNHU), Manchester, USA; School of the Museum of Fine Arts (SMFA), Boston, USA; Thami Mnyele Foundation, Amsterdam, Netherlands; Bibliothéque Nationale de France, Paris, France; The Ampersand Foundation (TAF), London, UK; ABSA Art Gallery, Johannesburg, South Africa; Luciano Benetton Foundation, Treviso, Italy.