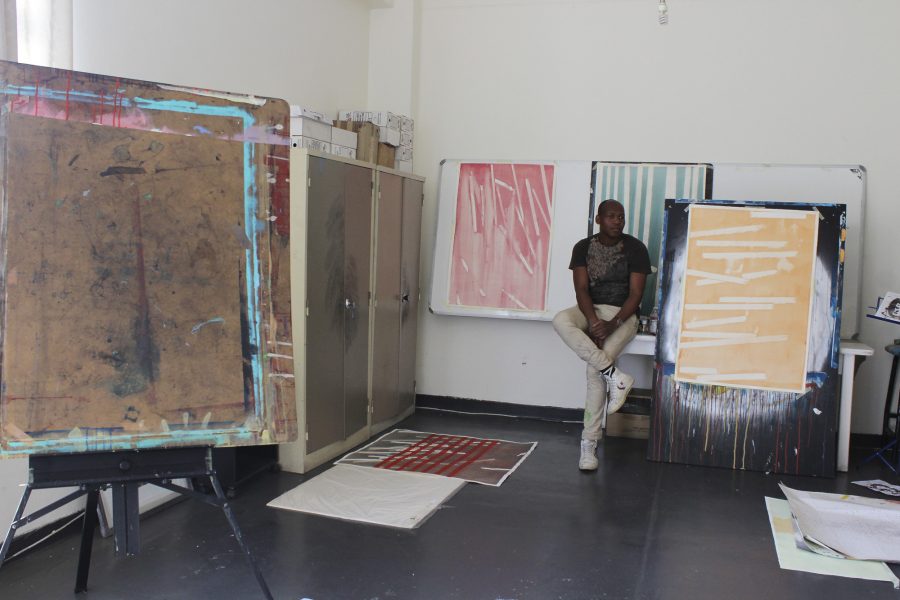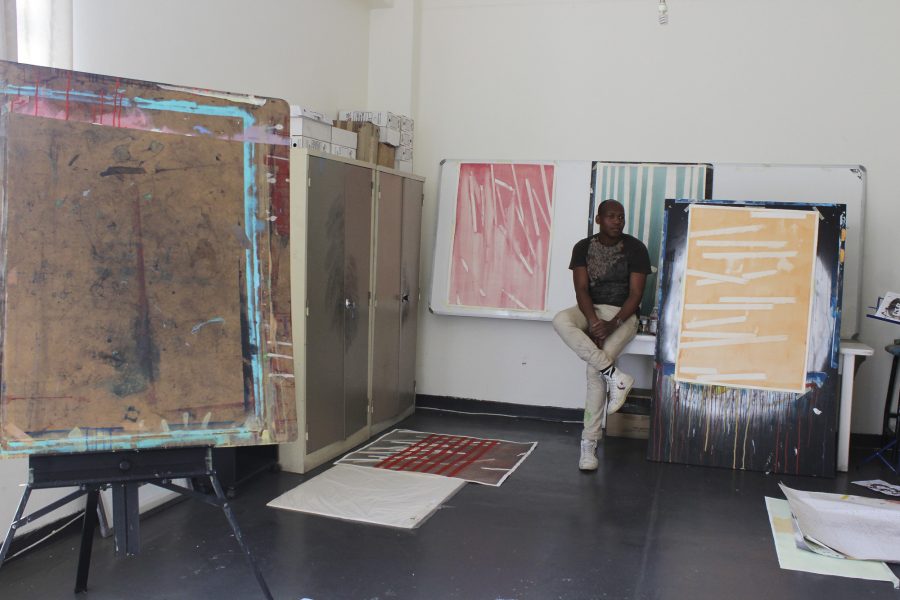 Over the past two weeks, David Krut Workshop (DKW) has had the pleasure of working with, Johannesburg-based artist, Mongezi Ncaphayi.
Mongezi's work explores issues of politics, power, gender and social atrocities that govern daily life.  He has recently been investigating ways to articulate his visual language by applying a thorough technical and conceptual approach.
We sat down with Mongezi in order to gain further insight into his time spent at DKW.
DKW:  You have worked in quite a few printing studios, all with their own atmosphere and work process. How would you describe the atmosphere and work process at DKW?
MN:   The atmosphere is quite energetic and I feel more comfortable working here. Perhaps it's knowing that many great artists have made prints here, that makes me more confident in my work and to honour the privilege to be part of their list.
DKW:  Neo Mahlasela has been your collaborator and guide through your printmaking process. How has it been working alongside him?
MN:  It's been really great. I have known Neo from when we were both at Artist Proof Studio and we have many mutual friends. I guess that makes us a great team.  He figures quickly what I'm looking for in my work and can give me the best advice.
DKW:  A main area of your focus at DKW has been your technical exploration. Would you elaborate on why you have chosen to focus more on technique than narrative?
MN: It's actually both technical and conceptual. The reason might be that I'm always looking for ways to better my visual language. I cannot cease from exploring the endless possibilities I discover when making works. Every new mark leads to further explorations.
DKW: What is it that you find intriguing about lines, as they have a strong presence in your work?
MN: Lines are simply the basis and fundamental aspects of drawing. Line is everywhere – in nature, geometry, absolutely everything.Different lines have different feelings, which I can use differently to portray different emotions.Line is simple, just use it!
DKW: What has been the highlight at DKW this week for you?
MN: My highlight this week is the progress I have made in terms of the amount of works I'm working on at the same time.  I'm also excited about the shift/growth in my work, thanks to the atmosphere at the workshop.
DKW: Can you please describe printmaking and its influence on you as an artist, and why it continues to have timeless relevance?
MN: I cannot think of any visual medium I love more than printmaking.  The whole process is just a platform to self-discovery both artistically and spiritually.  I think it continues to have a timeless relevance because of its simplicity and yet complex ways to make someone think about resolving problems.