09.2016
Blogger: Jessie Cohen
This year, David Krut Projects is proud to showcase South African and Ethiopian artists across 4 separate booths at the FNB Joburg Art Fair – 9-11 September – at the Sandton Convention Centre.
1 – The Aida Muluneh Booth is showcasing works from two different series' by the Ethiopian artist: The world is 9 and The wolf you feed.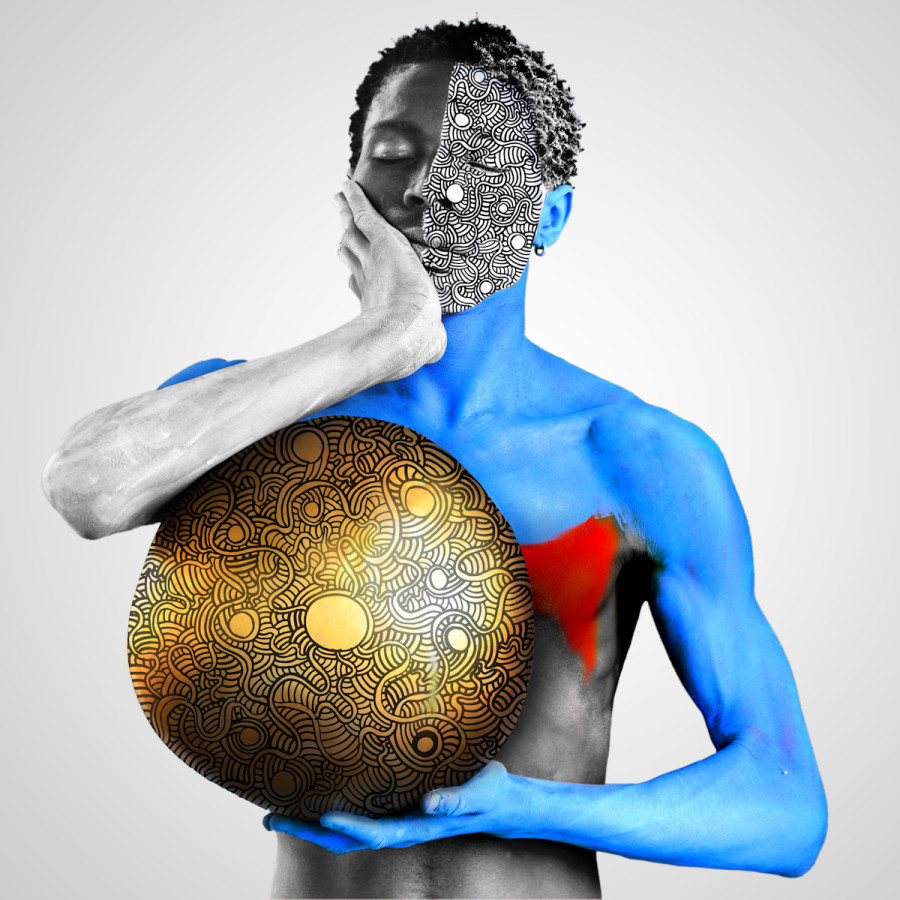 2 – The David Krut Workshop (DKW) Booth will feature new series' of prints by William Kentridge, Robyn Penn, Lorenzo Nassimbeni, Matthew Hindley, Mongezi Ncaphayi and Stephen Hobbs.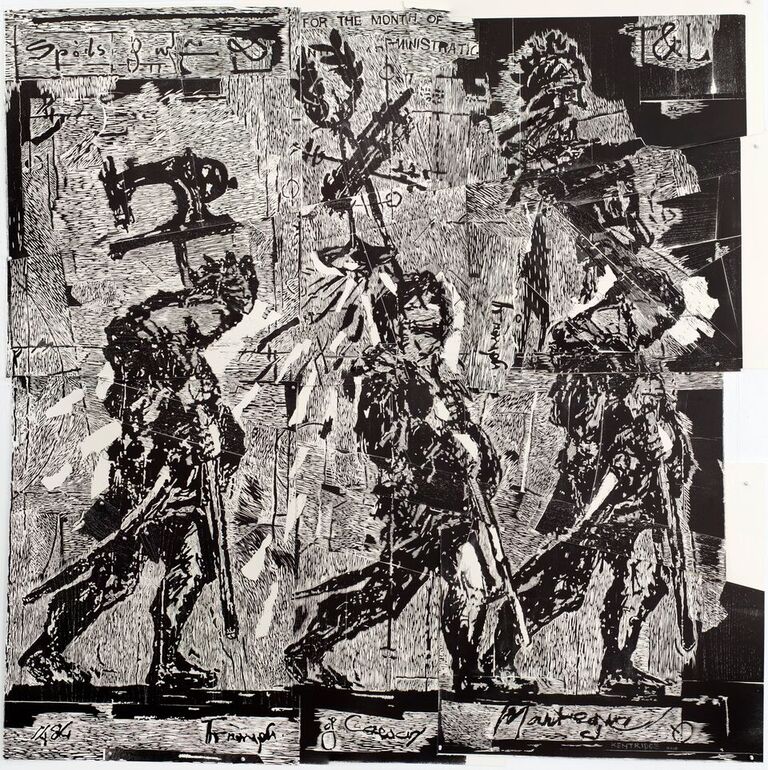 William Kentridge's Mantegna (2016) marks the ambitious start to David Krut Workshop's (DKW) most recent collaborative print series with the artist. The evocative scene carved into the 2x2m woodcut references Italian Renaissance artist, Andrea Mantegna's famous painting series, The Triumphs of Caesar (1484-1492).
This woodblock print series – starting with Mantegna – is just getting off the ground and the FNB Joburg Art Fair is the first time the print will be shown in South Africa, after premiering at the 1:54 Contemporary African Art Fair in New York earlier this year. The series is currently estimated at twelve distinct images.
Robyn Penn, whose focus has centred on cloud imagery since collaborating with DKW in 2011, presents two new prints, titled The Map is not the Territory and The Middle of Nowhere (Nauru). These works continue the artist's meditation on the elusive role of clouds in climate change after last year's display of Nine Views of a Cloud (2015) at the FNB Joburg Art fair.
The titles of Lorenzo Nassimbeni's etchings, Park, Frame and Stair, refer to specific architectural details within an urban narrative. These prints are part of the series Falling In… in which the artist presents various attempts to orientate himself in Johannesburg, his new home –"freeing falling", as it were, into its fraught but fascinating dynamics.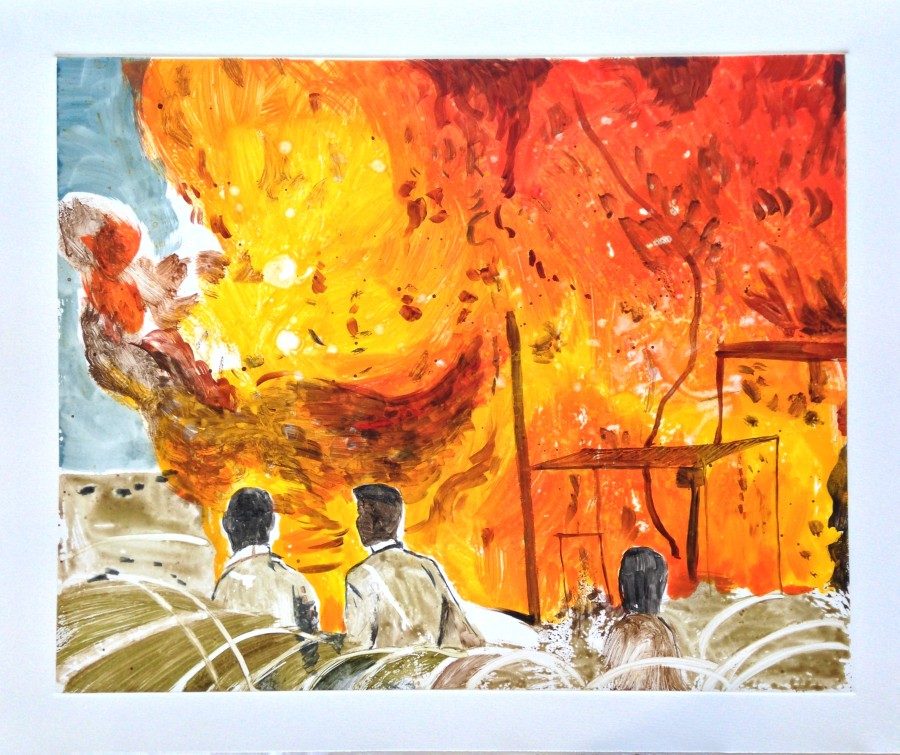 Cape Town-based contemporary artist Matthew Hindley collaborated with David Krut Workshop (DKW) from February 2016, creating a comprehensive series of drypoints and watercolour monotypes.
These works shown here form part of a broader series of work, titled Ruin Lust in which the artist puts a modern spin on the 17th century concept. Ruin lust can be defined as a romanticization of devastation and finding aesthetic pleasure in the destruction of built structures.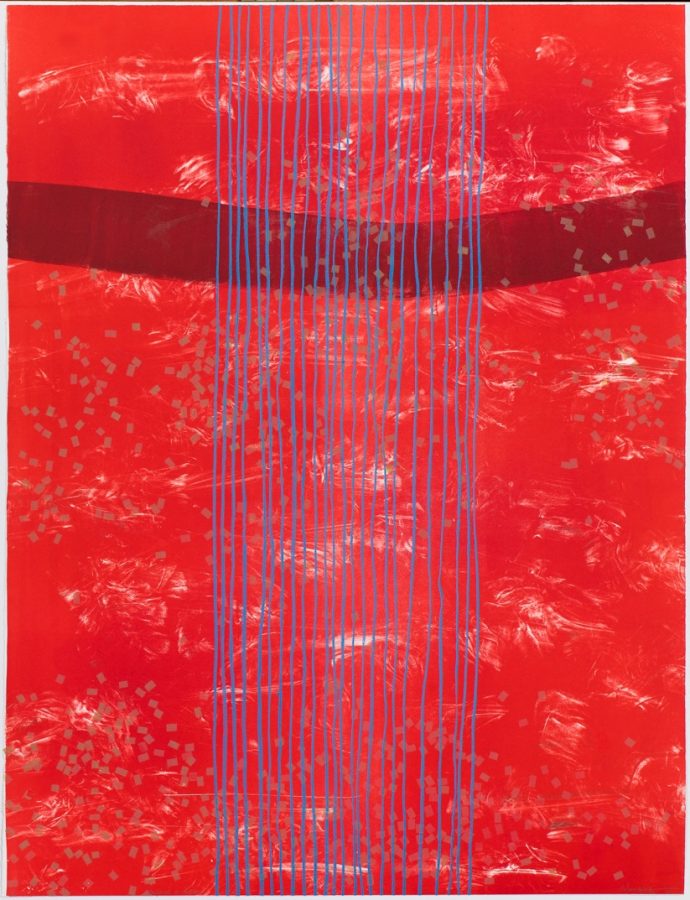 Mongezi Ncaphayi first collaborated with David Krut Workshop (DKW) in 2013 and was the recipient of the Gerard Sekoto Award at Absa L'Atelier Awards in the same year.
As an accomplished jazz musician as well as visual artist, Ncaphayi describes his printmaking process to be like jazz in the sense that it is improvisational. He makes decisions according to mental maps which make reference to literal maps that he's collected from all over the world.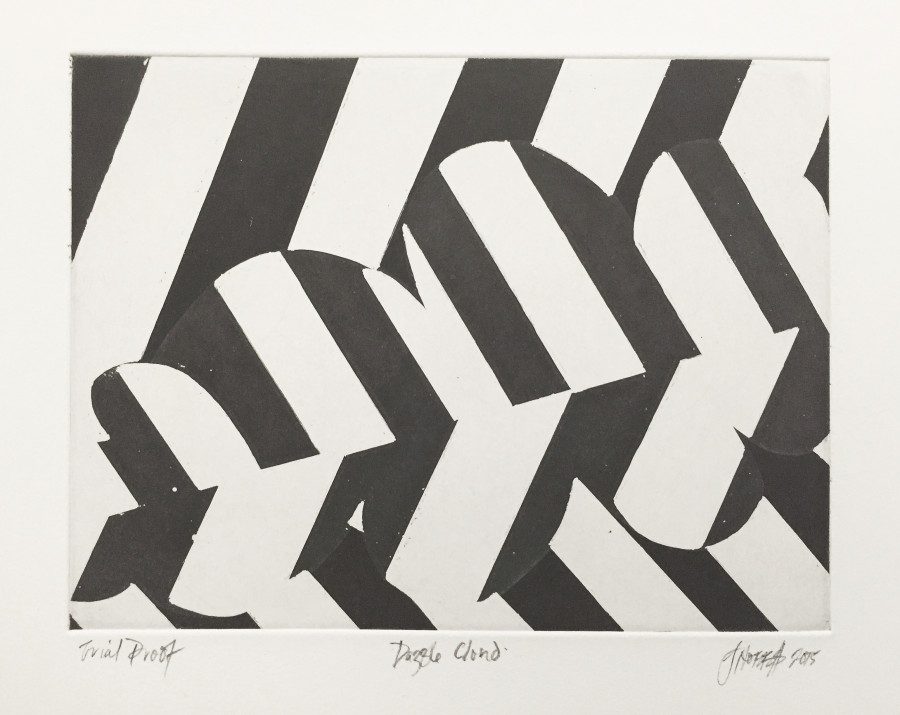 Public artist Stephen Hobbs has collaborated with David Krut Projects (DKP) since 2010, taking a keen interest in etchings, linocuts and monotypes.
Hobbs embraces the print medium as an opportunity to viscerally engage his major interest: WWI and WWII dazzle designs as well as military installations and their contemporary link to notions of inner-city defence and camouflage strategies for rebuilding post-apartheid cities.
The etching series, titled Buildings, bombs, bunkers and clouds is based on a cluster of concealed First and Second World War bunkers and gun batteries found in Robben Island on the Cape Peninsula. The structures never went to war, as such, and remain hidden relics in the rural landscape.
3 – The David Krut Projects Curated Booth will display new paintings by Jacob van Schalkwyk, Quinten Edward Williams, Endale Desalegn and a specially commissioned wall piece by Lorenzo Nassimbeni.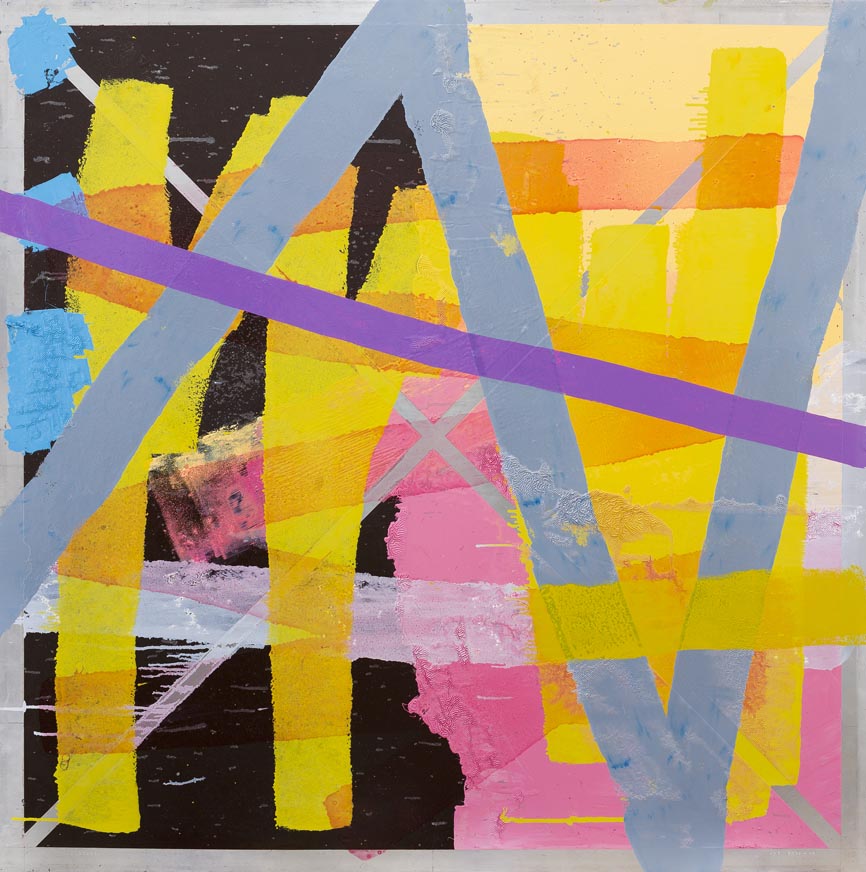 Presented here are four paintings by Jacob van Schalkwyk, titled Sea Point Window, Studio Window at Night, Woodstock Window and Allsorts.
Van Schalkwyk's use of walnut oil has opened up a new technical avenue in his recent work. The works presented here are meditations on the use of lithographic ink as medium for painting.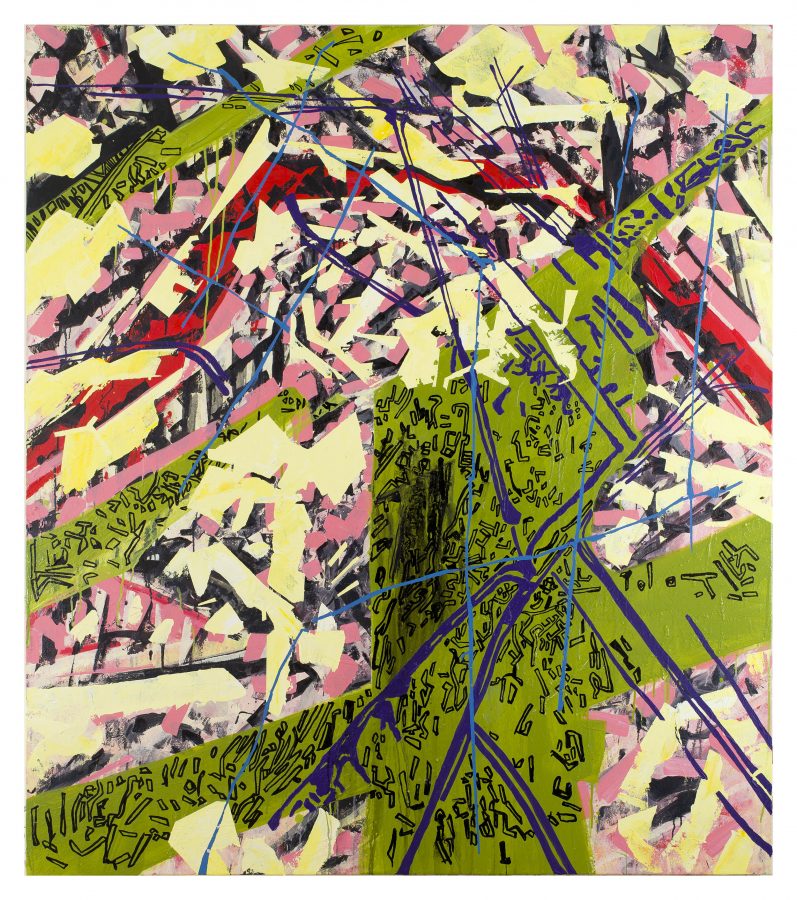 Quinten Edward Williams' strikingly colourful acrylic paintings are the latest in a series of work, titled To break in upon, which explore interactions and interruptions between bodies.
On one level, some of these paintings could be read as organically changing topographical maps. On another, they suggest something closer, perhaps an interaction that is unfolding between a few people in a place. It is this ambiguity that Williams seeks, stating:
"We are uncertain beings. We have a limited ability to sense or know the total variation of the complex processes between the bodies and forces we find ourselves in. Our only way of being is through uncertainty."
Endale Desalegn (Addis Ababa, Ethiopia) first collaborated with David Krut Projects in 2014 as part of a residency programme. This culminated in a solo exhibition, titled A Single Vibration, in which these works were first exhibited.
Endale prefers to be called by his first name. He is known for his experimental, often dark, and richly symbolic paintings in which he responds intuitively to his environment. His paintings are built up with layers of oil and acrylic paint, transforming them into exceptionally tactile objects, which combine text and symbols in an introspective practice.
The artist uses the "on/off" concept applied to accessing electricity as a metaphor for light of a more symbolic kind, meditating on the charged contemporary question: what does it mean to be African? He uses a monochrome palette to explore the widely shared state of existing in Africa where access to electricity is not a given.
For this site-specific mural, titled Field, Lorenzo Nassimbeni borrowed from the geometry of the other artworks on display to create a cityscape or landscape connecting the paintings.
According to Nassimbeni, "all the works have an architectural language – there are elements of 'street' and 'grid' in all of the paintings."
As a mural artist, Nassimbeni's portfolio is rather extensive and engages with many interesting spaces in the context of the South African urban landscape.
4 – David Krut will also be supporting Aida Muluneh's DESTA (Developing and Educating Society Through Art) For Africa Booth, which is representing Aron Simeneh (Ethiopia), Tahir Karmali (Kenya), Sarah Waiswa (Uganda), Mustafa Saeed (Somali Land) and Ala Kheir (Sudan).
ARON SIMENEH is a photographer based in Addis Ababa and is also a former student of Addis Ababa University in the ICT Department. Although he only recently began photography, his talent has been revealed very quickly as he has shown a high degree of professionalism and effective communication through images.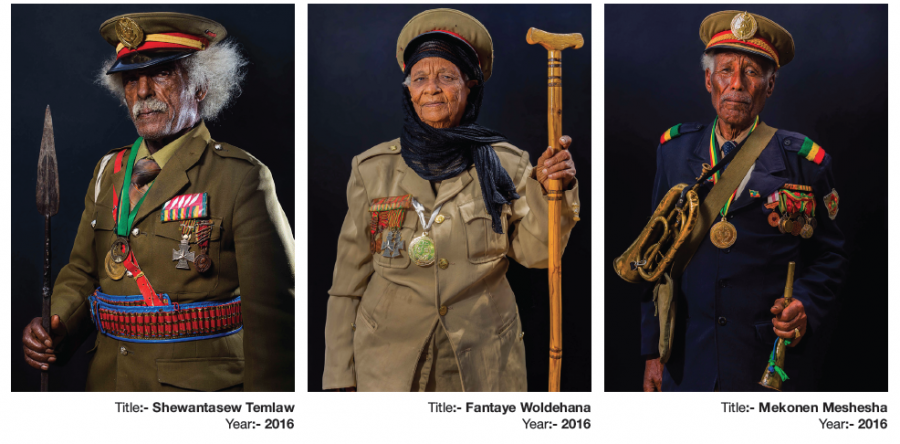 TAHIR KARMALI, born and raised in Nairobi, Kenya now based in Brooklyn, NY. Having begun his career as an ink painter, he combines abstract painting with portraiture. Tahir picked up the camera as a creative outlet while he traveled and worked in Asia and Europe.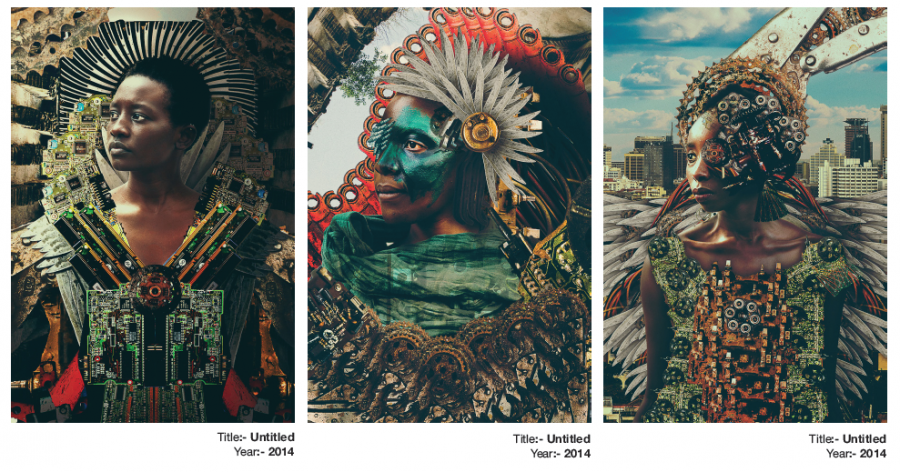 MUSTAFA SAEED's work explores different mediums including documentary photography, graphics and sound. Mustafa's work marries poetic symbolism with sociopolitical critique to explore issues of war, conflict and environment. He is based in Hargeisa and has participated in different local and international exhibitions.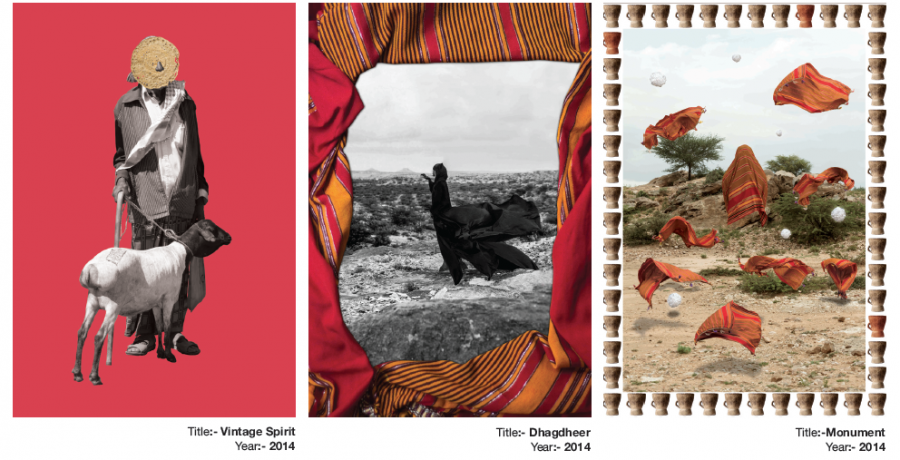 ALA KHEIR is a Sudanese photographer. His photographic scope covers a wide range of subjects and styles with an aim of self-reflection on the subjects that come across his eye.

SARAH WAISWA is a Kenya based freelance documentary and portrait photographer with an interest in exploring identity on the African continent, particularly the New African Identity.

Come check us out at the FNB Joburg Art Fair – 9-11 September – at the Sandton Convention Centre.