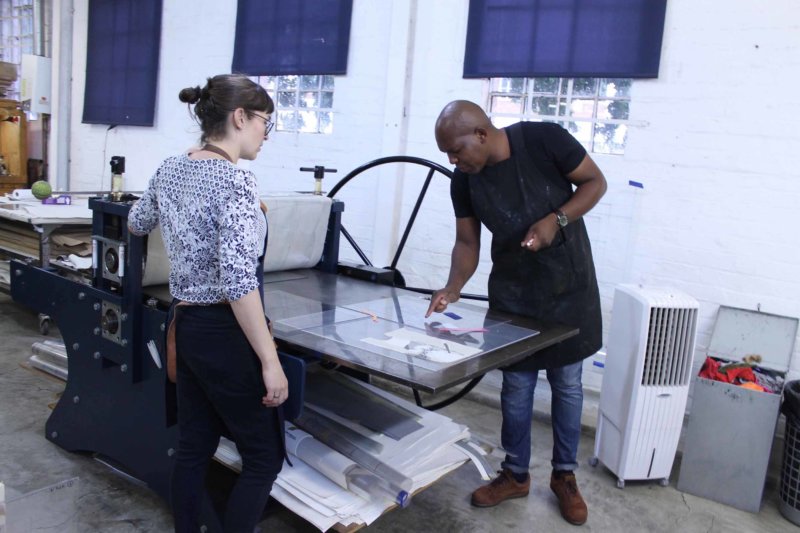 As the smooth sound of Kandace Springs fill the workshop Mongezi Ncaphayi arranges cut out shapes of paper, in preparation for chine collé, and draws with crayon and ink working on his latest series of lyrical abstract monotypes.
Mongezi's process is one of chance and intuition. The prints are layered and composite of lines, marks and juxtaposed shapes that compliment and contrast each other elegantly.  Ncaphayi hand colours and cuts out pieces of chine. The printers facilitate in preparing the chine by applying an adhesive of Methyl Cellulose to the paper. This then dries and Ncaphayi has the freedom to cut and arrange the pieces as he pleases before the Printers take over again. Their role is to ensure the paper that the work is printed and adhered to has the correct moisture content, that the press uses the correct pressure and that registration is correct. The series and the method has a serious sense of play which all enjoy.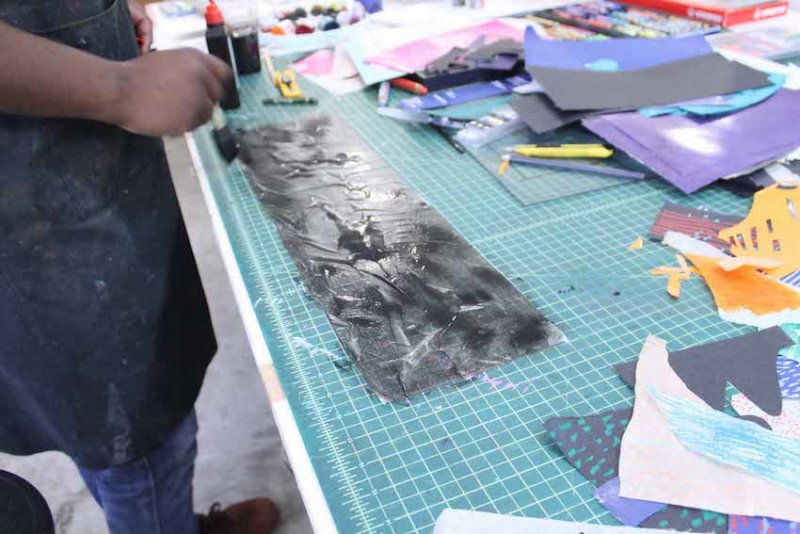 Monotypes are one-of-a-kind prints. They have been known to be called the "painterly print" as well as the "printer's painting". They bring together elements of painting, drawing and printmaking. The words monotype and monoprint are often used interchangeably; however, there is a difference. A monoprint may use some form of repeatable layer or element in the production of the image, whereas a monotype is a completely unique image that is not repeated.
Working on an unarticulated surface or plate, the artist applies a layer of ink, which is then wiped off in sections, in order to create an image in a reductive fashion. The ink can also be applied directly to the surface in an additive fashion, much like a painting or drawing. The image is put through the press and transferred from the plate onto a piece of paper. There is then the added option of drawing into the print once it has dried, or to add further physical layers, such as Chine collé (a collage element, usually thin paper).
More information about this series of prints coming soon.
See further works by the artist here and a peak into his studio in the blog below