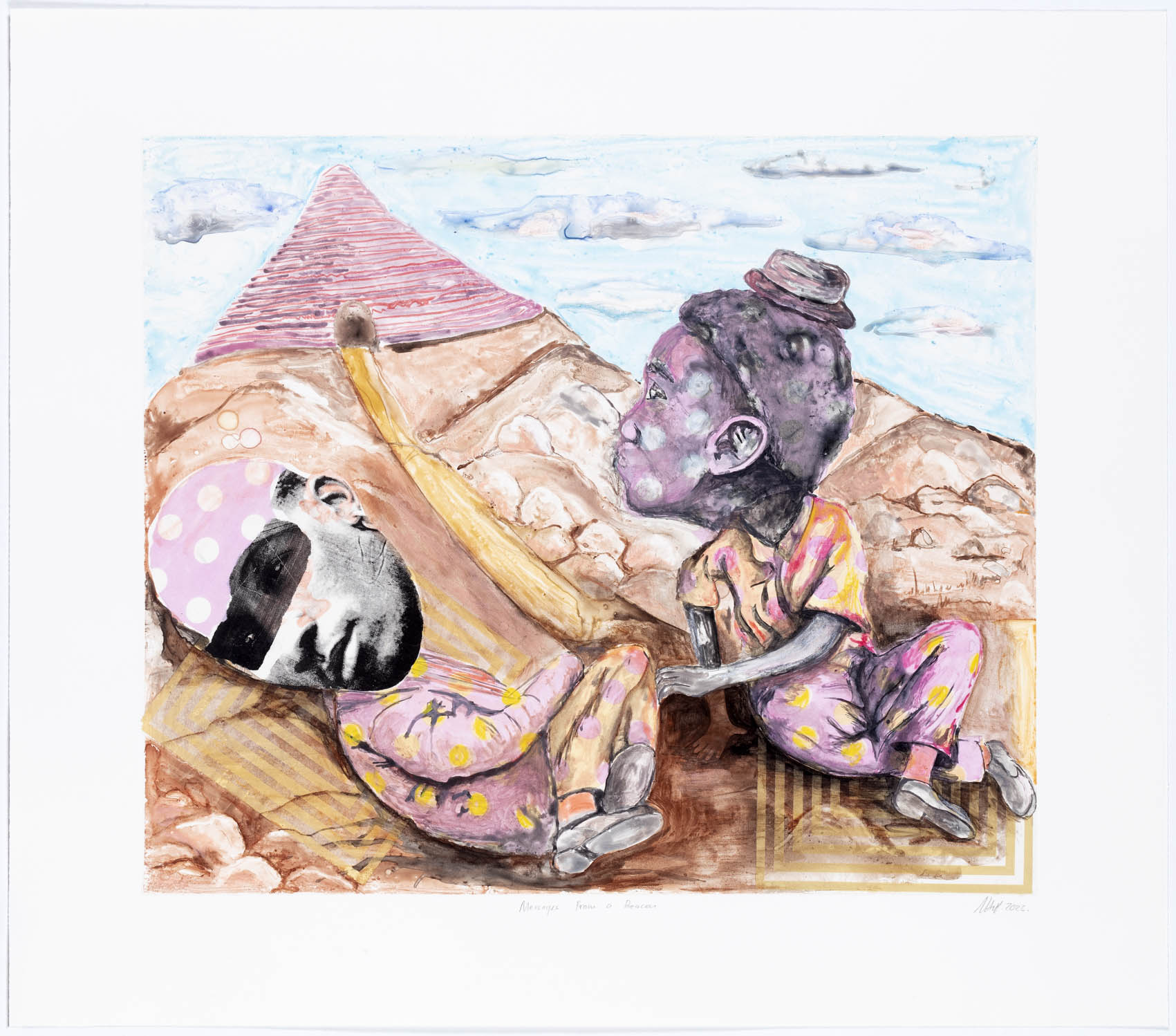 Collaboration History: 
Phumulani Ntuli is a multi – disciplinary artist who shifts between the processes of sculpture, video, performance, painting and collage. His research-led practice gathers various archive materials which are both theoretically and practically collaged together to explore historical gaps and how these inform our narratives. The way in which Ntuli constructs his imagery out of collage, transfers and layering of different mediums is what initiated the interest in having him spend some time at the David Krut Workshop. In 2023, Ntuli was invited to work collaboratively with DKW printer, Kim-Lee Loggenberg on a new body of work. 
The pair began experimenting with the printmaking processes of monotypes and pronto lithography. The result of this collaboration is a body of work titled, Kunanela iphuzu emafini/ Echoes of the Point Cloud, which includes large scale paintings alongside the unique print works created at DKW.  The works from Kunanela iphuzu emafini/ Echoes of the Point Cloud debut at FNB Art Joburg 2023, presented by David Krut Projects.
Ntuli was one of the three artists featured at the South African Pavilion at the 2022 Venice Bienniale which was curated by our very own DKP director,  Ame Bell.
Artist's Biography: 
Phumulani Ntuli is a South African multidisciplinary artist working with mixed media collages, sculpture, video installation and artistic research. Born in Soweto in 1986, Ntuli received his Bachelor of Technology in Fine Arts from the University of Johannesburg before obtaining his Master of Arts at the Valais School of Art (ECAV/Edhea) in Switzerland in 2017. His thesis was titled When we down tools we exit through the pinhole, exploring the pauses of archives within the Marikana Archive in South Africa.
Working between documentary and fiction, Ntuli's practice deals with omissions within archives. As he explains: "The continued themes I have explored in my practice have been notions of black futurity, the archive and its tensions. I consistently delve within notions of collective autobiographies and their surrounding social political conditions." Ntuli has exhibited locally and abroad and is recognised internationally by way of numerous projects, awards, residencies and biennales since 2016.
In 2022, his work was selected to be part of the South African Pavilion for the 59th Venice Biennale. In the same year, and after a residency with Atelier Solar, Ntuli opened his first solo exhibition in Spain, entitled Isidleke Sakhiwa Ngezinwele [A Nest is Built with Strands of Hair] at Galería Nueva in Madrid. During Ntuli's first collaboration with David Krut Workshop in 2023, the artist spent several weeks collaborating with Kim-Lee Loggenberg to produce a series of unique works which accompanied large, complex works painting and collage which debuted at  FNB Art Joburg.