By Christa Swanepoel and Ame Bell
David Krut Projects (DKP) is pleased to announce a brand new collaboration in 2023 with internationally recognised Soweto-born artist Phumulani Ntuli. Ntuli is a multi-disciplinary artist whose vibrant works allude to historical South African narratives. In June of this year DKP invited Phumulani Ntuli to spend time at the David Krut Workshop in Maboneng to collaborate with printmaker, Kim-Lee Loggenberg.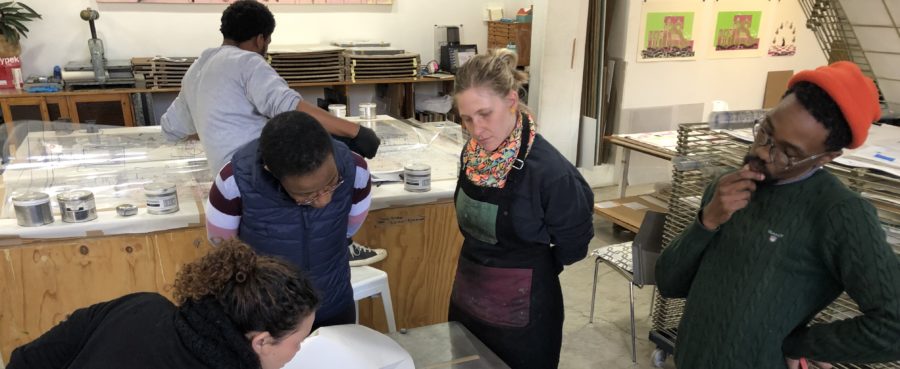 Phumulani Ntuli and the team at the David Krut Workshop reviewing an early test print.
Ntuli was born in 1986 in White City, Soweto. In his youth he enjoyed playing music and in high school his interest in the creative fields later expanded into literature and visual arts. Ntuli went on to complete a BTech degree in Visual Arts at the University of Johannesburg.
He then was awarded a Masters in the Fine Arts – Arts Public Sphere from Ecole Cantonale D'Art du Valais (ECAV) in Sierre, Switzerland. Achieving Prix-excellence for his ongoing research project "Permutations of an event" which centred around notions of archives and surveillance.
In an interview with The Daily Maverick, Ntuli states that his first professional practice as an artist started at the Bag Factory, located in Newtown, Johannesburg.
"Ntuli's opus merges the ambit of artistic research, sculpture, video installations and performative practices. Ntuli's process is formulated by artistic convergences that overlap between/ around and/or in documentation(s), image and visual as spaces of engagement. He consistently engages diverse publics/ audiences and attempts to make visible History's gaps/ breaks/ silences/pauses and remnants. Ntuli's artistic framework draws in these issues immanence/ imminence within our present and how they can influence practices within the spectrum of decoloniality." – bagfactoryart.org.za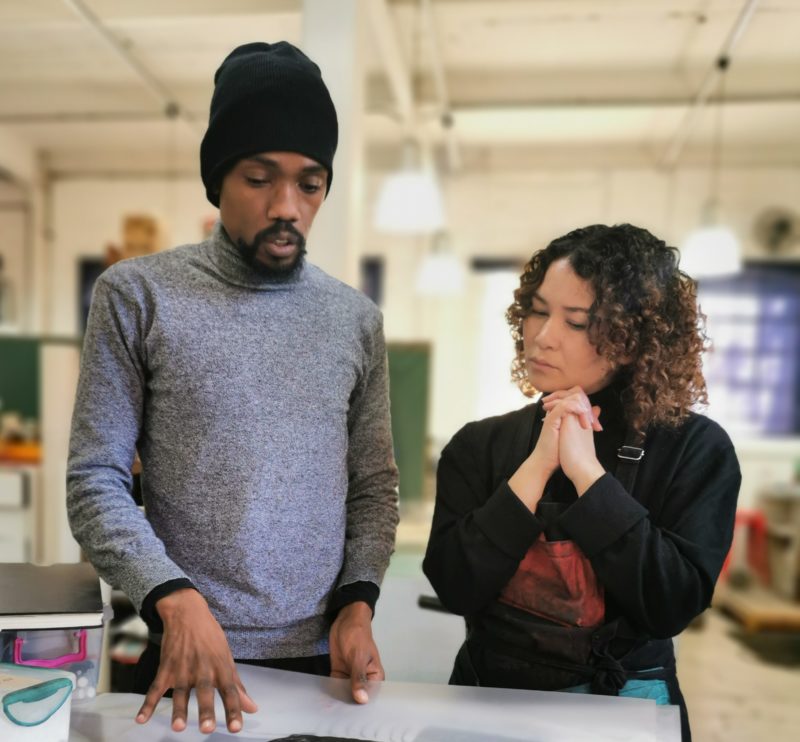 Artist Phumulani Ntuli and Kim-Lee Loggenberg, printmaker at the David Krut Workshop, deep in discussion during one of Ntuli's visits to the workshop.
As an artist and arts practitioner Ntuli has presented and contributed work at the 2016 Kampala Biennale in Uganda, curated by Elise Atangana; the 2016 Bone Performance Festival in Bern, Switzerland, curated by Valerian Maly; performed in the 2016 Act Festival in Geneva, Basel, Sierre and Zurich and participated in residencies at the Fondazione Pisteletto in Biella, Italy and the Alps Art Academy in Chur, Switzerland.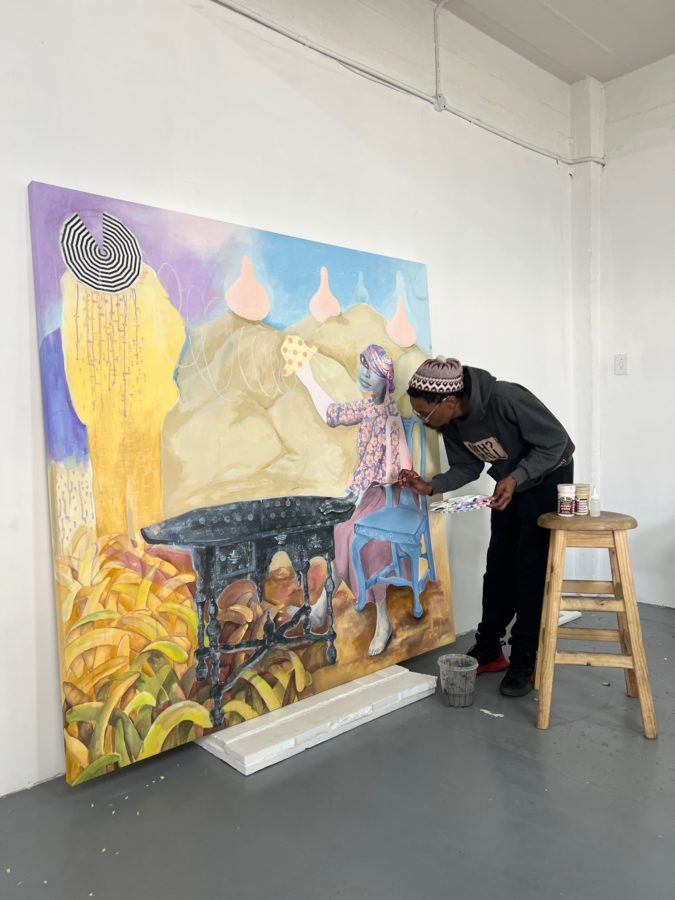 Artist Phumulani Ntuliin studio working on a large scale collage on canvas. 
"I am interested in the collision between reality and fantasy because something happens when they meet. I think memory becomes so unreliable because it is fragmented, it's like a piece of a puzzle or as a frame of a photograph, which isolates one pixel from reality. This fragmentary stance is explored in my work. It is a general phenomenon in my works to see cloned bodies often in groups and making implied inscriptions on the land and bodies inscribed and haunted by images of the past. My figures pose different gestures and movements which is implied in the eyes of the viewer. My fictional figures are often witnesses and forensic subjects performing the inscriptions on the land. I think that is how stories and memory can be perceived, through the space and places people occupy. I believe we have a shared history, and it is through this lens that I wish and hope for people to live together, not just as fictional geography which is a dream and cannot be attained. This is also a reason why I became an artist, and the purpose of my art is to observe, analyse, reflect and bring people together." 
Ntuli's solo body of work titled, Kunanela iphuzu emafini / Echoes of the Point Cloud, which includes the unique works made in collaboration with David Krut Projects will debut at the FNB Art Joburg Fair in 2023. This project showcases Ntuli's first series of intricate unique works on paper made using an old-fashioned printing press in collaboration with Kim-Lee Loggenberg, as well as large mixed media collages on canvas from the artist's studio.
Kunanela iphuzu emafini / Echoes of the Point Cloud contains excerpts from South Africa's history of motion pictures in collision with current point cloud data, automation, and synthesis bestowed by Artificial Intelligence. Using devices of cinematic practice and model training as artistic enquiries, these artworks navigate the first South African pioneer film 'Jim Goes to Joburg', produced by Eric Rutherford and directed by Donald Swanson under Swan Film Productions, which was later re-titled as 'African Jim' to contextualise the film for European audiences. The body of work attends to scenes deployed through a black and white cinematic lens, to reenact the South African seminal film tradition within the margins of the changing socio-political landscape. Kunanela iphuzu emafini / Echoes of the Point Cloud searches for alternate ways of seeing, experiencing and navigating the changing city.
The use of collage is significant in Ntuli's practice. Whether through digital language and coding or hand-cutting and arrangement, collage is used to reframe data in the creation of a 'pseudo-reality'. In Ntuli's words "to collage is to process information, through cutting, slicing, joining, displacing, and concealing. It is a performative model of practice to counterfeit, in this gesture creating alternative forms of looking and meaning."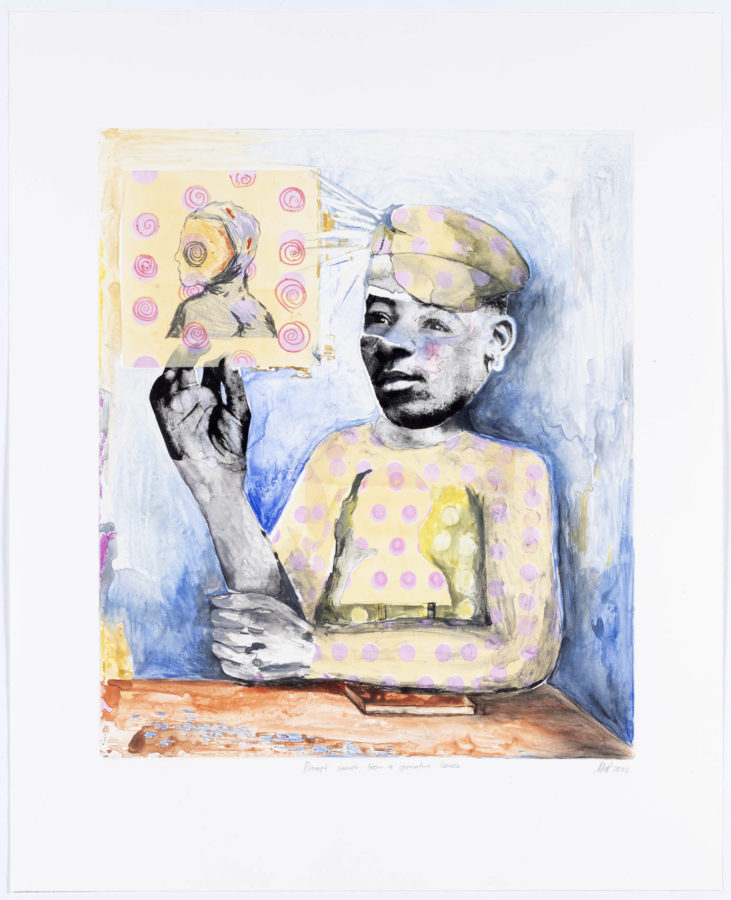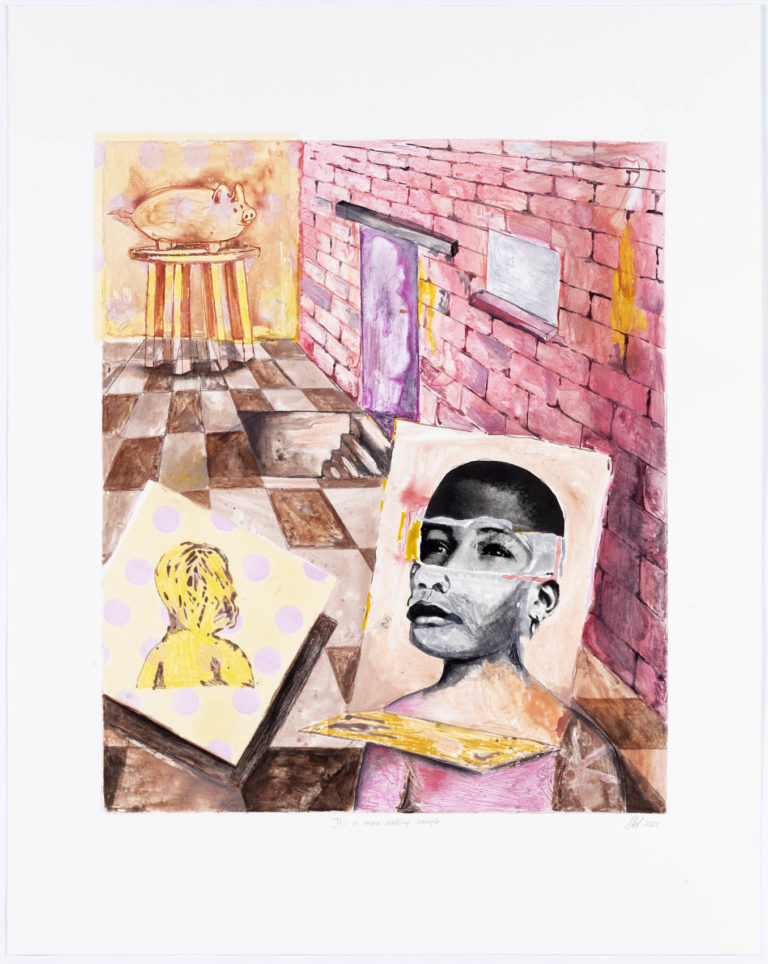 Last year Ntuli was one of the three artists featured at the South African Pavilion at the 2022 Venice Biennale which was curated by Ame Bell who is the director of David Krut Projects. This is where the relationship between the artist and DKP took off. Having worked together for months before and proceeding the Biennale, Bell and Ntuli had the opportunity to enthuse on the multitude possibilities of introducing various printmaking techniques into Ntuli's multimedia practice. And thus the 2023 collaboration and the David Krut Workshop was born.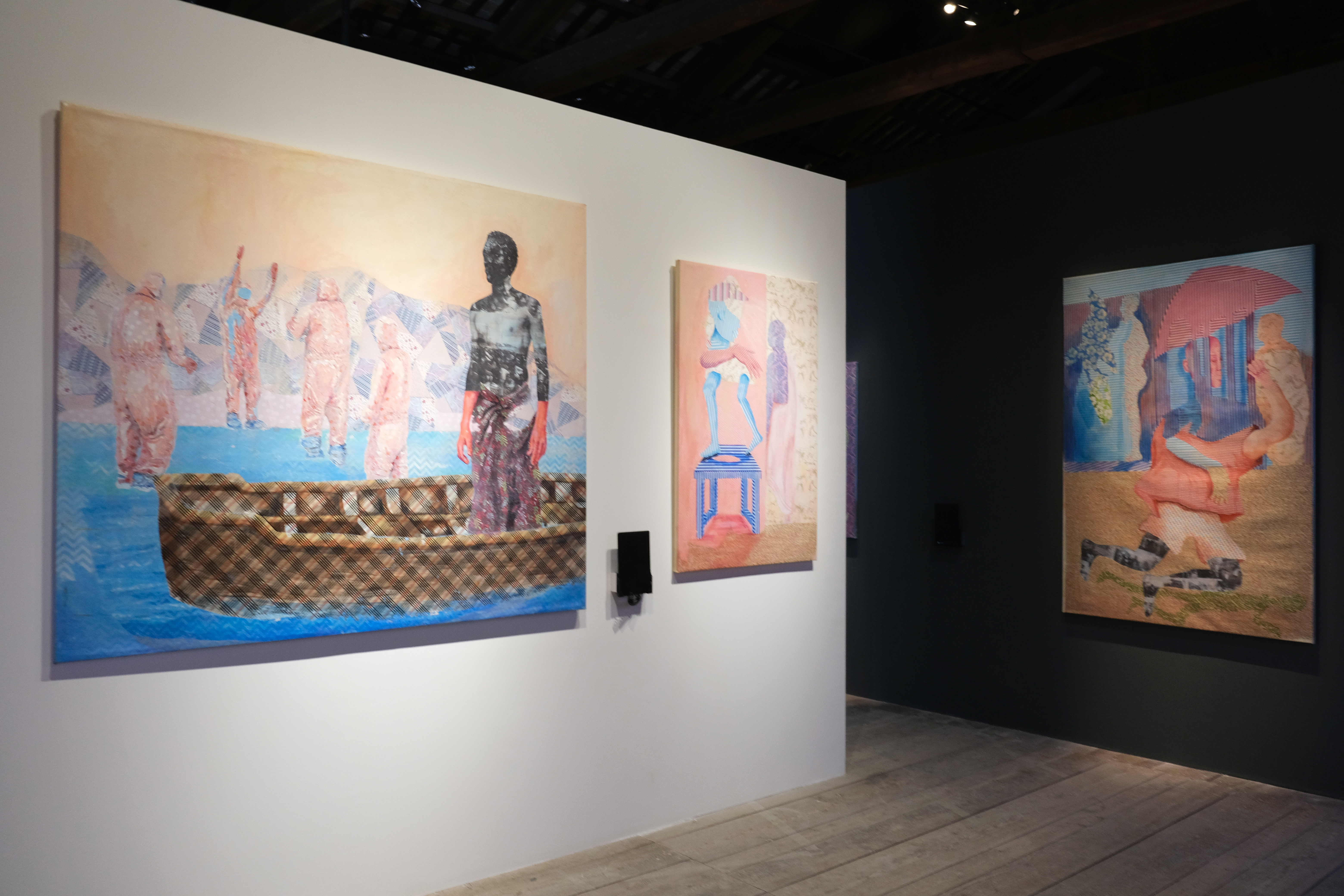 "Ntuli defies our preconceptions and assumptions about the world around us, inviting us to reconsider our own perspectives and values. His work is deeply rooted in his own experience growing up in South Africa, and he draws on this history to create artworks that are deeply personal and at the same time powerfully political."
– Ame Bell, director of David Krut Projects and curator of the South African Pavilion at the 59th Venice Biennale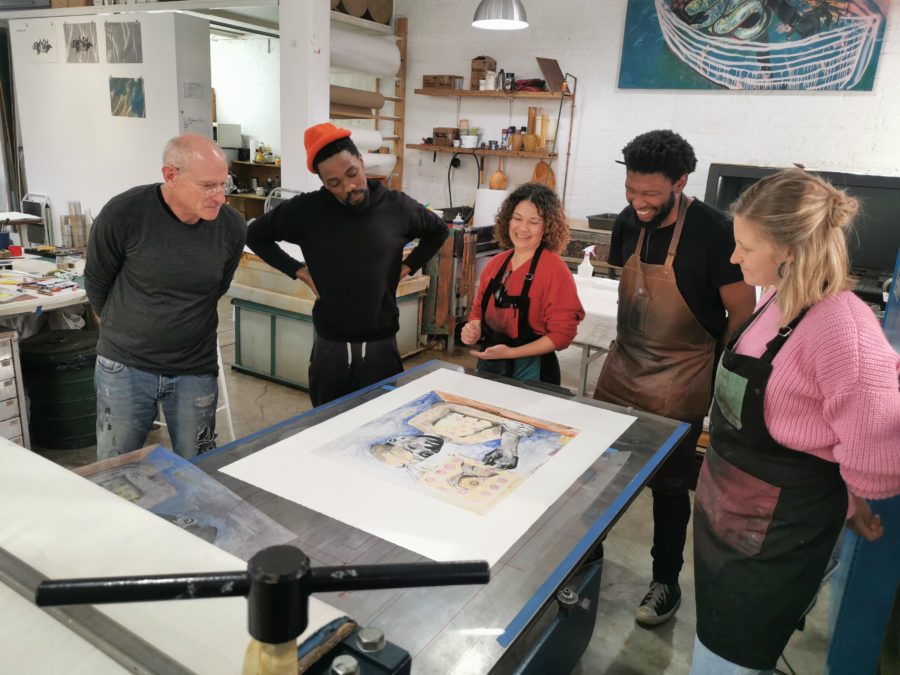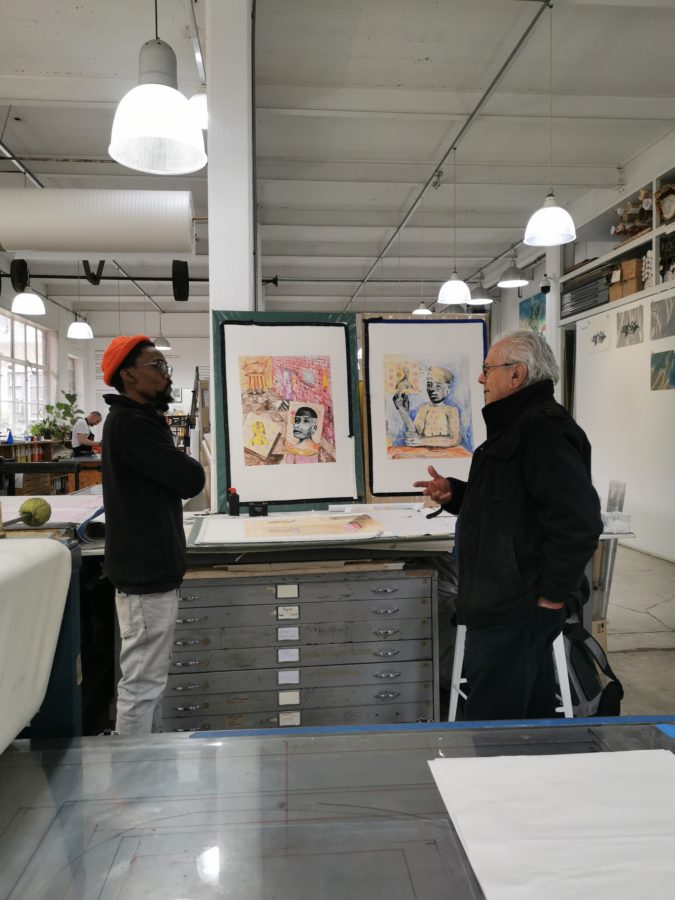 Top left: The two artists, Peter Cohen and Phumulani Ntuli, alongside the DKW team looking at one of Ntuli's prints on the bed of a press in the workshop. From left to right is Peter Cohen, Phumulani Ntuli, Kim-Lee Loggenberg, Sbongiseni Khulu, and Sarah Judge.
Bottom left: Phumulani Ntuli (left) and David Krut (right) having a discussion at the workshop in front of a display of the artists prints that he had made during his residency at DKW.
Top right: Phumulani Ntuli in the process of painting and adding detail to one of the largest watercolour monotype plates that he has worked on during his time at DKW.
Bottom right: Kim-lee Loggenberg is the editioning printer on this project. Here she and the artist are looking at his prints at DKW.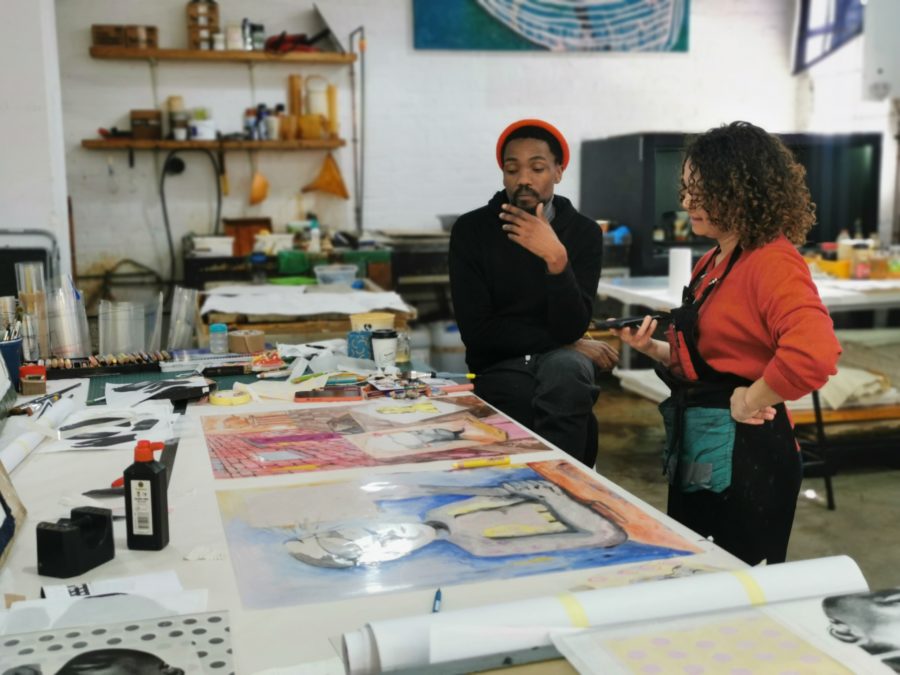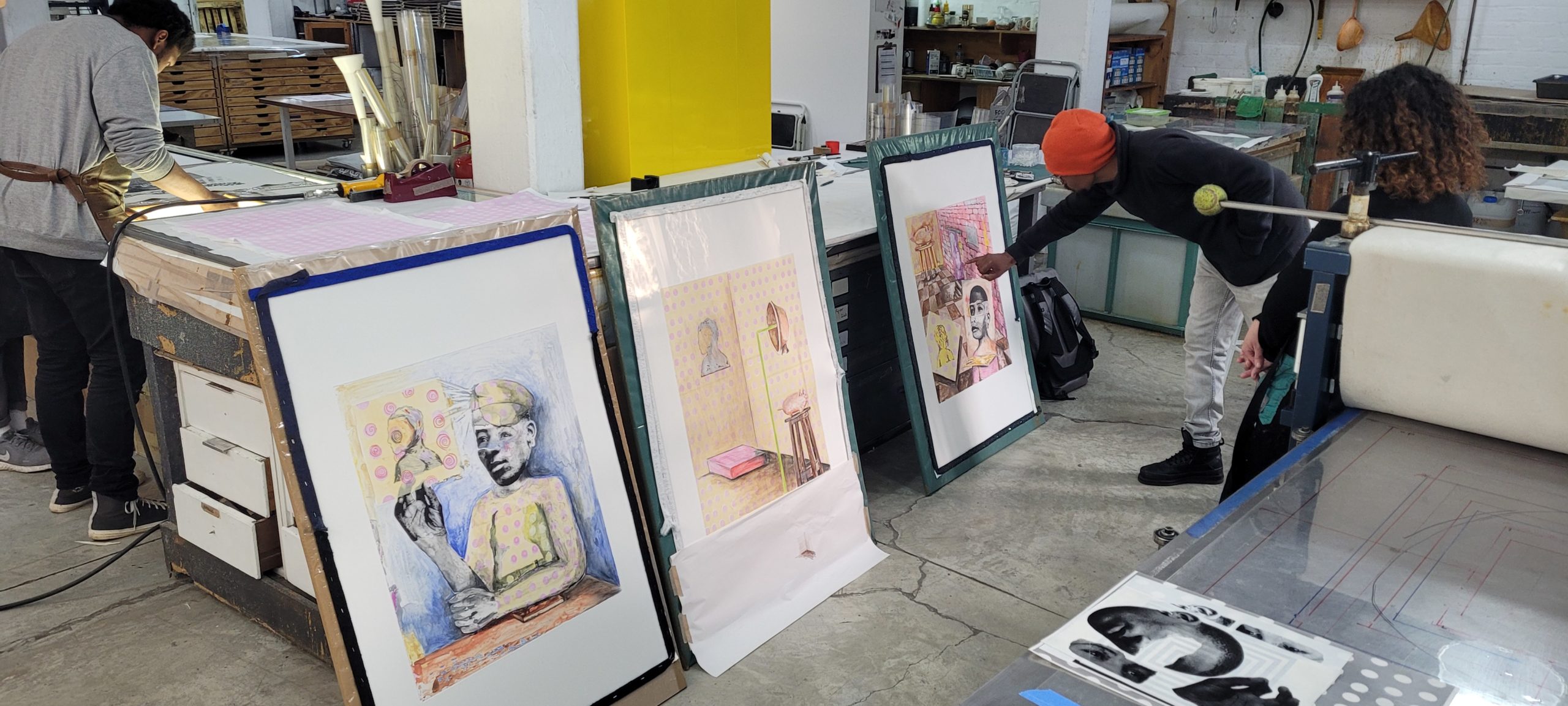 The artist indicating to a detail on one of his monotypes in the workshop.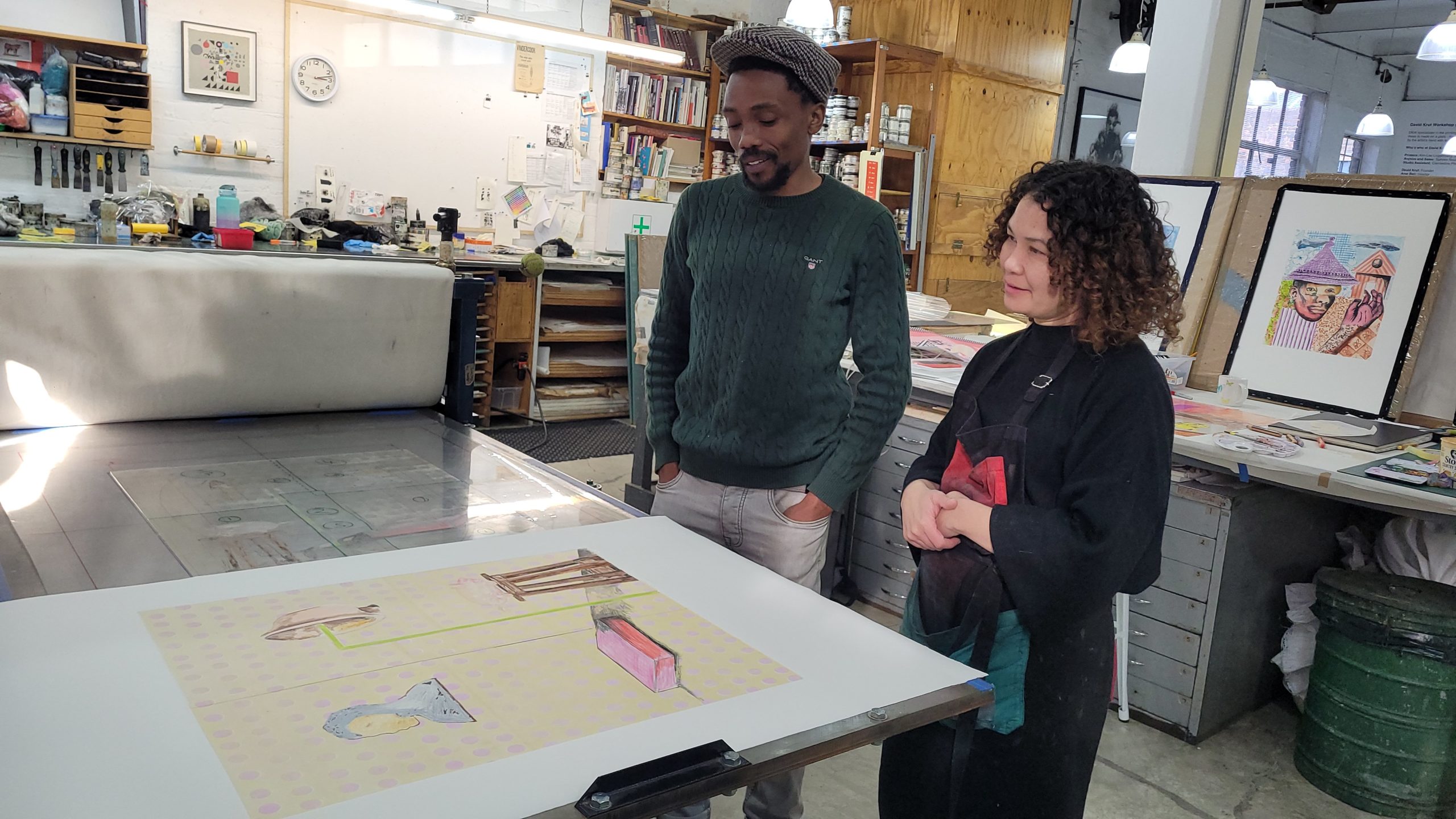 Ntuli and Loggenberg at the bed of a press. On the bed is a freshly printed monotype, and behind the pair are some of the other works that were produced by their collaborative efforts.
 Artist Phumulani Ntuli and Kim-Lee Loggenberg, printmaker at the David Krut Workshop, deep in discussion during one of Ntuli's visits to the workshop.