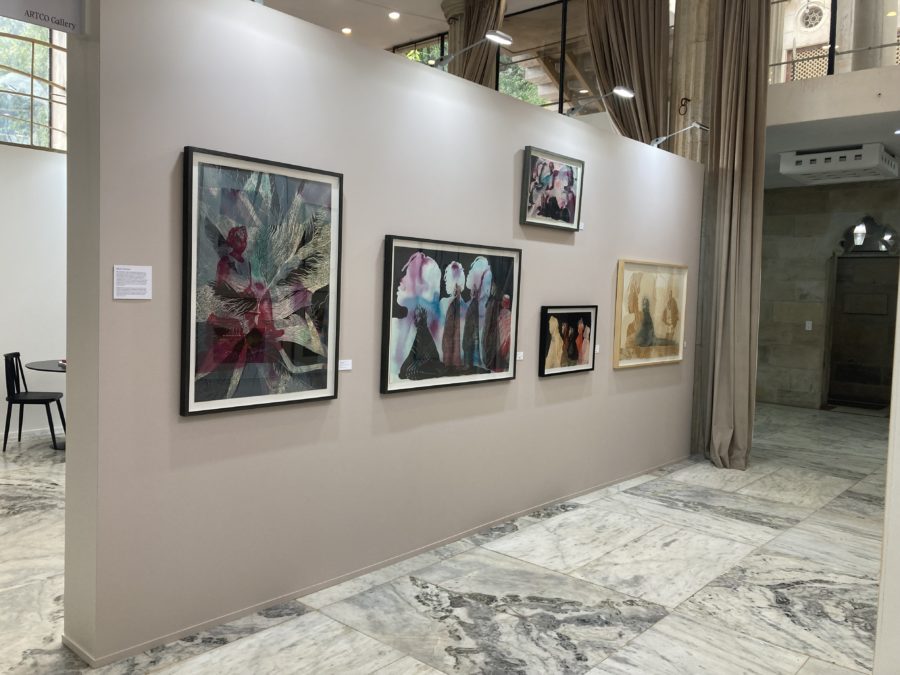 Mbali Tshabalala's brand new works as they were showcased at the 2023 Latitudes Art Fair.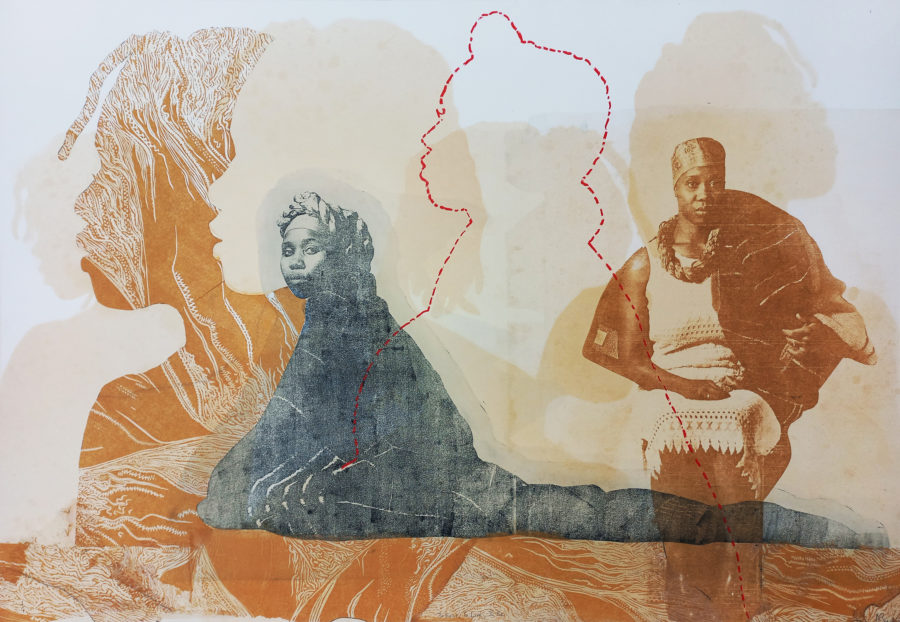 To exist, to live, to be (2023) Mixed media (tea stain, paper lithography). 73.5 x 105.8 cm.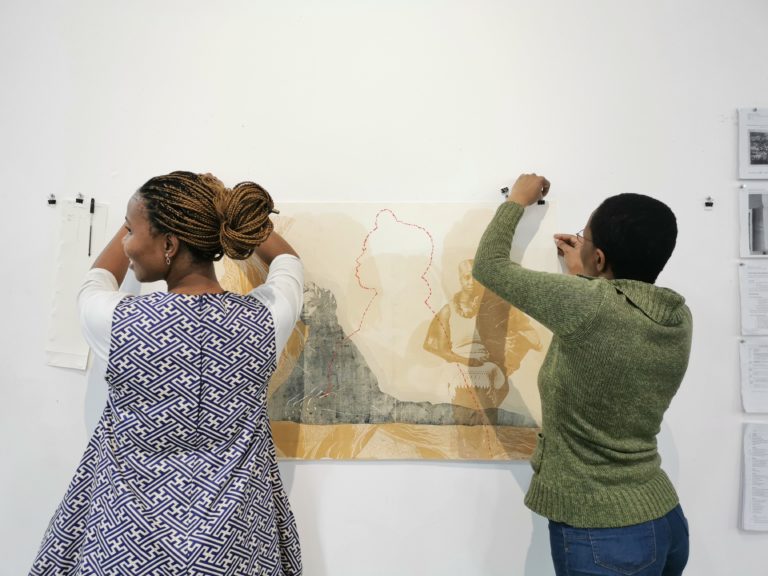 Mbali Tshabalala (left) and DKW team member Siphiwe Ncube hanging up the work To exist, to live, to be on the wall at the workshop.
The collaboration between Mbali Tshabalala and David Krut Projects has been an ongoing one since she first came to create unique prints in 2021 with Sbongiseni Khulu and the rest of our workshop team, and we are so pleased to be spending another year with this brilliant young artist. This year Tshabalala was one of the three artists represented by David Krut Projects at the 2023 Latitudes Art Fair. Visitors to the fair were some of the very first to see her brand new unique multi-media prints.
The works showcased at Latitudes this year are thematically and visually similar to her ongoing body of works that depict her own portrait intermingled a menagerie of textures and colours, achieved through the used of carefully mixing and layering various printmaking techniques. As this body of work continues to grow and develop the artist consistently achieves an exponentially evolving intricacy and bold tonal palette.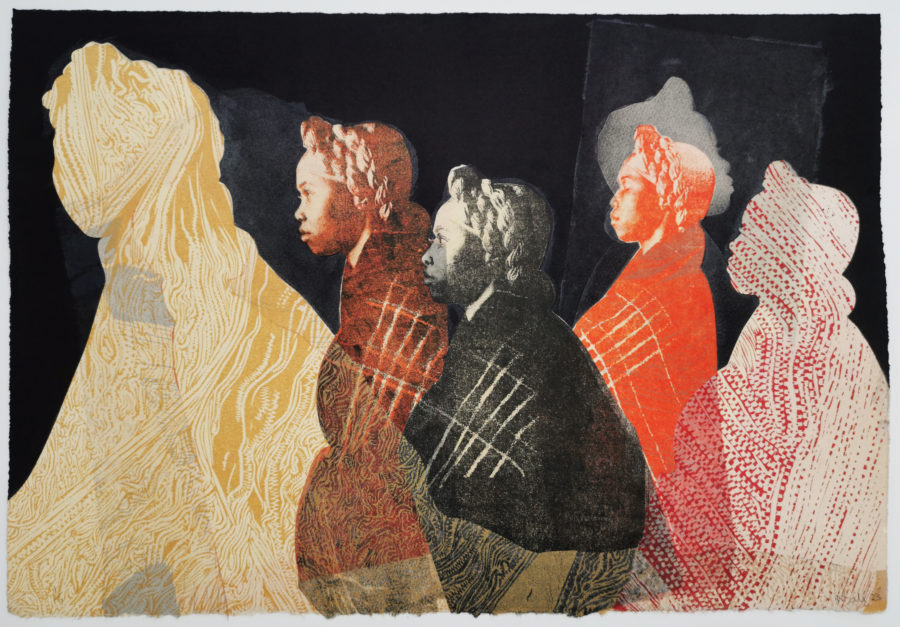 The Desire that Life Should Nevertheless Go On (2023)
Mixed media (watercolour, linocut, chine collé, handwork). 39 x 56 cm.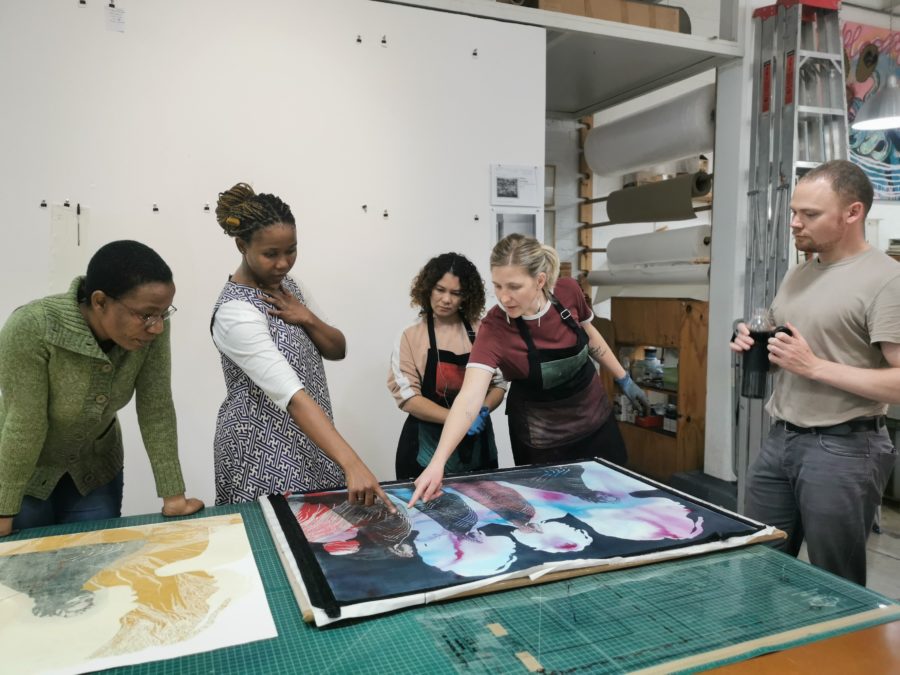 From left to right: Siphiwe Ncube, Mbali Tshabalala, Kim-Lee Loggenberg, Sarah Judge and Jesse Shepstone. The DKW team and the artist in the workshop.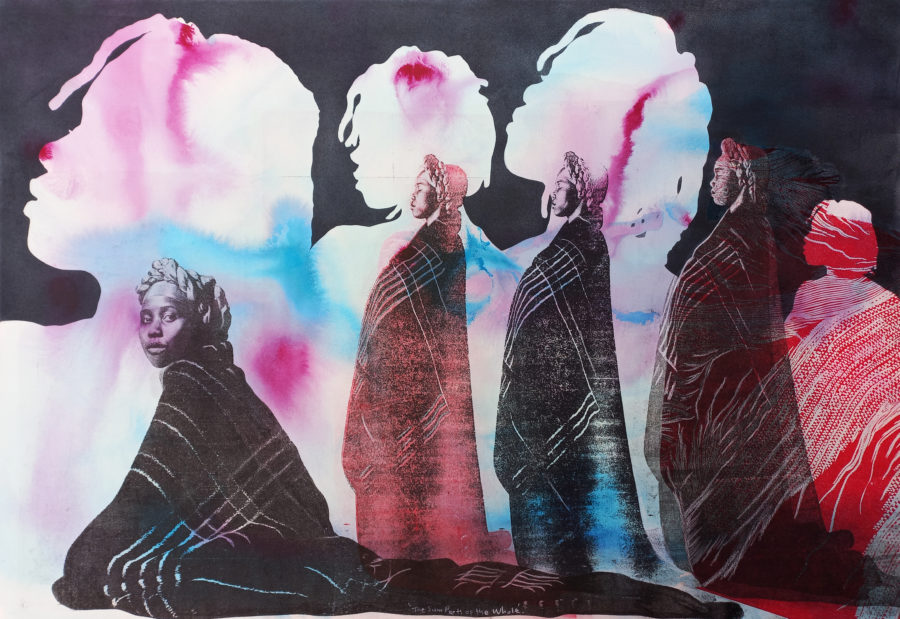 The Sum Parts of the Whole (2023) Mixed media (watercolour, paper lithography). 73.5 x 105.8 cm.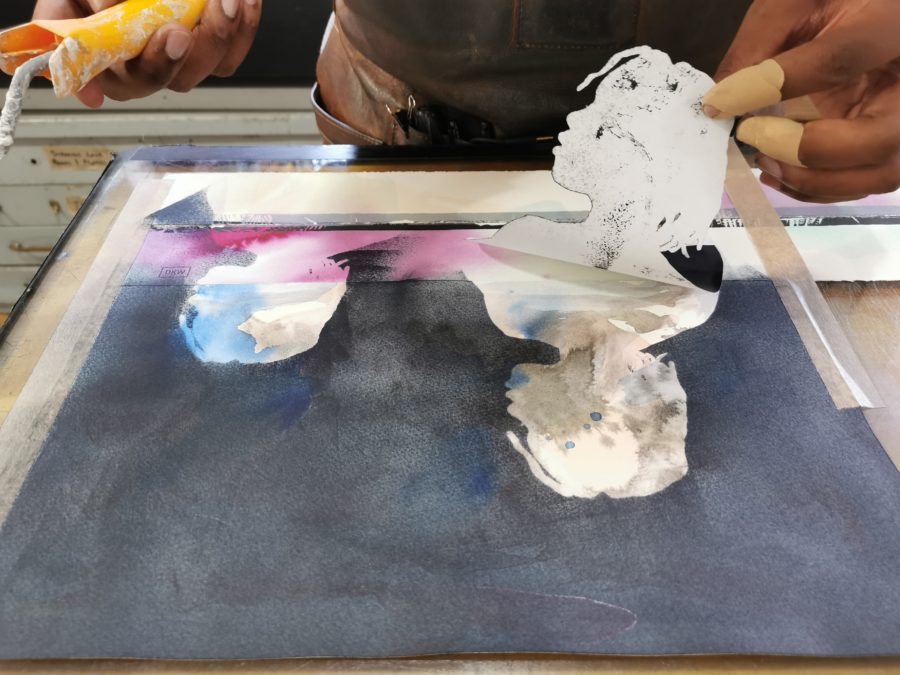 DKW Printmaker Sbongiseni Khulu has been working with Mbali Tshabalala since the beginning. Here is a close up of his hands as he removes a stencil from a printed impression.
Mbali Tshabalala (b. 1988) is a multidisciplinary artist whose work embodies thematic expressions of identity juxtaposed with society's often invisible expectations. Tshabalala's work deals with recurring themes related to existential dialogue and an inquiry into external influences that inform her existence as a young South African woman of Xhosa and Swazi descent. Tshabalala is a curator and arts entrepreneur, and her work further explores notions of mental wellness in black societies, particularly in black women. Although historically burdened with many inequalities, black women are often expected to be of limitless resilience, tenacity and to embody 'The Strong Black Woman' persona. Tshabalala makes use of paper lithography transfers, which overlaps the borders of photography and printmaking. Her imagery unpacks narratives signaling distinctive cultural moments in the past, present and future, which shape identity in black societies. Working with DKW collaborator Sbongiseni Khulu, Tshabalala has further incorporated hand-carved linocut, ink and tea staining, and handwork in these unique printed works.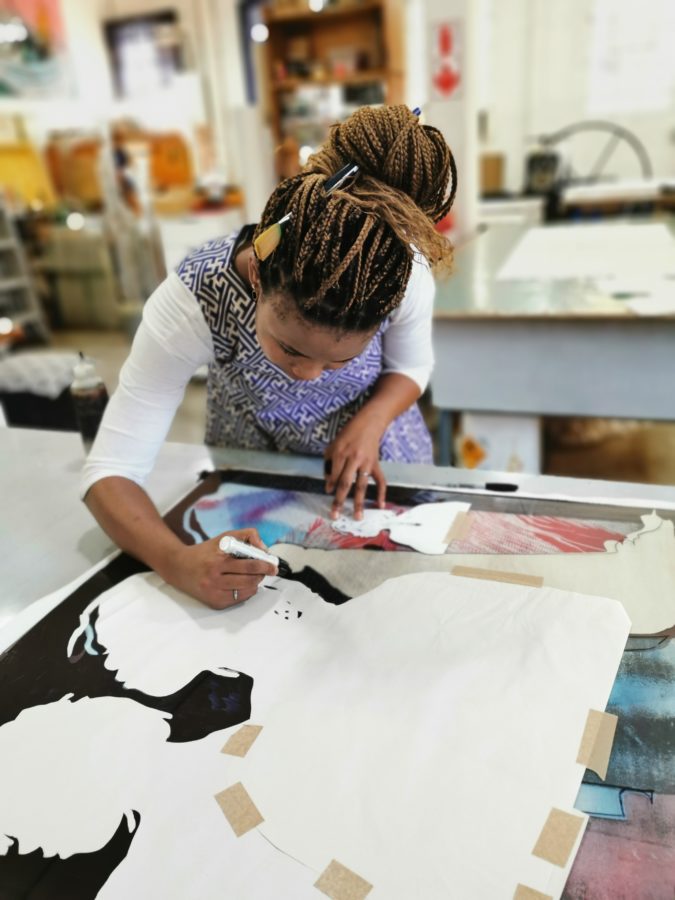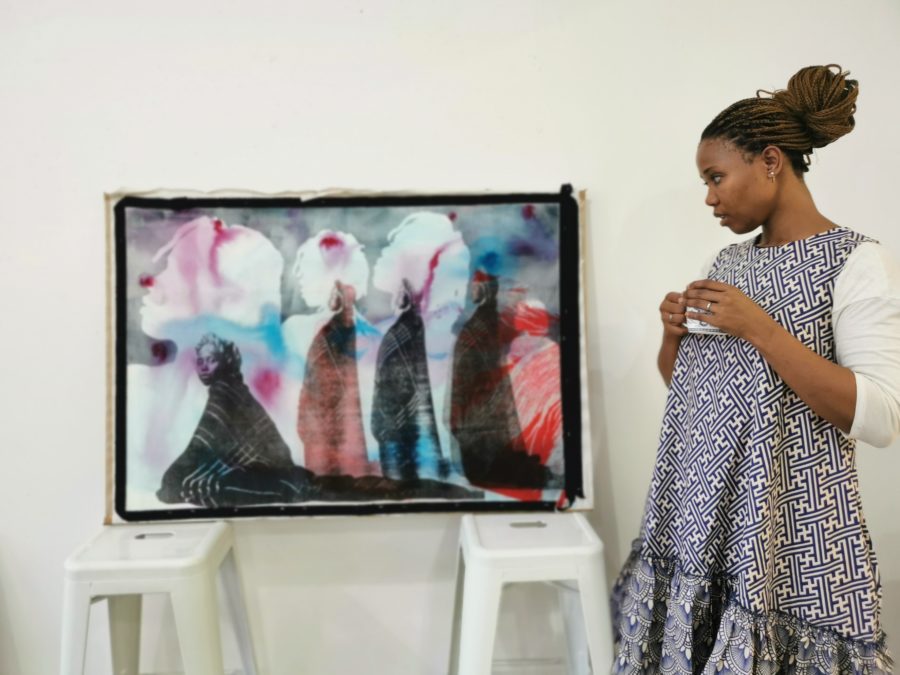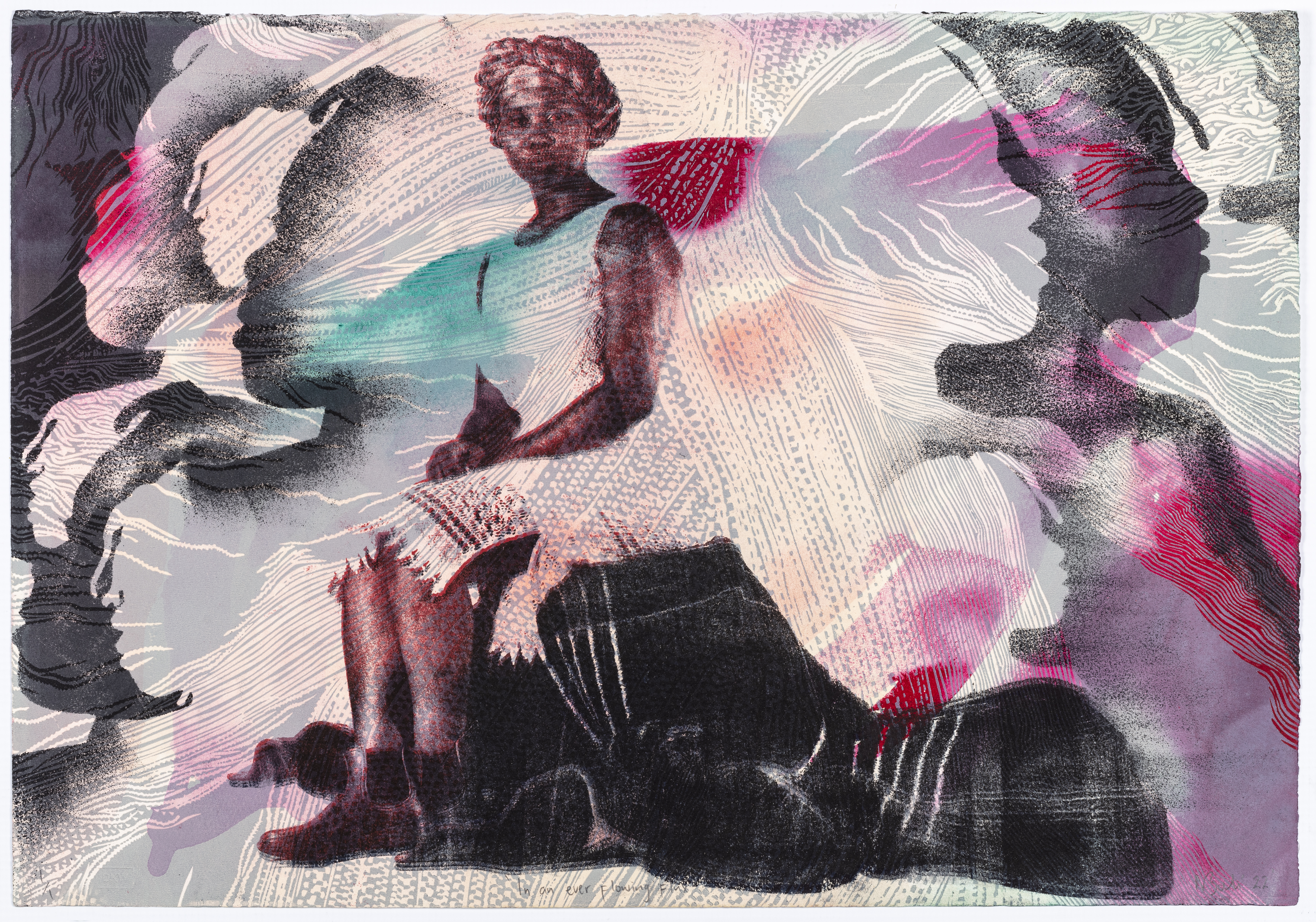 In an everflowing flux (2022) 39 x 56 cm. Paper lithography, linocut, and watercolour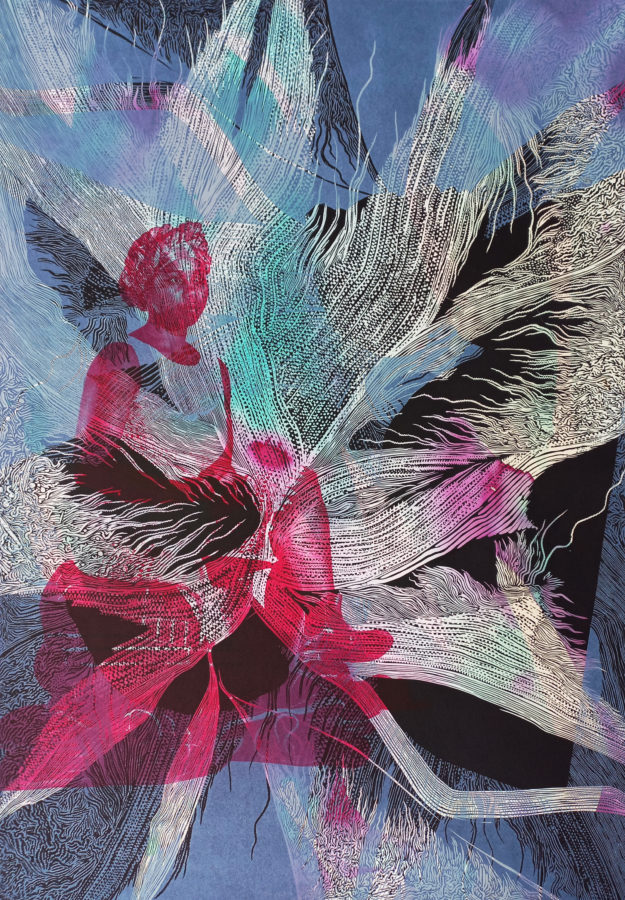 The past is always present (2022) 99.4 x 69.5 cm. Paper lithography, linocut, and watercolour.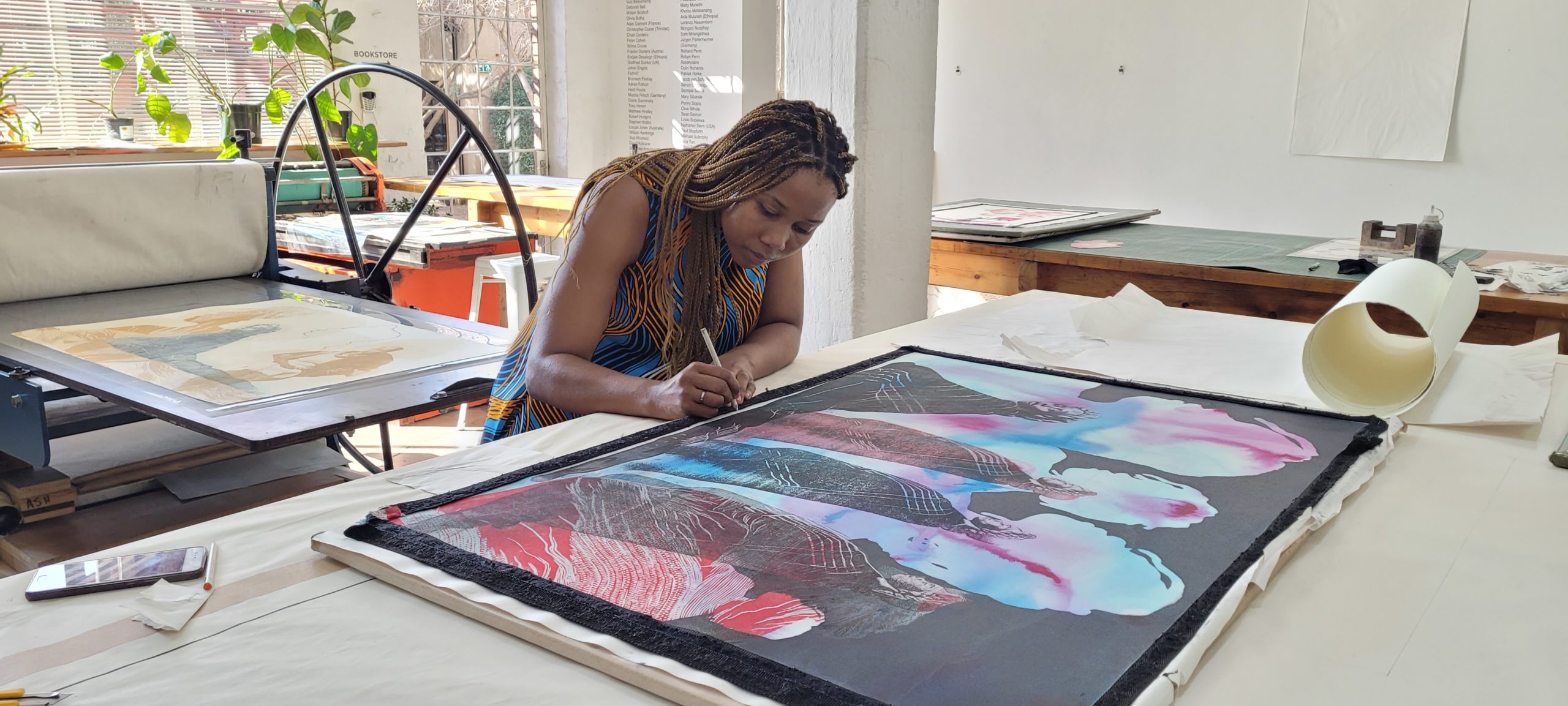 Mbali Tshabalala carefully working on The Sum Parts of the Whole in the workshop at Arts on Main.