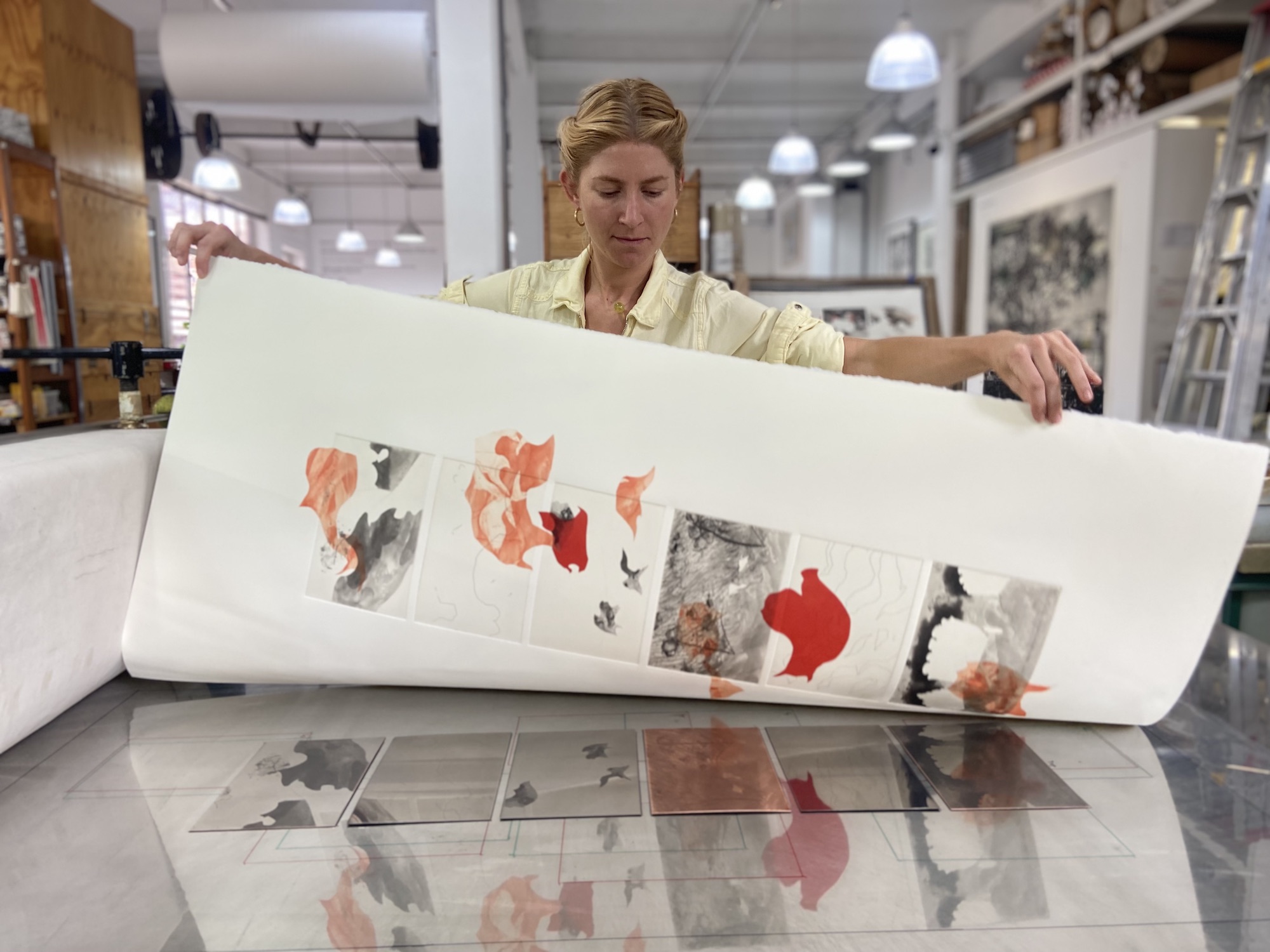 Continuing the story of Anna van der Ploeg's new editions (the first blog profiling The Negotiator Series can be read here), we delve into some different format works. In late 2022 and early 2023, Anna worked with DKW Printer Roxy Kaczmarek assisted by Sarah Judge and Jesse Shepstone, to create a new body of etchings, monotypes and paintings. Anna produced three images to add to The Negotiator Series (2021-23) and created a further 6 new etchings. These prints along with the larger body of monotypes and paintings are featured in Anna's second solo exhibition at David Krut Projects titled Omens in hot bacon contradiction, as well as at the Latitudes Art Fair, May 2023, and the David Krut New York Gallery from June 2023.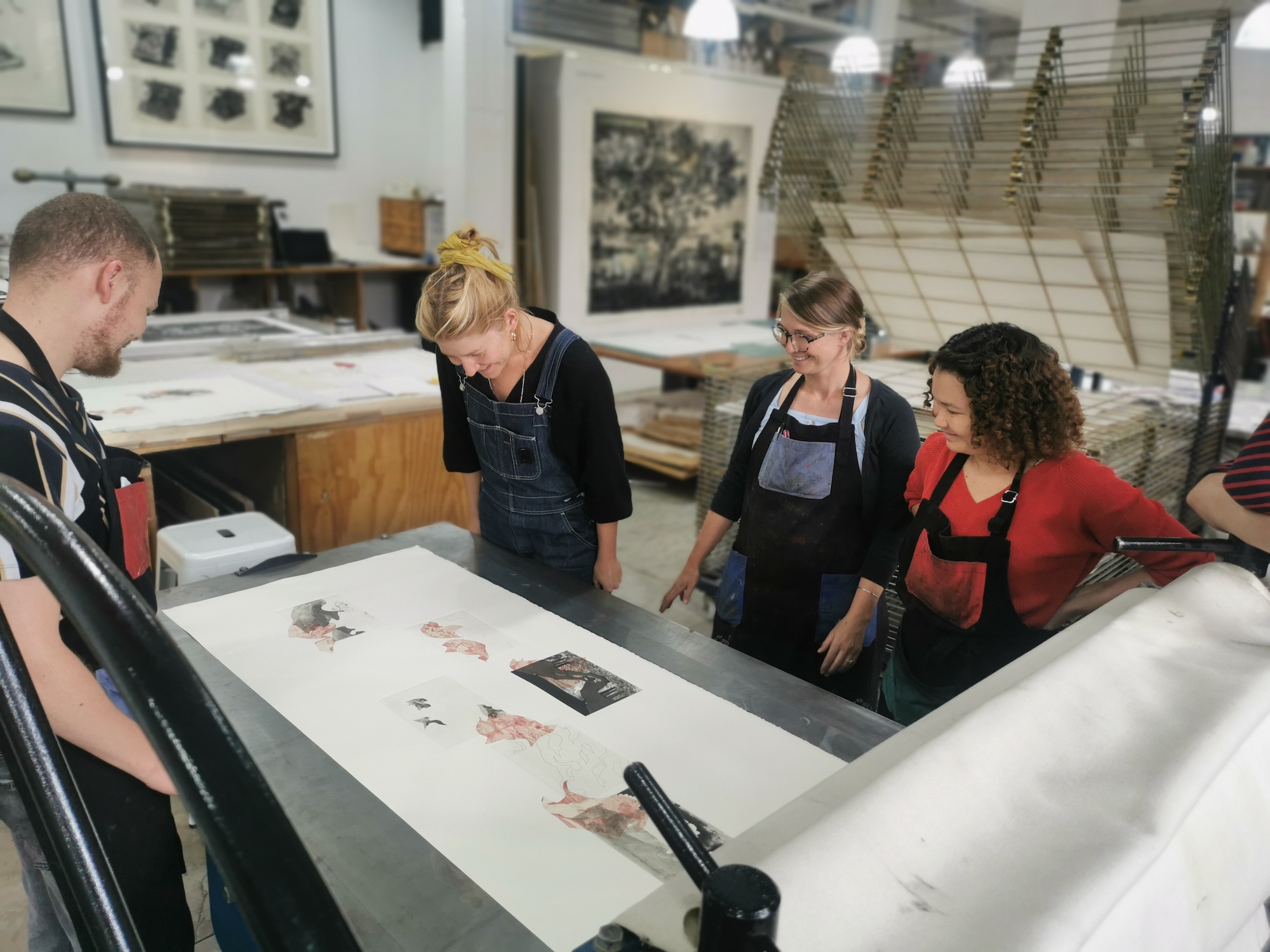 Production of small plates
As a starting point for the residency, Anna began with six small copper plates. These were to act as sketches in the etching medium to determine a direction for the body of work she would create. These plates developed into two veins of prints.
The first arrangement plays out a story board where abstracted cut-out prints from the previous collaboration in 2021 become note-like and directional, as on a theatre script. Anna says: "So it is not necessarily like abstracting different parts of it, but creating a scene from many different parts. These are the characters, this is the space, this is the, interruption, the chaos. And, and then they are all shaken together".
The prints feature an arrangement of the six plates. Each plate developed individually but are printed together, arranged on one sheet of paper with pieces of chine collé. The format of the image is a continuation of the language used in the print Everywhere there's a wind there's a name for this wind (2021), a print made during Anna's first collaboration with the DKW as part of the publication of five new etchings during her short-term residency at DKW in January 2021.
Anna began referencing washing lines in her work at the beginning of lockdown in 2019. She would carve into long and narrow woodblocks from left to right in a procession manner to reflect the movement in time. The character that follows the washing line imagery goes to perform and comes back to do menial domestic tasks like laundry. 
The team loved the image and decided to extend it horizontally with a second plate as a diptych. The unique format of the work references a window that was specially built in this long horizontal format in a house in the Cape Mountains that Anna often spent time at. Anna was prompted to experiment with the format by a print in the DKW kitchen by artist Friedrich Danielis titled Leporello, 2008.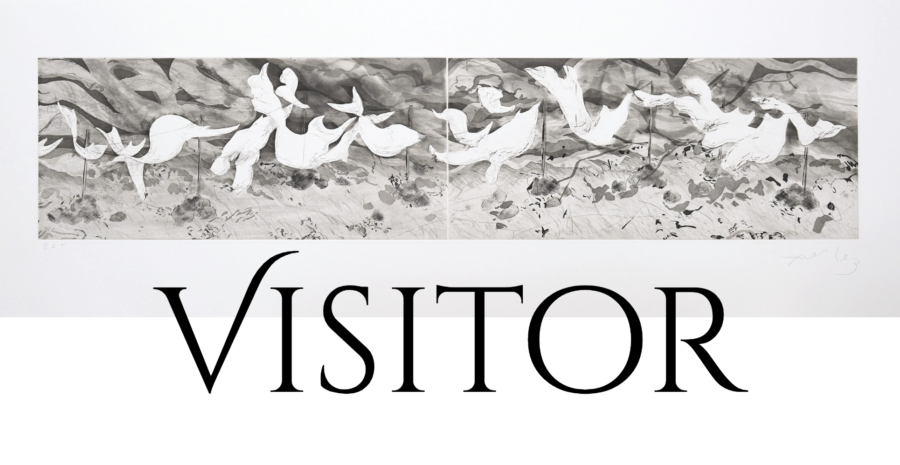 View more from Anna's first residency and show here.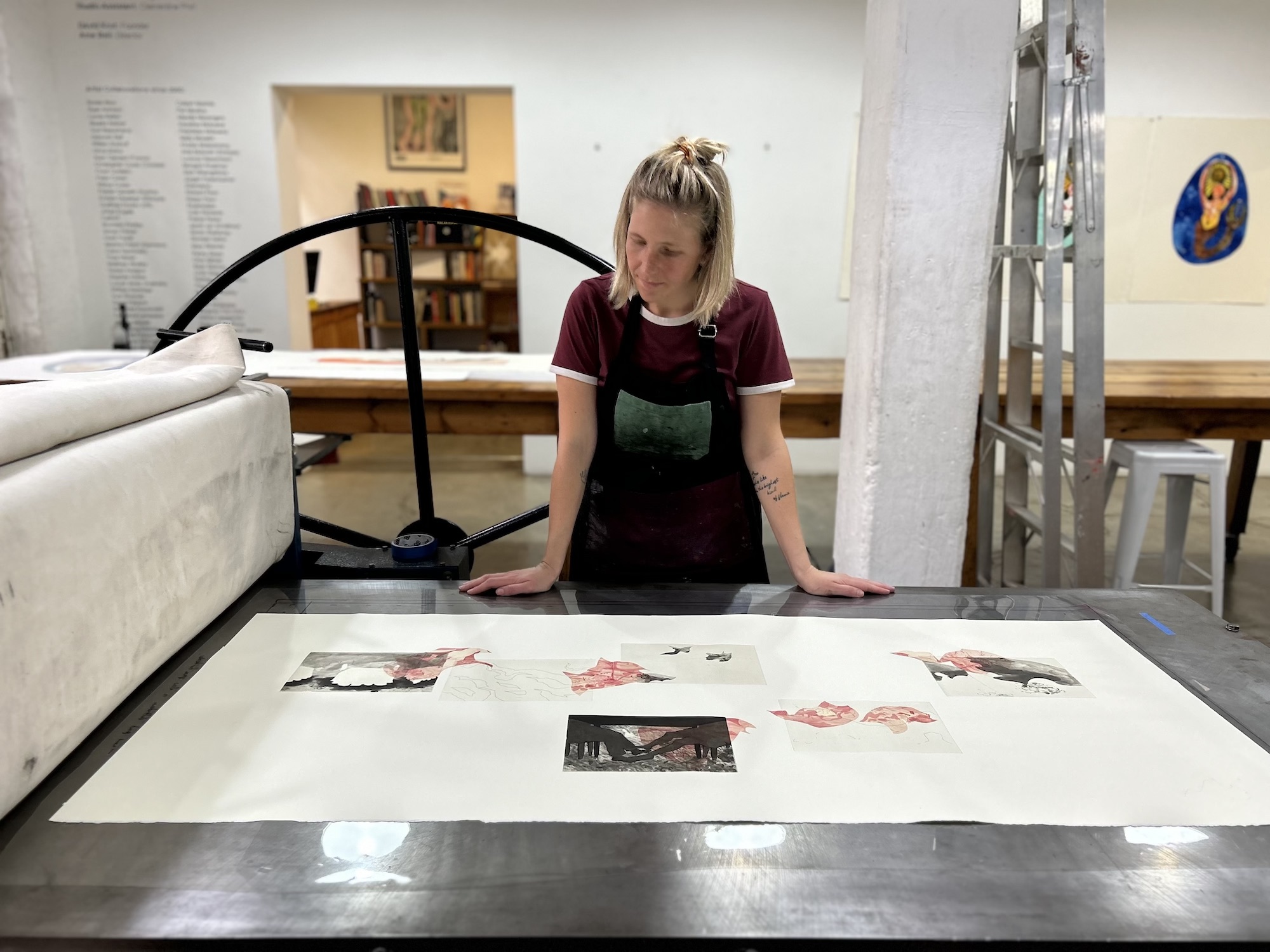 "…in Omens are for example hearing someone say victory as they pass you in the street, the audience gazes at a disembodied hand that is at the same time a body in itself, as it crouches awkwardly away from the bright flame. The title purports a message that seems to have no apparent connection with the image but forces you to stay in its wake until you can make that connection. Anything. The nature of our brain to compartmentalize says: stay and think. Perhaps you've got it. You think to yourself there must be significance in the fact that this is the only work where the word 'omens' has a direct reference. A term that Van der Ploeg is particularly absorbed by, describing it as having "symbolic intelligence". The hand in the etching carries a bursting flame at the tip of its fingers as though just a breath of a touch can ignite a glaring rupture. In this, I see a calm calling to not overlook the interconnectedness of commodities and rather be open to what they are telling us. And like omens, they tell each of us something different. They are deeply personal and tailored to our own experiences. Like the image, the notion of omens call us to decode the domino effects that exist secretly in the happenings of life."
– Lukanyo Mbanga, 2023 (Read the full text here)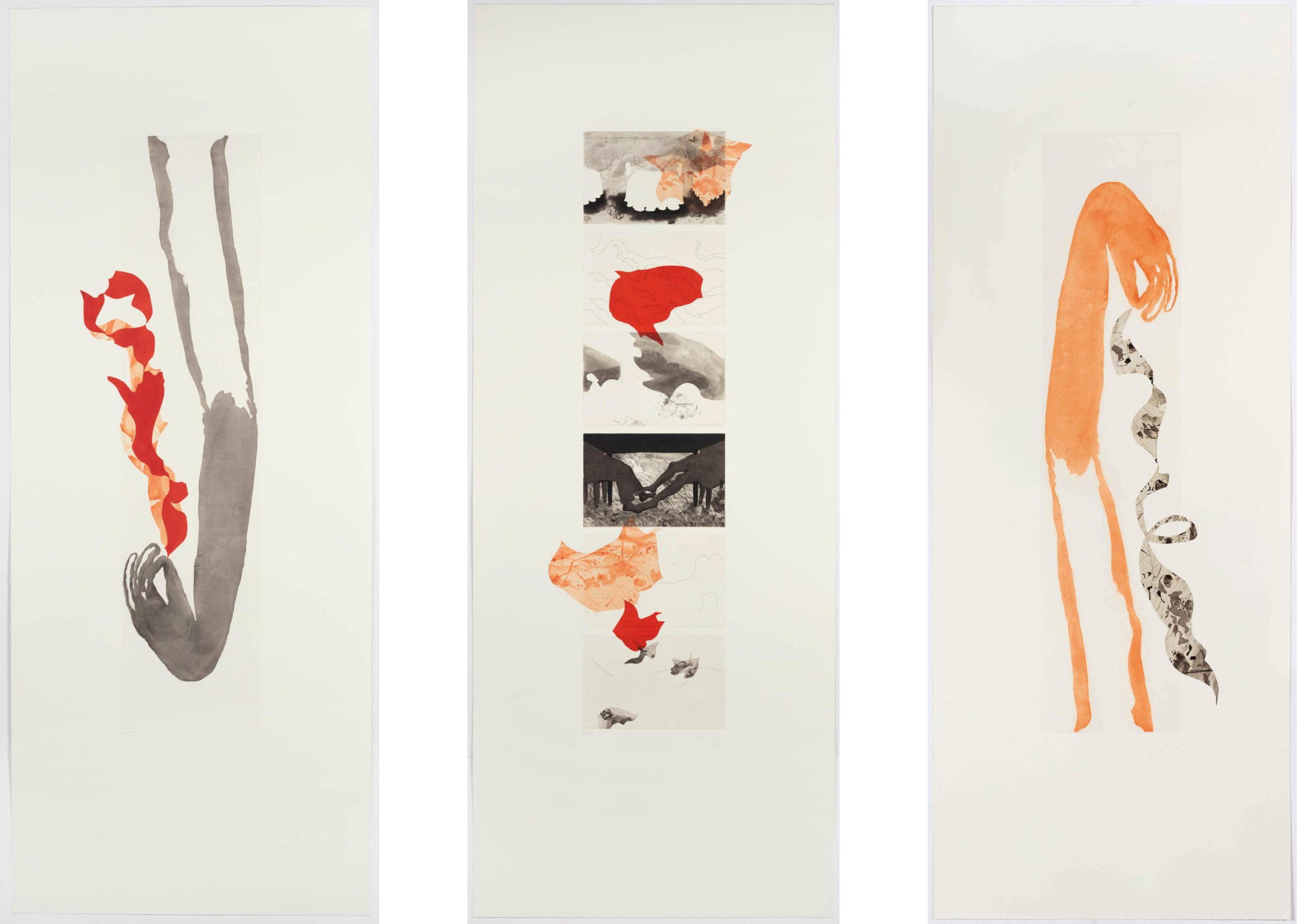 Above etchings by Anna from left to right: Omens are for example hearing someone say victory as they pass you in the street (2023), Possible night, impossible night, pegs, strings, stringing one excuse to every guest (2023), No date no wait, no fate to contemplate (2023).
Single Images
One print shows The Negotiators (2021) again, but small and intimate in scale. The yellow as if peering at the copper plate in the acid. This was the piece she picked to start off from for this new body of work, and this print sought to re-engage the work, look at it through squinted eyes, and then pick it apart. Anna thinks of the table as a theatrical scenography – this is a sort of moment of low spot-lighting, before the scene changes, the props are rearranged and the story goes on.
Both etchings are printed onto pieces of Hosho paper which has been silkscreened with a flat acid yellow colour and then adhered to a backing sheet of Hahnemühle Natural 300gsm. They are then cut into a shape which reference old red document files Anna found and has done drawings onto.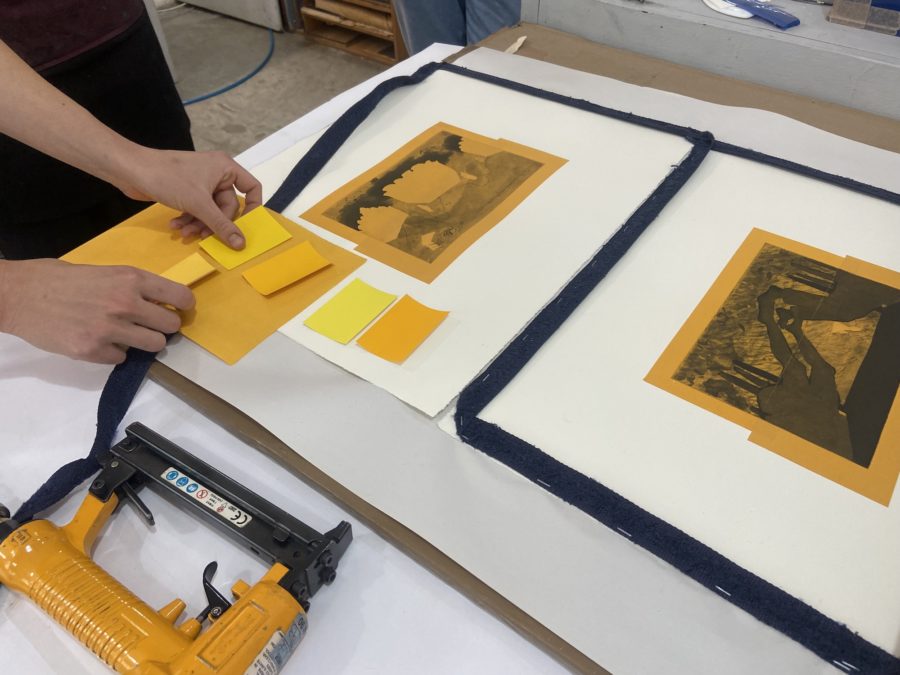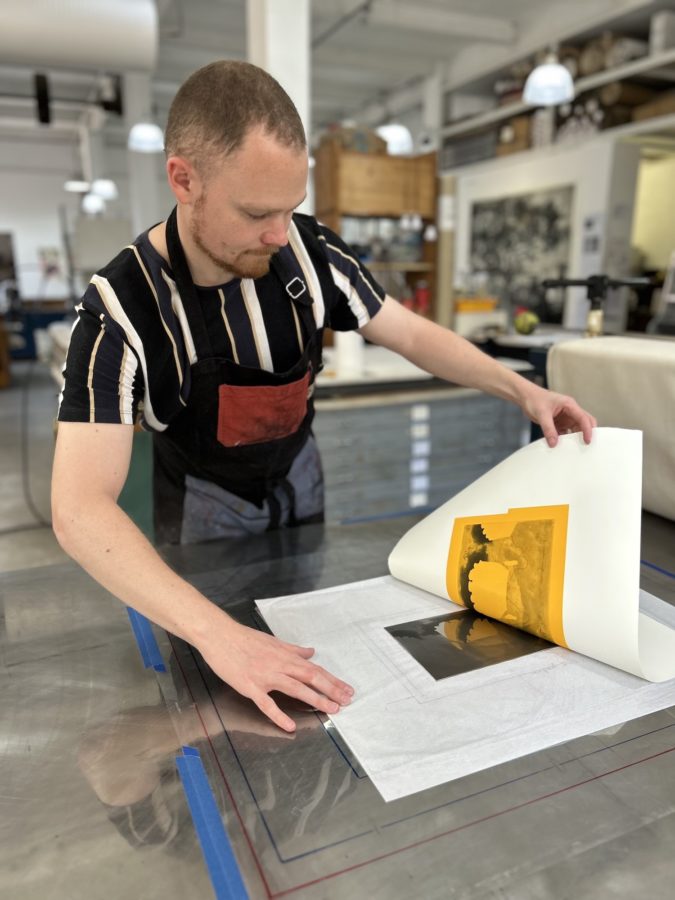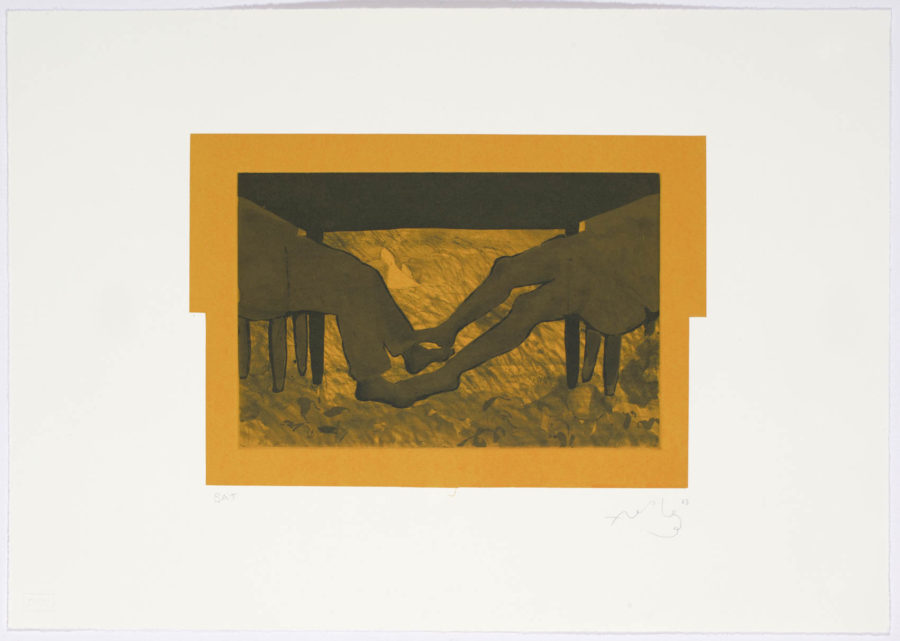 Above etchings by Anna from left to right: I've relived that moment many times since then, but in the last couple of years, I've started to imagine it from a third point of view (2023), Any informed spectator would have understood that scene (2023)
Aside from her skills as a painter and sculptor, Van der Ploeg is an accomplished printmaker. She studied printmaking in her degree and subsequently participated in residencies in France, India and Japan where she worked with Mokuhanga, a water-based woodblock printmaking technique. This ancient technique lends itself to building up many layers of colour, creating depth while maintaining subtlety. The experience as a whole was illuminating and humbling: sowing seeds that will hopefully grow as her practice moves forwards.
Anna completed her Master of Fine Arts in Belgium in 2021, where she graduated with high distinction from KASK Royal Academy School of Arts, Belgium, and was awarded the Legate De Leu prize for Fine Arts. The body of work she made there focused on large painted wooden sculptures.
Visit our Portal Page to read more about Anna's exhibition Omens in hot bacon contradiction, 2023, at the David Krut Projects 151 Gallery.
For more information on available works contact [email protected]
And read more about the series of Monotypes made during this same residency here: