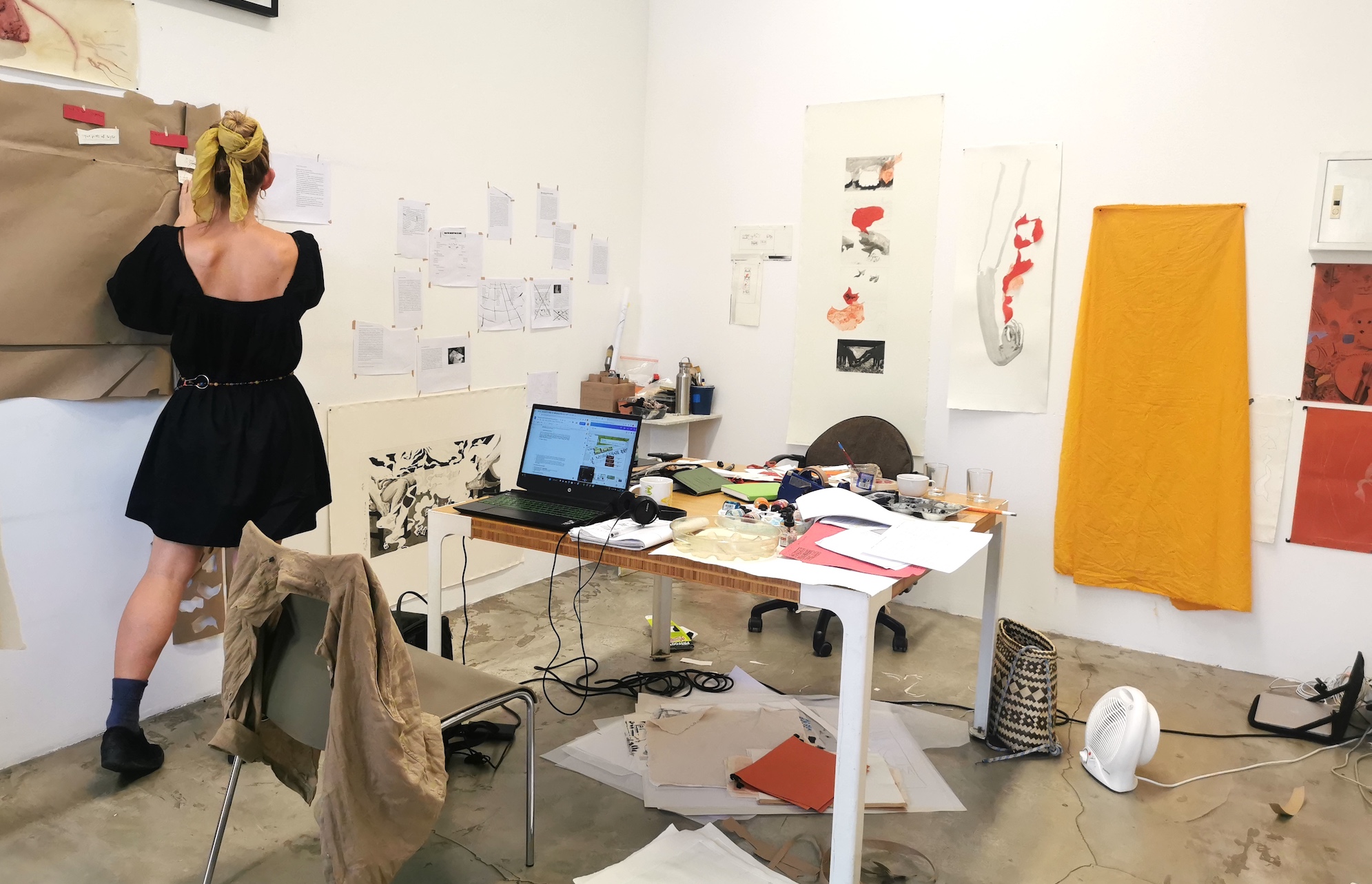 The David Krut Workshop (DKW) welcomed Anna van der Ploeg back to the workshop for a residency in preparation for a solo project in Johannesburg, May 2023.
Anna first collaborated with DKW printer Roxy Kaczmarek in January 2021, where she spent 10 days making a series of etchings and watercolour monotypes. This was followed by her solo exhibition Visitor.
To read more about her previous body of work visit here.
Anna then returned to Belgium to finish her Master of Fine Arts, where she graduated with high distinction from KASK Royal Academy School of Arts, Belgium, and was awarded the Legate De Leu prize for Fine Arts. The body of work she made there focused on large painted wooden sculptures.
To view her works from the exhibition click here: https://annavanderploeg.com/exhibitions/orators/
" Anna Van der Ploeg's curved wooden sculptures are indeed remarkable objects. The models, so to speak, are those homemade posters that everyone knows and that people hang up at supermarkets when cats or loved ones are missing. Under Van der Ploeg's hands, these artefacts from everyday life take on a monumental form. The objects are not simply stripped from their original context or aestheticised for museum purposes, but retain a touching referentiality. Language or people reaching out crystallises into a less legible but picturesque typography, which is both tragic and beautiful."

https://schoolofartsgent.be/ee/en/calendar-news/news/prizes-graduates-2022
Anna's current body of work expands from her first collaboration at DKW. The work further explores large etchings and delves deeper into monotype making. Anna is also working on a series of paintings and drawings.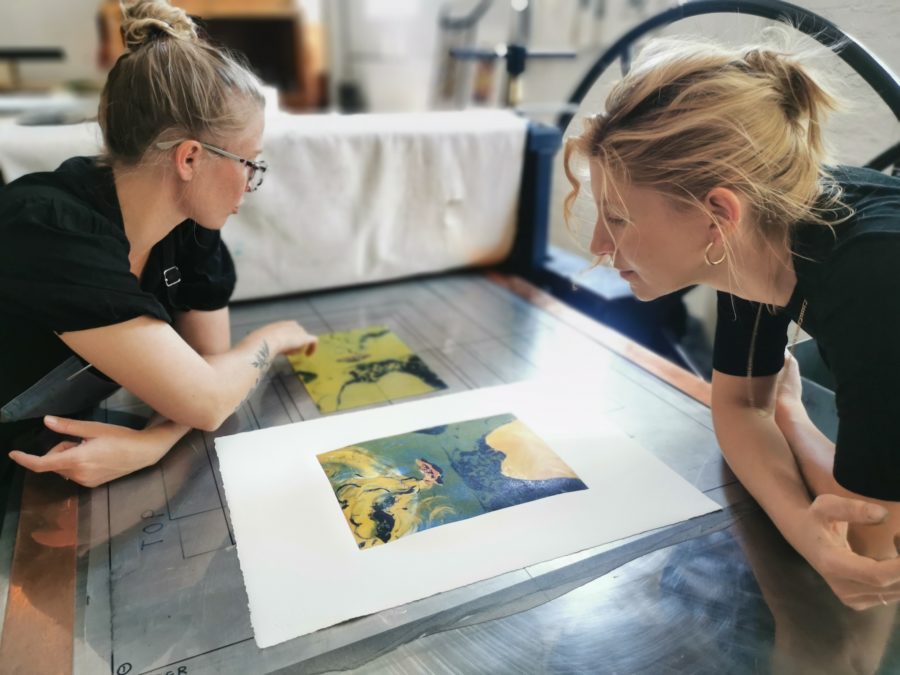 DKW Printer Roxy Kaczmarek and Anna van der Ploeg looking at a freshly pulled monotype print
Anna and Roxy kicked off the residency this year exploring oil based monotypes. In 2021, during her first visit, Anna had played with large watercolour monotypes in a series called The Winds!
A watercolour monotype is made using watercolour paints or water soluble mediums on a perspex or plexiglass plate, coated in Gum Arabic. The paint is left to dry and then transferred onto paper by running the plate and water-dampened paper through the press.
Anna had previously experimented with oil paint in monotype making. At DKW we introduced Anna to thinned down oil based lithographic inks, which are designed to give intense colours on a very flat surface – ideal for the planographic technique of monotype.
Anna took to the medium immediately, relishing in the vibrant colours and the manipulative ability of ink on the smooth surface of the plastic.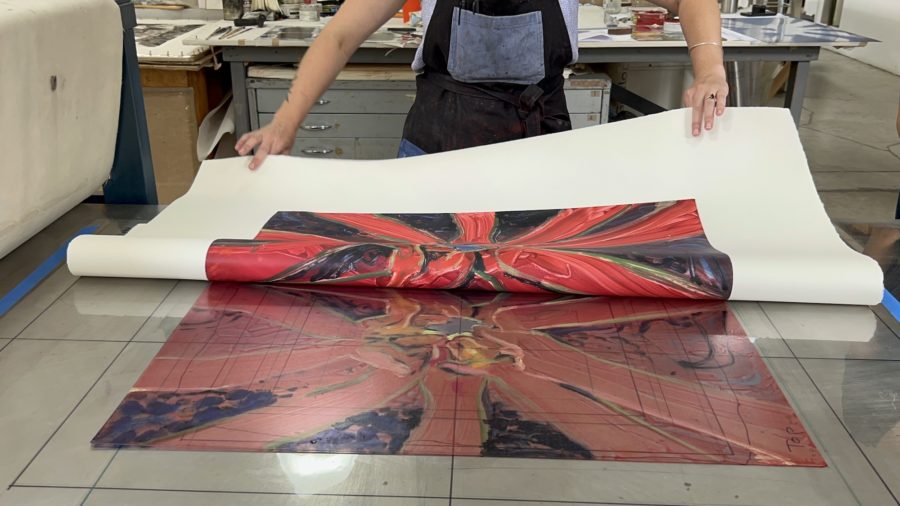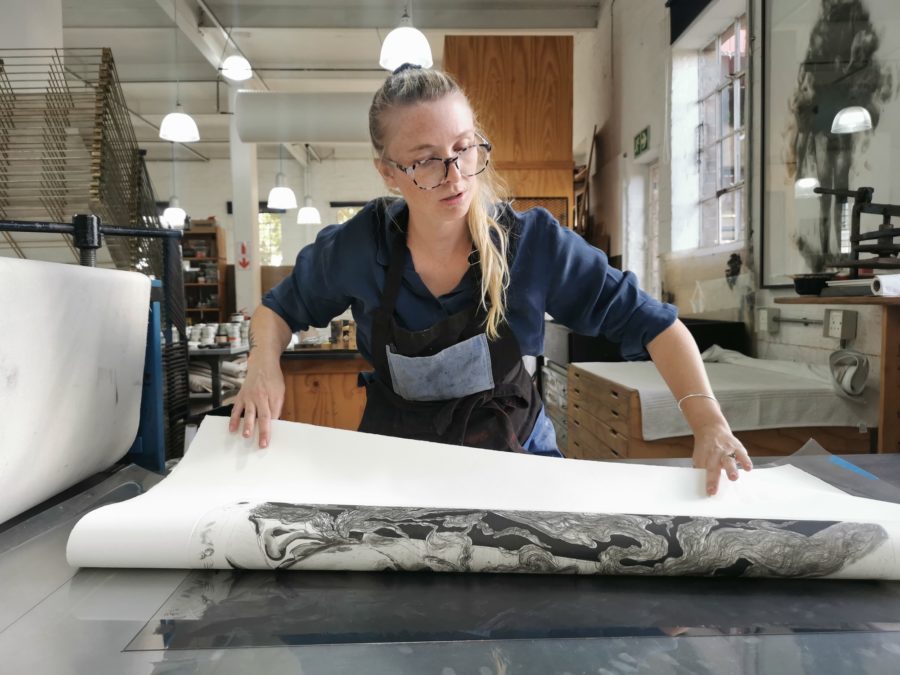 Anna is currently working on her etchings in the workshop. Keep an eye out for more information on these beautiful prints coming soon.
Anna will be in the workshop until mid February. Her show will be opening in May 2023. For more information or an advanced catalogue please contact [email protected]