Written by Danijela Cook
While perusing the bookshop shelves to create a display corner for Boemo Diale's exhibition it seemed like a no-brainer to include two books on the life and work of Henri Matisse – 'Henri Matisse' published by Taschen and 'Henri Matisse, The Cut Outs' published by Tate. This piece is the inaugural edition of a new blog series entitled, 'The Artist's Library.' It aims to publish short essays that explore how the Bookstore resources converse with the exhibitions and collaborations here at David Krut Projects. We would like to promote the bookstore as a resource space, encouraging audiences to engage with broader art discourse and acquaint themselves with the referential nature of art-making processes.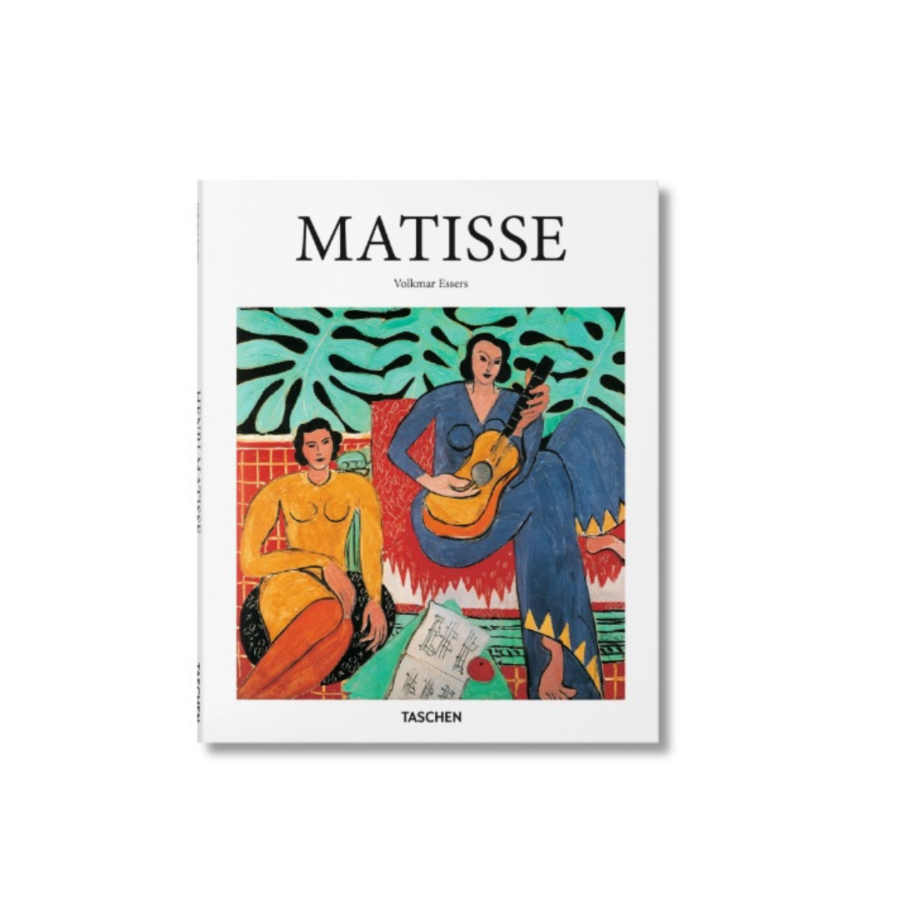 Boemo Diale's exhibition, Can I Play? opened at The Blue House on the 11th of February. The exhibition showcases a set of experimental monotypes that were created during her internship at the David Krut Workshop in 2022, as well as two new paintings. The process of exploring a medium that the artist was not familiar with has resulted in lively compositions that build upon the intrinsic themes of intuition, spirituality and playfulness evident in Diale's work.
Diale's practice navigates through the nuances within her identity as a mixed race, multicultural young woman. Her work is recognized for its jovial representation of internal dilemmas and how they are therapized through the creation of liminal worlds. Her identity is complex and layered,; it is then no surprise that her process of making mirrors this. By layering an array of media she achieves dynamic compositions that invite the viewer into an imagined landscape. Within this layered environment her figures , which she has stated are representations of herself and the black women in her lineage, find their sense of place. Although the figures are not in a defined environment, the interaction between each of the compositional elements suggest to the viewer that these representational characters are in the midst of a vibrant natural arena – they appear to be comfortable in the undefined space. Each of the layers Diale implements results in a crescendo of fun, one that can be described as a channeling of the inner child and subsequently, a mode of healing.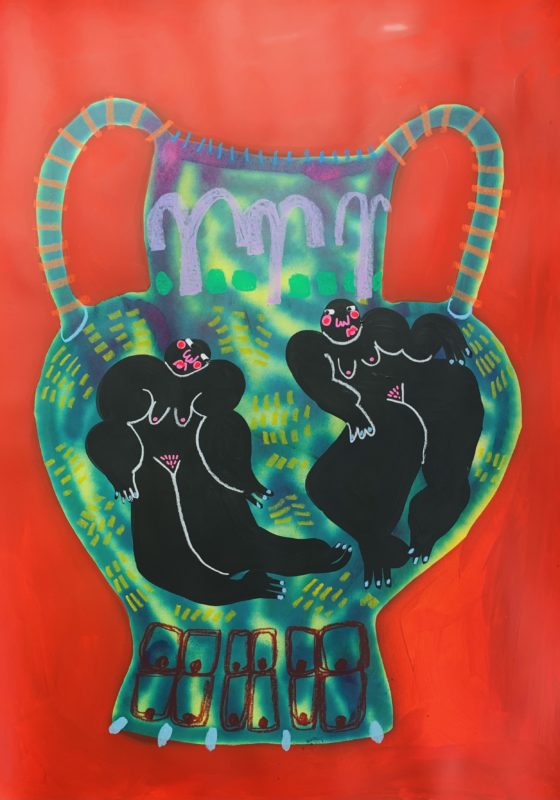 Her recent monotypes display a more minimal approach to her compositions, but remain true to her use of organic shapes, cheerful colourfulness and an imaginative arena. This is most notable in the works: Divine but in Zig Zag, Here's a New Idea and A New Playground.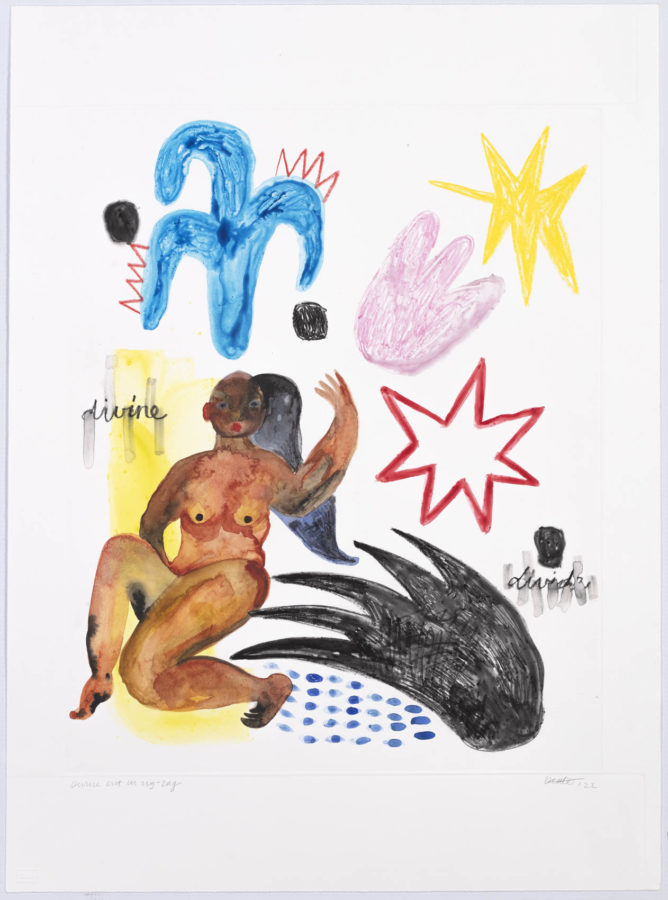 With this particular set of works, I found a noticeable link to Henri Matisse's cut outs. The cut outs became a defining era in the artist's career. By cutting out shapes from painted sheets of paper, Matisse created compositions that achieved the simplistic marriage between colour and form that he is admired for. This mode of working was referred to by Matisse as his 'second life' – the works were created in the last decade of his life whilst his health was severely compromised. Most of the works were created from his bed or a wheelchair. With a similar spirit to Diale, he aimed to reinvent the world he could no longer engage with; making as a playful way of healing.
The arrangements of colour and form evident in both Diale and Matisse's work nudge the practice of representation into a more freeing space. The process of cutting and sticking is one that is so reminiscent of childhood – and it was an interesting choice for Matisse to return to a naive process after such a successful career as a painter. However, this choice seemed to liberate him of the exhaustion of life – similarly, Diale harnesses the energy of the inner child to relieve herself of the uncomfortable weight of her reality, often regarding race and gender. There is an earnest expression that is seen in both of these artist's works – one that is hopeful and that reminds us that living with a light heart is the perfect armour against adversity.
When looking at the work of two artists who lead with feeling as opposed to criticality, it is no wonder that there is a tenderness felt in their expressions. It is a strange sense of intimacy to view a work that captivates emotion in this way – more so when we become familiar with the processes. Matisse and Diale have both entered a space where they are not necessarily taking themselves too seriously, by creating what they want to see rather than what is really there. There is a certain bravery to be noted when an artist works like this. They are dealing with turmoil of their internal worlds whilst still allowing themselves the freedom and joy of a youthful worldview.
I believe the importance of this way of working is to reflect on the beauty that grows out of discomfort, especially discomfort with the inescapable realities of day-to-day life. Matisse liberated himself of a limited life; he adapted and pioneered a new process for himself that ensured he was connected to the jovial, exuberant nature of life. Diale digests her emotions, that have been handed down through years of generational trauma, by producing works that are full of vitality. This approach carries an energy that is seemingly undeniable to any viewer – one I would encourage you to spend time with, allowing yourself to learn how to lead with light.
Boemo's show is up at the Blue House until the 4th of March and both of these wonderful Matisse books are available in store and online. You are warmly invited to come and have a look at the work and get cozy in the bookshop. See what connections and revelations you might have!