The David Krut Workshop (DKW) announced the arrival of contemporary artist Anna van der Ploeg for a short term residency at the David Krut Workshop in January 2021. During this time, Anna and Printer Roxy Kaczmarek along with the DKW print technicians produced an impressive body of works including editions and unique works.
Anna van der Ploeg works primarily in painting, printmaking and sculpture and is represented by galleries locally and abroad. She has participated in artist-in-residence programs in Japan, India and France and is currently working and studying in Berlin. We are excited to explore the potential of her practice in a new collaborative environment.
Anna van der Ploeg is no stranger to printmaking, and quickly orientated herself around the workshop before getting stuck into her first etching test-plate. Her subject matter includes figurative and landscape imagery that shares certain qualities from literature – namely an ability to create a fiction in which to probe at the truth. This is noted in the first image of a washing line which she creates armed with a copper plate and etching tools.
The 'washing line' first appeared in her artistic lexicon during her solo exhibition titled Map with open windows (2020) – which took place in Woodstock, Cape Town. This image showcases the ambiguous nature of van der Ploeg's subject matter and her interest in an open narrative for viewer interpretation.
The 'washing line' became an image that Anna worked on during lockdown in South Africa in 2020. Anna had cut pieces of wood into a long and narrow format to fit the length of her desk at home. Being interested in stories, Anna was naturally drawn to the idea of the left-to-right in a procession format to think about time. Doing laundry is the kind of task that goes on and on. It is repeated and familiar to every household. There was the idea of the cyclical manner to reflect the movement in time. The character she was exploring throughout the body of work would come home and perform menial, domestic tasks – such as doing ones laundry.

In order to repeat the language of the long format Anna and the team extended the image of the washing line onto a second plate creating a longer format or diptych. The printers proofed the 2 'washing line' plates, replicating the technical aspects to match the first plate. Anna likened this process of replicating the test plate to baking an experimental cake with a rough recipe and deciding that it was so delicious that you want to make a second one. The spitbite technique is the most challenging and unpredictable as its painterly quality is challenging to replicate exactly. There has to be a balance created in artistic method and in the science of the etch on the plate.
"For printmaking, it seems natural to work in series.. either to work across 2 plates or making an edition." Anna van der Ploeg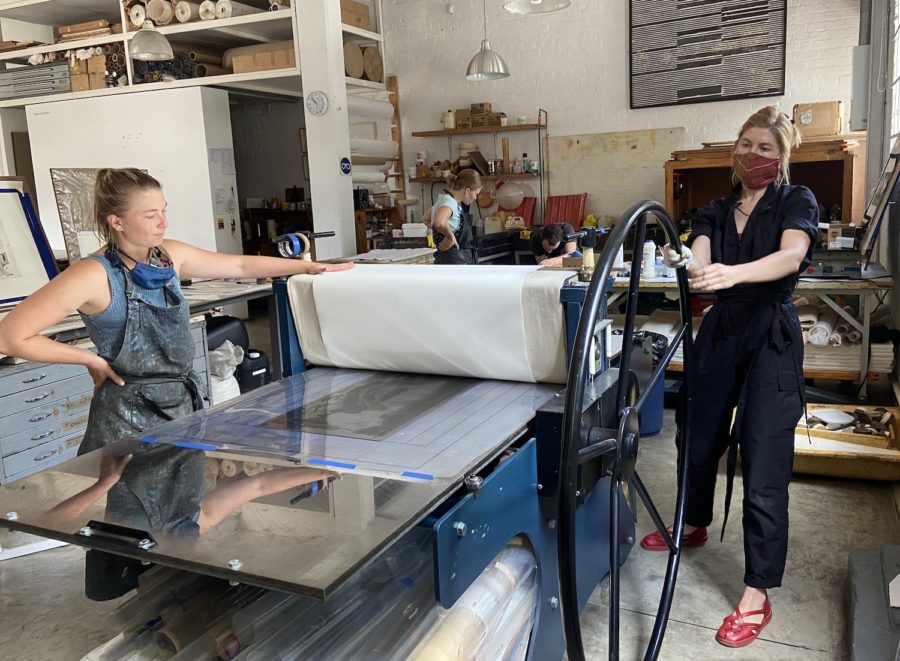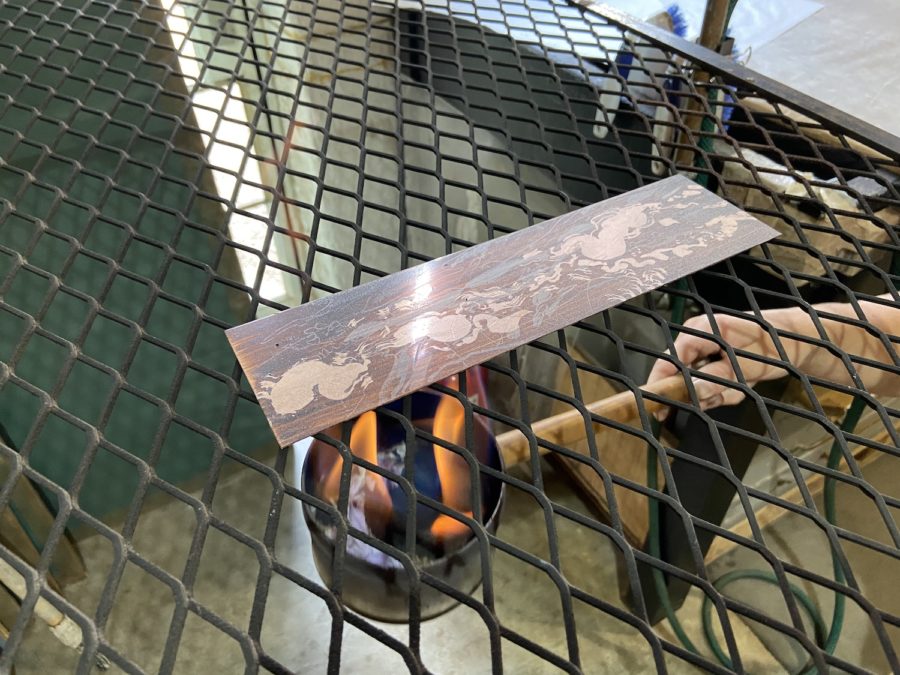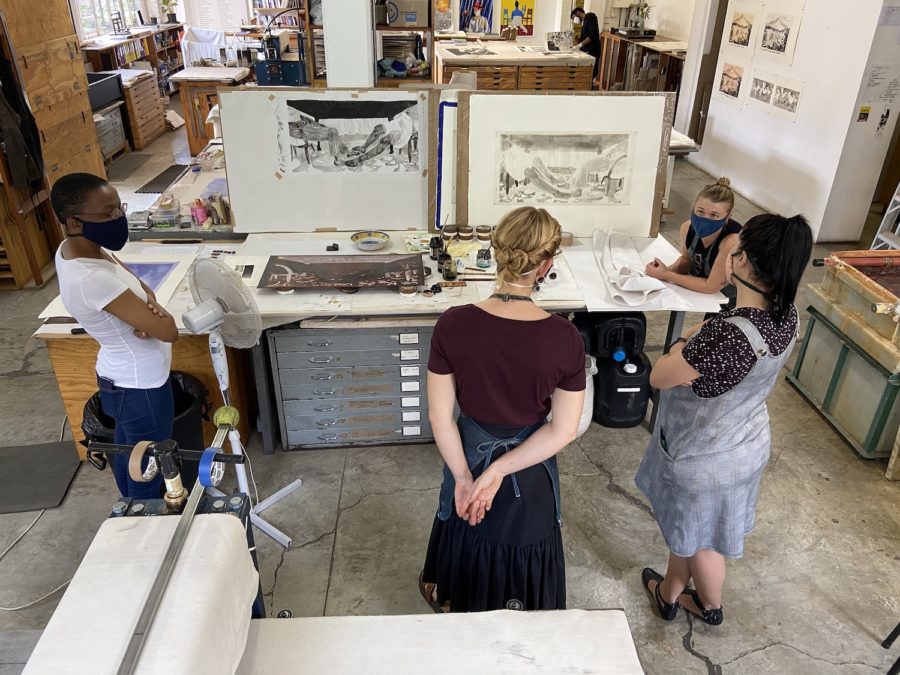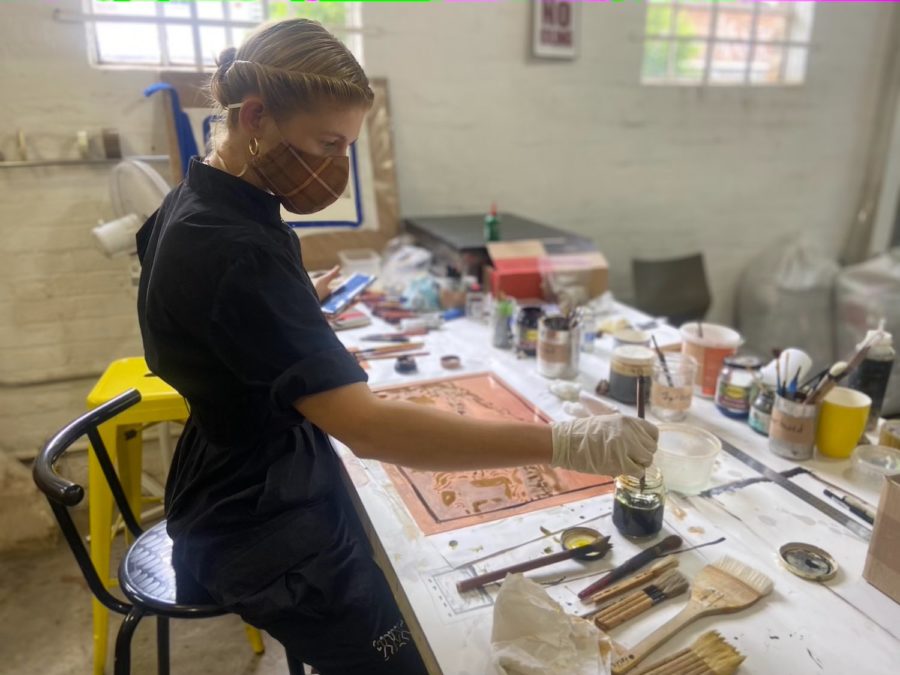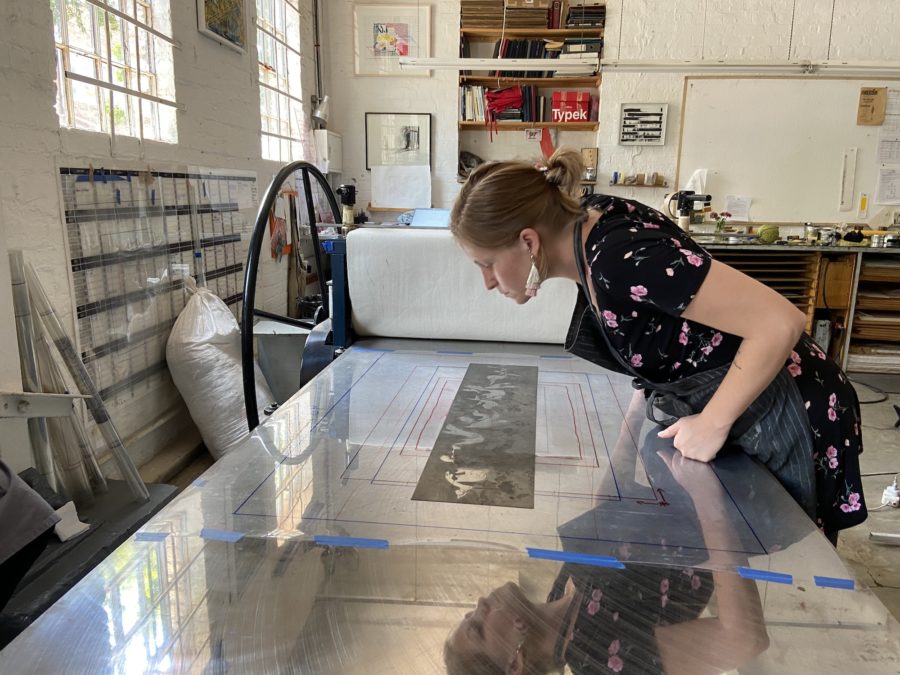 The printers tested different variations of image using the process of chine collé. This is when a thinner sheet of coloured paper is adhered to the backing sheet during the printing process. During time at the workshop Anna experimented with a number of etching processes as well as watercolour monotypes. She has created a series of vibrant figures in flux using these techniques.
In 10 short days at the David Krut Workshop (DKW), Anna completed an impressive body of work with complete focus and a succinct knowledge of her own practice effortlessly combined with the attentive input of the print technicians.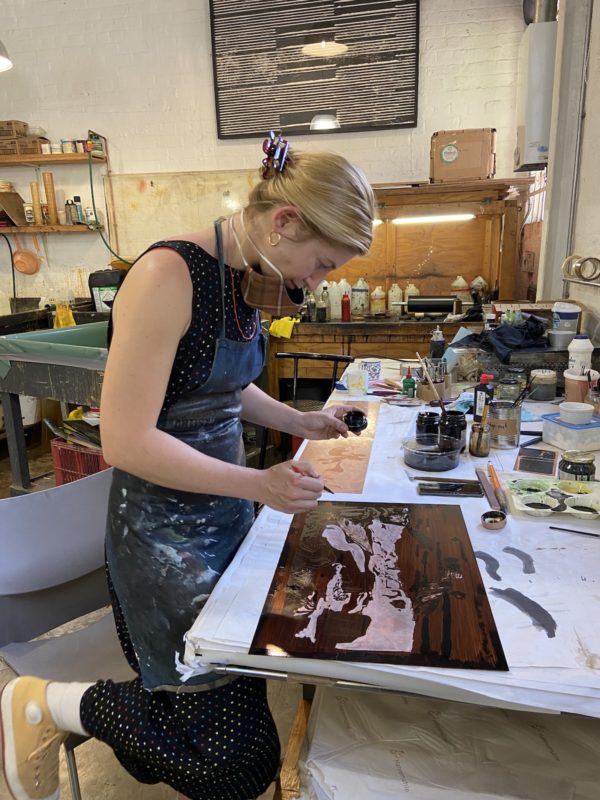 This series is to be released mid 2021. For prepublication information please contact [email protected]