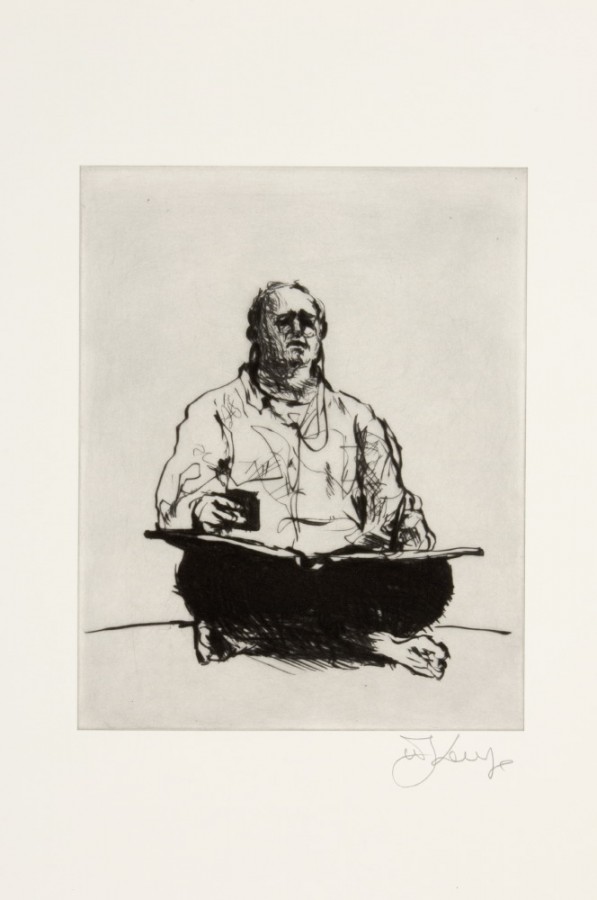 Also see WILLIAM KENTRIDGE (NOSE) and WILLIAM KENTRIDGE (UNIVERSAL ARCHIVE)
William Kentridge (b.1955) is a multidisciplinary South African artist – a printmaker, a director of theatre and opera, a drawer and an animation filmmaker. One might call him a maverick of the arts for the unparalleled ways in which he combines old and new artistic mediums, such as film and charcoal. While he does not define as a "political artist" per se, Kentridge is widely regarded as a go-to contemporary South African artist whose work is not limited to but cannot be detached from his country's recent history and fraught present. For example, Kentridge is conscious of, but not burdened by, the colonial history of linocut printmaking in Africa, where the medium was introduced in the 1960s under the influence of German expressionism, which was, in turn, inspired by African mask-making. Kentridge read Politics and African History at Witwatersrand University in Johannesburg. He rejected the traditionalist position from which art was taught at the time in South Africa. In his own words, he was told that "to be an artist was to paint with oil on canvas". He took evening classes in etching, through which he started to grow as a visual artist who largely deals in black and white. While many artists dabble in printmaking on the side of their practice, Kentridge is a modern pioneer in the medium – drawings and theatre projects regularly emerge from his prints. For Kentridge, printmaking is in itself a multi-disciplinary practice. He says that "there is also a way of thinking of an etching as an extraordinary, ridiculously complicated form of animation, different states of the plate, when you know that you will rework them". Kentridge's 2015 projects include: directing Alban Berg's
Lulu
(which recently showed at the Metropolitan Opera in NYC)*; the performance piece
Refuse the Hour
(featured at the Brooklyn Academy of Music); a major show in London at the Marian Goodman gallery titled
More Sweetly Play the Dance
; a retrospective in Beijing, titled
Notes Towards a Model Opera
(currently in Seoul under the title
Peripheral Thinking
, after which it will travel to Busan and Taipei); a new piece made for the Istanbul Biennale 2015,
O Sentimental Machine
, which takes Trotsky's exile in Istanbul as its departure point. As the winner of the Apollo Artist of the Year award in 2015, Kentridge has been dubbed "one of the most important artists working today". His "remarkable range" is acknowledged and credited for having "followed its own unique path, irrespective of contemporary fashions, over the past 25 years". * Printmaking is an essential part of Kentridge's
creative process
. He made a series of linocuts "as a way of thinking before the production [
Lulu
] began".