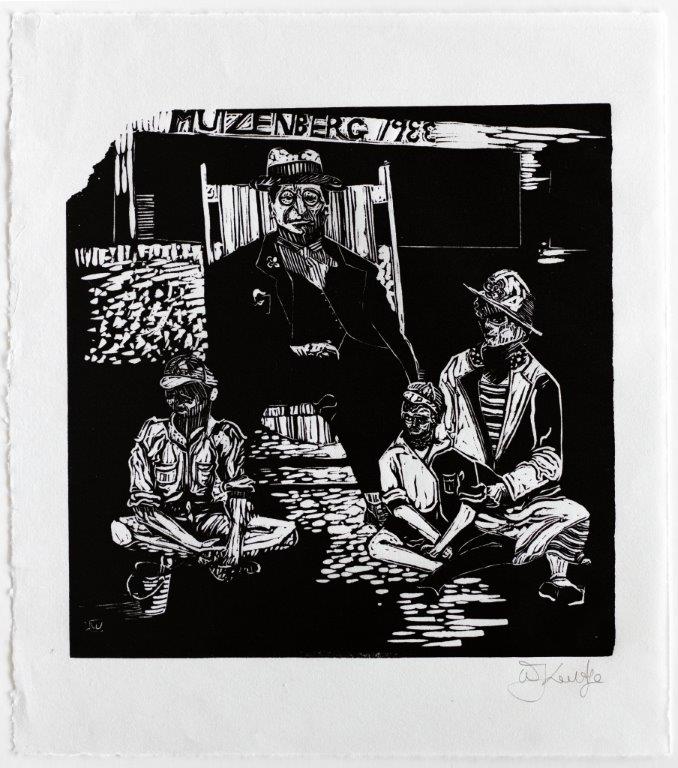 Collaboration History
William Kentridge first started collaborating with David Krut in 1992, with the latter publishing Kentridge editions in South Africa. At that time, he also invited Kentridge to work with Jack Shirreff at 107 Workshop in Wiltshire, UK. Subsequently, Krut published many of the resulting prints (like the General, the HMV set and the Baedeker suite) and was the first to bring Kentridge's work to the USA with ensuing exhibitions in New York, Chicago and Washington in the mid- and late-90s.
In 1997, the first major publication on Kentridge was published in CD-ROM format by David Krut. After Krut established his own print workshop in Johannesburg in 2002, Kentridge became a frequent collaborator with Master Printer Jillian Ross (and before her, Randy Hemminghaus) and her team at David Krut Workshop (DKW), working on various print series, among others: the Nose series from 2006-12, The Universal Archive from 2012-16 and the Triumphs and Laments woodcut series from 2016-19. Other collaboration results are the Magic Flute series, Zeno Writing and various other prints that were created in relation to Kentridge's ongoing theatre and film productions.
David Krut Publishing released numerous books about the artists, among others William Kentridge Prints in 2006, the first book to give an overview over Kentridge's printmaking career up to that point.
In total, Kentridge has had more than eight solo exhibitions with DKP and many more group exhibitions he took part in.
Biography
Kentridge, who was born in 1955 in Johannesburg, South Africa, is a multidisciplinary artist – a printmaker, a director of theatre and opera, a drawer and an animation filmmaker. One might call him a maverick of the arts for the unparalleled ways in which he combines old and new artistic mediums, such as film and charcoal. While he does not define as a "political artist" per se, Kentridge is widely regarded as a go-to contemporary South African artist whose cannot be detached from his country's recent history and fraught present. For example, Kentridge is conscious of the colonial history of linocut printmaking in Africa, where the medium was introduced in the 1960s under the influence of German expressionism, which was, in turn, inspired by African mask-making.
While many artists dabble in printmaking on the side of their practice, Kentridge is a modern pioneer in the medium – drawings and theatre projects regularly emerge from his prints. For Kentridge, printmaking is in itself a multi-disciplinary practice. He says that "there is also a way of thinking of an etching as an extraordinary, ridiculously complicated form of animation, different states of the plate, when you know that you will rework them".
One of Kentridge's key marks is the inter-relatedness of his various works. Often he is working on a multitude of projects at the same time and so the works inform each other. When he is producing an opera, it's probable that he is doing some drawings and prints on the way. The Nose series was inspired by the adaptation of Shostakovich's opera The Nose, Kentridge did for Metropolitan Opera New York, for example.
As the winner of the Apollo Artist of the Year award in 2015, Kentridge has been dubbed "one of the most important artists working today". His "remarkable range" is acknowledged and credited for having "followed its own unique path, irrespective of contemporary fashions, over the past 25 years".
Kentridge's work lies in hundreds of collections worldwide.