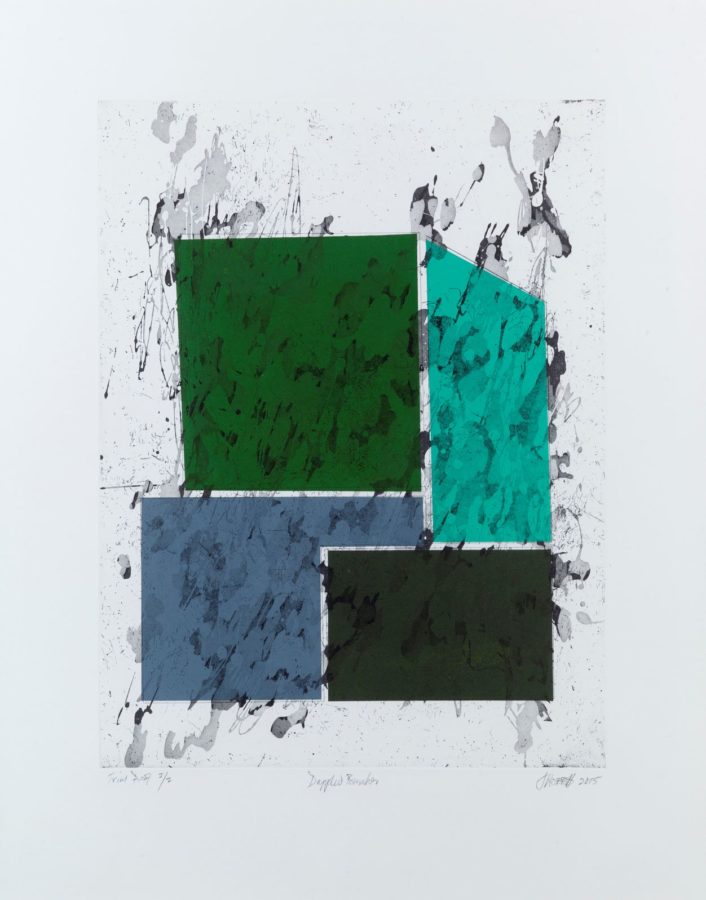 Stephen Hobbs was born and bred in Johannesburg where he lives and works today as a public artist (co-director of the public art consultancy, The Trinity Session) and dedicated printmaker. Hobbs had his debut show with David Krut Projects (DKP) in 2010, titled Fool's Gold. Since then, he has had four solo exhibitions with DKP across our various locations in Johannesburg and Cape Town. His practice is informed by the complex, often obfuscating, visual language used to construct cities in South Africa. The artist is keenly involved in Johannesburg's evolving status as an apartheid-city-turned-African-city, working predominantly in etching, linocut and monotype to draw connections between World War I dazzle designs* and urban defensive planning used in cities today. Hobbs has a BAFA (Hons.) from The University of the Witwatersrand. After graduating in 1994, he worked as the curator of the Market Theatre Galleries. He has since worked on major public projects, including the recently completed Craftsmen's Ship building in Maboneng (a burgeoning arts hub in inner-city Johannesburg), which Hobbs co-designed. Since collaborating with DKW in 2011, Hobbs has produced numerous series of prints, totalling 50 editioned works and over 30 unique pieces.
*Dazzle camouflage is a zebra-like pattern used on gunships in the early 1900s to fragment the visual field of enemy sites in combat situations. Although dazzle patterning became obsolete after World War I, Hobbs has mined the potential that such visual deception presents for aesthetic reflection on dystopian urban environments.
Solo exhibitions at DKP
Scroll down to view works.
Related blog posts
Defence and deception in the modern South African battlefield: Stephen Hobbs on his etching suite, "Buildings, bombs, bunkers and clouds
Printmaking in the "armpit of America": Stephen Hobbs on his whirl-wind lecture tour of the United States
Destruction/Construction: "Main and Kruger" etching series by Stephen Hobbs
An enlightening studio visit with Mr. Hobbs
Related articles
The Mail and Guardian review Permanent Culture at David Krut Cape Town – "a tight and thoughtful show"
Hobbs at David Krut makes the top ten cultural highlights in "a well-conceived show that played with the notion of scale and practical constraints, particularly in the realm of architecture" – Mary Corrigall