Very Dangerous Grid finds its inspiration in the rotation of banal advertising adorning Joburg's motorways, where the grid like infrastructure of the billboard, oscillates between being naked and bare and covered over.
For Hobbs the bare skeleton is of more interest, a framing device for the clouds and sky, a site of projection, an in transit day dreaming device. Remaining within the abstract language of the billboard skeleton, the artwork is comprised of a repurposed wood block print, where the original image – a fragment of a billboard frame – is cut open to reveal a supporting frame behind it. As with many of Hobbs paper works, the use of reflective tape, is a consideration of night vision and making visible obstacles on the road, equally Hobbs is interested in a moving reflective picture plane, where the artwork enjoy's another life in low light.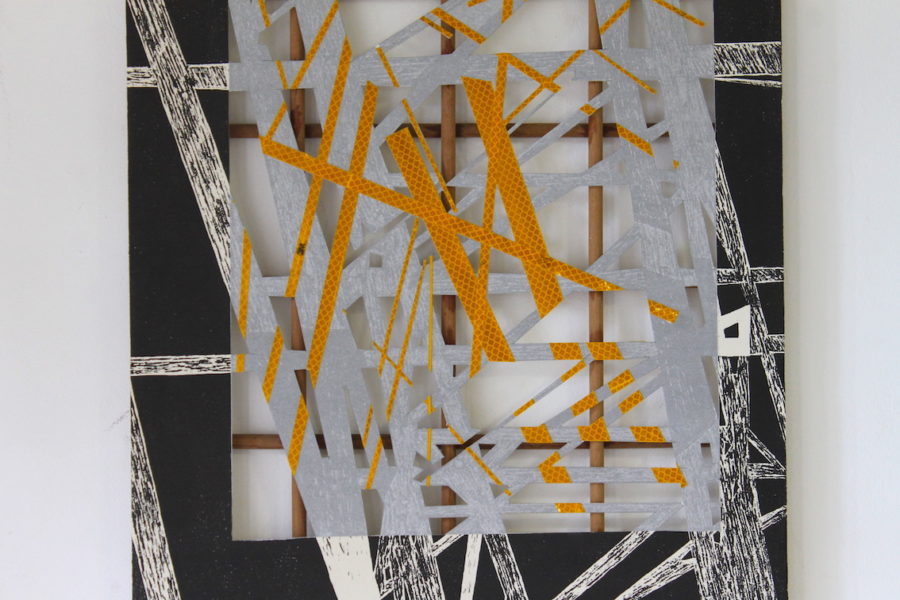 Very Dangerous Grids comes from a place of experimentation with print, reflective tape, cut outs, line, structural aspects and how this can work together in one artwork. Hobbs' constant way of working with forms of architecture or purely in the city is integral to his art practice. This work was a part of the Very Special Places exhibition at the Krings-Ernest Gallery in Cologne in 2013, a collaborative project with architects June-14 Meyer Grohbrugge & Chermayeff and Toshihiko Mitsuya.
For more information on the artist visit his page: