In April 2020, Artsy launched the #ArtKeepsGoing campaign with the goal of creating content with artists that highlights how they are enduring the unique situation of the global pandemic – COVID-19. This campaign has brought artists' voices directly to the community through a series of questions about inspiration, artistic practice and their art. We posed these questions to artist Stephen Hobbs.
How does art keep you going during difficult times?
Stephen Hobbs: Given my history of fairly radical surgery and an over-acquaintance with hospital beds, some of the bleakest moments and most physically painful, have been that much more tolerable with a pen and paper in my hand or listening to a guided meditation, drifting off into my mental visual archive, stitching and compositing as I go. But this can get boring fast and oddly one eventually embraces a kind of emptiness. This is a skill if not an act of creation. And these painful insecure times all too often are the most productive.
How has your art practice been affected by self-isolation?
SH: Indeed my practice has very much been stalled. I've recently moved to a new country with my family. I/we were 3 months in, the engines were starting to warm up, networks were starting to build and opportunities and rejections were coming in. Certainly some of the opportunities may well return in a much-expected post-apocalyptic condition. But I come from a city that has been in a perpetual state of building, collapse and reinvention for over 140 years. I'm very curious about the function and value of my artistic practice in the world of the 'new' normal.
How are you staying creative?
SH: There is no shortage of material both current and in my archive that requires deeper investigation, understanding and configuration. So the trick is to keep at it, in small ways.
Are you creating new work while social distancing?
SH: Yes.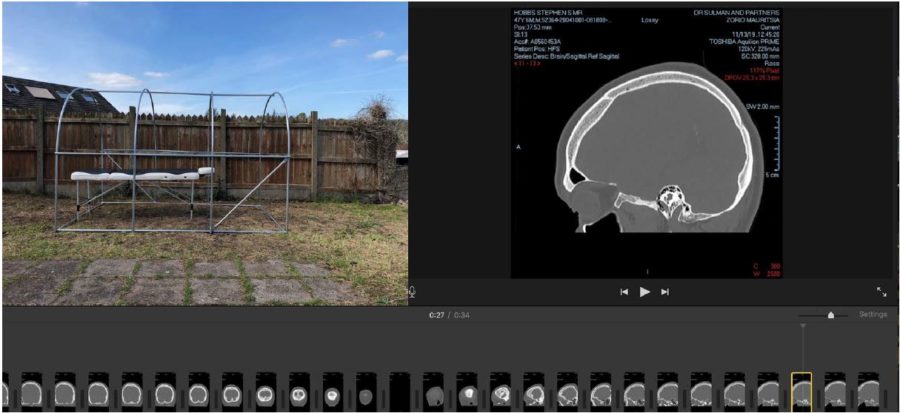 Who are some other artists you are moved by right now?
SH: South African painter Sanell Aggenbach.
How are you staying in touch with your community or supporting other artists?
SH: Regularly, 2-3 times a week via elaborate online workshops in Zoom "rooms".
What work of art in your home means the most to you?
SH: We haven't hung all of our personal collection of artworks and have inherited a fantastic collection of framed landscape pictures. I have a love/hate relationship to these. We are living in the countryside and all of the pictures are of idyllic landscapes. I'm living in a tautological nightmare, along with questionable interior décor.
---
Stephen Hobbs recently relocated with his family to the Republic of Ireland and is now based between County Cork, London and Johannesburg. He has been collaborating with David Krut Projects and Workshop since 2009, a relationship that has broadened his artistic repertoire through printmaking, book-making and publishing.
---