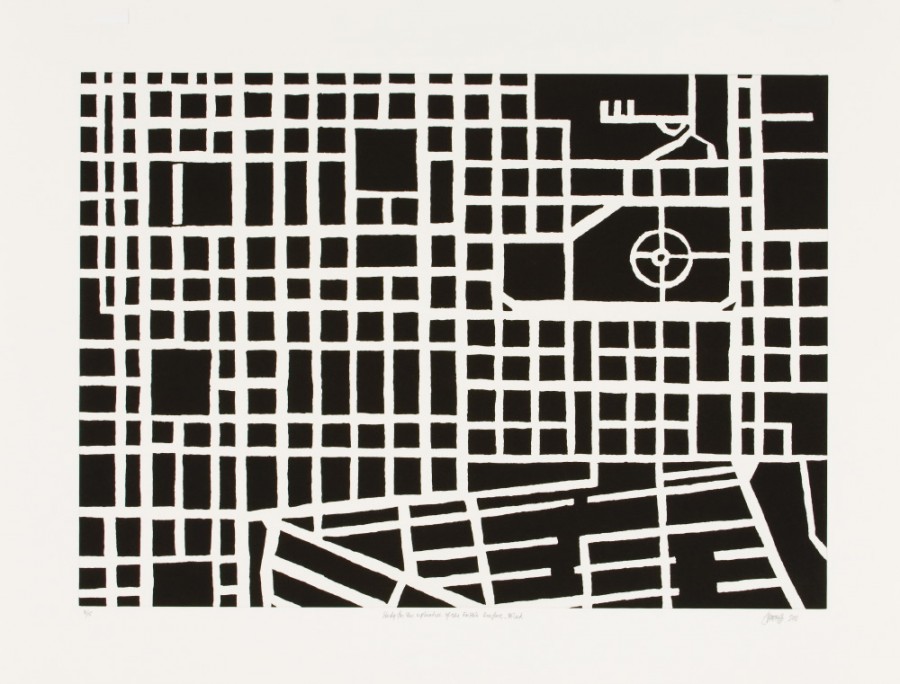 Study for the Replication of the Earth's Surface – Black and Study for the Replication of the Earth's Surface – Broken White are 2 editioned images that the artist had printed from the same plate. The works vary in color and format but both represent the map of the city of Johannesburg from different viewpoints. Although there are no street names, the area where JAG is situated almost becomes a target icon, and a keyhole-like image formed by the Joubert Park layout suggests this area as the 'key to the city'. The visual puns seem less obvious when the optical illusion, created by the black blocks offset by the white roads, takes over. Strange grey dots begin to vibrate at each intersection, suggesting some kind of movement. The phenomenon of the dots is used to illustrate a metaphor about urban space experienced in the actual streets in these areas where congestion is ever present.
The act of constructing buildings upwards is a way of replicating the earth's surface by stacking one portion of the floor above the next, hence the title of both works. Hobbs usurps the standard technique of mapping out the city block to road ratio, in order to talk about a fleeting urban experience. The mark on the artwork extends beyond the surface to the actual surroundings it depicts. Stephen Hobbs' main concerns in his art revolve around highlighting the pleasure of curious looking and imagining the city with, in this case, JAG as the focus. Hobbs' use of optical illusions and perspective play major roles in helping the viewer to re-image the object or image at hand. This image was created with aquatint and printed with a custom mix of Charbonnnel Black 55981, Charbonnel Black 55985 and Gamblin Portland Black etching inks.
GREY DOTS AT THE INTERSECTION 1995 – pres. from stephen hobbs on Vimeo.
Artist:
---
Title:
Study for the Replication of the Earth's Surface - Black (ed. of 15)
---
More about:
---
Year:
---
Artwork Category::
---
Media & Techniques:
---
Edition Size:
15
---
Sheet Height:
55 cm
---
Sheet Width:
74 cm
---
Availability:
Available
---
Framing:
Unframed
---