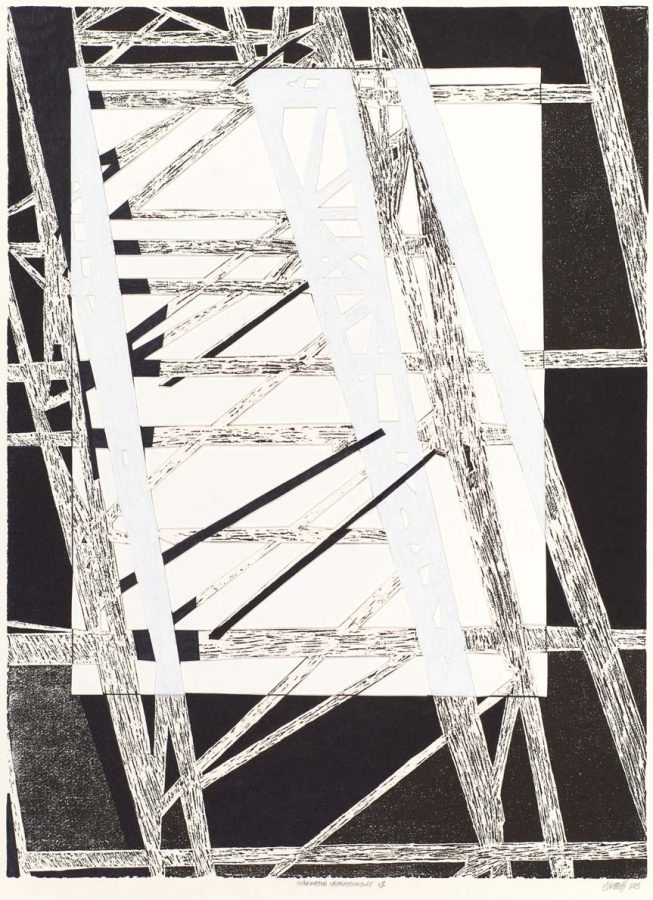 This editioned work by Stephen Hobbs forms part of his body of work, Be Careful in the Working Radius, which was shown at David Krut Projects' Parkwood gallery in 2013.
"Be Careful in the Working Radius indicates a shift in and expansion of Hobbs' practice. Focussing particularly on Johannesburg since 1994, Hobbs has sustained a dialogue with urban space through video, installation, curated projects, photography and sculpture. Hobbs' highly conceptual and multi-disciplinary creative enquiry looks to the city as a tool for understanding the complexities, contradictions and potentialities inherent in the relationships between people and the built environment. In this body of work, Hobbs' distils and translates his mercurial urban practice into the formalism of the printmaking medium […] Imagery of billboards and scaffolding reduced to abstract grid formations is the departure point for this body of work. Hobbs harnesses the significance of billboard scaffolding as a vertical matrix upon which information is placed, opening the potential for imaginings on the horizontal grid, as foundation for a kind of urban madness from which rectangles are extruded and cars and people hustle on the ground plane." (Jacqueline Flint, 2013)
In this print, the woodcut process effectively flattens the positive and negative spaces observed from billboard architecture, prompting the viewer to find new spatial configurations created by the intensive overlaying of the structures. The title is a comment on this structure given to advertising in its 'empty' state – potentially more evocative and interesting than the actual advert it is designed to support.
Be Careful in the Working Radius was accompanied by a publication of the same name, which took an in-depth look into Hobbs' practice at that time. The title is available from the David Krut Bookstore.
Artist:
---
Title:
Information Infrastructure VII
---
More about:
---
Year:
---
Artwork Category::
---
Media & Techniques:
---
Edition Size:
6
---
Image Height:
59 cm
---
Image Width:
43.5 cm
---
Sheet Height:
64.5 cm
---
Sheet Width:
49 cm
---
Framing:
Unframed
---