Since 2002, the David Krut Workshop (DKW) has functioned as the epicentre for artistic collaborations under David Krut Project's (DKP). DKW is located at Arts on Main in the invigorated Maboneng Precinct, Johannesburg and was one of the first spaces to opt into the Arts on Main initiative at its conception in 2010. This space is an urban, creative hub in one of Johannesburg's new art neighbourhoods and has proven to be a ground breaking, mixed-used community.
DKW has been under the skilful hand of Master Printer and Workshop Manager, Jillian Ross, since 2004, and hosts a team of excellent print-technicians whose specialised expertise allow for the masterly production of prints and editions. Our print-makers are, Kim-Lee Loggenberg, Sbongiseni Khulu, Chad Cordeiro, Roxy Kaczmarek and Sarah Hunkin.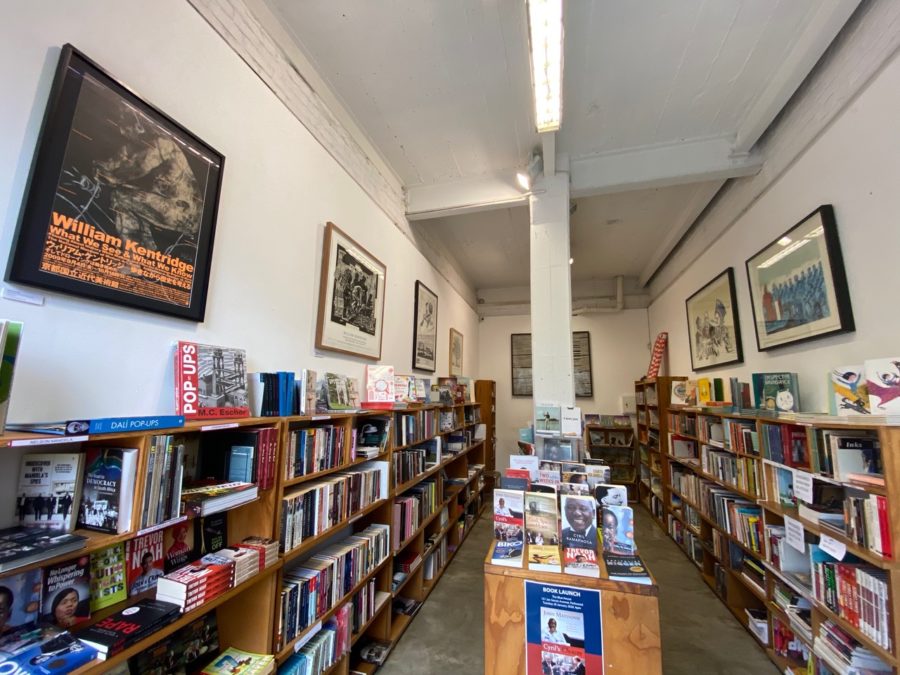 Alongside DKW we have a bookstore, offering a selection of beautiful texts – from visual arts, design, multimedia, and children's books – and a gallery space exhibiting new projects produced at the workshop, with local and international artists. Hangings at the gallery are frequently changing, and this month.
We have a permanent showcase of William Kentridge works made in collaboration with the David Krut Workshop. Currently two of the latest large-scale woodcuts are on display Refugees: God's Opinion is Unknown and Refugees: Leaning on Air. Editioning of these works is ongoing and most days visitors can see the printers inking and printing.
Be sure have a read about our Kentridge print of the month here.
In our bookstore and as part of our Salon Hang we have works by Senzo Shabangu, born in the village of Driefontein, Mpumalanga, 1985. Imagery from Senzo's childhood features regularly in his work. Two of Senzo's work, 'Carry your youth along' (ed. of 50) and 'In dreams' (ed. of 50). To read more about Senzo and these pieces, click here.
João Renato Orecchia Zúñiga, Peruvian Italian Brooklyn-born Johannesburg based artist, composer and maker of physical and virtual "things" that play with reality by deconstructing it, shifting expectations of standard uses or purposes of objects and processes. His work explores sound and music, resulting in his first solo exhibition, Instruction, which was accompanied by performances and a children's workshop.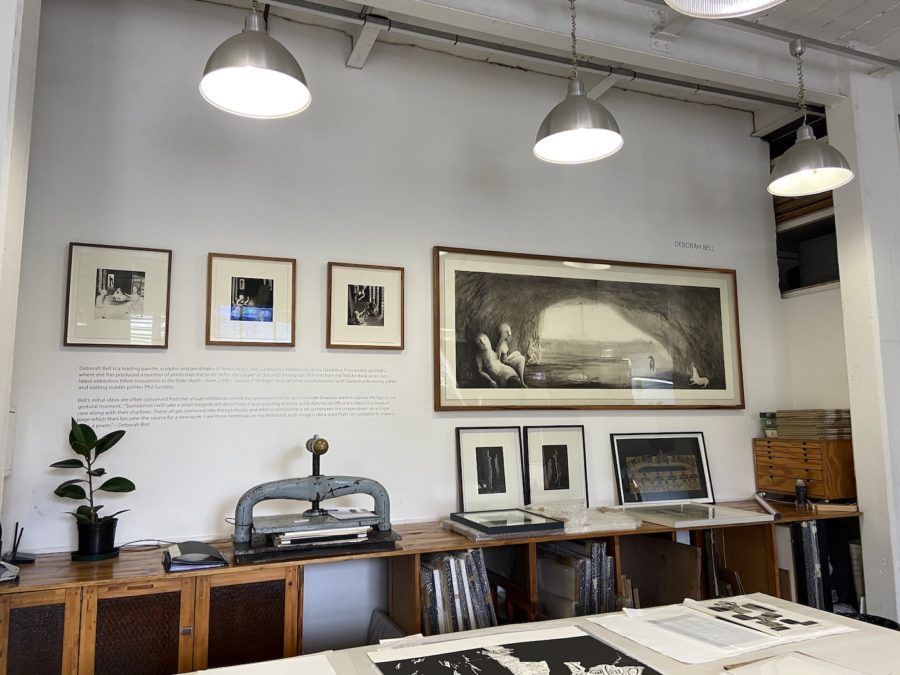 Deborah Bell's, She Wolf, 2019, Reveal series, and Who can own me, which formed part of her exhibition, Invocations to the Plate, 2019, are on display, as well as her ongoing Sketchbook Series, 2019. To read more about Bell's collaboration with David Krut Projects click here.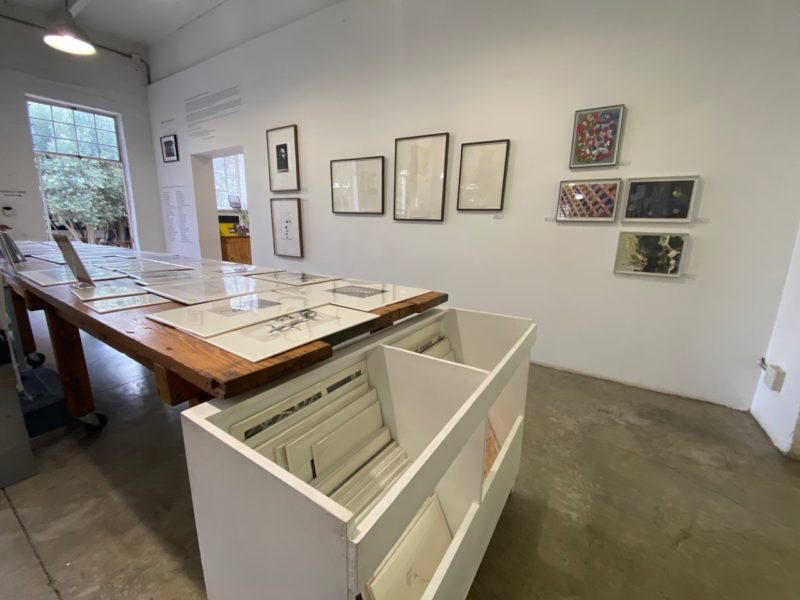 Maja Meljević, no stranger to DKP. Maja's anticipated editioned work, which will be a collection of prints inspired by her two previous bodies of work, Document for the People and Winter Files, will be showcased at the RMB Turbine Art Fair 2020. Maja's work is inspired and wholly abstract, incorporating graphic blocks, drippings and swirls of colour amongst both free-formed and structural lines. This composition reflects and strengthens what appears to be strong motives behind Maja's work – that is, her intuitive nature, the notion of 'appearing in the moment', and the very physicality of her craft.
Our recent collaboration with Mikhael Subotzky is featured in our entrance area. His photographic work combines the directness of the social documentary mode with a questioning of the nature of the photographic medium itself. Subotzky's Humorism (After Eliot and da Messina) is exhibited and it was created over the course of several years, having grown out of a desire to layer images, evolving under the guidance of master printmakers Phil Sanders and Jillian Ross, and printed by Kim-Lee Loggenberg (photo and direct gravures), Medeine Tribinevicius (digital printing) and Roxy Kaczmarek (silkscreen printing).
Our refreshed hangings include artists from the Latitudes Limited project with DKP, which formed part of the first-ever Latitudes Art Fair, hosted in 2019. These artists are: Sthenjwa Luthuli, exhibiting Future Mirror, Clint Strydom, exhibiting Big City 01, Mbali Tshabalala, exhibiting Conversations Within, Adejoke Tugbiyele, exhibiting Woman Dignity. And lastly Pebofatso Mokoena, exhibiting Progress on the Edge of Play. Pebofatso also has his first exhibition with DKP, opening on the 27th of February at 142 Jan Smuts Avenue, Parkwood.
We invite you to visit us at the David Krut Workshop at Arts on Main, to experience our gallery, to learn a bit more about the process of our print-technicians, and to glean some insight in this unique collaborative space at the heart of Johannesburg. We are open!Monday – Friday: from 9am-5pmSaturday: 9am – 4pm For inquiries contact [email protected] or call 011 334 1208