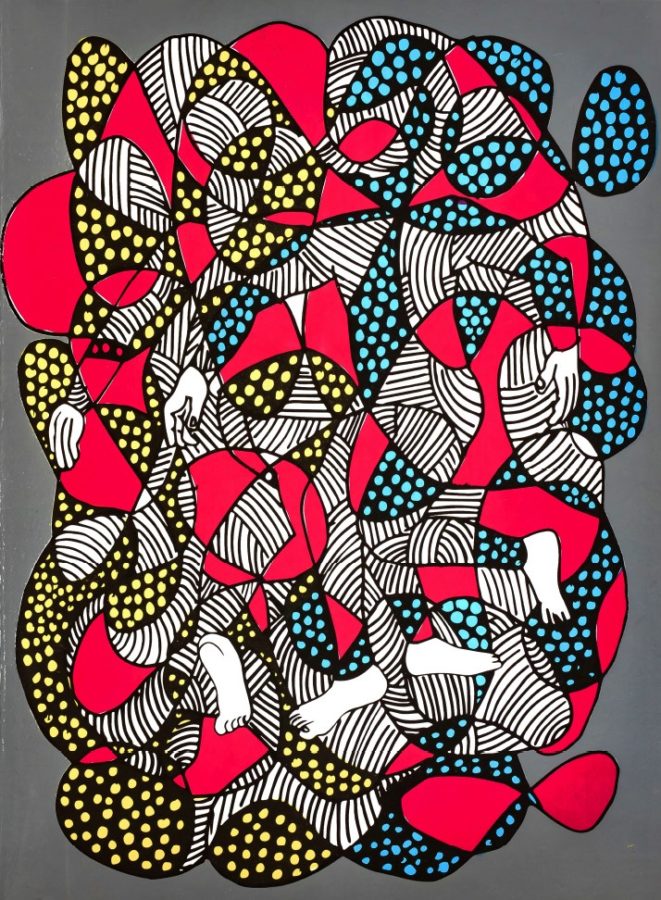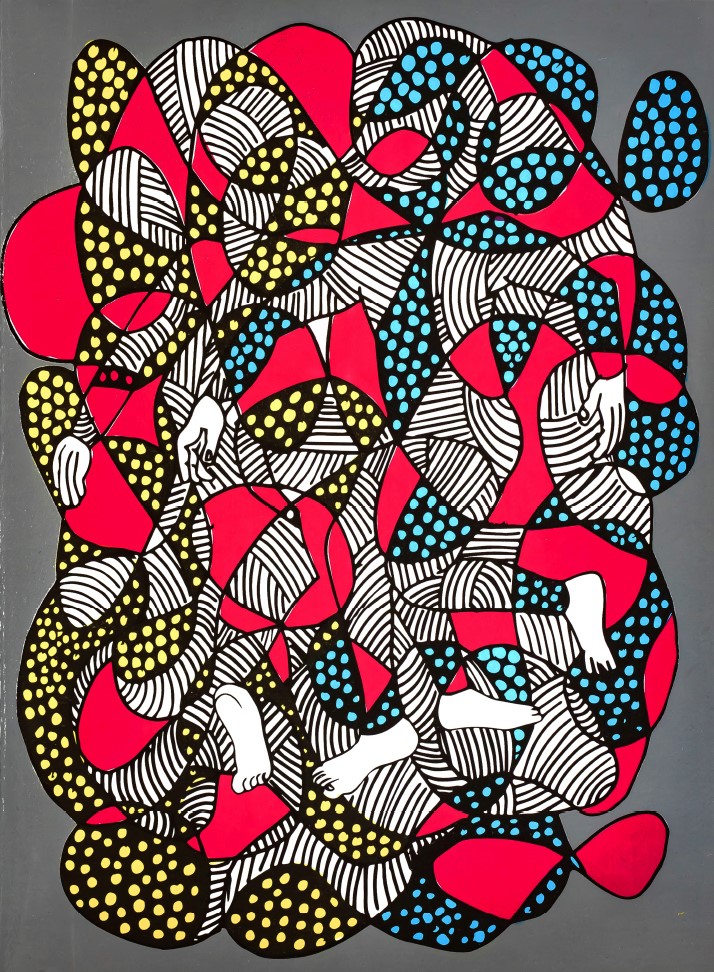 Future Mirror, 2019 is the exquisite product of Luthuli's recent collaboration with the David Krut Workshop for LATITUDES Limited.
LATITUDES Limited is a special limited edition set of fine art silkscreen prints made by 5 artists in collaboration with the David Krut Workshop, and Master Printer Jillian Ross and Printer Roxy Kaczmarek for the Latitudes Art Fair 2019. Each artist has made one 5-7 colour print in an edition of 25, printed on Cartiere Enrico Magnani 300gsm.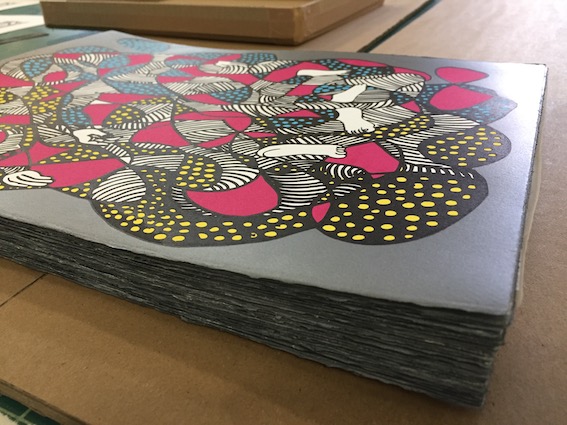 "Growing up as a young Zulu man in rural South Africa and then later migrating to a township community has been an enormous challenge. Not knowing how to read and write in my native language, for instance, as well as in English, added to this challenge.

The township environment was culturally shocking, as became clear to me attending multi-racial schools. This socio-political transition affected my lifestyle and who I am today.

My use of headless figures is constantly questioned, and the reason for them is deeply rooted in my Zulu culture and rituals.

The headless figures signify domestic debt, usually paid in livestock, and incomplete traditional rituals between two families. This particularly applies to the father's side of the family as he is responsible for paying for the child's position in the family according to tradition. A father's refusal to do this becomes a great challenge because the child does not entirely own their surname or family name, resulting in unsettled cultural transactions.

We are challenged to adapt and survive in a society that is constructed against us; one in which we are forced to exist without questioning or opposing these man-made laws.

The silkscreen was printed in 5 colours: Silver, Yellow, Sky Blue, Pink and Warm Black.
In response I create patterns, using these as a visual language to share my views and personal experiences growing up in these circumstances. My work is an expression of the inter-related topics of cultural politics and Zulu rituals and customs in the context of a contemporary family setting.
In my work I relook at our diverse ways of living in a contemporary society, and I critically analyse and evaluate these ways of living by contemplating them with our pre-modern and modern society. We are challenged to adapt and survive in a society that is constantly changing, and this is influencing one's life to transform. This radical transformation is dominated by western ideologies which have enforced Africans to overlook or divorce themselves from their roots. I also look at the city buildings, colonial buildings in particular, they are made of high class architecture with beautiful detailed patterns. The buildings are different; and each design and pattern has a strong historical context and I peacefully question our relationship with the imposed city buildings and if it is necessary to be surrounded by them. As Africans we have lost a sense of our own humanity, and I think the structure of the city has perpetuated the issue of controlling and transforming human life. This structured methodology of controlling human lives is irrelevant to our historical origins, as I believe that the way we live our lives should be more spiritual." – Sthenjwa Luthuli, 2019