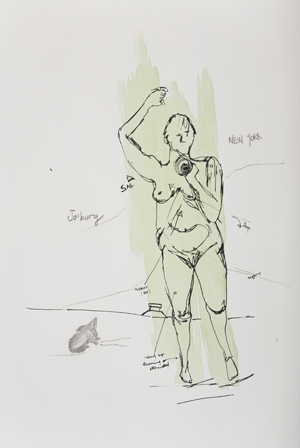 Wilma Cruise was born in Johannesburg, South Africa in 1945, three years before the Nationalist Apartheid government was elected to power. For the following forty-five years she lived under a regime that was predicated on the public identity of people. Hence, it is not surprising that the question of identity beyond the publicly conferred image should be of concern to her. Her art functions in the psychic space between inner and outer worlds. She uses the body, the site of experience, as the vehicle for the exploration of meaning.
Brenda Schmahmann has said, "Her works explore the relationship between subjectivity and speech. They investigate the ways in which we express desire, trauma, loss and need, not only through verbal and written discourses but also through the body. The body is per­formative. It constitutes itself into a speech act – a statement of conscious and unconscious wants." (2001)
Many of Wilma Cruise's works on paper are results of a suggestion that she turn the notes and research drawings for works in other media into editions. 'I love words and I love text. In all my drawings, in all my prints, the text is often foregrounded and those are the kinds of ideas that I would use for the sculpture. So, conceptually they're the same' (from Jacqueline Nurse's conversation with Wilma Cruise, September 2008).
Cruise's solo exhibition at David Krut Projects, called SPLIT LON.NY.JHB., took place in 2008. She has worked collaboratively with the DKW printers over the years, most recently in December 2010. She also has a book available, published by DKP, called Reading Ceramics, in Messages and meaning in the MTN Art Collection.