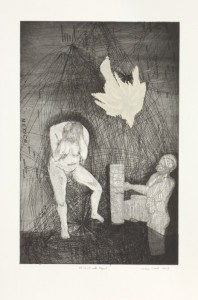 SPLIT / NY.LON.JHB is an exhibition of prints and sculpture by Wilma Cruise. This body of work was created over a year and a half (2007-2008) during which Cruise, who lives in Johannesburg, spent time in New York and London. Her screen prints and a three-plate etching came out of her collaboration with printmakers at the Lower Eastside Print Shop in New York. The smaller monotypes, inspired by her grandchildren in London, were created upon her return from the UK at David Krut Print Workshop (DKW). A triptych of three large monotypes completes the show, each print serving as an oversized diary page for London, New York and Johannesburg. SPLIT opens at David Krut Projects on the 2nd of August and runs until the 1st of September.
Travelling to New York and London, I look back towards home. From the secure vantage point of the here and now, I look to then and there; I observe myself watching; I am divided by this activity into observer and observed.
New York
In March 2007, DKW printmaker Jillian Ross and I went to New York to work with the printmakers at the Lower Eastside Print Shop as part of a series of several collaborations between artists and printmakers that David Krut has facilitated. The images I made there reflect my impressions of New York in relation to Jo'burg, my home city from which I had travelled both physically and emotionally. Astonishingly, given the brevity of my stay, nostalgia for Jo'burg overwhelmed me in waves of violent homesickness. In the series of prints entitled "The New York Lament" I drew myself against an emptied landscape marked only by a few recognisable Johannesburg landmarks: Ponte Towers, Mandela Bridge and the Top Star Drive-in.
London
A year later I was in London to attend the birth of my granddaughter and to care for my two-year old grandson. As was to be expected, the birth of the child was received with a mixture of joy, awe and terror. Responding to the situation in the way I knew best I photographed and drew the two children. Selecting three of the best altered and manipulated photographs, I sent them for printing at the local print shop in Hampstead. I was reported to the police, which came as a shock to someone used to the uncensored freedom of expression of post-liberation South Africa. As a result I was investigated by the British police for possession of pornography and the production of indecent images!
My response to these accusations was complex and included a sense of violation – that the innocence of my two grandchildren had been assaulted – a feeling of ill-defined guilt and, significantly, a sense of helplessness. These emotions filtered into my work. They had a terrible insistence about them. Back in South Africa at David Krut Print Workshop I obsessively created images of the two children. These small-format works recreate the cropped, unsentimental view of the offending photographs – and are no more or less shocking than the originals!
Jo'burg
Jo'burg the city that intrudes into "The New York Lament" is not present-day Jozi but Jo'burg the city of my childhood. When I am away from this city my thoughts are heavy with nostalgia for the past – a yellow mine dump and the sound of coco pans clanging down the road in Kensington, trams, stiff school shoes and a little girl in plaits. The city is represented by a linear landscape characterised by inaccuracies and anachronisms: Eskom House appears with the towers of the Nelson Mandela Bridge; I place the Top Star Drive-In in the east in one image and in the west in another; a large tumescent figure holds Ponte Towers out as a gift.
The Sculpture
This is a self-portrait about looking but not seeing. The figure is blinded by a cloth torn from the studio table and stained with paint splatters. The sculpture has only one functioning arm; the other stump gestures uselessly skywards. In her remaining hand she holds (cradles?) a tiny image of a baby.
– Wilma Cruise, June 2008