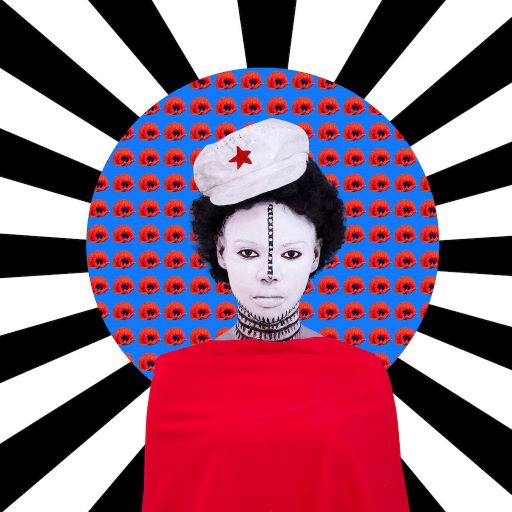 Biography
Born in Ethiopia in 1974, Aïda left the country at a young age and spent an itinerant childhood between Yemen and England. After several years in a boarding school in Cyprus, she finally settled in Canada in 1985. In 2000, she graduated with a degree from the Communication Department with a major in Film from Howard University in Washington D.C. After graduation she worked as a photojournalist at the Washington Post, however, her work can also be found in several international publications.
Also as an exhibiting artist, Aida's work has been shown in South Africa, Mali, Senegal, Egypt, Canada, United States of America, France, Germany, England, Norway, China, to name a few countries. A collection of her images can be found in the permanent collection at Museum of Modern Art (MoMA), the Smithsonian's National Museum of African Art, Hood Museum, The RISD Museum of Art and the Museum of Biblical Art in the United States. She is the 2007 recipient of the European Union Prize in the Rencontres Africaines de la Photographie, in Bamako, Mali, the 2010 winner of the CRAF International Award of Photography in Spilimbergo, Italy, Winner of 2020 The Royal Photographic Society Curatorship award,  a 2018 CatchLight Fellow in San Francisco, USA. In 2019, she also became the first black woman to co-curator of the Nobel Peace Prize exhibition while serving as a Canon Europe Ambassador.
As one of the leading experts on photography from Africa, she has been a jury member on several photography competitions, most notably the Sony World Photography Awards 2017 and the World Press Photo Contest 2017. She has also been on various panel discussions on photography, such as the African Union cultural summit, Art Basel, and Tedx/Johannesburg. In 2019, she was also a master for the 2019 Joop Swart Masterclass and gave the renowned Sem Presser Lecture at the World Press Photo Festival in Amsterdam.
Her work has also been featured on notable publications and news outlets, such as the New York Times, TIME, The Atlantic, Vice, OkayAfrica, The Guardian, Elle Magazine, the British Journal of Photography, CNN Style, and BBC. In 2019, her piece (commissioned by WaterAid), "The Sorrows We Bear," served as one of the 24 Magazine Covers About Climate Change for Washington Post Magazine.
Aida is the founder and director of the Addis Foto Fest (AFF), the first international photography festival in East Africa hosted since 2010 in the city of Addis Ababa. She continues to educate, curate and develop cultural projects with local and international institutions through her company DESTA (Developing and Educating Society Through Art) For Africa Creative Consulting PLC (DFA) in Addis Ababa, Ethiopia.
Please contact [email protected] for more information on available works.
---
Exhibitions at David Krut Projects
2019, Water Life, David Krut Projects, New York, Solo Exhibition
2018, FNB Joburg Art Fair, David Krut Projects, South Africa Booth, Solo Exhibition
2018, World is 9, David Krut Projects, New York, Solo Exhibition
2017, Icons & Avatars, David Krut Projects, New York, Group Exhibition
2017, 1:54 Contemporary African Art Fair New York 2017, David Krut Projects, New York Booth, Group Exhibition
2016, 1:54 Contemporary African Art Fair New York 2016, David Krut Projects, New York Booth, Group Exhibition
2016, World is 9, David Krut Projects, New York, Solo Exhibition
2016, Insider / Outsider Reflections, David Krut Projects, South Africa, Group Exhibition
Museum Exhibitions
2020, Aïda Muluneh's Homebound: A Journey in Photography, Sharjah Art Museum, Sharjah, UAE
2018, Being: New Photography 2018, Museum of Modern Art (MoMA), New York, NY
2018, Reflections of Hope: Aida Muluneh in the Aga Khan Park, Aga Khan Museum, Toronto, Canada
2018, In Their Own Form, Museum of Contemporary Photography (MoCP), Chicago, IL
2016, Lucy's Iris. Contemporary African Women Artists, Rochechouart Departmental Museum of Contemporary Art, Rochechouart, France
2009, 7th Recontree Africanes De La Photographie – Bamako 2007, African Museum Belgrade, Belgrade, Serbia
2007, Angels of Light: Ethiopian Art From Walters Art Museum, Museum Of Biblical Art, New York, NY
2007, Body of Evidence, National Museum Of African Art at the Smithsonian, Washington, DC
2003, Ethiopian Passages: Dialogues in the Diaspora, National Museum Of Africa Art at the Smithsonian, Washington, DC
Museum Collections
Currier Museum of Art, Manchester, NH
Hood Museum, Dartmouth College, Hanover, NH
Museum of Contemporary Photography (MoCP), Columbia College Chicago, Chicago, IL
Museum of Modern Art (MoMA), New York, NY
National Gallery of Victoria (NGV), Melbourne, Australia
RISD Museum, Rhode Island School of Design, Providence, RI
Schomburg Center for Research on Black Culture, New York Public Library, New York, NY
Smithsonian National Museum of African Art, Washington, DC
Toledo Museum of Art, Toledo, OH
Michaelis Art Collection, Cape Town
University of South Africa (UNISA), Pretoria
Selected Press
2020: Meet this year's Nobel Peace Prize Exhibition photographer
2020: This Artwork Changed My Life: Aïda Muluneh's "Knowing The Way To Tomorrow" – Artsy
2020: The past, present and future of Ethiopia by artist Aïda Muluneh – Middle East Monitor
2020: The Women Photographers Redefining Surrealism for the 21st Century – Artsy
2019: The Photographer Fighting Visual Clichés of Africa – The Atlantic
2019: 24 Magazine Covers About Climate Change – Washington Post
2019: Aida Muluneh: Changing the narrative on Ethiopia, one photo at a time – CNN
2019: How This Ethiopian Photographer Is Giving Storytellers a New Platform – Time
2018: Africa uncovered: an interview with Aida Muluneh Global – Voices
2018: These Stunning Photos Celebrate the Beauty and Power of Ethiopia – Vice
2018: WE ALL WEAR THE MASK: NEW PHOTOGRAPHY AT THE MUSEUM OF MODERN ART – Art in America
2017: Exploring Ethiopia's Past and Future Through Body Painting – The New York Times: LENS
2016: 'I Want to Make Africa Digestible in a Different Way': Aida Muluneh on Her Show at David Krut Projects – ArtNEWS
2016: A Strong Light / Aida Muluneh – The Lake Magazine
2016: In Multiple Dimensions: On Photography From Africa and the African Diaspora, in New York – ArtNEWS
2015: "The Divine Comedy: Heaven, Purgatory, and Hell Revisted by Contemporary African Artists" takes Dante out of Italy and into Africa – Washington Post
Related Blog Posts
Muluneh Featured in 2015 Art Basel Talks Program
Aida Muluneh: Reframing the Art of Ethiopia, the African Continent, and the African Diaspora