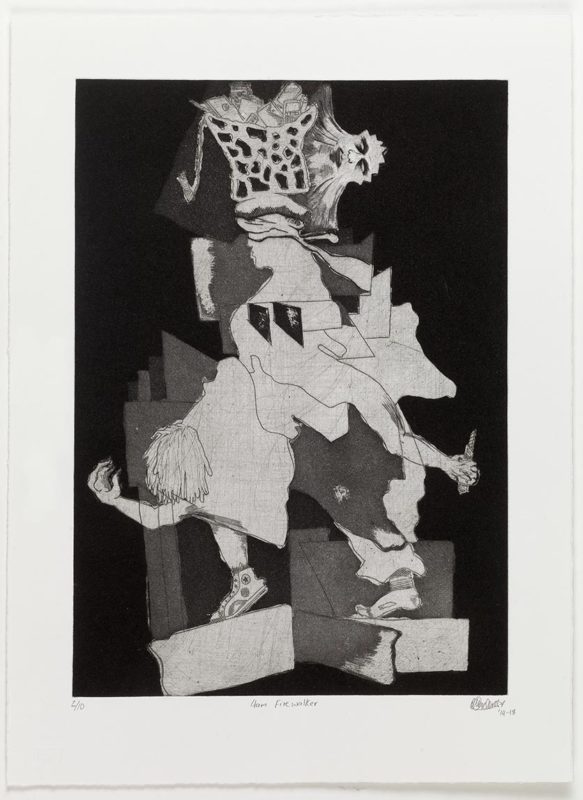 Collaboration History
Chad Cordeiro (1993), first joined the David Krut Projects (DKP) team in 2012, working in the bookstore. At the time he was busy completing his studies in Fine Art at the University of Witwatersrand. He moved into the David Krut Workshop a year later to work as a printmaker where he still works today.
Chad has been an editioning printer for artists William Kentridge, Senzo Shabangu, Stephen Hobbs, Deborah Bell and Rhett Martin.
Cordeiro's artist practice focuses on processes of working with archived or collected material as a response to multiple, interconnected narratives that are embedded in archives or collections. This additive process of cutting and pasting manifests collage-based works that exist as unique records of conversations between "the historical" and "the contemporary", through media such as linocut, silkscreen, vinyl records, cassette tapes, mural installations, and publications.
Together with Nathaniel Sheppard III  and Sbongiseni Khulu, Cordeiro co-founded Danger Gevaar Ingozi  (DGI) Studio in 2016. DGI Studio is a co-operative space for artistic research and collaboration, with a focus of print-based media. Cordeiro also has collaborative works available with Nathaniel Sheppard, take a look here: Chad Cordeiro & Nathaniel Sheppard III 
Biography
Born in Johannesburg in 1993, Cordeiro completed his undergraduate degree at the University of the Witwatersrand in 2015. He is currently completing his MAFA at the University of the Witwatersrand, where he is also a guest lecturer in the printmaking department.