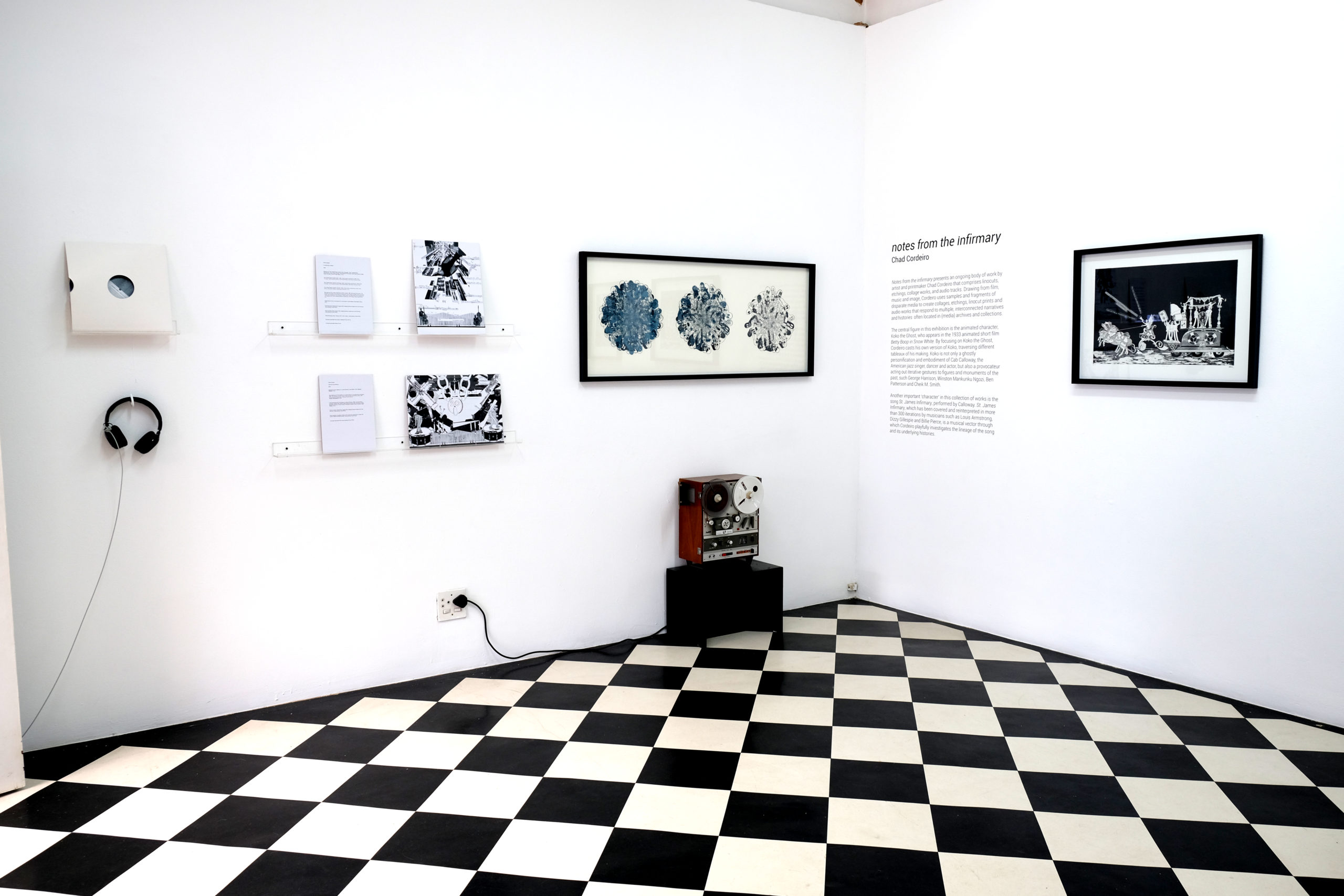 Notes from the infirmary presents an ongoing body of work by artist and printmaker Chad Cordeiro that comprises linocuts, etchings, collage works, and audio tracks. Drawing from film, music and image, Cordeiro uses samples and fragments of disparate media to create collages, etchings, linocut prints and audio works that respond to multiple, interconnected narratives and histories, often located in (media) archives and collections. His formal and conceptual approach to sound and image making is inherently linked to processes of printmaking.
The central figure in this exhibition is the animated character, Koko the Ghost, who appears in the 1933 animated short film Betty Boop in Snow White. By focusing on Koko the Ghost, Cordeiro casts his own version of Koko, traversing different tableaux of his making. Koko is not only a ghostly personification and embodiment of Cab Calloway, the American jazz singer, dancer and actor, but also a provocateur acting out iterative gestures to figures and monuments of the past. The acts of gesturing reflected in Koko's hands and bodily movements points us to lost, forgotten and hidden narratives, including futures that are now derailed. Koko is a moving shadow of Calloway, echoing his motion through the use of rotoscoping, a technique to create realistic character movement for hand-drawn animations by tracing the action of a figure directly from film stills.
Some figures and monuments of the past to which Koko gestures include the monument to George Harrison, the British prospector credited with the discovery of gold in Johannesburg, a drawing of Max Fleischer, the animator who invented the first Rotoscope machine in the 1920s, as well as references to artists and musicians such as Winston Ngozi, Ben Patterson and Cheik M. Smith.
Another important 'character' in this collection of works is the song St. James Infirmary featured in Betty Boop in Snow White and performed by Calloway. St. James Infirmary, which has been covered and reinterpreted in more than 300 iterations by musicians such as Louis Armstrong, Dizzy Gillespie and Billie Pierce, is a musical vector through which Cordeiro playfully investigates the lineage of the song and its underlying histories. Cordeiro superimposes these visual and audio references to create a new environment from existing fragments, tasking us as viewers and listeners to consider the pull of history as it bears and lingers on our present.
Take a listen to the episode of the David Krut Podcast to find out more about Cordeiro and his practice:
David Krut Podcast: Chad Cordeiro & Interconnected Historical Narratives… Listening Time: 30 Minutes