Blogger: Chad Cordeiro
Over the past two weeks, master printer Jillian Ross, Sbongiseni Khulu, and myself, have begun the testing or "proofing" phase of a new series of woodcut prints by Chuck Webster.
For this post I thought I would briefly introduce the most interesting part of the proofing phase for me so far: making the natural woodgrain on the surface of the blocks exposed enough to be visible on the printed image.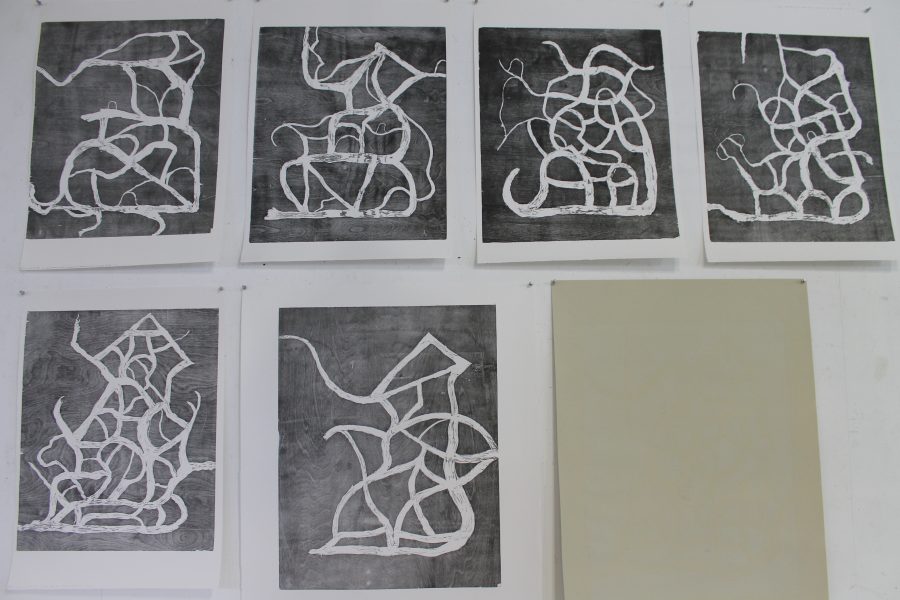 Because tests seldom end with the desired outcome on the first try in a print workshop, we realized our proofs were a little flat. The first conclusion we came to was that the entire surface of each woodblock should be brushed, from there we worked out that each block needed to be brushed exactly seven times in each direction with a hard bristled wire brush in order to expose the wood grain sufficiently.
The results were beautiful.
It was as if the viewer could now see exactly what the wood had been concealing throughout its transformation into a woodblock. This is the reason I enjoyed the process of bringing out the grain on the surface of the wood the most.
I suppose as a physical experience it is quite like carving a relief print (my medium of choice as an artist), in that repetitive physical movement along the surface of the block produces a response from the block that can only be seen on the print. It is therefore the physical embodiment of a conversation between printer, artist and material in which neither one always agrees, but when they do something truly exciting happens.