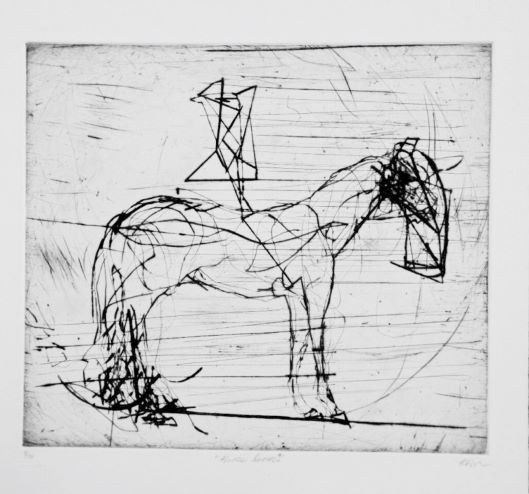 Collaboration History
Martyn first collaborated with David Krut Workshop (DKW) in 2012 when he worked on a series of monotypes. Since then, he has concentrated on making drypoints.
In 2015 as well as 2016, he was selected to be shown at the David Krut Projects (DKP) stall at the Turbine Art Fair.
In 2018, he had his first solo exhibition with DKP Johannesburg, entitled 1:10 Modernist Plunder: The New Constructivists.
Martyn has been part of various group exhibitions at DKP, among them The Nature of Buildings in 2019.
Biography
For Johannesburg-based artist Rhett Martyn, born 1971, "time itself is one of the most important ingredients when making art." Because Martyn's work is process-driven, he explains that "the initial subject matter of my artwork is less important than the transformation that takes place when working on the piece. The imprint of different thoughts, marks and ideas show up on the surface and result in artwork that has changed dramatically from its original conceptual state."
Martyn completed a National Higher Diploma in Fine Art at Durban University of Technology in 1995 and completed his Masters in Fine Art at Wits University in 2012.
Whether Martyn is depicting a skull, a landscape or a horse, "it is what happens in the process of making that these images become definitive. In other words, my images emerge through the working process itself, not a process of having an idea and then simply depicting that idea", he says.
For the artist, "each artwork is subject to the mood, pace and flow of my existence. No two pieces look the same, just as no two days are ever the same. As far as subject matter is concerned, I might initially respond to a political situation, a brief or a commission, but the life of the artwork exists on an existential level. As a result, my work is more about a generative process that reacts to the ebb and flow of life."
Martyn may take days to produce a single artwork, resulting in multiple layers embedded into the surface. The final image can look simple and iconographic, but, on closer inspection, the surfaces are immensely complex and layered.
Rhett Martyn collaborated with William Kentridge in 2017 at The Centre for the Less Good Idea on a performance piece titled 'Could I Create Myself Anew.' He also had a solo exhibition at ROOM gallery in 2012 called 'Mine.'