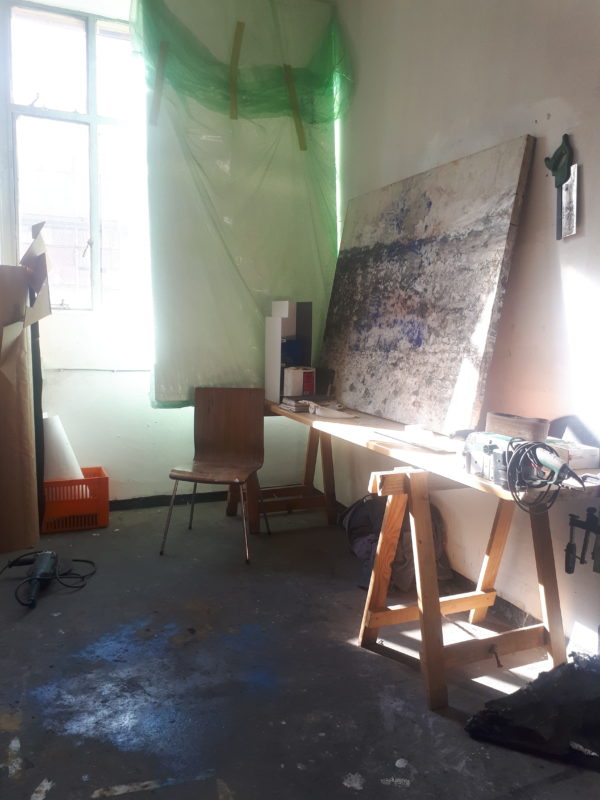 Artist Rhett Martyn introduced his project '1:10 Modernist Plunder: The New Constructivists' at the David Krut Gallery on the 5th of July 2018. In this solo project, Rhett exposes his current research areas through printmaking and sculpture to highlight his investigation of a Mozambican architect, political activist and art collector named João Mangual. We paid him a visit to his studio to see where the ideas behind his work originate, develop and evolve. 
Visiting an artist's studio is a unique way to understand the artist beyond simply looking at their art and speaking about their practice. It is a look into the space they occupy on a daily basis, informing their art and process and portraying the landscape that shapes their work. This is especially true for Rhett Martyn as his space embodies the spirit of an artist's passion for process. Rhett's studio is by no means big. He occupies a humble space within a larger shared studio at August House with fellow artists including contemporary painters and installation artists such as Quinten Edward Williams, Chrisel Van Der Merwe, Jake Singer, Bronwyn Lace and Toni-Ann Ballenden.
We spoke about '1:10 Modernist Plunder: The New Constructivists' and its unconventional delve into an artist's process. Initially, Rhett created a maquette of the gallery to conceptualize a larger exhibition. This is a preliminary strategy used by artists to visualise the arrangement of works in an exhibition on a big scale. In this case, Rhett built the model to a scale of 1 to 10, informing the title of the project as it became a springboard for the work to come. Rhett created intricate, small-scale sculptures to fit the architectural model of the gallery and looking at the size of his studio, one can understand the spatial constraints that determined this strategy. His practice for the project became informed by the space he occupies as an artist.
Rhett speaks about his interest in responding to limitations and accepting circumstances, something he starting thinking about once moving into his studio space in August house.
"It is a test on attachment. You question what you actually need; the things you are used to and wonder how much you really need it in order to achieve what you set out to do. As an artist, you respond to this naturally."
This is evident in his work as the sculptures themselves appear to be monumental metal creations upon first glance, however, they are actually small intricate paper sculptures that allude to a heavy-ness that isn't really present – another playful illusion in the exhibition. Rhett speaks about how he learnt to fold paper accordingly to create platonic solids. He experienced frustration with the process whereby he struggled to fold the shapes consistently. He then adapted his less successful folded shapes to be intentional objects and the result is the array of engrossing objects that now populate the gallery maquette in '1:10 Modernist Plunder: The New Constructivists.'
Similarly, his frustration shows in the aggression in his prints where Rhett's dissatisfaction with the printed images drove his process. With printmaking, the artist has to relinquish his control over what he envisions in his head and what emerges on the paper. He elaborates on his frustration in the following podcast where he speaks to printmaker Chad Cordeiro from the David Krut Workshop. His constant reworking of the image resulted in a sculptural handling of the plate and one can see the depth of the burs and marks made while drawing.
"I love the fact that my initial thought is what I should do to reproduce an existing framework, but often the answers present themselves through the process and the result is to change the framework completely."
Rhett speaks of how he revisits his works, incubating ideas and returning to them with the process at the forefront. Present in his studio are journals that span up to 5 years old; an old painting he scratched away and reworked; remnants of an old sculpture he plans on repurposing and leftover materials from his current project. These bear witness to an artist who is constantly reworking his own conceptual landscape. There is room for new ideas and fresh approaches to old ones.
Everything in Rhett's studio speaks to a past, present, and future to allow a flow of ideas. Even though he makes changes to his work as it develops, the initial concept is often maintained and allows for a build-up of ideas. Just as the metaphor for printmaking, the traces of Rhett's activity is always present, even if the end product has changed completely.
Visit our gallery in Parkwood between the 5th of July and the 14th of July 2018 to see '1:10 Modernist Plunder: The New Constructivists' and follow the link below to see the available works by Rhett Martyn.