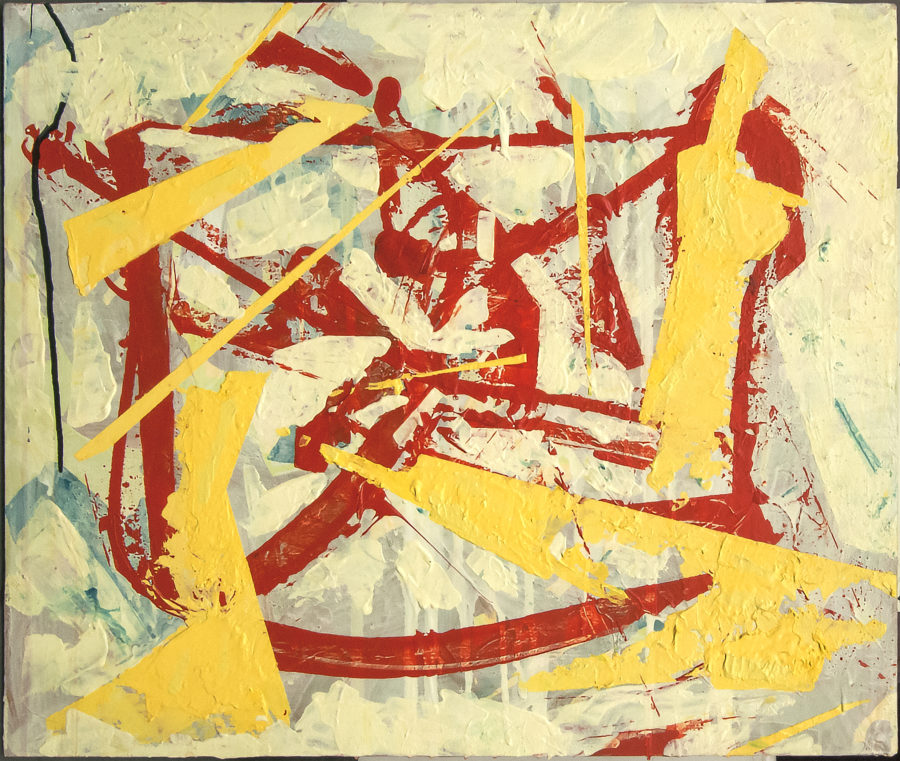 Quinten Edward Williams attended the University of the Witwatersrand, from which he holds a Bachelors of Art in Fine Arts (2010) and a Masters Degree in Fine Arts (2014). He lives and works in Johannesburg and experiments with various media, including painting and print.
Williams began his relationship with the David Krut Print Workshop (DKW) at Arts on Main in 2012 with the production of a series of monotypes under the guidance of Jillian Ross. This initial encounter opened up opportunities to experiment with other forms of the printmaking processes at DKW in 2013 and 2014, most recently the etching process. Williams is intrigued by the printing process, as he sees some similarities to the way he has been using acrylic paints in terms of "glistering colours, painterly marks, drawing marks and layers, one on top of the other".
Williams has participated in various solo and group exhibitions in Johannesburg and Cape Town. In July 2014 Williams had his first solo exhibition, Painterly Accumulations Off The Wall, at David Krut Projects in Parkwood, Johannesburg  (142 Jan Smuts Avenue).
Williams continues to work with David Krut Workshop on prints and has further independently explored the painterly qualities of printmaking by developing wax and pigment based monotypes or sketches alongside his paintings. He has subsequently had his second solo exhibition at David Krut Projects entitled "Movement and its limitiations within an environment" in 2017.
Artist Statement, 2014:
While I think about myself as a painter, I think about painting in terms of its extension: that paintings are material bodies, that they are combinations of materials. I am intrigued by the movements that occur around paintings. A painting show, in my mind at least, is created not only through paintings, but through a wider collection of bodies. A painting show has extension, it is an installation.
While my work is a reflection on an extended condition of painting, this process is used to think about the emergence of environments. The philosophical assumption I make about the formation of environments is that environments form through complex and uncertain processes between bodies, only sometimes including the human body. The interactions between such collections of bodies are the continuously forming and dissipating conglomerations of the world. This assumption is based on a reading of complexity through the philosophical writings of Paul Cilliers, Edgar Morin, Giles Deleuze and Felix Guattari, and Nassim Taleb.
As a painter who uses the painting process and object to think about the complex formation of environments, I am particularly interested in how art-making is a process that intersects with other bodies and becomes complicit in the formation of environments. An artist's making activity is not only a thinking process, it is an activity which has influence, and is influenced by other forces in the world.