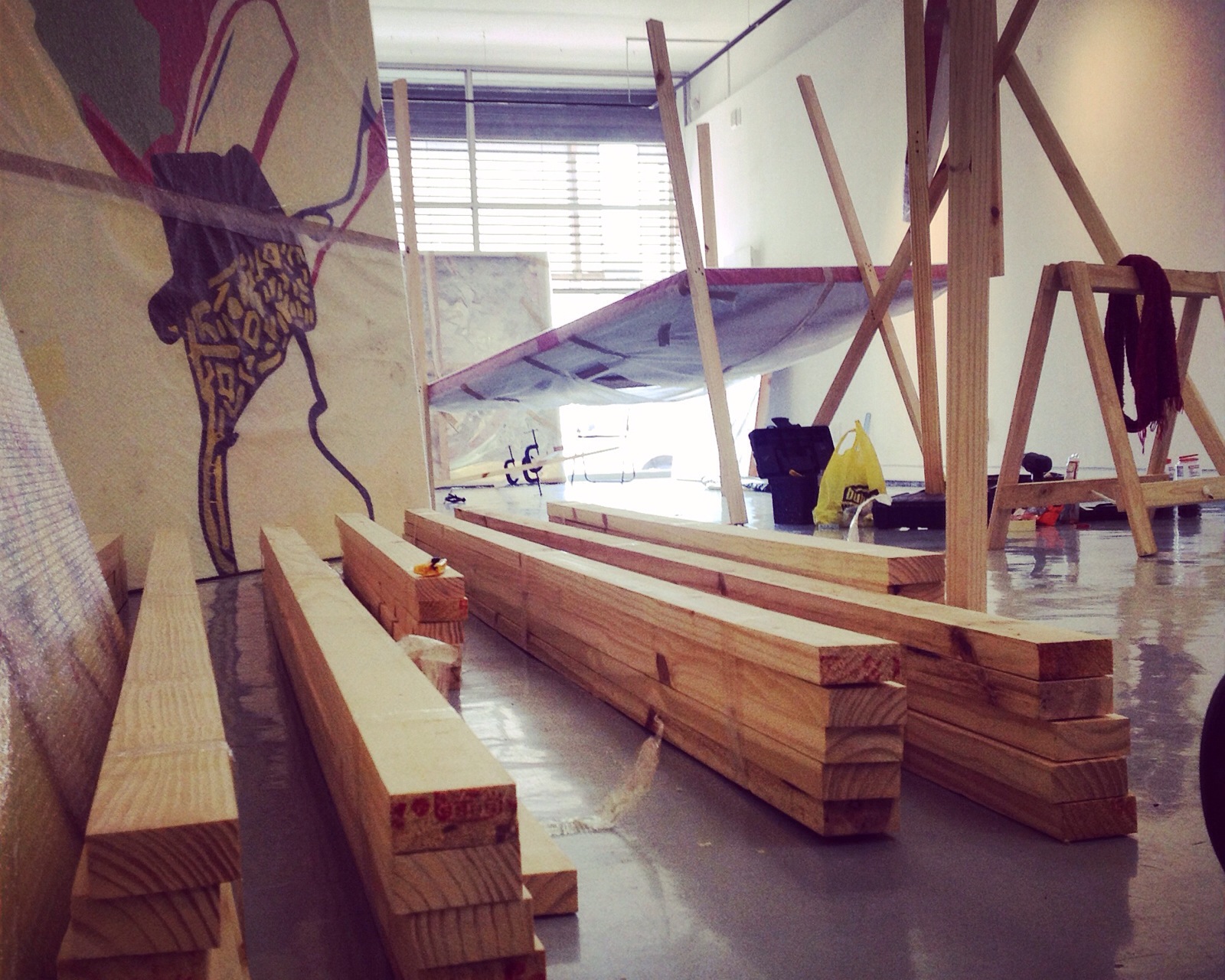 David Krut Projects is pleased to present an installation by Quinten Edward Williams opening at 142 Jan Smuts Avenue, Parkwood on 3rd July 2014. Painterly accumulations off the wall comprises a compound of paintings, wood, plastic and sundries. The combinations are concerned with a handling of material and process in an extended condition of painting. Through this experimentation of painterly form the artist reflects on what can be described as the uncertainties inherent in the formation of environments.
The painterly accumulations presented in the installation could be understood as visual propositions on the flows between a hypothetical collection of geographically dispersed incidents. This installation is used to think through the complex relationships between people, vehicles, animals, shifts in the built environment and many other less tangible things. Although the influence of Johannesburg is visually apparent in Williams's work, the conceptual reach of his engagement with space undoes the ties of the work to any one location. The artist says that the installation is like walking through an area: your viewpoint is constantly shifting. Sometimes you focus on something up close, a detail. At other times you focus on a broader area, plotting your way through that area. Each time you only register aspects of the environment you are a part of.
This exhibition continues Williams's broader research interests regarding complexity, spatiality and painting as explored in several other shows. In Environments (2009), for instance, Williams was concerned with human alterations to land, not as artifice, but as a continuation of natural processes. Furthermore, in the shows Some Combinations (2012), and An uncertain encounter outside a corner shop (2013), Williams looked at the complexity of environments through painting imbued with, or diverged from, other modes of artistic production such as video, installation, walking, conversation, and narrative writing. This current show at David Krut Projects, therefore, takes a closer look at painting, and how paintings can move into installation.
Williams was first invited to collaborate with David Krut Print Workshop in 2012 where he created a series of monotypes. Most recently, Williams has been working with the print workshop on etchings, which relate to this installation and will be on show later this year.
Williams has obtained a Masters Degree in Fine Arts at the University of the Witwatersrand in 2014.
Exhibition List
An uncertain encounter outside a corner shop, 2013,  Parts & Labour, Arts on Main
Some Combinations, 2012, The Substation, University of the Witwatersrand, Johannesburg
Environments, 2009, Wits Gallery, University of the Witwatersrand, Johannesburg