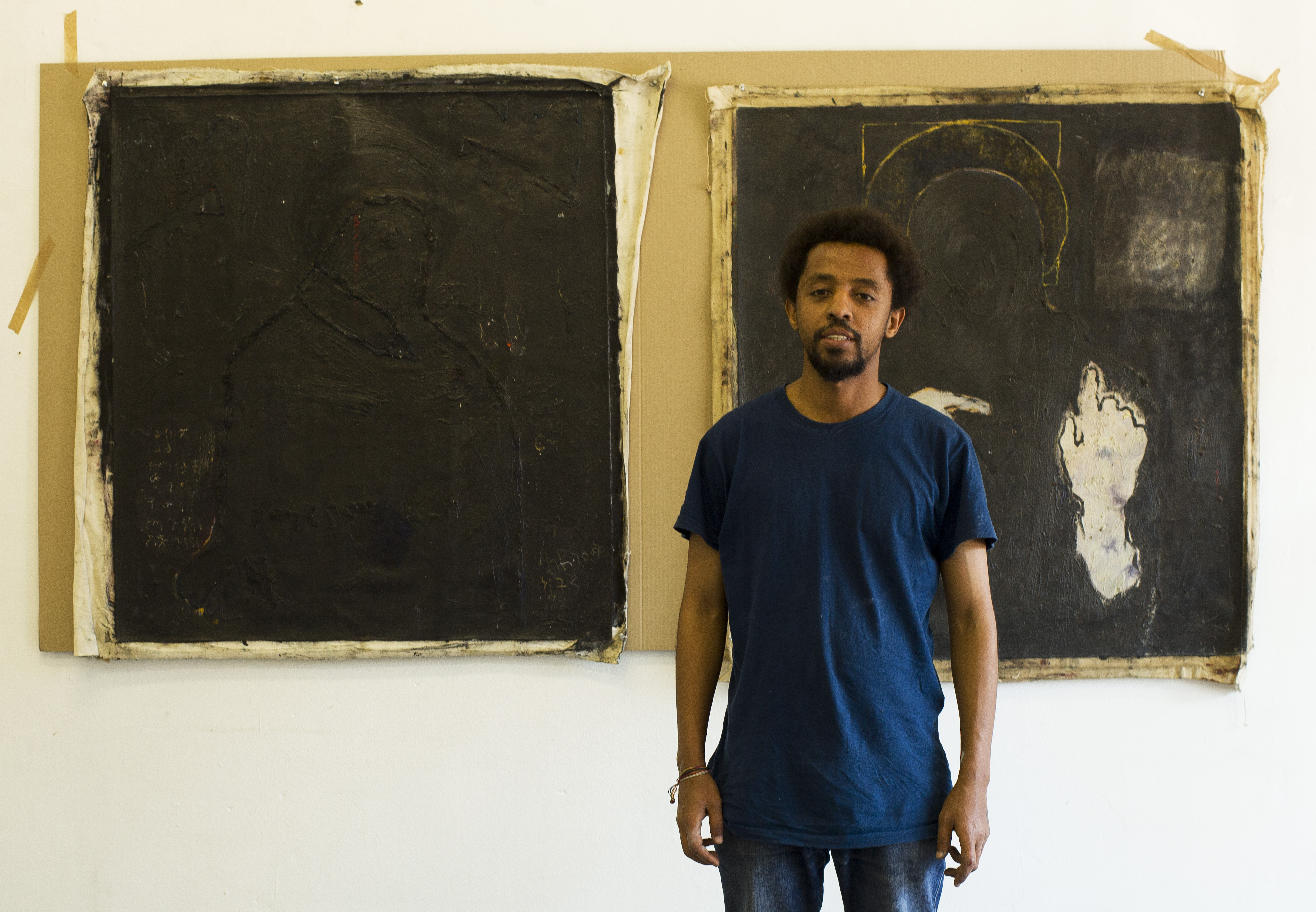 Endale is a young Ethiopian artist based in Addis Ababa who is about to complete a residency with David Krut Projects in Johannesburg at the end of June 2014.
An exhibition entitled A Single Vibration in the gallery at David Krut Projects, Arts On Main, opens on the 22nd June showing paintings created in his home country and new works created while in residence at our studio in Parkwood.
Endale works with oil and acrylic on canvas, often morphing the meaning of a painting as he responds to changes within his environment. His paintings are rich and dark, built up with layers of paint into exceptionally tactile objects, which combine texts and symbols in a meditative practice.
Endale's work is influenced by the rich culture of his home country, in which a strong sense of mythology is layered with everyday experience. For instance, the milk bird features as a symbolic presence in most children's lives. The belief is that when one's milk teeth have fallen out, the teeth are collected by the bird and carried away, leaving room for growth into maturity. The bird has thus come to represent a shift into adulthood.
The artist further investigates the paradox of light and darkness, as it relates to life in Ethiopia. Endale draws directly from his own life experience, where electricity is a privilege and something which is often unattainable. By using electricity as a metaphor for light of a more symbolic kind, the artist comments on what it means to be African and what it feels like living in a country that is often unpredictable to the extent that one's access to light is compromised. However, Endale suggests that even in darkness something exists; even when we cannot see, we know there is something there, something real and tactile.
Two of Endale's paintings, brought from Ethiopia, were selected for the !Kauru African Contemporary Art Exhibition currently on show at Unisa Art Gallery, Pretoria. The focus of the exhibition was to facilitate a change of perceptions about the continent through its contemporary art.  Endale's involvement through dialogue with twenty other artists from South African Development Community (SADC) and East African Countries greatly impressed his audience.
Endale studied at the Addis Ababa University School of Fine Art and Design and graduated with a Bachelor of Arts in painting in 2008. He has had solo exhibitions in Ethiopia, Portugal and now in South Africa and in various group shows. He has lectured at Addis Ababa University's School of Architecture in 2009 and the Teaching College in Hawassa, Ethiopia in 2013.
During his residence at David Krut Projects, Endale experimented with mark-making and printing techniques having had access to an etching press. He collaborated in the workshop with Senzo Shabangu and Tendai Mupita, a young Zimbabwean arts intern.
The exhibition runs from 22 June – 3 August 2014
For more information, pricing and availability, please contact Amé 011 447 0627  / [email protected] or Mary 011 334 1209 / [email protected]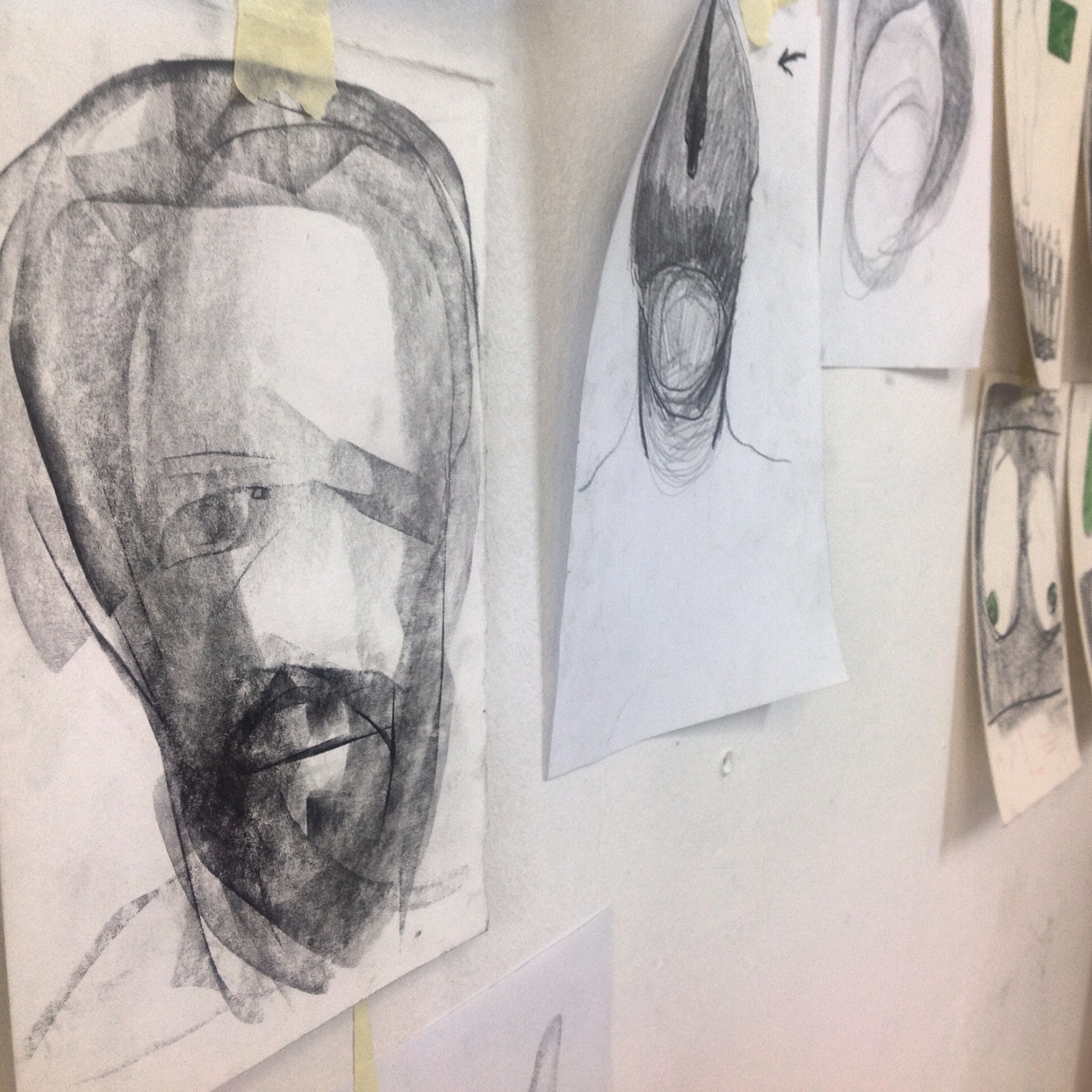 Letter from Denis Charles COURDENT
Director of IFAS (French Institute of South Africa)
Cultural attaché of the French Embassy

"Stop it, don't sweep them up, these flies are part of the exhibition!" he shouted.
First you think that guy, nearly in tears, is playing a role and wants to show off. You just smile at the surprise and incredulity shown in the eyes of the cleaning ladies. They look with disgust at the dead flies lying on the ground of the Alliance Française gallery in Addis Ababa, Ethiopia, the main exhibition venue in the country. But after a while, you understand that the artist is sincere. He doesn't play anything but what his soul wants.
It was 2009. I was at the mid-point of my four-year tenure as director of the Alliance in Addis. A difficult but fascinating job, in a strange and proud country, so poor, but a rare and ancient civilisation, never colonised, always cultivating its differences.
I met so many artists within four years – well, it was my job!  But no one as fascinating as Endale Desalegn – no one.
A few months later, the Ambassador of Portugal to Ethiopia (she is still to this day a great admirer and collector of Endale's art) told me about a very talented artist she wanted to introduce to me. He was about to win the European painting exhibition we were holding at the Alliance. All candidates, mainly professional artists, respected the rules (i.e. paint a view of one capital city of Europe) except him: Budapest was represented inside a TV set with old fashioned antennae, as if that world, Europe, was definitely not his world, except through a distancing media.
There are a few good schools of the arts in Ethiopia, releasing hundreds of talented artists every year, but hardly any art galleries and no art market. Having a solo exhibition at the Alliance Française gallery is certainly one of the greatest achievements for an Ethiopian artist.
Endale's one was crazy: the dead flies were staying there, in a remote corner, protected by an adhesive tape. Of course, no one except him and the witnesses of the cleaning drama knew about them.
Endale's large-format works were fabulous, full of a force we rarely see in a young artist. Sales went exceptionally well among the expatriates in Addis, seat of the African Union seat, with a huge diplomatic community. I remember Endale included in the installation hundreds of cheap light switches which you find in Ethiopia which he fixed to hang from the ceiling. Crazy! But he explained vigorously that these switches were the symbol of the kind of life you can switch on or off.
Endale likes symbols, he is not afraid to paint a Madonna in black if he is feeling sad, or a Christ figure surrounded by cockroaches.
I found one day at his studio a wonderful series of small, white, square works, with painted cockroaches running on them. When I asked him why he wanted to represent such a discredited creature, he told me he has them everywhere in the studio, they were his friends and knew them very well. There was a last white square with no cockroach on it: "Strange," I thought. He told me that it was not strange at all, just that the insect had already flown away from the work. And he showed me a painted cockroach on the wing of the canvas, invisible to any observer.
Endale can speak for hours about topics he likes. Always strange, but inspiring. Such as that tree that he absolutely needed to show me in front of his poor and overcrowded but happy house in a suburb of Addis, when I came back to Addis last year. That tree produces a sap that breast-feeding mothers use by applying it to their nipples; the bitterness of the sap helps to wean the babies of their mother's milk. He is fascinated by this story, like he is with everything that can be switched on or off, like his mother, whom he depicts in many of his works. His current works deal with the milk bottles that are replacing natural breast feeding. For him, life is this succession of replacements towards an artificial world, like the silicon pacifier which one day could replace any feeding.
Endale's two month stay in South Africa is the second time that he has been invited to travel outside of Ethiopia to create work. He previously visited Portugal st the invitation of the ex-Portuguese minister of Foreign Affairs in Ethiopia who subsequently became his friend and patron. This residence also concluded with an exhibition of his art in Lisbon.
Endale's visit to South Africa at the invitation of David Krut Projects has been a great success. I have rarely seen him so happy and prolific, adding colours to his dark paintings. He feels good with the David Krut team and has materials which he could not afford in Ethiopia even if they were available.
Exhibitions at David Krut's galleries will certainly bring Endale to another stage of his international career. It is surprisingly rare that a South African gallery wishes to exhibit foreign artists in South Africa.  No one would be surprised if a gallery in Paris, London or New York would exhibit a majority of foreigners. But not in South Africa. Not yet. What David Krut does here is pioneering.
I am delighted that I could take part in this adventure in a personal way, together with so many other friends in Ethiopia and in South Africa who have offered Endale residence (thanks Tanya!) or support. I am sure that the South African audience will come to know him as one of the most brilliant African artists of our time, bringing with him his fabulous Abyssinian heritage.
No doubt, there are many more stories to come with Endale! Even if flies and cockroaches fly away…
Letter from HE Mr Hector Valezzi
Ambassador of Mexico

"I remember very well Endale when I visited his workshop in Addis Ababa, with my friend Vera Fernandes, then Ambassador of Portugal in Ethiopia.
Endale's talent was evident at once. Particularly for the very original way he expressed his reality… his interpretation of reality.
The colours were well balanced and the format of his different works was amazing: half figurative, half abstract. Using unorthodox materials he always managed to call our attention to something he found important or interesting.  He also played with proportions, augmenting the size of the topics he wanted to highlight more.
He also shows us his "Ethiopianess" in a very particular way: a mixture of humility and pride.
I have learnt from Endale and I am sure that his success is the result of merit and talent, work and inspiration that, most fortunately for us, he continues to share.
Letter from HE Ms Vera Fernandes
Former Ambassador of Portugal in Addis Ababa Ethiopia

I met Endale at the School of Art in Addis Ababa at the closing ceremony of the School year 2007, to which I was invited as Guest of Honour.
From all the paintings displayed at the exhibition, one caught my attention, titled "Women in a Rainy Day", and I asked to meet the artist. It was Endale, a timid young student who had to overcome uncountable obstacles to be able to fulfil his dream and become an artist.
Endale's art has progressed tremendously since then. He was given a scholarship to go to Lisbon for six months in 2011, and exhibited his paintings in a well-known gallery. His work attracted serious attention and he was acknowledged by a broad audience, as a young artist with a great future.
I am pleased to be among a small group of friends who believed, from the very beginning, in his enormous talent and I am delighted that his work will now also be exhibited in South Africa at such a prestigious gallery.
I wish him, with all my heart, all the success he deserves.