The David Krut Workshop at Arts on Main in the Maboneng Precinct, Johannesburg DK Workshop (DKW) at Arts on Main, Johannesburg
David Krut Workshop (DKW) is the centre of David Krut Project's (DKP) artistic collaborations. The workshop has been involved in exciting print collaborations with artists since 2002.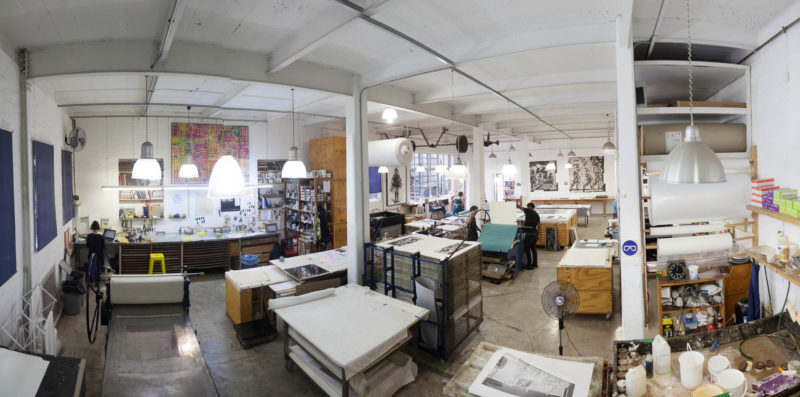 The studio has been under the skillful hand of Master Printer and Workshop Manager, Jillian Ross, since 2004. Today it is equipped with a letterpress, three etching printing presses, a steel-facing tank and stocked with top quality inks and paper, making it one of the most impressive printmaking workshops in South Africa.
DKW specialises in the techniques of intaglio, relief and monotype printing. The workshop's focus, is from conception, each collaboration becomes an opportunity for the artist to create something new, adding to their body of work. The workshop's commitment to challenging technique as well as aesthetic form is another core philosophy.
The workshop is situated at Arts on Main, a mixed-use creative hub in Johannesburg's new art neighbourhood, the Maboneng Precinct, a ground breaking urban mixed-used community. DKW was one of the first spaces to opt into the Arts on Main initiative back in 2010.
Alongside DKW there is a bookstore as well as a gallery space which exhibits new projects produced at DKW with local and international artists including: William Kentridge, Deborah Bell, Mongezi Ncaphayi, Jaco Van Schalkwyk, Diane Victor, Mary Wafer, Senzo Shabangu, Stephen Hobbs, Maja Maljevic, Robyn Penn, Jürgen Partenheimer and Locust Jones.
DKW specialises in the techniques of intaglio, relief and monotype printing. Each technique is made on a plate – the matrix – to allow it to be printed more than once. This plate is created by the artist's hand with technical help from the printer. The technique of intaglio is made on copper plates, of relief on linoleum and wood blocks and monotypes are unique impressions that are made by the artist on perspex and printed only once.
To read more about about the DKW printing team and to glean some insight in this unique collaborative space, please click on the following links:
Master printer profile: Jillian Ross (with introductory description of DKW)
Printer profiles: Kim-Lee Loggenberg, Sbongiseni Khulu, Chad Cordeiro
Sales team and archivists: Noma Ngwenya and Roxy Kaczmarek
Click here for a GLOSSARY OF PRINTMAKING TERMS.
Read more from the workshop on the DK Print Workshop Blog