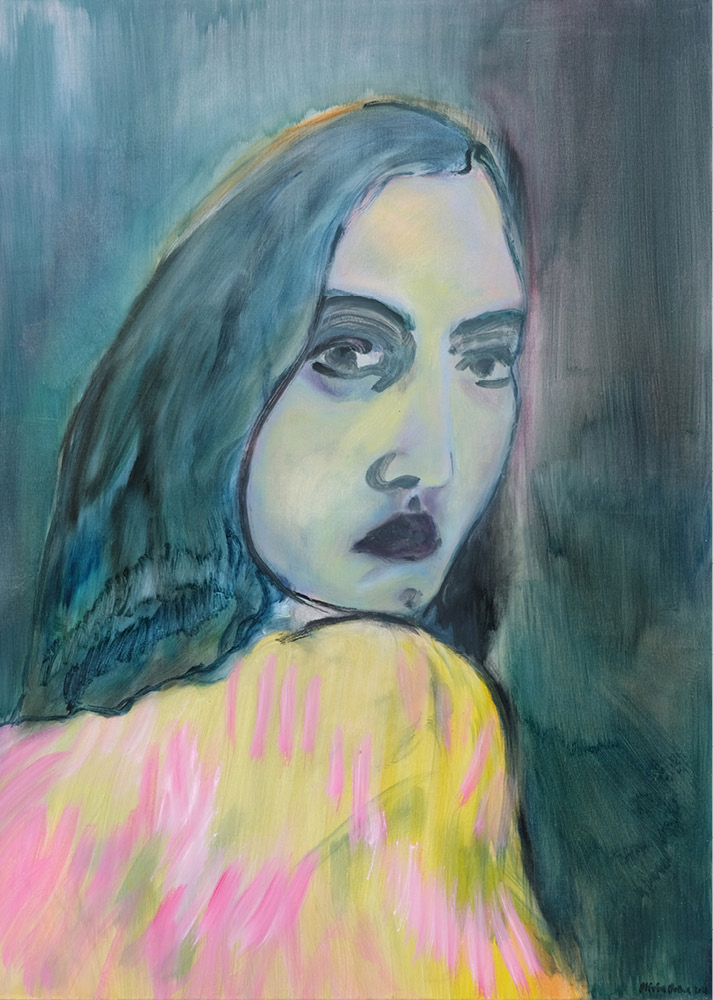 Collaboration History
Olivia Botha's unique work has been included in a number of group exhibitions at David Krut Projects (DKP) in Johannesburg, most recently in Kind of Blue, which was exhibited at the Parkwood gallery space over December 2019/January 2020.
Botha spent time in March 2020 working closely with David Krut Workshop (DKW) printer, Sarah Hunkin, exploring the monotype technique and experimenting with the unpredictable translation of her mark into print. Botha made a series of watercolour and oil-based monotypes at DKW, followed by a series of trace monotypes printed without the aid of a printing press.
In April 2021 David Krut arranged a collaborative residency for Botha with The Fourth – a working space and art gallery in Cape Town. Here she produced a body of oil paintings inspired in part by the trace monotypes of 2020.
DKP will present a solo exhibition by Olivia Botha – CAUGHT – in August 2021. This show brings together paintings produced during her residency at The Fourth and afterwards, and selected monotypes including the trace monotypes. Join us for the opening of CAUGHT on Saturday 14th of August at 10am to 2pm, at 142 Jan Smuts Avenue Parkwood.
In her painting practice, Botha works fast and in an intrepid manner. Working from a reference image, Botha resists the urge to examine her marks too closely, which allows her to draw an intuitive representation out of her brush. In this way, she accepts all marks as part of the process. Using the colour palette of a body of trace monotypes she created in 2020 as a starting point during her Cape Town residency, Botha worked towards producing paintings in conversation with the earlier works on paper. Following a progression, which happens naturally over periods between making work, the colour palette evolved and so has emerged a collection of intriguing, emotive portraits – Botha's typical choice of subject. Where the images made in Johannesburg were characteristically dreamlike and almost monstrous, these paintings are more familiar in their humanness. They reflect a yearning for connection and understanding, but maintain the feeling that such desires remain elusive as we exist as separate beings and in a time when we are deliberately keeping a distance from each other.
Biography
Olivia Botha is a multi-disciplinary artist working predominately in video performance, installation, collage and painting. She is interested in concepts of language – how we communicate, and how we are unable to communicate. Through this framework, Botha explores the different ways in which our relationships – with inanimate objects, as well as the animate – affect our lives.
Botha was born in Bloemfontein and raised in Cape Town, South Africa. She holds a Fine Art degree from the Michaelis School of Fine Art at the University of Cape Town, where she graduated in 2017. In 2018 Botha received the Cassirer Welz Award, which resulted in a new body of work exhibited at SMAC Gallery in Johannesburg. After her residency at the Bag Factory, she stayed on as a resident artist at the Bag Factory Artists' Studios. Botha has also participated in numerous group shows, most notably at The African Center in New York, Turbine Art Fair in Johannesburg, ABSA Gallery in Johannesburg and at the National Gallery of Zimbabwe, Harare.
In 2018, Botha was a recipient of the Moleskine Foundation Scholarship granting her the opportunity to participate in the AtWork workshop conducted by Simon Njami and Andrew Tshabangu at the National Gallery of Zimbabwe, Harare. In 2019, the artist was invited to attend a workshop presented by Penny Siopis as part of Siopis's residency programme at the National Gallery of Zimbabwe, Bulawayo.
Her video work, Silence Bleeding, was screened at the Labia Theatre in Cape Town in 2019, and at the International Short Film Festival in CortoLovere, Italy, as part of the Video Art Awards.
Most recently, Botha is the recipient of a 12-month fellowship with the renowned DAAD Artists-in-Berlin Program, as well as a 2-month residency at SCAC Marestaing in France, both of which she will undertake during 2021-2022.
Additional Media
David Krut Inside Story – Olivia Botha on her first collaboration with the David Krut Workshop