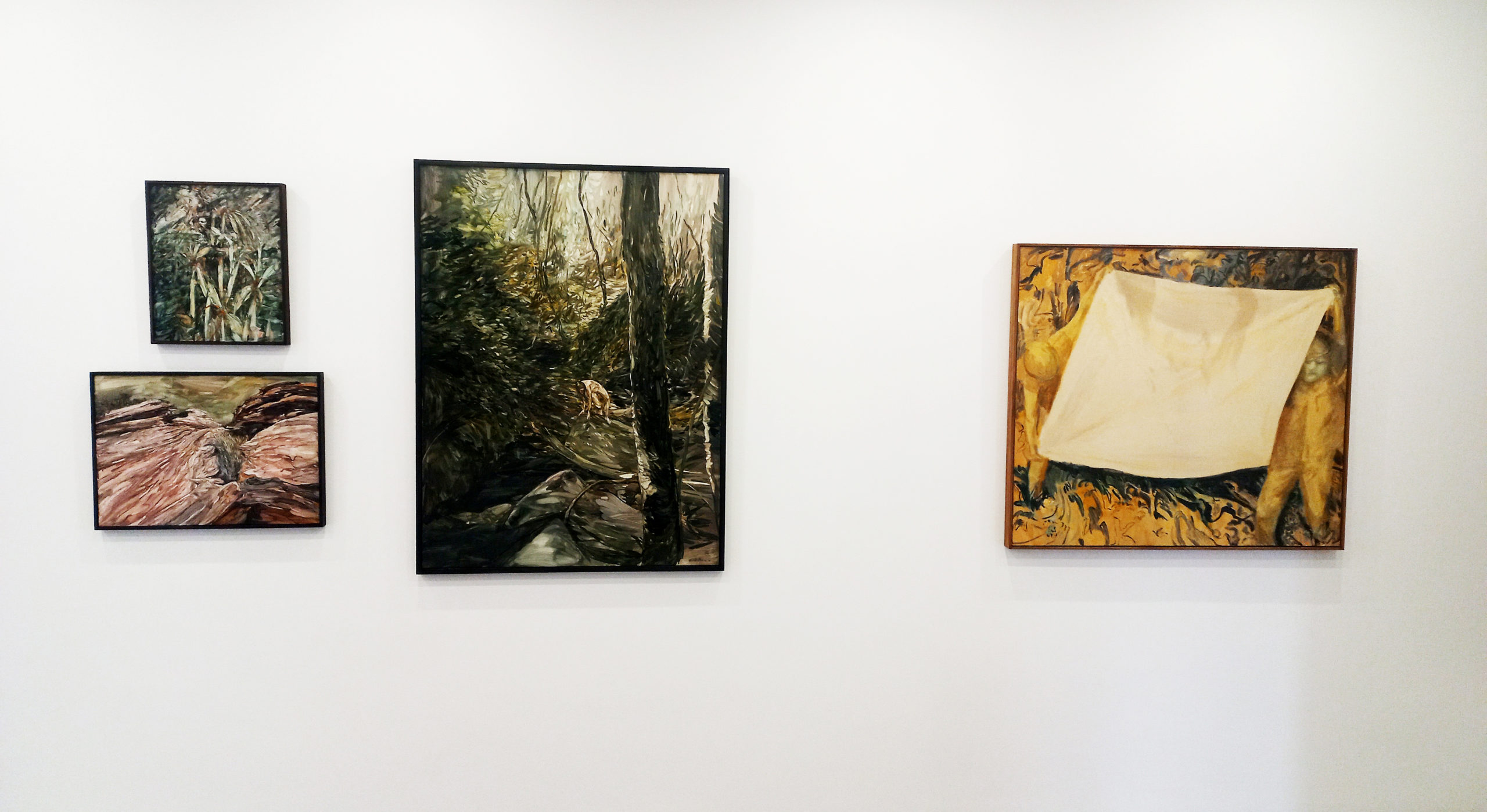 Out of the dusk envelops the viewer in the tones that occur just when the darkness of night starts to creep in and the final, inconspicuous columns of warmth and sun recede. The paintings on show represent four young, female artists – Olivia Botha, Heidi Fourie, Roxy Kaczmarek and Anna van der Ploeg.
Olivia Botha's somehow equally soft and severe portraits command presence. Botha is a multidisciplinary artist interested in unearthing how personal narratives, concepts of identity, and physical as well as imagined environments affect the present. Currently participating in a yearlong fellowship for the prestigious DAAD program in Berlin, she also recently completed a residency in France where she created ceramic and installation works. Her process in image creation seems to lend itself to her stated intentions in art making, namely to explore notions of language and communication, particularly the difficulties thereof. The act of creating reveals a kind of discovery of a person, figure, gesture or expression.
Anna van der Ploeg works primarily in painting, printmaking and sculpture and is represented by galleries locally and abroad. She has participated in artist-in-residence programs in Japan, India and France and is currently working and studying in Belgium. Her subject matter includes figurative and landscape imagery that shares certain qualities from literature – namely an ability to create a fiction in which to probe at the truth.
"The work titled 'Useful boogeyman' acknowledges the variability of what is imagined in the combination of form for itself but also van der Ploeg's technique and appreciation for oils. This painting is built up with many layers save for the focal point, the cloth, which is coated in transparent paint revealing the fine weave of cotton calico, but also a stain from the opposite side of the canvas – like the shadows eluded to but never explicitly told of." – Kerri von Geusau, August 2020 (Full text here)
Roxy Kaczmarek's paintings and prints interrogate the intersection of plants and people within liminal spaces of the city. Attempting to break from traditional forms of printmaking, she has experimented with a combination of print and cement. By bringing attention to marginalised urban greenery in between the spaces controlled by humans as well as undisturbed natural areas, Kaczmarek brings into focus how city dwellers are informed by and in turn inform the urban landscape.
Heidi Fourie's practice is led by an intuitive process of deep contemplation, observation and openness to organic processes of the natural world and the spaces we occupy. Walking in, and sometimes crawling through, natural environments is seminal to the artist's process and feeds her visual vocabulary … Fourie is endlessly curious to uncover the countless mark-making and representational possibilities of pigment, binder, and solvent solutions and their applications. For the artist, painterly marks not only make up subjects but are subjects in themselves.
Visit Out of the dusk at 151 Jan Smuts Avenue, Parkwood, until THE BLUE HOUSE closes for 2021 on December 23, or when we reopen on January 5th 2022