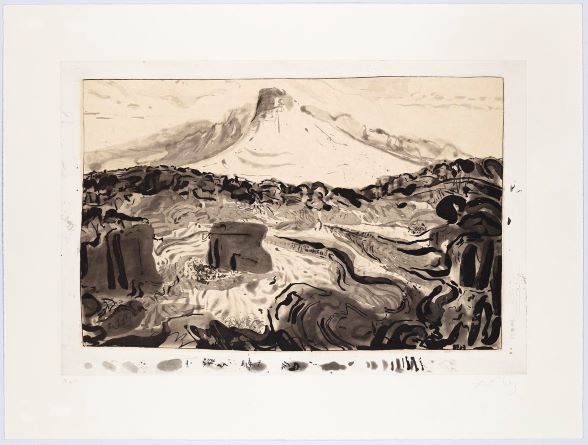 Collaboration History
In January 2021 during her visit to Johannesburg, Van der Ploeg collaborated with the David Krut Workshop team on new editions in a short-term residency. The editions were showcased alongside paintings and carvings in her first solo exhibition with David Krut Projects entitled VISITOR. This is also showcased online on the David Krut Portal. 
Anna also featured on an episode of the David Krut Podcast – Anna van der Ploeg – Artistic process as a 'dance or a fight' – Listening time 23 minutes
Biography
Anna van der Ploeg (1992) is a contemporary South African artist. Her professional practice is far-reaching and although she works primarily in painting, printmaking and sculpture, she is not limited to those fields. Anna has held several solo exhibitions, has shown in galleries locally and abroad, and has works in private collections and institutions, among which the South African National Art Bank. She has participated in artist-in-residence programs in Japan, India and France and is currently working on a video project with an artist from Berlin under the collaborative EveryMutter. Anna van der Ploeg is currently pursuing a masters degree in fine arts at KASK Royal Conservatory of Art in Belgium.
Her artistry is built on a foundation of technical competence and intellectual curiosity: she is vigorous in both her making and thinking.  Anna is also an avid mountaineer and experienced rock climber, with the kind of resolve one might hope for in someone you're tied to with a rope. On one hike in 2011, her party was swarmed by bees. Everyone was stung multiple times – except for Anna. After this she sought out a beekeeper with whom to apprentice, and began to keep bees of her own. Her research into the symbolic history of beekeeping laid the groundwork for her figurative imagery: the beekeeper becoming a recurring protagonist, the societal structure of the hive a synecdoche, and warm ochres combined with woad blue to define her preferred palette.
Van der Ploeg's tendency to borrow from literary terms is significant. She is compelled by representational imagery for the qualities it shares with literature: an ability to be didactic, to create a fiction in which to probe at the truth. As a reader and an occasional writer of poetry and short stories, she has a sharp interest in language, as intimated by her titles. For her, writing runs parallel to making, and titles precede, or prompt, the actual artwork.
Here it feels relevant to note the finesse of Anna's practice. Though the catalyst to a work is loosely conceptual, her process is labour-intensive, perceptive and specialized. Her dexterity and moxie – she makes her own clothes, is building a house with her partner, and generally a quick study in hand work – are not unrelated to her imagery or her mediums. Recently, carved, painted wood blocks have come out of her sustained interest in the confluence of print, painting and sculpture. In 2017, her experience as a printmaker led her to Japan, where she trained in Mokuhanga: traditional woodblock printmaking.
Since then she has continued to whittle away, evolving familiar materials into a medium made up of her own idiosyncrasies. This intuitive quality – the ability to follow even a very faint trail – serves as a guide, allowing her to traverse intersections between community, storytelling, poetry, a thought or a doubt.
She probes the metanarrative, and is content with a modest (or open-ended) answer.  The feeling of effort, of something beyond cognition, is to her a kind of optimism. As a figurative artist, she searches for new metaphors to convey insights about our common assemblies, to find rhythms in the motion of social, artistic and intellectual contexts. She invites her subjects into spaces or landscapes that contain an intervention which allows for a sense of the new. Some of her images hint at an impulse towards surrealism, before changing direction to something altogether singular.
As an artist, her deep regard for the ability of art to lay common ground, to sidestep small talk, and to imagine things differently, has allowed her to engage sensitively, yet on her own terms, with a formative chapter in her country's aesthetic practice. If art can provide scope for disparate knowledge systems, peoples, and ideologies to engage, then artists are cultural practitioners and conduits for the ruptures of our time. This meaning-making, this instigating of civil dialogue is an inevitable and necessary responsibility for contemporary South African  artists.
Van der Ploeg's work offers reflections with deeply felt acuteness, always emerging from somewhere just off the path.
For related books, CLICK HERE.