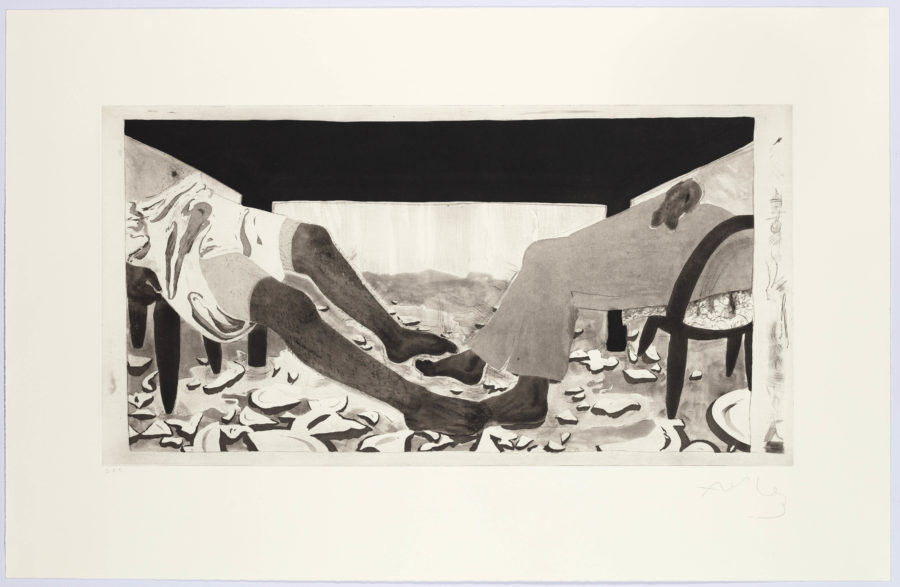 PLEASE NOTE: This work is currently unavailable but will become available again soon, please email us if interested
In this series, Anna explores the concept of hidden human interactions, how particular interactions, words, body language interpret human behaviour – how small truths play out inhuman interactions.
This work includes a behind the scenes view into the art-making process: experiments in line, colour and material beyond the borders of the image. The marks seen at the side of the print were part of the drawing-to-printing process for the artist. A record of the creation process, as well as experiments to see how each mark would print.
"It was a space outside the frame that tracks the technical taxonomy of the work. I was testing tools, timings and pressures in the background, while also working on the actual drawing. The same way you test your food as you cook, it doesn't make sense to have a separate dish [to] taste from. Having it in the print meant that it's all going on in one pot."
Artist:
---
Title:
The Negotiators
---
More about:
---
Year:
---
Artwork Category::
---
Media & Techniques:
---
Printer:
---
Edition Size:
15
---
Sheet Height:
65,4 cm
---
Sheet Width:
101,4 cm
---
Availability:
Not Currently Available
---
Framing:
Unframed
---