Women in the Workshop is an exhibition of fine art prints on paper – each of which were created in our workshop by eleven of the talented women artists that have collaborated with us over the years. This exhibition features the works of Maaike Bakker, Boemo Diale, Heidi Fourie, Dorothee Kreutzfeldt, Maja Maljević,  Matty Monethi, Mbali Tshabalala, Anna van der Ploeg, Raquel van Haver, Adele van Heerden, and Zhi Zulu.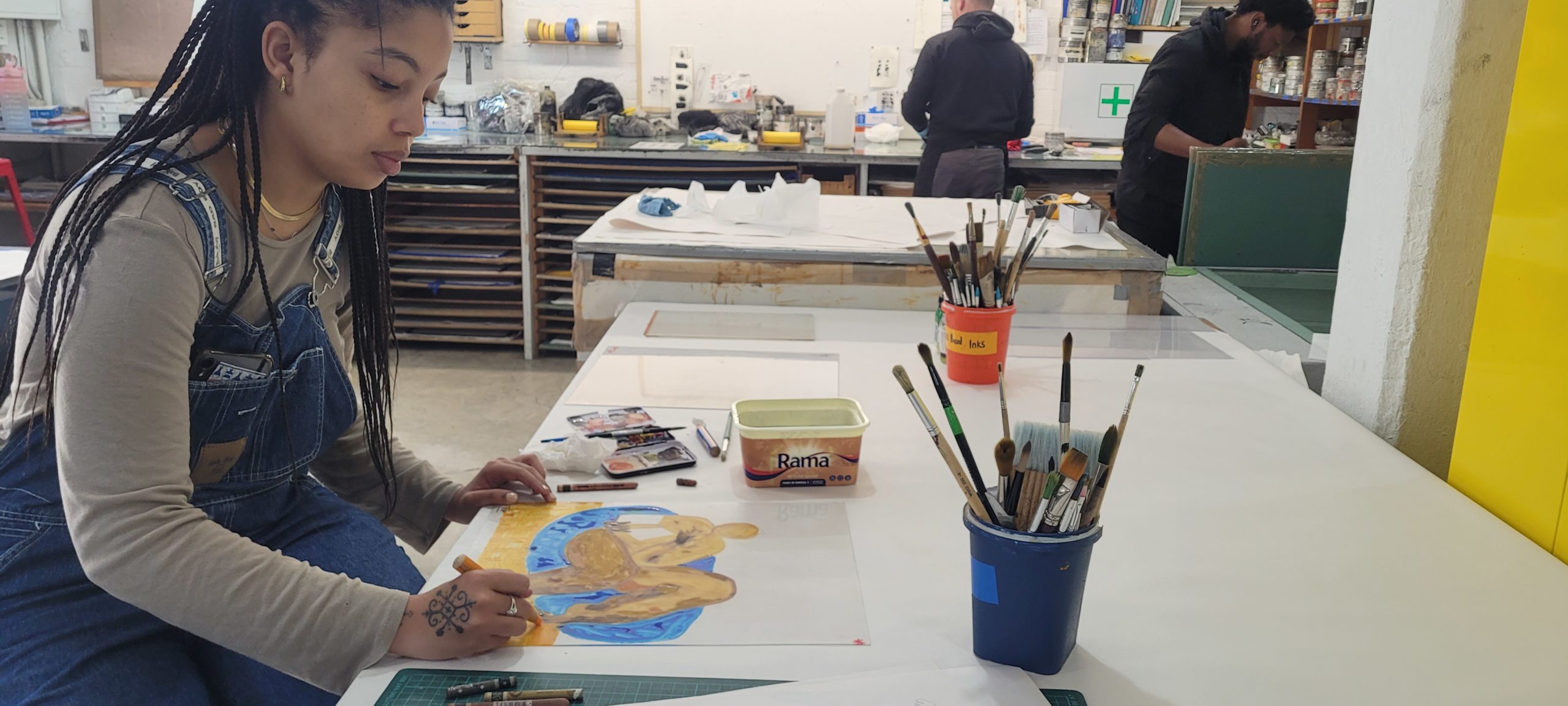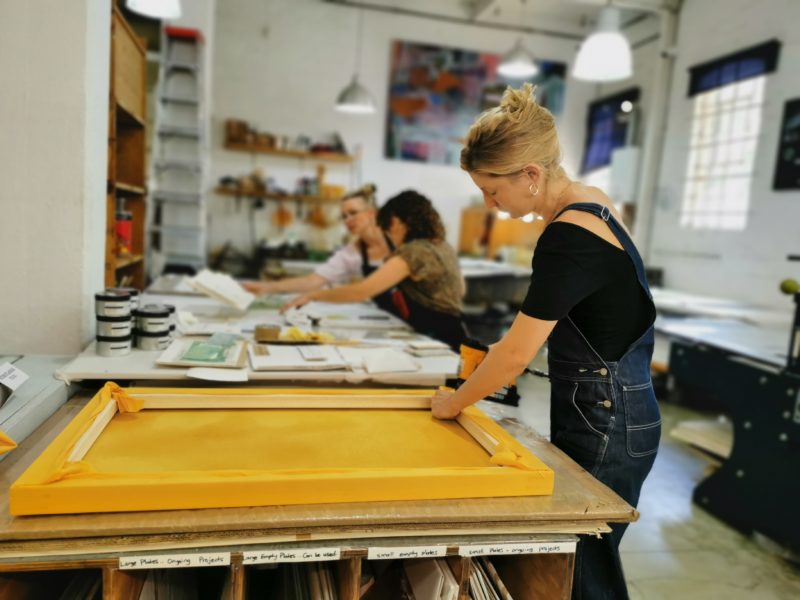 Women in the Workshop is a testament to the individual journeys, experiences and artistic practices of contemporary women artists. Through their work, the viewer is invited to explore themes that are scattered across all walks of life and to see the world from their vantage point. This collection of works strives to create an  arena of conversation surrounding all the explored themes of a diverse group of artists- the contemplative works of Diale and Tshabalala that investigate thematic aspects of identity interact with Bakker and Maljević's bold and bright abstract trains of thought. Then, the soft and gestural works of Fourie and van der Ploeg join in to contribute considerations of the nature of relationships while van Heerden, Kreutzfeldt and Monethi's presentation focus on a sense of environment. What becomes evident here is that this collection speaks not to a categorically feminine narrative but rather to the boundless spectrum of human experience, through the eyes of women.
This is also a celebration of the profound power of collaboration – the synergy between artistic vision and technical expertise that creates a pathway for an artist to freely explore, experiment and play with the support of their collaborator. 
David Krut Projects has always sought to provide a space for artists to explore printmaking as a medium. The workshop has hosted many painters, illustrators, sculptors and mixed media artists to collaborate with our skilled printmakers. The curated selection shows a range of printmaking techniques from monotypes to woodcut, each work exploring captivating imagery distinctive to the artists that made them. 
We aim to spotlight both the richness in technique and content achieved by each artist presented. From the delicate gestures of monotypes to the bold layers of a screenprint, each work speaks to the artist's unique voice and perspective. We hope to showcase the range of robust talent that exists amongst South African women in the arts. Following the ethos of David Krut Projects, these various collaborations are centred around uplifting women artists by offering a space for all ideas to be welcomed, pursued and promoted. Currently, women artists are still being placed on the backfoot meaning each step in creating a platform for more stories to be seen and shared is of the upmost importance.
Maaike Bakker
Maaike Bakker is a visual artist and illustrator currently living in Johannesburg. She obtained a degree in Visual Arts and her MA in Fine Art from the University of Johannesburg. Primarily, she works with sculpture and other installation-based mediums, as well as with digital art. 
She first came to collaborate with David Krut Workshop in 2021, where she started creating watercolour monotypes with collage elements and chine collé . This collaboration continued through to 2022 and resulted in a solo exhibition of her work, 'An Answer to an Unknown Question' in that same year.  
Through line-based patterns and soft, colourful shapes, Bakker's work explores themes of notation and ephemerality. Her practice also investigates limitations imposed by systems or structures and aims to determine at what point such may become excess and irrelevant, ultimately exploring futility. Bakker plays with abstraction in her work, seeking to depict scenes from alternate realities. The visual languages she employs in her artmaking are typically precise and create compositions that have energy and a sense of movement as she makes use of shapes and colour as seen in the works This Might Change Things (2021) and Another Way (2021). The works feel somewhat explosive, containing sharp and jagged shapes within a field of brilliant colours. 
Boemo Diale
Boemo Diale is a multidisciplinary artist and honours student in Film and Television at the University of Witwatersrand, based in Johannesburg. 
In 2022, Diale started her internship with the David Krut workshop to see how printmaking could influence her practice. This internship culminated in Can I Play?, her first show with David Krut Projects, in February 2023; a display of both prints created during her internship, as well as unique paintings. 
She considers her practice to be an intuitive, childlike process, with shapes drawn without the shadow of forethought. Her work often features imagery that is playful and cathartic, childlike reflections of her own inner world. Despite this, Diale's themes are not quite so childlike, instead they explore race, gender, spirituality and mental health. In Divine but in Zig-Zag (2022) she joins with the ideas of divine spirituality and colourful organic shapes to create a composition that is both playful and deeply considered whereas A New Playground (2021) is more representational of using bright, reductive visual elements to channel the inner child.  
More recently, Diale has started expanding her interest in the influence of traditional spirituality and how traditional practices exist in contemporary times, in efforts to shift generational traumas.  
Heidi Fourie
Heidi Fourie is a painter based in Pretoria. She completed her Bachelor of Fine Arts, specialising in painting, in 2012 at the University of Pretoria, for which she received the Bettie Cilliers Barnard Bursary for Fine Arts.  
She first collaborated with David Krut Workshop in 2017 and has since had her work featured in numerous group shows presented by us. In 2021, We hosted a solo exhibition of Fourie's work, Grass You Can Swim In, featuring prints made in the workshop, as well as paintings. The following year, 2022, saw another solo exhibition for Fourie, On Soft Ground, consisting of soft-ground etchings. In 2023 she once again collaborated with David Krut to produce a series of Monotypes that were featured at Latitudes Art Fair earlier this year. 
Her subject matter consists of figurative studies of everyday scenes of figures and familiar environments. This focus enables her to explore a balance between gestural and polished mark-making. In 2020, she began to explore the wild, natural landscape of the highveld that stretches between Johannesburg and Pretoria. It is natural to get lost in Fourie's images – Her mesmerising mark making allows her figures to melt into the imagined landscape – a testament to her technical expertise. Fourie's visual world is built around the total immersion of figurative motifs into the natural world, using composition and brushstrokes which entice the eye to differentiate between what could be a limb or a branch.  
Dorothee Kreutzfeldt
Dorothee Kreutzfeld is a painter and educator located in Johannesburg. She completed her undergraduate degree in Fine Art at Michaelis school of art in Cape Town, where she worked for 4 years before moving to Johannesburg to complete her MA in Fine Arts at the University of the Witwatersrand.  
Her interests lie in landscape and in 'urbanity – how we understand cities/space within an increasing nation conscious/globalised economy, mobility and imagination'. However, it is her fascination with "urbanity" that distinguishes her practice. Urbanity encompasses the complex interplay of human activity, architecture, culture, and the rapid transformations occurring in cities worldwide. In particular, Kreutzfeld seems interested in probing how cities are understood in an age of globalization, increasing national consciousness, economic flux, mobility, and imagination. Her work likely delves into questions surrounding urban development, gentrification, cultural diversity, and the changing dynamics of urban life in a globalized world. 
Herzliche Grusse translates to warm regards. The image is soft, inviting and playful in nature; formed through personal motifs that are integrated with diagonal lines and architectural perspectives. The diagonal elements are reminiscent of the way light flows through structural beams or windows in the city – what would normally be recognised as metropolitan features. A personal touch subverts the common gritty feeling of the city as we notice the sweet but sketchy heart and the patriotic protea centred in the flags.  
Maja

Maljević
Originally from Serbia, Maja Maljević is a Johannesburg-based artist working in painting, printmaking and sculpture. She obtained her Masters in Fine Arts at the University of Belgrade. Parrales can be drawn between her work and that of the great Modernists as her training in Belgrade was intense and within the formalist tradition.  
She began collaborating with David Krut Workshop in 2007, when she began experimenting with printmaking to expand her practice. She has since gone on to collaborate with our team of printmakers on numerous occasions, resulting in eight solo exhibitions with David Krut Projects, featuring her prints, paintings, and, more recently, her ceramic sculptures.  
Maljević's work starts with activating her substrates with bold elements, thus breaking up the imposing whiteness of the blank page and laying the groundwork for her jigsaw-like approach. From this starting point, she drips, blocks, bands and waves of colour, searching for harmony between colour and form, line and shape, expansive surface and small detail. Her primary objective is coherence between all the individual elements within a composition, whether they are in conflict or co-existing harmoniously, and therefore its integral logic. The consonance between all visual elements is evident in her works. This is exemplary in her works Misinipie and Vertigo Zero which employ dynamic compositions using organic shapes, line and bright colours to create a vibrant environment for her viewers.  
Matty Monethi
Lesotho-born and Ethiopia-raised, Matty Monethi is a Johannesburg-based visual artist. She received her undergraduate degree from the Ruth Prowse School of Art in Cape Town. She also spent a semester abroad at the University of Hertfordshire, in the United Kingdom, where she specialised in printmaking. She came to do a short residency with David Krut Workshop in 2022, as part of a larger collaboration project with FORMS Gallery and the founder Anthea Buys. 
Using painting, printmaking, and text as well as through drawing on memories of her own experiences, as well as family photographs from her childhood, to create emblematic pictorial scenes punctuated by empty space and text. Aware of her space in broader historical contexts in South Africa, Monethi uses her work to examine personal connections with migration and memory, often producing representational scenes that address evolving selfhood, the depiction of the past, and the relationship between personal archives and nostalgia 
Her work Zoo Lake utilising the soft, translucent nature of watercolour monotypes to create a dreamy recollection. The mood she creates, alongside the familiarity of the location in her title allows the viewer to connect to the feeling of the image, rather than the contents of the image itself. Through this Monethi finds a balance between the personal and universal through the tools of mood, technique and concept.  
Mbali Tshabalala
Mbali Tshabalala is a mixed media artist and curator located in Johannesburg. She holds a Bachelor's Degree in Fine and Applied Art from the Tshwane University of Technology, and she studied printmaking at Artists' Proof Studio. She has worked as an assistant curator at Zeitz Museum of Contemporary Arts in Cape Town, and as a curator at several galleries in Johannesburg and Pretoria. She is the founder of Collective UNTITLD, Anecdotes Gallery. 
She first worked with David Krut Workshop in 2019 when she created a silkscreen edition for LATITUDES LIMITED for the first ever Latitudes Art Fair. She returned in 2021 to the workshop to create a series of monoprints and in 2022 she was showcased at the David Krut booth at the Joburg Art Fair. In 2023 she represented David Krut, along with three other artists, at the Latitudes art fair. 
Tshabalala's work explores the prevailing ideals related to mental health within black communities, with a particular focus on the experiences of black women. Despite confronting numerous injustices rooted in racism and sexism, black women often find themselves pressured to exhibit boundless resilience, unyielding determination, and embody the 'Strong Black Woman' archetype. Her works often depict a stoic self-portrait, accompanied by symbolic elements such as scarfs, blankets and patterns.  
Anna van der Ploeg
Anna van der Ploeg is primarily a printmaker, sculptor and painter who just completed her master's in fine arts at KASK Royal Conservatory of Art in Belgium. She also won an excellence award for her masters exhibition and she has just completed a residency at Museum M in Leuven and had a solo show with us in Johannesburg and New York 
 Her artistry is built on a foundation of technical competence and intellectual curiosity: she is vigorous in both her making and thinking. Van der Ploeg's tendency to borrow from literary terms is significant. She is compelled by representational imagery for the qualities it shares with literature: an ability to be didactic, to create a fiction in which to probe at the truth. For her, writing runs parallel to making, and titles precede, or prompt, the actual artwork. Her deep regard for the ability of art to lay common ground, to sidestep small talk, and to imagine things differently, has allowed her to engage sensitively, yet on her own terms.  
Van der Ploeg's work offers reflections with deeply felt acuteness, always emerging from somewhere just off the path. Her use of gestural brushstrokes, warm colours and relatable compositions of everyday humanity make her works seem both otherworldly and all too familiar – she imagines that this area of liminality can be the space for conversation to be initiated by the viewers.  
Raquel van Haver
Raquel van Haver was born in 1989 in Bogota, Colombia. She now lives and works in Amsterdam, The Netherlands.  In 2012 she graduated from the HKU Fine Arts, Utrecht. In 2012, 2013 and 2016 she was nominated for the prestigious Dutch Royal Award for Painting and was on the long list for the Prix de Rome. Following this, in 2017 she participated at the Culture Summit in Abu Dhabi. 
 She was invited to make prints at David Krut Workshop (DKW) during her visit to South Africa in 2016. These works became the starting point for a new body of work: the definition of a system, which depicted topics about migration, oppression, military forces, refugees and global politics. 
In early 2023, Van Haver returned to DKW to create a new series of unique prints. These works were visually inspired the way light fragments through glass, and deal with issues relating to crime, insurance and ownership in the city of Johannesburg – which is currently being shown in New York alongside two paintings from her studio in belgium 
Van Haver works on burlap, often combining oil paint, charcoal, plaster, paper, human hair, coal, chalk and ash in heavily textured compositions. Her paintings, drawings and installations offer snapshots of daily life in and out a metropolitan and urban society, giving a voice to those who live between the borders of society. Talking about the youth, street life, femininity, masculinity, politics, and status she interweaves these subjects together in her works. She is interested in race, identity and identification drawing from African, Western, Caribbean and Latin American cultures within her direct neighbourhood. Negotiations between 'self' and 'other' within migration and globalization appear as recurring themes. 
"Twee Bergen" references the large, durable rucksacks used by military forces. The rucksacks are rendered in a loose, suggestive form which make up the central shapes. The frenetic marks that fill the compositions hold similar qualities to restrictive implements such as barbed wire, fences and boarders.  
Adele van Heerdan
Adele van Heerden was born in Cape Town. She obtained a degree in Fine Arts from the Ruth Prowse School of Art in 2010, after which she continued her studies at the University of South Africa, obtaining a BA in History and Politics. In 2015, she graduated from the University of Cape Town with an Honours Degree in Curatorship. Van Heerden is thus able to bring together ideas from her various fields of study – – in her fine arts practice.  
Van Heerden is compelled to paint what she sees in her daily life and travels. Her images explore environments, camera in hand, to discover and document them, especially human-made spaces and built environments that work in symbiosis or in juxtaposition with the natural world. Her subject matter therefore predominantly centres around urban, natural landscapes and interior scenes. On returning to the studio, she draws and paints these images based on her photographs, onto the front and back of translucent drafting film – a technique of reverse-painting that is unique to the artist.  
Van Heerden's work is an act of existential meaning-making, artistic research and meditative practise. The goal is to capture a specific moment in time, to freeze it and give shape to the experience, making use of images and ideas to reimagine her own life experiences. 
Both the images Beehive and Five Cats position the viewer to feel as if they are looking directly into a moment, are stuck in Van Heerden's "freeze-frame" of experience. The technique of watercolour monotype lends itself well to Van Heerden's work as it is not only a painting process but it also because it requires the artist to paint on a translucent substrate, such as perspex or acetate film. This is an interesting progression considering Van Heerden's personal technique of reverse painting on drafting film.  The artist usually employs an opaquer medium such as gouache or paint markers, so the transition into the softer suggestions of the water colour mark were a new exploration for the artist. 
Zhi Zulu
Zinhle Zulu who goes by the artist name 'Zhi Zulu' is a 20-something-year-old illustrator, lecturer and cultural visual story-teller based in Johannesburg.  Zulu obtained a Bachelor of Arts (Honours) in Visual Communication at the Open Window Institute as well as a Masters of Art in Design at the University of Johannesburg. In 2017, she won the Gold-craft Loerie award for illustration and was part of Design Indaba's creative class of 2019. Zulu has participated in various notable exhibitions, including the Turbine Art Fair (2019-2022) represented by David Krut Projects. She runs an illustration studio called Zuluvisual, through which collaborates with various clients such as Absolut Vodka, Levis, Constitution Hill, Wanderland Collective, E-coffee cup and FlySafair. Most recently, Zulu designed the new South African 20c coin.  
Zulu is particularly interested in representation in our newly democratic South Africa and how that can be interpreted through illustration. As a visual communicator, she thinks it's important for young South African creatives to spearhead the exploration of newness in how Africa is portrayed. 
Zulu started working with David Krut Projects (DKP) in 2018. Since then, she has gone on to produce a 5-part silkscreen series – The Curious Five which ran from 2019-2022. In 2023, DKW collaborated with Chocolate Ink Studio to create a new silkscreen print of Zulu's entitled JOZI-pocalypse.  
The work meddles with iconic symbols of Johannesburg's infrastructure to reflect upon the confusion we have as a nation about how to represent ourselves in this democratic era. This is the largest and most complex of Zulu's editions to date. The print consists of twelve silkscreen layers printed on tea-stained paper, meticulously tested by Cloudia Rivett-Carnac of Chocolate Ink, which creates the antiquated look of a found artefact.