Kunanela iphuzu emafini / Echoes of the Point Cloud, a new collaboration between Phumulani Ntuli and David Krut Projects, made its debut at the FNB Art Joburg Fair in Sandton in September 2023. This project is currently being shown at the Blue House at 151 Jan Smuts Avenue in Parkwood and showcases Ntuli's first series of intricate unique works on paper made using an old-fashioned printing press in collaboration with Kim-Lee Loggenberg at the David Krut Workshop in 2023, as well as large mixed media collages on canvas from the artist's studio.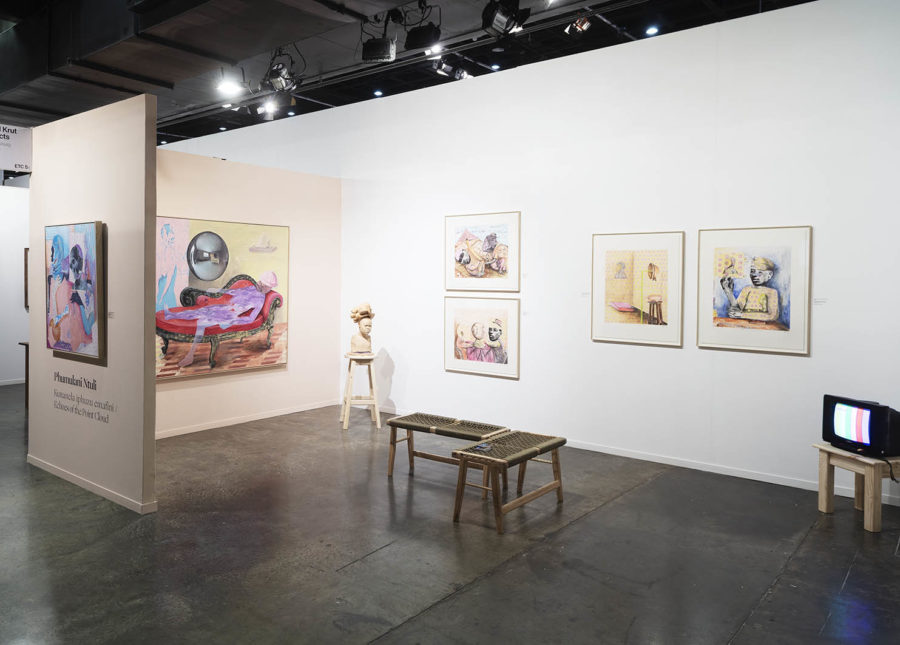 Kunanela iphuzu emafini / Echoes of the Point Cloud contains excerpts from South Africa's history of motion pictures in collision with current point cloud data, automation, and synthesis bestowed by Artificial Intelligence. Using devices of cinematic practice and model training as artistic enquiries, these artworks navigate the first South African pioneer film 'Jim Goes to Joburg', produced by Eric Rutherford and directed by Donald Swanson under Swan Film Productions, which was later re-titled as 'African Jim' to contextualise the film for European audiences. The body of work attends to scenes deployed through a black and white cinematic lens, to reenact the South African seminal film tradition within the margins of the changing socio-political landscape. Kunanela iphuzu emafini / Echoes of the Point Cloud searches for alternate ways of seeing, experiencing and navigating the changing city.
The use of collage is significant in Ntuli's practice. Whether through digital language and coding or hand-cutting and arrangement, collage is used to reframe data in the creation of a 'pseudo-reality'. In Ntuli's words "to collage is to process information, through cutting, slicing, joining, displacing, and concealing. It is a performative model of practice to counterfeit, in this gesture creating alternative forms of looking and meaning."
Biography
Phumulani Ntuli is a South African multidisciplinary artist working with mixed media collages, sculpture, video installation and artistic research. Born in Soweto in 1986, Ntuli received his Bachelor of Technology in Fine Arts from the University of Johannesburg before obtaining his Master of Arts at the Valais School of Art (ECAV/Edhea) in Switzerland in 2017. His thesis was titled When we down tools we exit through the pinhole, exploring the pauses of archives within the Marikana Archive in South Africa.
Working between documentary and fiction, Ntuli's practice deals with omissions within archives. As he explains: "The continued themes I have explored in my practice have been notions of black futurity, the archive and its tensions. I consistently delve within notions of collective autobiographies and their surrounding social political conditions." Ntuli has exhibited locally and abroad and is recognised internationally by way of numerous projects, awards and biennales.
Ntuli was awarded the Prix Excellence for his Master thesis and artwork. In 2016 Ntuli participated in the Kampala Art Biennale, presented work at Bone Performance Festival in Bern, Switzerland, and performed in the 2016 Act Festival in Geneva, Basel, Sierre and Zurich. During the same year he participated in residencies at the Fondazione Pistoletto in Biella, Italy and the Alps Art Academy in Chur, Switzerland.
In 2018, he received the PPC Imaginarium Film Prize for his work Tied Rope. Ntuli was part of the second edition of the Congo Biennale 2019 in Kinshasa, Democratic Republic of the Congo. He presented a solo show in 2021 at the Bag Factory Artists' Studios in Fordsburg, Johannesburg, titled A Navigation Guide to Kwanqingetshe. In December 2021, as part of his collective practice with Preempt Group (Phumulani Ntuli and Mbali Dhlamini) he received the Tim Hetherington Visionary Award from the Javett Art Centre at the University of Pretoria under the auspices of the Tim Hetherington Trust. In 2023 Preempt Group also received a production grant award from the Sharjah Art Foundation.
In 2022, his work was selected to be part of the South African Pavilion for the 59th Venice Biennale. In the same year, and after a residency with Atelier Solar, Ntuli opened his first solo exhibition in Spain, entitled Isidleke Sakhiwa Ngezinwele [A Nest is Built with Strands of Hair] at Galería Nueva in Madrid. During Ntuli's first collaboration with David Krut Workshop in 2023, the artist spent several weeks collaborating with Kim-Lee Loggenberg to produce large, complex unique works combining painting and collage while using an old-fashioned printing press.