"Projects" is a retrospective show featuring works by William Kentridge, Vusi Beauchamp, Anna van der Ploeg and Raquel van Haver. The exhibition reflects the work of four artists who have recently worked at David Krut Workshop (DKW) in Johannesburg to create art that they wouldn't be able to produce in their own studios. The works presented are a mix of paintings on canvas, monotypes and editions on paper.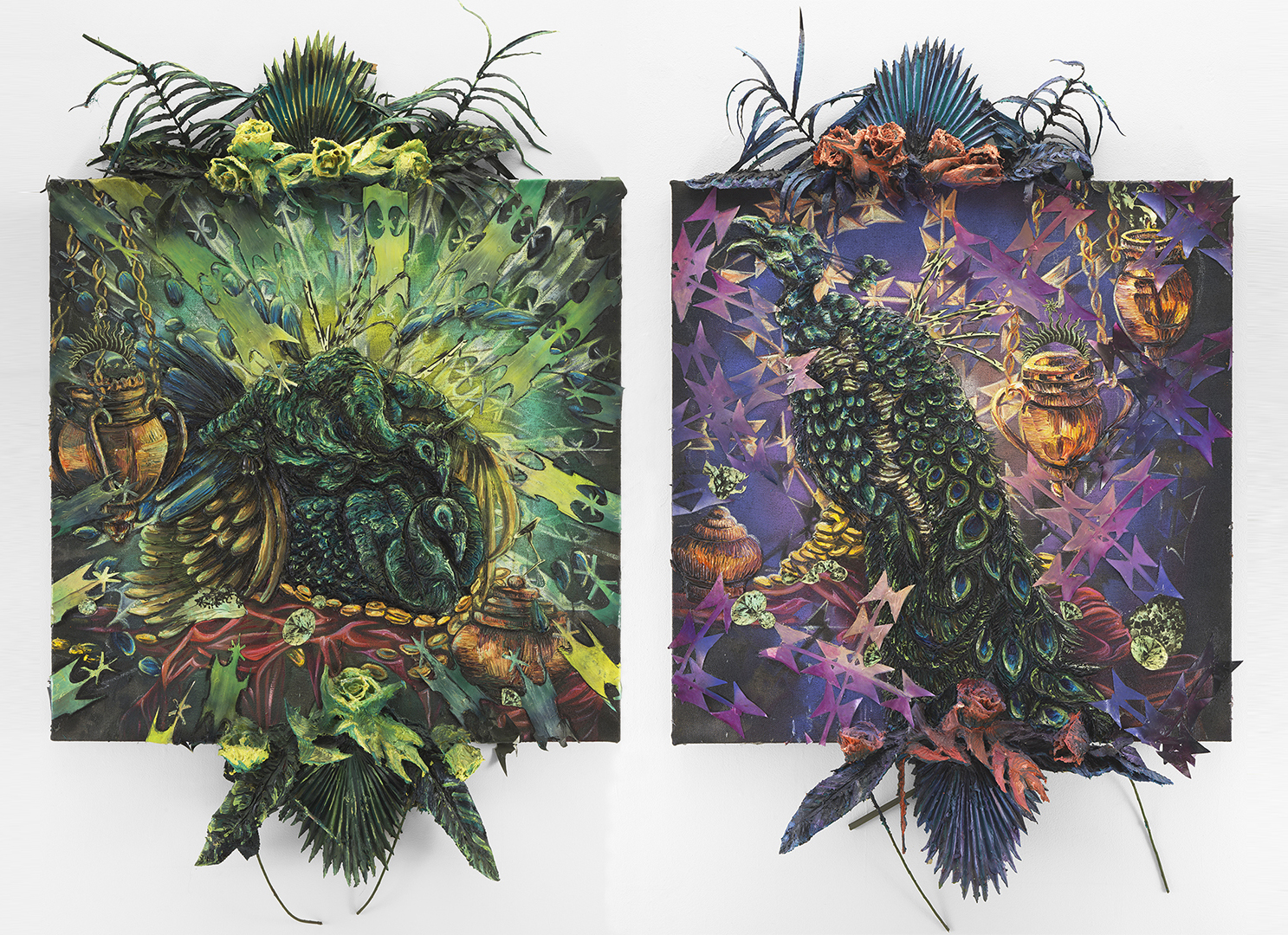 ---
Vusi Beauchamp
Vusi's provocative iconography employs popular culture, satire and stereotypes in service of a visual political commentary. He seeks to interrogate current societal ills and musings against a backdrop of South Africa's post- "Rainbow Nation" era – a time that promised racial equality, upward mobility, and "a better life for all" after the country's transition from Apartheid.
Predominantly a painter, Beauchamp creates his works on canvas by using various methods, including spray painting and stenciling, with mediums such as crayons, charcoal, oil sticks and acrylic paint. Beauchamp's works on paper similarly use a variety of materials and techniques, often incorporating multiple layers to create the final image.
RELATED MEDIA 
Inside "The Cult of One": An Interview with Vusi Beauchamp
---
William Kentridge
In the case of William Kentridge, the collaboration with David Krut extends over 30 years. A selection from three large projects are on display – NOSE, THE UNIVERSAL ARCHIVE and STUDIO LIFE. David Krut Workshop was a founding member of the Arts of Main complex in the city of Johannesburg where Kentridge has his sculpture studio and THE CENTRE FOR THE LESS GOOD IDEA.
---
Anna van der Ploeg 
The table has long been the subject of Anna van der Ploeg's work. It is an unassuming object of functionality and a site of art historical scenes of bounty and beauty. With the works on view in Projects, Van der Ploeg churns a more disquieting arena of dinner table talk and capricious human interactions. 
Aside from her skills as a painter and sculptor, Van der Ploeg herself is an accomplished printmaker. She studied printmaking in her degree and subsequently participated in residencies in France, India and Japan where she worked with Mokuhanga, a water-based woodblock printmaking technique. This ancient technique lends itself to building up many layers of colour, creating depth while maintaining subtlety. Collaborating with DKW for her was illuminating and humbling: sowing seeds that will hopefully grow as her practice moves forwards.
Anna completed her Master of Fine Arts in Belgium in 2021, where she graduated with high distinction from KASK Royal Academy School of Arts, Belgium, and was awarded the Legate De Leu prize for Fine Arts. The body of work she made there focused on large painted wooden sculptures.
RELATED MEDIA
'Omens in hot bacon contradiction' by Anna van der Ploeg
'Omens in hot bacon contradiction' | New Editions by Anna van der Ploeg | PART II
---
Raquel van Haver 
Raquel van Haver interweaves subjects such as identity, history, folktales and urban stories, femininity, masculinity, the politics of gentrification and religion, and the vision of the greater Caribbean in her work, offering authentic snapshots of daily life in and out of global urban societies and giving a voice to those who live between the borders. 
During her time in Johannesburg, Van Haver became intrigued by the lengths locals take to protect their assets – which she notes can appear over-the-top and somewhat ridiculous – and created the satirical series of unique prints and large-scale mixed-media paintings in Rising Phoenix. While navigating the city, Van Haver came upon graffiti stating: "There will never be peace on stolen land." In this activist's statement, Van Haver saw connections between South Africa's colonial history; the current reality of gentrification in Johannesburg, Colombia and the rest of the world; the fear evident in extreme property protection; and the Catholic Church's seven deadly sins.
RELATED MEDIA 
Raquel van Haver: Rising Phoenix
---
For more info, please email [email protected]