Written by Sbongiseni Khulu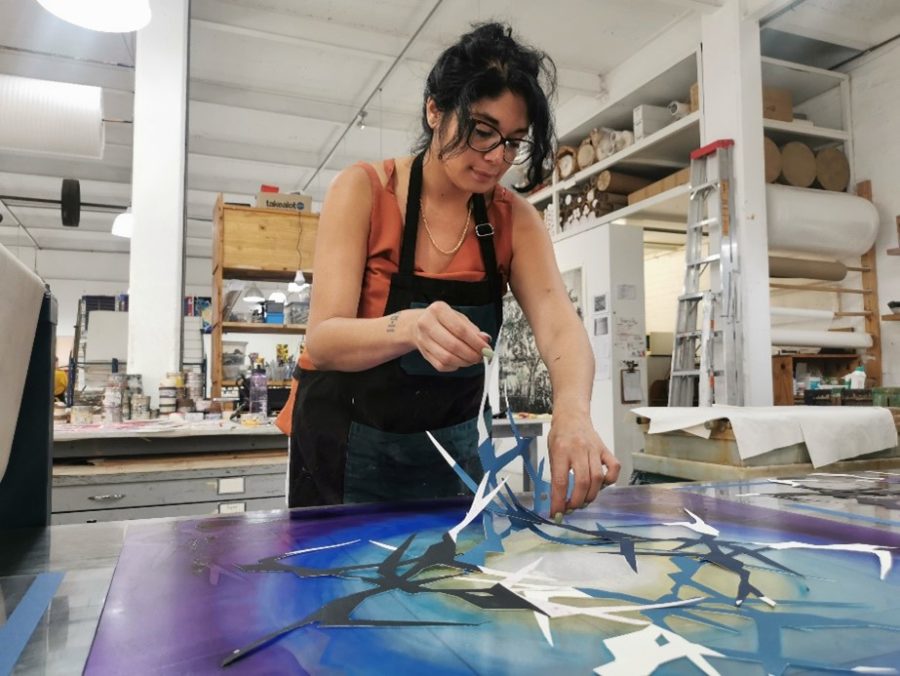 Left: Raquel van Haver placing stencils on oil monotype
Right: Tristitia, 2023, 89 x 71 cm (Oil-based monoprint)
In a time where one's possessions appear to be a metric for self-worth, artist Raquel van Haver posits whether materialism is today's glamorized societal transgression. In her most recent collaboration with the David Krut Workshop, Van Haver creates a series of 10 unique satire driven artworks spotlighting a materialistic society. Asking to what degree is the theft of one's belongings equivalent to the erasure of their identity.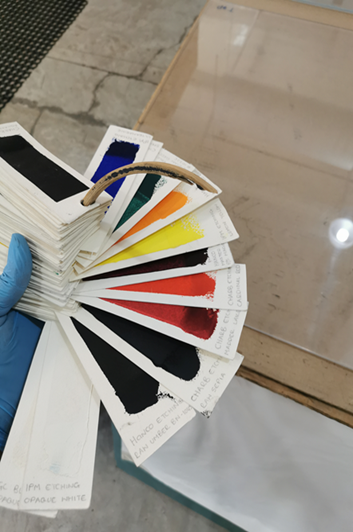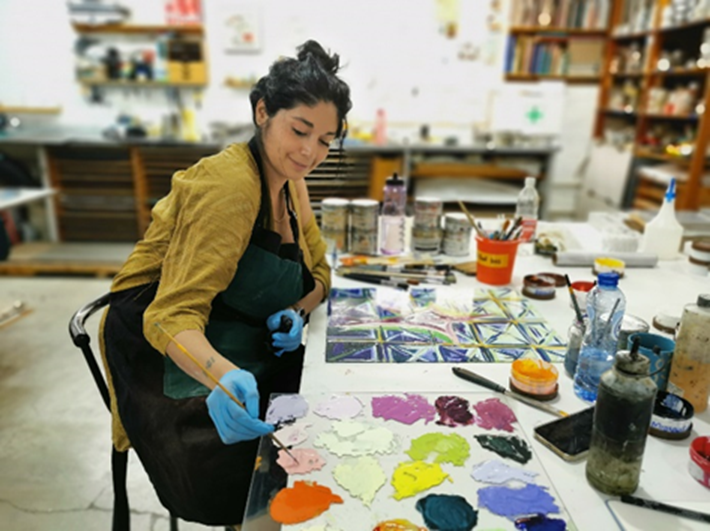 As a painter Van Haver's artworks are often tactile objects epitomized by the impasto technique, seemingly unencumbered by the laws of gravity. Though usually the burden of a durable support structure falls on the burlap sack Van Haver paints on, in this series of prints that responsibility is passed onto the paper, Arches Cover white 400gsm to be exact. With less than 2 weeks at her disposal, Van Haver began by exploring the effects of colour and light in seeing how they alter our perception of everyday objects.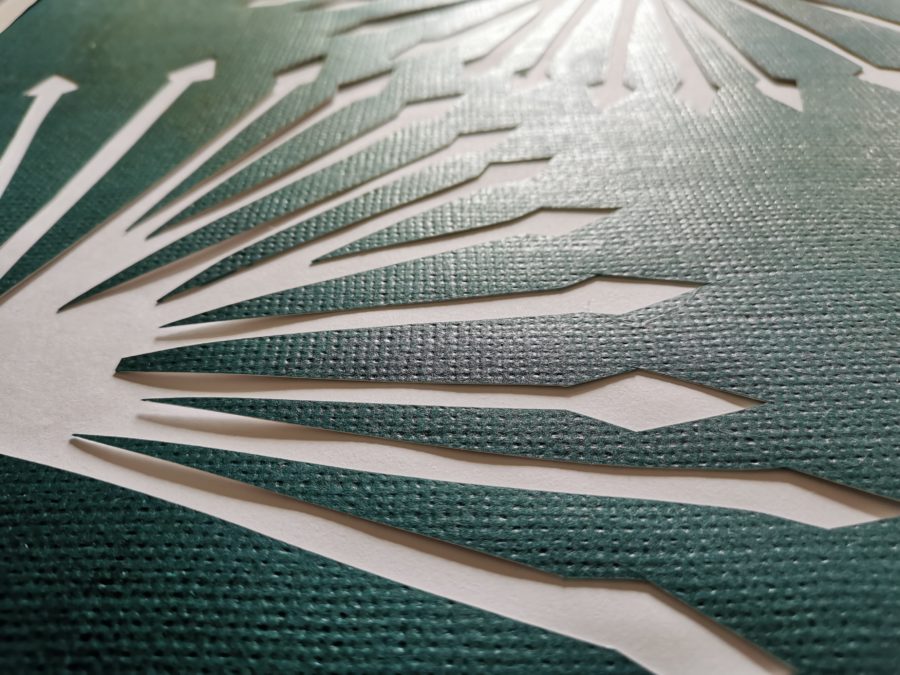 In that she took razor and barbed wire fencing, something known to be both protective and restrictive and utilized it in a myriad of kaleidoscopic designs and patterns. These designs served as the foundation to her multilayered oil-based monoprints. A foundation which was met with much creation through repetition, be it in drawing barbed wire patterns from a single shape, cutting out each of those shapes to recreate a pattern and later cutting out individual pieces of text to be collaged onto each of the prints. Repetition often lends itself well to Printmaking processes. The philosophy of Soren Kierkegaard describes repetition as "ideality and reality touching one another… for that which is, is also in another mode" that said razor sharp fences exist in a dual mode of protection and bodily harm.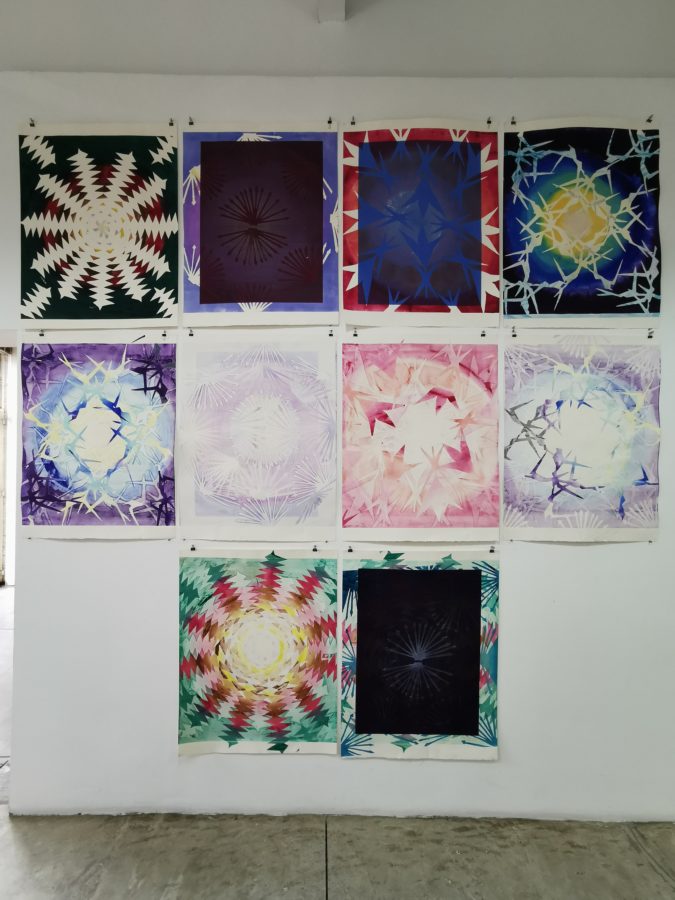 Each print holds a respective subject that also exhibits several modes. Evidence of this can be read at the top of each print as they are adorned with a Latin title representative of its suggested societal transgression, most of which are associated to the seven deadly sins… Superbia (pride), Avaritia (greed), Luxuria (lust), Invidia (envy), Gula (gluttony), Ira (wrath), Acedia (sloth), Vanagloria (vanity), Tristitia (sadness). It is through the spotlighting of those modes that these prints reveal themselves as both striking and didactic.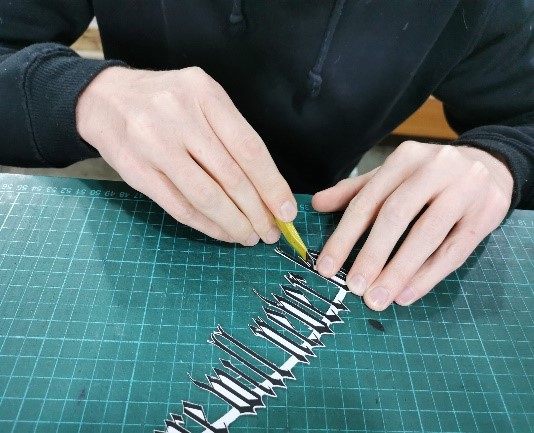 Van Haver further ties the series together with a borrowed phrase she stumbled upon whilst navigating the streets of Johannesburg, which reads "There will never be peace on stolen land". The original of which can be attributed to musical artist KRS-One's 1993 release "Sound of da police" which reads, "There will never be justice on stolen land". That being said, it stands to reason whether a materialistic society is yet another example of man's hubris and folly in the name of self-preservation and peace of mind.