Multi-disciplinary artist Olivia Botha collaborated with the David Krut Workshop (DKW) on a series of delicate trace monotypes titled Caught in the Wind in the middle of 2020. They are included in her solo exhibition with David Krut Projects, titled CAUGHT, alongside an accomplished body of paintings which were created in residence in Cape Town at the working space, The Fourth.
"The collaboration was a catalyst for how I produce works…Printmaking is magical. After my first collaboration, in which I made watercolour monotypes, I felt so inspired to keep what I learnt from my time in the printmaking workshop that I decided to carry on making works on paper. It was also during this time that we had multiple lockdowns and weren't allowed to leave our houses, so I had to work on something from home which happened to be works on paper"
– Olivia Botha on her collaboration with DKW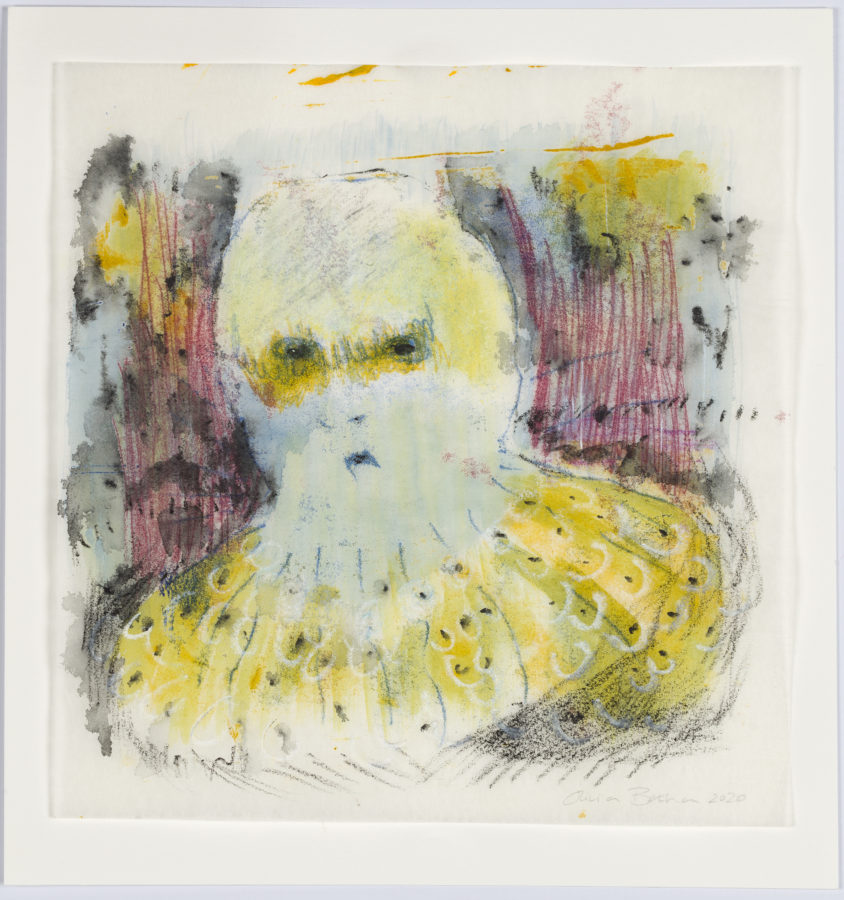 Caught in a thought (2020), Trace monotype with hand painting and oil pastel on Hosho paper, 22,9 x 22,2 cm.
Although smaller and lighter in comparison to the paintings that make up CAUGHT, the trace monotypes informed the entire exhibition by providing Botha with the colour palette and a starting point for all the work which followed their creation. Also taking into consideration the complexity of their marks and their thoughtful layers, the delicate monotypes hold their weight beautifully against the large oil paintings in this body of work.
As a technique, trace monotypes are expressive, tactile and direct. Because of these characteristics, and much like painting, the experienced printing team at the DKW directed Botha to collaborate and explore the trace monotype technique.
As a painter, her approach is fast and intuitive, and she accepts all marks as part of the process. From this method her typical choice of subject – emotive portraits and figures – are brought to life in both her paintings and monotypes. Botha explains how she approaches her works: "I don't plan or overthink before I start working. I'm quite the opposite. I like to follow my intuition and go with an initial feeling. It feels more like a conversation. It feels like I'm in dialogue with the works instead of just forcing my ideas onto the material. I really love happy accidents and experimentation. And I try to be as free as I can when I work. I also know that I'm not as "free" as I'd like to be in my mark-making, but that's part of the process".
In terms of inspiration, Botha finds it in different places. She is particularly drawn to photographs, but needs to have a connection with the image before working on it. "So there is something that happens for me when I see a photograph, and then I want to bounce off that energy and create something with that. The idea is never to "copy" what I see but instead work from what I feel and use the image as a guideline or a starting point", explains Botha.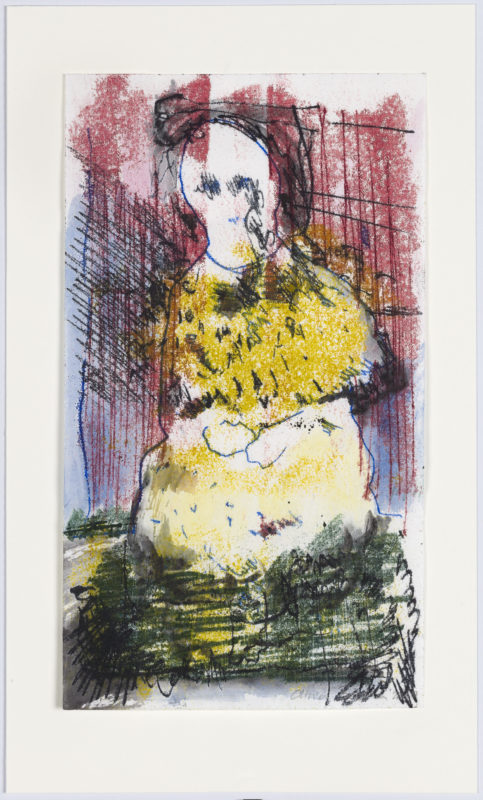 To create the dreamlike, almost monstrous, figures in her trace monotypes, Botha worked with printers Roxy Kaczmarek and Sarah Judge. After a sheet of thin artist's paper has been placed face down over a thinly rolled out layer of ink, the artist draws or traces on the back. Under the pressure of the tool controlled by the artist, ink is transferred directly to the paper, creating a thick, almost fuzzy drawing-like mark.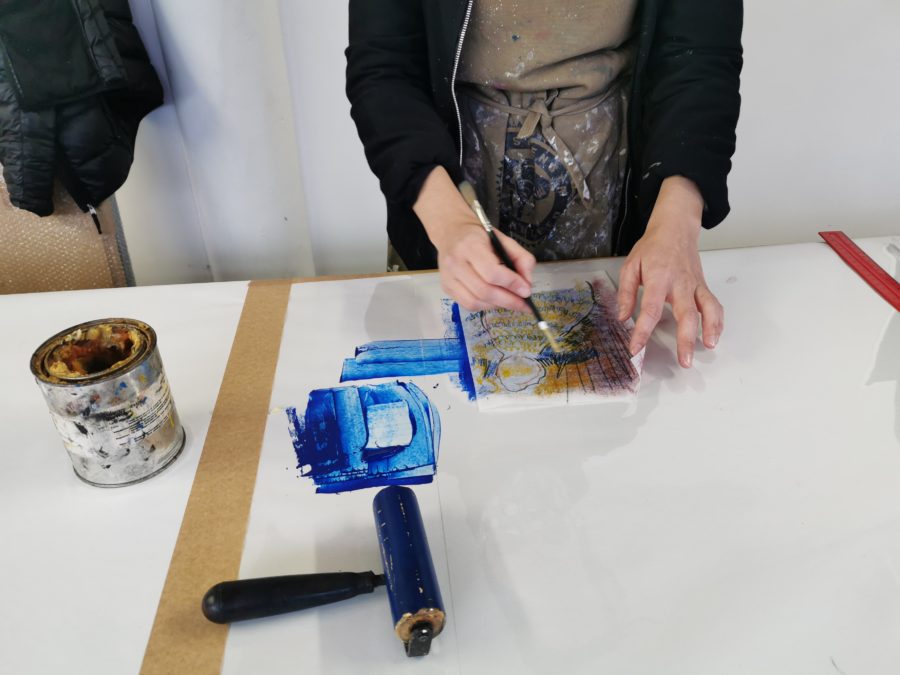 The monotype technique allows for a vast range of marks – from soft and subtle washes to bold and defined colour – lending freedom to the artist in how they approach and ultimately create their images. With a number of colours laid out for Botha to use, she could jump from one to the next as the image required. A wide range of mark-making tools can be used in the creation of a trace monotype, from art essentials lying around the studio like pencils or the back of a paint brush to your fingertips. To create her trace monotypes, Botha was particularly drawn to the marks made by her hand, pencils and the back of different paint brushes. "What I liked about making the trace monotypes was the direct mark that it gave me…I like how the marks are quite similar to painting or drawing; they are instant, and you can see the final image right away", says Botha.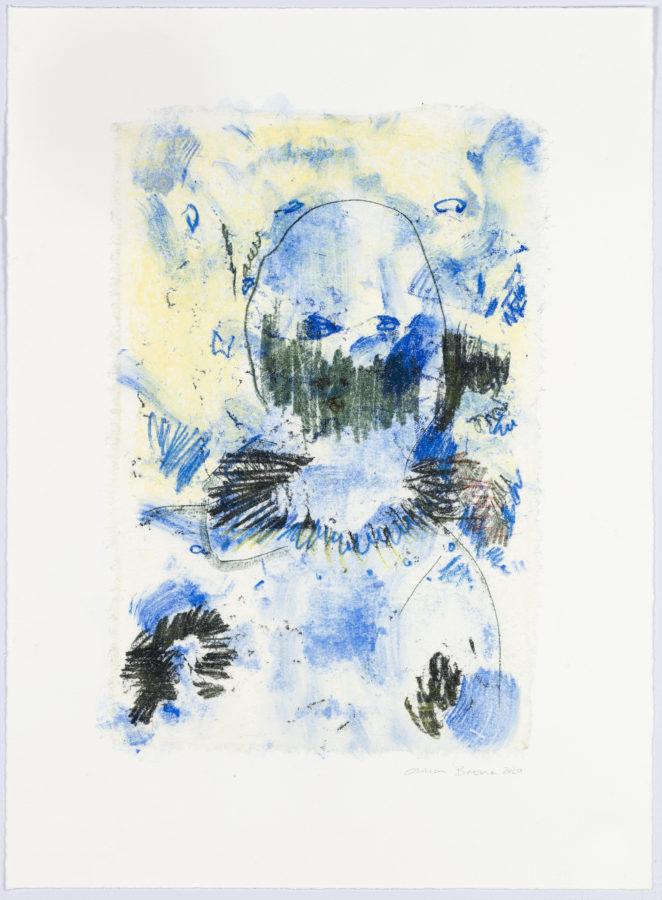 Botha has always been intrigued by the complexities surrounding the notions of language and communication – complexities she also delved into with a series of monotypes created with the DKW-team in February 2020 – pre-COVID and preceding the making of her trace monotypes later in 2020. The almost fuzzy quality of many of the marks in a trace monotype, could be seen as Botha hinting to the many misunderstandings which arise between languages and personalities – the fuzzy details in some conversations. Botha ultimately invites the viewer to discover their own person, figure, gesture or expression in the marks which make up her monotypes. From this view, the uniqueness of a monotype could be seen resonating conceptually with Botha's interest and exploration of perceptions of identity in her artistic practice.
The COVID-19 pandemic has affected us all in so many ways, and Botha is no different. The creation of her trace monotypes was dramatically halted after only two days with another lockdown looming for the country. Her residency at The Fourth in Cape Town was initiated by David Krut, after two planned overseas residencies, had been postponed in light of the pandemic. The titles of her monotypes become emblematic of the uncertain and unpredictable in-between space so many of us never thought we would find ourselves in – In the in between, as one of her titles read.
In the light of COVID-19 and the many effects of the pandemic, her work could also be read as exploring the [dis]connections people experience. Botha explains: "…I have been thinking a lot about the connections we have with other people; about our physical and imagined environments, and how our inner worlds influence the way we perceive reality, but also how our interpersonal relationships and environments change our inner worlds. The subject matter has stayed the same, I work with figures, with portraits mostly, and it's something that I'm still trying to understand completely because I am a bit repulsed by portraiture, but at the same time, I am drawn to it. It feels like I am in this constant battle or dance with the image and myself".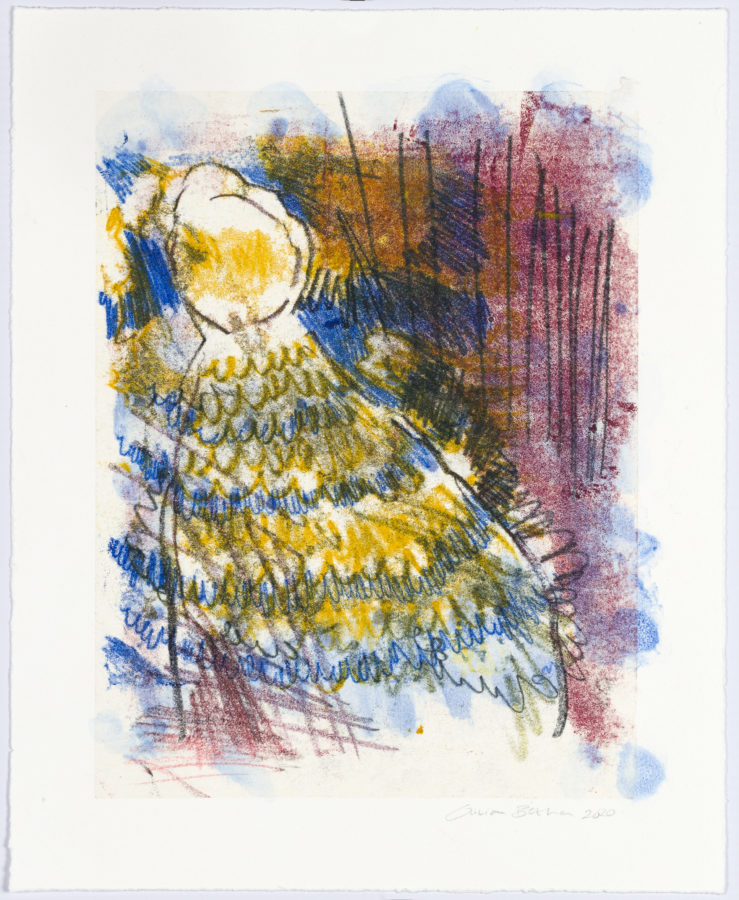 Botha is currently on a two-month residency at SCAC Marestaing in Montesquieu-Volvestre, France, and is set to undertake a 12-month fellowship with the renowned DAAD Artists-in-Berlin Program later in the year. When asked if she has some more printing collaborations planned for the near future, she excitedly answers: "Yes, most definitely. I want to continue my printmaking collaboration with DKP and also in Europe if I have the opportunity. And I want to connect the people I meet in France and Germany with the people I know in South Africa and Zimbabwe. Hopefully, that can create more collaborations. There are so many different printmaking techniques, and although I only know a few of them, I want to try as many as possible because I think some genuinely intriguing works can come from printmaking".
Learn all about the trace monotype process from the DKW Printers during a trace monotype workshop where we'll be making prints inspired by Botha's trace monotype portraits. Her monotypes, alongside her newly-created paintings can be viewed at 142 Jan Smuts Avenue, Parkwood, Johannesburg, until the 30th of September 2021.