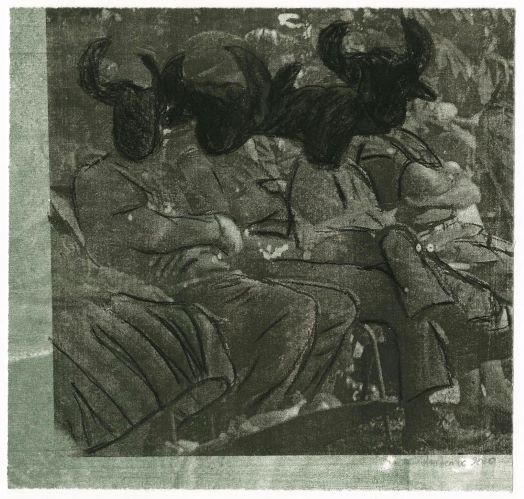 Collaboration History
In 2020, Helena Uambembe created a body of lithographic prints were made in the David Krut Workshop with the assistance of collaborating printer Roxy Kaczmarek. 
Biography
Helena Uambembe was born in Pomfret, South Africa, in 1994 to Angolan parents who fled the civil war. Her father was a soldier in the 32 Battalion, a military unit within the South African Defence Force made up primarily of black Angolan men. The 32 Battalion, Pomfret and her Angolan heritage are dominant themes in Uambembe's work, in which she explores narratives surrounding history and place, interweaving connected symbols and archival material.
Uambembe was one of the Bag Factory's three 2019 David Koloane Award winners. In addition to her own practice, Uambembe is a member of the collective Kutala Chopeto, alongside partner Teresa Kutala Firmino. Uambembe has performed at the FNB Art Joburg in 2019 and at Underline Projects. Uambembe has participated in exhibitions like South-South: Let me begin again with Goodman Gallery and Texidemia do Futuro at Museu de História Natural.