David Krut Projects (DKP) is an independent arts resource, which is active in Johannesburg, and New York. Its focus is the encouragement of careers in the arts and literature and provides a platform for collaborations in the visual and other creative arts. Our outreach activities support child literacy and arts education.
South African artists with whom we are currently collaborating include Wilma Cruise, Olivia Botha, Mikhael Subotzky, Heidi Fourie, Zhi Zulu, Maja Maljevic, Pebofatso Mokoena, Mongezi Ncaphayi , Diane Victor and William Kentridge,
Works by these artists are available to purchase from our various locations, as well as works by Deborah Bell, Senzo Shabangu, Matthew Hindley, Lorenzo Nassimbeni, Sam Nhlengethwa, Mary Wafer , João Renato Orecchia Zúñiga, Elizaveta Rukavishnikova, Lynda Ballen among others.
Works are also available by artists from the rest of Africa, such as Endale Desalegn, Aida Muluneh who are from Ethiopia as well as Stacey Gillian Abe from Uganda.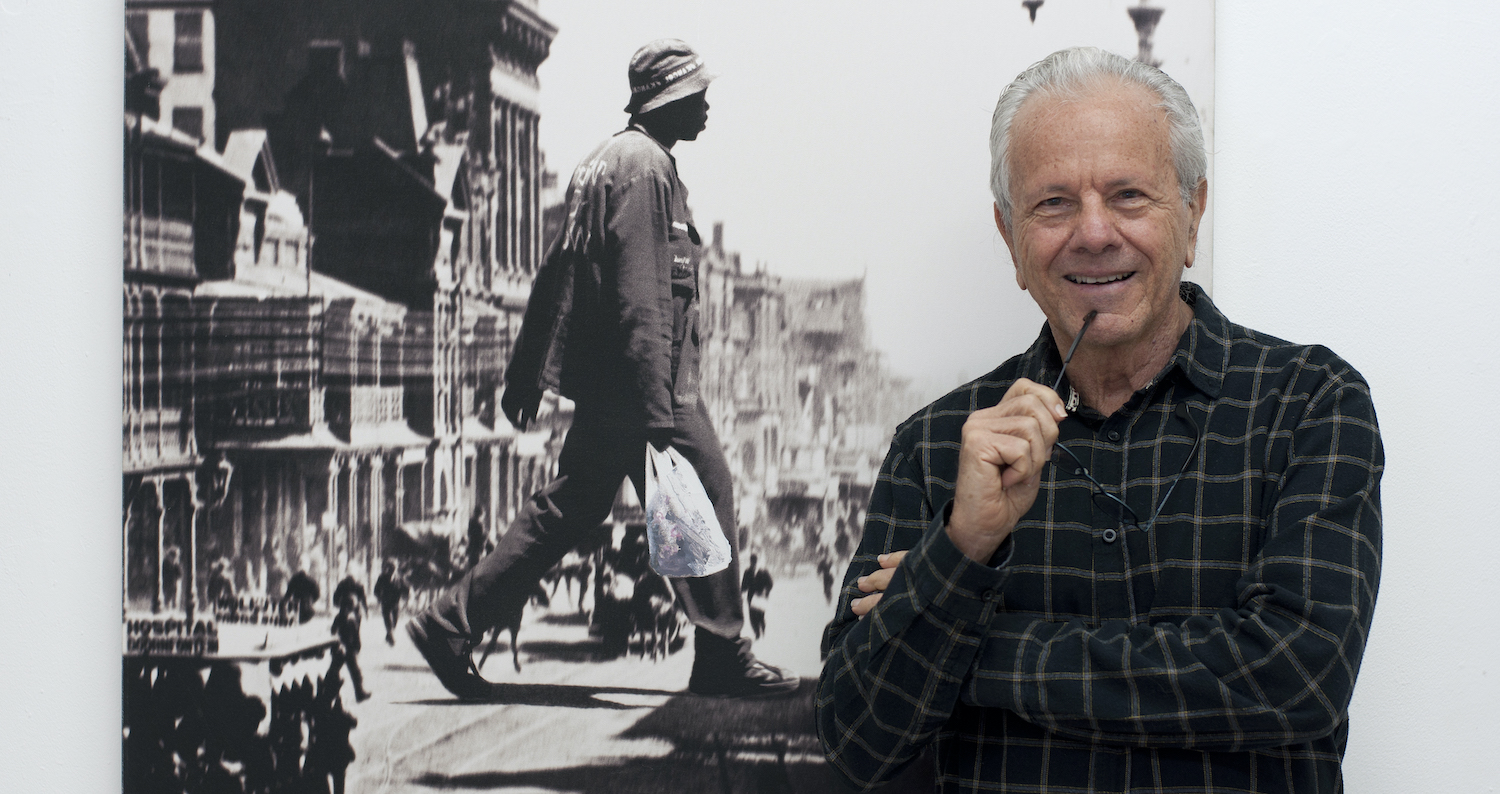 David Krut – Forty years in the Arts
David Krut became involved in the arts in 1973 when he project-managed the opening of a gallery in the Bond Street arts precinct of London. This was one of the start-up projects in various fields with which he was involved in the 1970s.
His committed career in international arts commenced in 1981, when he collaborated with Master Printer Jack Shirreff of 107 Workshop in Wiltshire, UK, to publish a limited edition fine art etching with Joe Tilson, one of the Pop Artists who had studied at the Royal College of Art. David Hockney was the most famous of the British Pop artists and Krut became a private art dealer of Hockney's work as well as the work of other American Pop artists during the 1980s.
Krut was born in Johannesburg and made regular visits to South Africa throughout the 1980s sharing his professional knowledge with aspiring local art practitioners. Krut met William Kentridge at an exhibition opening in May 1992. Kentridge was about to leave for an exhibition of his work in London and Krut suggested he visit Shirreff, with whom Krut had by then collaborated on editions by various artists since the publishing of the Joe Tilson edition. Kentridge's visit to 107 Workshop enabled him to create numerous large format etchings and he continued to make visits to the workshop whenever he was in the UK.
Krut's understanding of the range of work created by Kentridge, including video and theatre, led to him publish the William Kentridge CD-ROM in 1998, the first major publication on the artist's work. Unexpectedly, the digital medium then in its early format, led to David Krut Publishing becoming an international publisher of books.
In 1999, the French Institute in Johannesburg approached Krut to publish books on South African artists. The TAXI Art Books series produced 15 monographs over 10 years on contemporary South African artists, such being the first title dedicated to the work of those artists and the first series of its kind on local contemporary arts. Each TAXI book was accompanied by an Educational Supplement to facilitate the teaching of visual arts. The books were dedicated local productions providing the artists, writers, arts educationalists, book designers, photographers and printers their first participation in an art publishing project.
David Krut Publishing continued publishing books for some years, including the two books on the Constitutional Court in collaboration with Judge Albie Sachs. Further publications on Kentridge included William Kentridge Prints, Thinking Aloud, William Kentridge Nose: Thirty Etchings, William Kentridge: Flute, Universal Archive: William Kentridge as Printmaker (in collaboration with Hayward Publishing), Tate Artist Series: William Kentridge (in collaboration with Tate Publishing), a video entitled Drawing the Passing and a CD of Philip Miller's Music for the Films of William Kentridge.
In 2002 Krut established David Krut Workshop in the northern suburbs of Johannesburg to mentor artists in etching and printmaking as an adjunct to their activities in their studios. This collaborative arts resource of workshop, gallery, bookstore and arts education facility attracted galleries and art collectors to The Parkwood Art Strip. In 2010 David Krut Workshop relocated to become the pioneer arts facility at the Arts on Main precinct in the inner city. Arts on Main proved to be the Joburg epicentre for media and visitors to South Africa for the 2010 FIFA World Cup.
David Krut Projects has trained a skilled team of printers, creatives and arts collaborators working at The Blue House in Parkwood and at Arts On Main. It functions as a community facility to allow skills transfer and mentoring in artmaking, as well as arts communications and media. The bookstores encourage art knowledge and also support an early childhood development project in the hopes of encouraging careers in the arts and literacy.
Meet the Team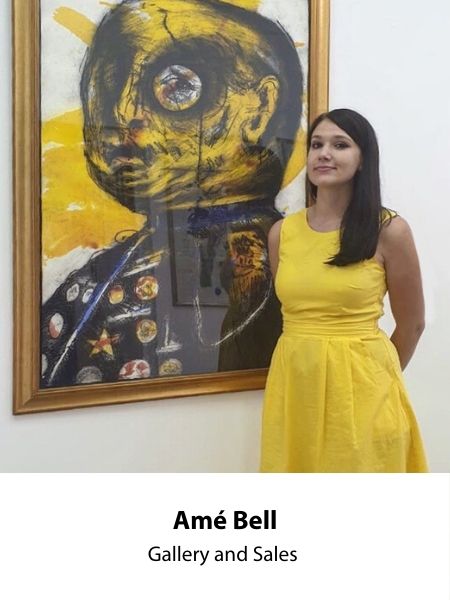 Amé Bell is the Gallerist at David Krut Projects (DKP) in Parkwood which consists of two galleries, a bookstore, framing and other production-related activities. Aside from her management skills, Bell is an accomplished art curator and designer of art books.
Amé Bell began working at DKP in 2013. As Gallery Director she is responsible for all projects and operations regarding galleries and art fair exhibition programmes, local and international sales, and the direction of all gallery and bookstore staff in administration, sales, communications, framing and venue projects. She operates between the Projects Gallery at 142 Jan Smuts Avenue and the wonderful Blue House at 151 Jan Smuts Avenue, Parkwood.
Amé works closely with Jillian Ross, the Master Printer at the David Krut Workshop (DKW), which is located at Arts on Main, Maboneng Precinct, in the inner city of Johannesburg. Amé connects young artists to DKW allowing them to gain collaborative editioning experience by working with Ross and her skilled team of printers. The media promotion and selling of the art created at DKW is a major responsibility of Bell and her Parkwood team.
Amé has made visits to the New York associate David Krut Fine Art, Inc. which has an art project space in the Chelsea Art District alongside the famous Highline. She provides ongoing support to their exhibition program, and the promotion of artists from Africa abroad.
What I love most about what we do is working directly with artists, learning about them and their creative processes and maintaining a relationship in order to support their long-term careers as artists. Also, without a doubt, working alongside a team of inspiring individuals from whom there is so much to be learnt and supporting careers in the arts in even the smallest way, has been an unbelievable privilege.
Amé Bell was born in Johannesburg in 1988 and completed a Master's Degree in Art History at the North-West University in Potchefstroom in 2012. Bell further holds diplomas in Graphic Design and Project Management.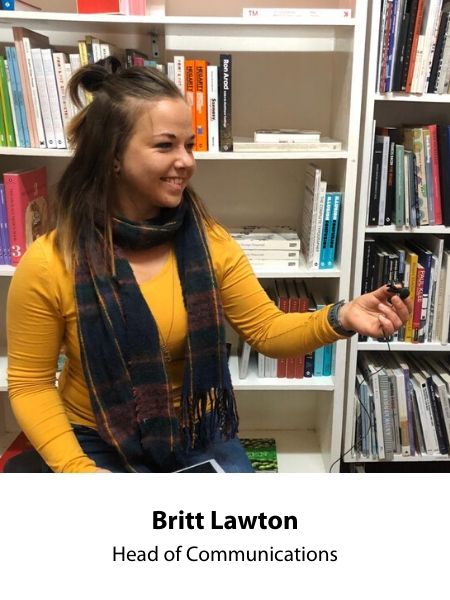 Britt Lawton began her career at David Krut Projects interning during the concluding year of her studies of Fine Art in 2017. From what was initially a stepping-stone opportunity, established through the Visual Arts Network of South Africa (VANSA), continued for Britt as a permanent role of gallery assistant at the Projects space in Parkwood, to gallery director, Amé Bell, with exhibitions, related events and sales.
Britt Lawton currently works alongside the rest of the DKP Communications team overseeing the external communications and social media of the organisation, maintaining a consistent voice and message across David Krut Projects, its various locations and platforms. Apart from social media management, Lawton hosts and produces the David Krut Projects Podcast channel. She interviews a variety of key people that make up the DK community. This expands into a Saturday Talks Program at the David Krut Bookstore and Gallery at 151 Jan Smuts Avenue, Parkwood, also known as The Blue House.
Britt still can't believe she is able to interact with some of her artistic heroes and their artwork on a daily basis:
My favourite part of working at DKP is that I get to travel the world from the comfort of my 'DK office'. I have the opportunity to meet people from all over the world who are interested in the arts from a unique perspective. I enjoy listening to people talk about their passion for creativity and what art means to them. I recognise the value in learning from every interaction I have at this unique organisation David Krut has created.
Britt is South African born and graduated from the University of Witwatersrand in 2019, with a degree in Fine Arts.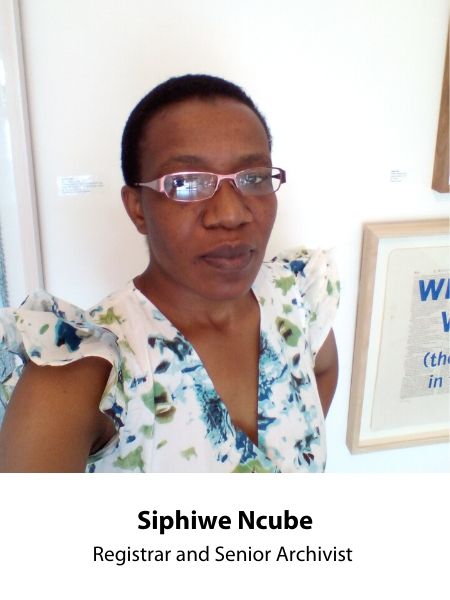 Siphiwe Ncube began working at David Krut Projects in 2010 as a part-time database administrator. Today, Ncube is the David Krut Gallery Head Administrator. She manages administration with a focus on database and print archiving across the board.
Siphiwe Ncube runs the behind-the-scenes of DKP activities including sales, client liaison, inventory, archiving, suppliers and consultants, artist projects and shipping and logistics. This role feeds into the rest of our operations and secures seamless progression of our projects.
Siphiwe acknowledges that David Krut Projects is a "learn-by-doing organization," and believes her position has given her an opportunity to learn a variety of skills outside of her job scope. The dynamism of Head Administrator at David Krut Projects requires a level of diligence and thoroughness that can only develop with experience. Siphiwe's role is ever changing; there is never a single task to focus on and it is this that makes her (and the whole of the DKP team) outstanding multitaskers.
Each and every project that I have been involved in is a special memory, and I promise you, there is a lot of them to pick from the ten years I have been here.
Siphiwe Ncube, was born in Bulawayo, Zimbabwe, and studied Economics at the University of Zimbabwe.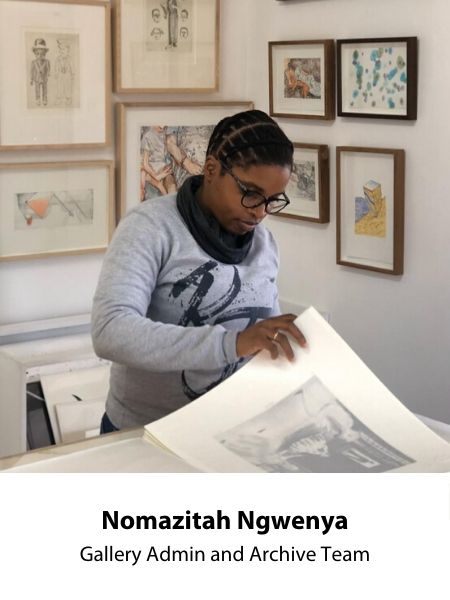 Nomazitah Ngwenya began working at the David Krut Projects in 2010 as an assistant (or clean hands) to the printers in the Print Workshop. Her role at DKP developed into archivist, administrator and all-rounder – logistics, sales, dealing with clients, shipping, packing.
Currently Noma Ngwenya works at the 151 Blue House in the Gallery and Archive. She has extensive knowledge of how works were created and should be archived from her time in the print workshop. She is an excellent person to liaise with clients and hangs works/shows.
Noma values meeting and working with different artists and people from different parts of the worlds. She says:
You get to see the baby being born (art being made) and the nurturing of that baby. All those stages are so fascinating and sometimes they really work when trying to sell the art piece to clients because you can relate and tell the story of how it was made. I love this about having the DKW because you talk about the things that you see everyday and you get to engage with the artists, and they let you into their world.
A special memory that stands out for me, is the time that Siphiwe (Ncube) and myself, where given the task to plan and execute Senzo (Shabangu's) show in 2011. We were still new, but we pulled it off and it was a success. I am still proud of myself.
Noma Ngwenya was born in Bulawayo, Zimbabwe in 1983. She studied Electrical Engineering specialising in light power. She left Zimbabwe in 2006.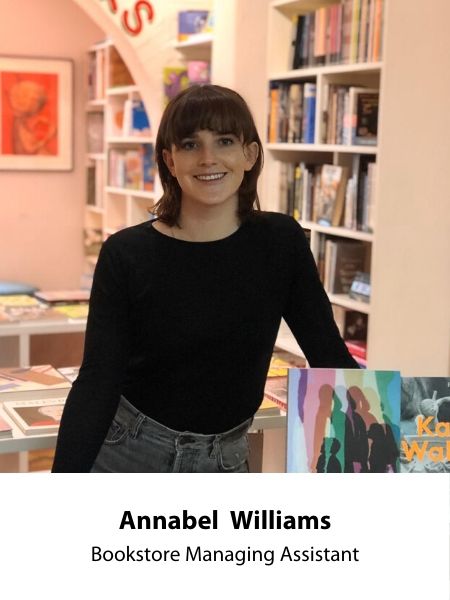 Annabel Williams is the newest member of the David Krut Projects team, having joined in February of 2020. Williams is positioned at the David Krut Bookstore and along with running the DK Bookstore social media platforms forms part of the larger Communications team of the establishment.
With a background in English, Annabel contributes to writing projects for artists, blog additions and events promotions. Managing the merchandising of the bookstore, dealing with clients and orders, she also leads the bookstore's AfriLang project, with intern Dieulv Zeng Tshingej. AfriLang is a developing programme in which multilingual publications are given life through animated videos, children's book readings, online discussions between authors and illustrators and, most importantly, supplements our educational programme for early childhood development.
Annabel Williams was born in 1997, Johannesburg and graduated with a degree in English and International Relations from the University of Witwatersrand.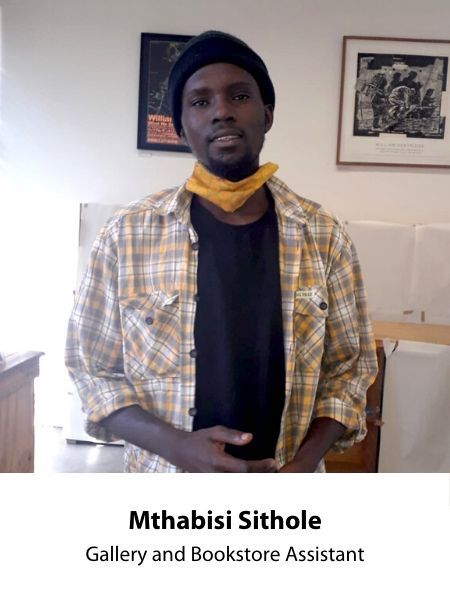 Sithole started off at David Krut Projects (DKP) in 2014, at the Gallery as an assistant to Gallerist Elzette De Beer, later moving into archiving, exhibition installation and sales.
Mthabisi Sithole is currently part of the Bookstore team working as an assistant on merchandising, sales and stock.
I Enjoy sharing publications with clients, seeking exciting local publications and encountering the range of people I do.
After interning in 2014, he returned to David Krut Projects in 2016 as an arts assistant in gallery activities at the David Krut Archive gallery with Siphiwe Ncube.
In 2019, Mthabisi joined the David Krut Bookstores team as an assistant inmerchandising and sales.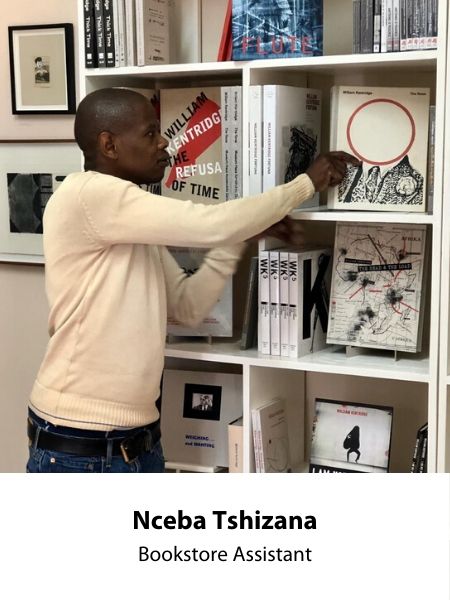 Nceba Tshizana joined the David Krut Projects (DKP) team in 2014. He has had a range of responsibilities while at DKP including 3 years as a part time assistant to Pauline Meyer in the 151 Framing activity.
Currently Nceba is based at the 151 Blue House in Parkwood where he assists with the Bookstore activities including stock, invoicing, shipments.
Before I came in knew nothing about art and was not a reader. Now I can see the importance of art. The artists can say things. Widen your mind, they can talk with a drawing, which was something I didn't know about."
Nceba was born 1981, and is from Queenstown. He moved to Johannesbug in 2006.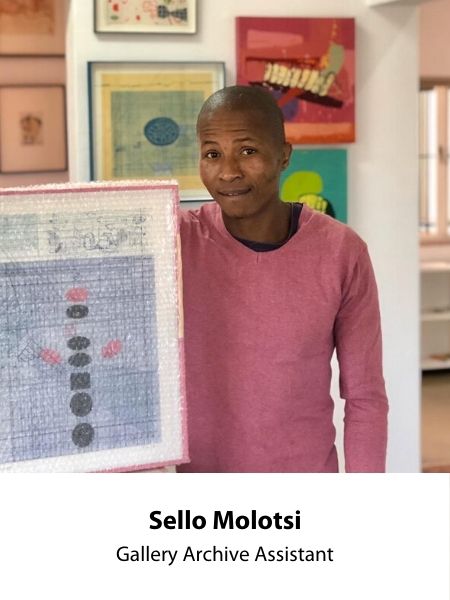 Sello Molotsi joined the team in 2017 to help revamp The Blue House building after Hadeda Tiles moved out. Starting off with painting, moving and reorganising, Sello is now part of David Krut Projects' maintenance and art-handling expert team, working on stock and the extensive print database.
Without a background in art, joining the team has meant learning everything there is to know about the handling, stocktaking, labelling and the organising of artworks. He has said: "handling art is a feat on its' own. This practice varies depending on the state and type of the work you are dealing with."
Ever since I came here I thought I would specifically fit into a role. As time goes by, I developed my skills with the help of everyone here. What I love about this is place is that they have helped me a lot through my experience here and I have met so many inspirational artists: William Kentridge, Deborah Bell, Nina Torr, etc. – every day is special.
Sello was Born in 1981, Johannesburg, and grew up in Rustenberg. He completed studies in Pretoria in 2014, for firefighting level 2 and has experience in electrics.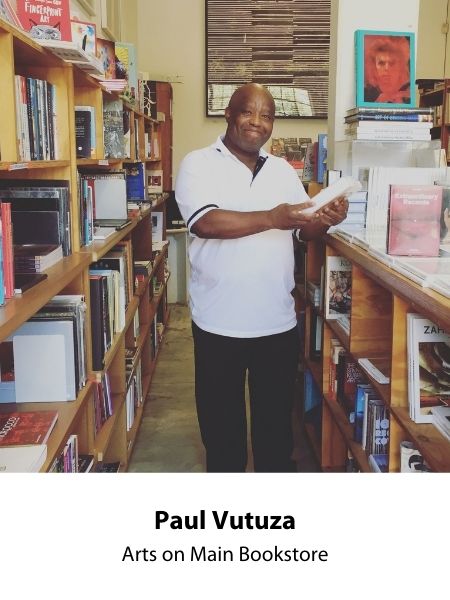 Paul Vutuza was born in Zimbabwe in 1969. He is a trained qualified teacher, Diploma in Education, University of Zimbabwe, with vast experience in publishing and distribution of books in Zimbabwe. He is a Pastor and founder of a church in Johannesburg, South Africa. Paul is married with four children. He left Zimbabwe in 2016.
My favourite thing about being part of the DKP Team is that it is one big family which is full of love.
Currently working in the bookstore and helps in the workshop where artworks are produced.
I value talking to people, sharing ideas and counselling people from different walks of life. A special memory is when I worked alone, willingly during the 2018 December holiday at AOM and still made very big sales both in books and art. Very proud of this very important thing.
My favourite thing about being part of the DKP Team is that it is one big family which is full of love.
Paul Vutuza was born in Zimbabwe in 1969.He is a trained qualified teacher, Diploma in Education, University of Zimbabwe, with vast experience in publishing and distribution of books in Zimbabwe. He is a Pastor and founder of a church in Johannesburg, South Africa. Paul is married with four children. He left Zimbabwe in 2016.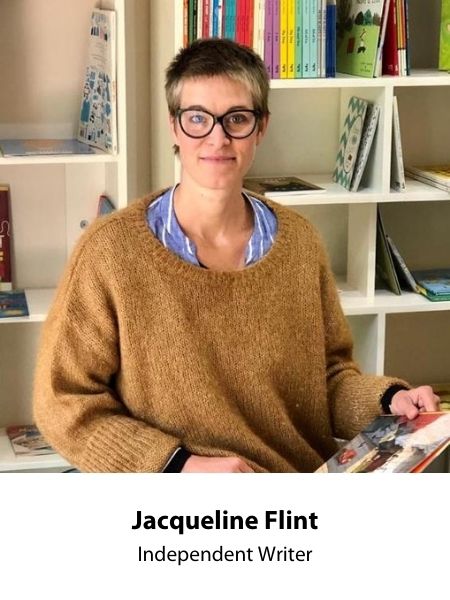 Jacqueline Flint is an independent writer, editor and curator with a particular interest in the role of printmaking in building artists' careers and the print studio as a generative collaborative space that contributes to the positive development of individual artist's practices and culture at large. In recent years she has also taken a keen interest in the application of creative processes as part of early childhood and foundation phase pedagogical approaches, as a way to develop and enrich research with children.
After graduating from Rhodes University with a degree in literature, Jacqueline first met David Krut at the Cape Town Book Fair in 2008. He and the then Managing Editor of David Krut Publishing, Bronwyn Law-Viljoen, offered her a job as an assistant at the project space that had recently been established at the Montebello Design Centre in Cape Town, and she started right then and there.
Since then, she has worked on and off with David, occupying various roles over the years, including as ad hoc filmmaker, writer, manager of projects in Cape Town and Johannesburg, and director of the Cape Town project space and bookstore. In between, she did her time on the commercial gallery circuit, gained experience in the broader arts publishing arena, and worked closely with arts organisations and individual artists facilitating projects and creative processes.
Currently, she is living in Johannesburg and working with David on a publication detailing almost 30 years of collaboration between him and William Kentridge. She has also taken on an overseeing editing role at DKP, working with both current and archived information to develop writing skills in-house, in line with the organisation's ongoing function as an alternative arts institution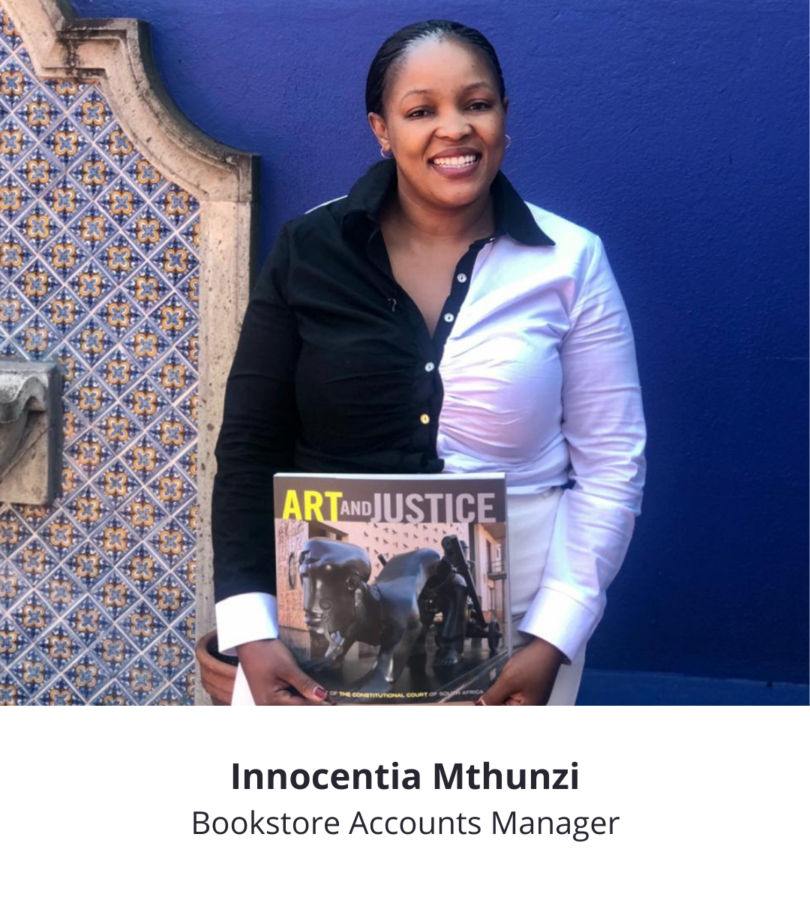 Innocentia Mthunzi is the Books administrator and school liaison at David Krut Bookstores. Originally from Vereeniging, Innocentia has been a member of the David Krut team for the last ten years.
What she loves about her job is being a jack of all trades, learning about art and interacting with interesting artists from South Africa and abroad. When asked about the best part of her job, she answered
I love being surrounded by books. I also love the school visitations that I do because this gives me a chance to showcase the knowledge that I have to the teachers and this boosts my confidence.
Innocentia's favourite memory is the time the team went to see Steven Spielberg's War Horse at Monte Casino.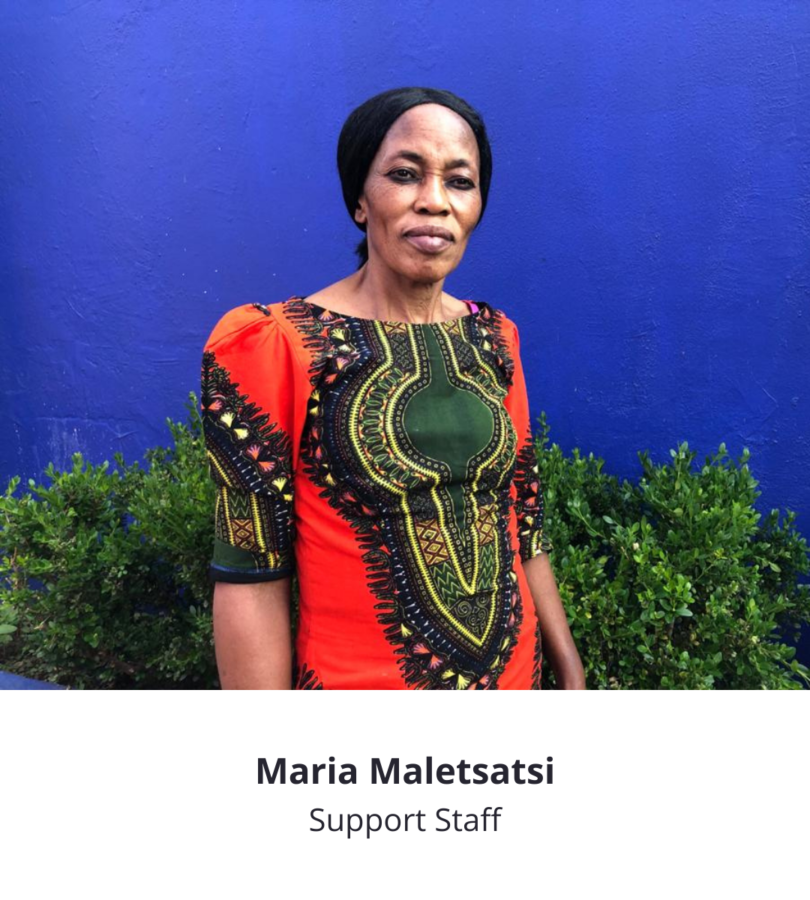 Maria has known David's wife – Grethe Fox – for the last 30 years, and that is how she came to join the David Krut Projects team.
Maria enjoys having her lunches in the garden and playing with the gallery cat, Marmalade. Maria is a woman of faith and enjoys attending her local church in her spare time.
My job is pretty important here because the visitors who come here deserve a great
experience in a clean and beautiful environment.

What Maria enjoys most about her job is being part of the team and being exposed to different
cultures and languages. A dream of hers is to learn more about the arts.