David Krut Projects (DKP) is an independent arts resource, which is active in Johannesburg, and New York. Its focus is the encouragement of careers in the arts and literature and provides a platform for collaborations in the visual and other creative arts. Our outreach activities support child literacy and arts education.
South African artists with whom we are currently collaborating include Wilma Cruise, Olivia Botha, Mikhael Subotzky, Heidi Fourie, Zhi Zulu, Maja Maljevic, Pebofatso Mokoena, Mongezi Ncaphayi , Diane Victor and William Kentridge,
Works by these artists are available to purchase from our various locations, as well as works by Deborah Bell, Senzo Shabangu, Matthew Hindley, Lorenzo Nassimbeni, Sam Nhlengethwa, Mary Wafer , João Renato Orecchia Zúñiga, Elizaveta Rukavishnikova, Lynda Ballen among others.
Works are also available by artists from the rest of Africa, such as Endale Desalegn, Aida Muluneh who are from Ethiopia as well as Stacey Gillian Abe from Uganda.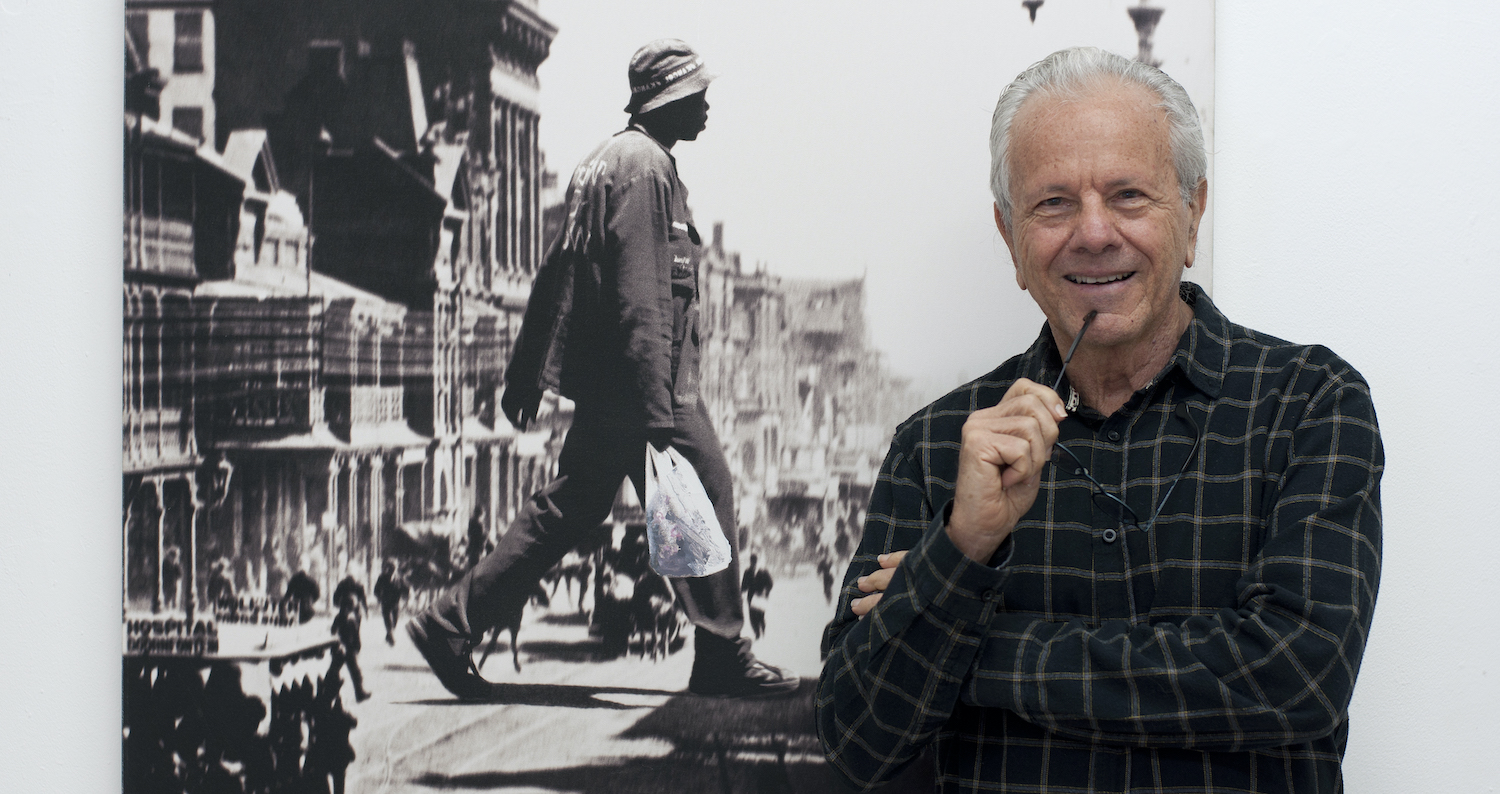 David Krut – Forty years in the Arts
David Krut became involved in the arts in 1973 when he project-managed the opening of a gallery in the Bond Street arts precinct of London. This was one of the start-up projects in various fields with which he was involved in the 1970s.
His committed career in international arts commenced in 1981, when he collaborated with Master Printer Jack Shirreff of 107 Workshop in Wiltshire, UK, to publish a limited edition fine art etching with Joe Tilson, one of the Pop Artists who had studied at the Royal College of Art. David Hockney was the most famous of the British Pop artists and Krut became a private art dealer of Hockney's work as well as the work of other American Pop artists during the 1980s.
Krut was born in Johannesburg and made regular visits to South Africa throughout the 1980s sharing his professional knowledge with aspiring local art practitioners. Krut met William Kentridge at an exhibition opening in May 1992. Kentridge was about to leave for an exhibition of his work in London and Krut suggested he visit Shirreff, with whom Krut had by then collaborated on editions by various artists since the publishing of the Joe Tilson edition. Kentridge's visit to 107 Workshop enabled him to create numerous large format etchings and he continued to make visits to the workshop whenever he was in the UK.
Krut's understanding of the range of work created by Kentridge, including video and theatre, led to him publish the William Kentridge CD-ROM in 1998, the first major publication on the artist's work. Unexpectedly, the digital medium then in its early format, led to David Krut Publishing becoming an international publisher of books.
In 1999, the French Institute in Johannesburg approached Krut to publish books on South African artists. The TAXI Art Books series produced 15 monographs over 10 years on contemporary South African artists, such being the first title dedicated to the work of those artists and the first series of its kind on local contemporary arts. Each TAXI book was accompanied by an Educational Supplement to facilitate the teaching of visual arts. The books were dedicated local productions providing the artists, writers, arts educationalists, book designers, photographers and printers their first participation in an art publishing project.
David Krut Publishing continued publishing books for some years, including the two books on the Constitutional Court in collaboration with Judge Albie Sachs. Further publications on Kentridge included William Kentridge Prints, Thinking Aloud, William Kentridge Nose: Thirty Etchings, William Kentridge: Flute, Universal Archive: William Kentridge as Printmaker (in collaboration with Hayward Publishing), Tate Artist Series: William Kentridge (in collaboration with Tate Publishing), a video entitled Drawing the Passing and a CD of Philip Miller's Music for the Films of William Kentridge.
In 2002 Krut established David Krut Workshop in the northern suburbs of Johannesburg to mentor artists in etching and printmaking as an adjunct to their activities in their studios. This collaborative arts resource of workshop, gallery, bookstore and arts education facility attracted galleries and art collectors to The Parkwood Art Strip. In 2010 David Krut Workshop relocated to become the pioneer arts facility at the Arts on Main precinct in the inner city. Arts on Main proved to be the Joburg epicentre for media and visitors to South Africa for the 2010 FIFA World Cup.
David Krut Projects has trained a skilled team of printers, creatives and arts collaborators working at The Blue House in Parkwood and at Arts On Main. It functions as a community facility to allow skills transfer and mentoring in artmaking, as well as arts communications and media. The bookstores encourage art knowledge and also support an early childhood development project in the hopes of encouraging careers in the arts and literacy.
Meet the Team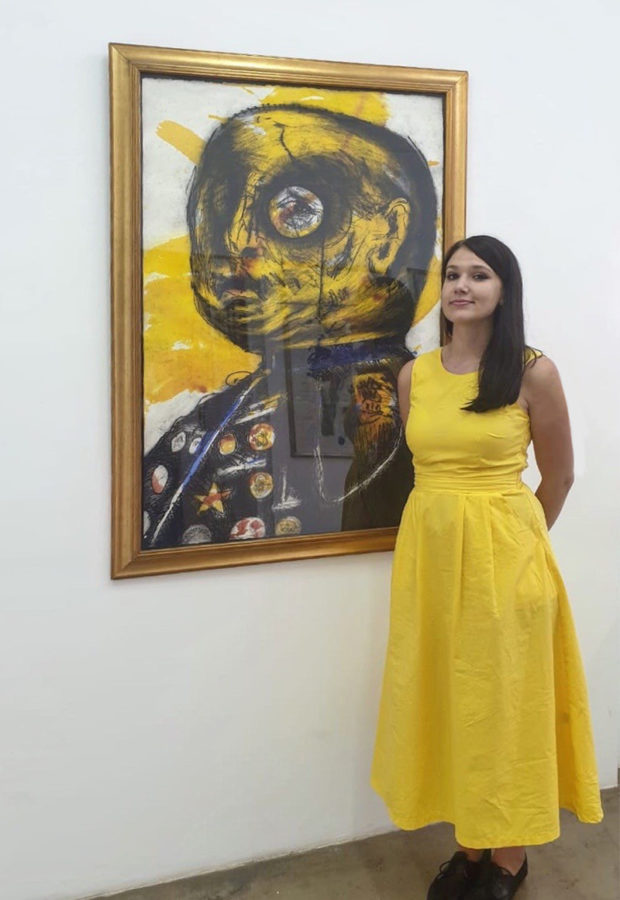 Ame Bell
Gallery Director
Amé Bell is the Director of David Krut Projects (DKP) in Parkwood which consists of two galleries, a bookstore, framing and other production-related activities. Aside from her management skills, Bell is an accomplished art curator and designer of art books.
Amé Bell began working at DKP in 2013. As the Director, she is responsible for all projects and operations regarding galleries and art fair exhibition programmes, local and international sales, initiating projects in the print workshop and the direction of all gallery and bookstore staff in administration, sales, communications, framing and venue projects. She operates across all locations and is based between the Projects Gallery at 142 Jan Smuts Avenue and the wonderful Blue House at 151 Jan Smuts Avenue, Parkwood.
Amé works closely with the team of printers at the David Krut Workshop (DKW), which is located at Arts on Main, Maboneng Precinct, in the inner city of Johannesburg. She connects young artists to DKW, allowing them to gain collaborative editioning experience by working with the team of printers. The media promotion and selling of the art created at DKW is a major responsibility of Bell and her Parkwood team. Ame still works closely with Master Printer Jillian Ross, who formerly directed DKW.
Amé has made visits to the New York associate David Krut Fine Art, Inc., which has an art project space in the Chelsea Art District alongside the famous Highline. She provides ongoing support to their exhibition program, and the promotion of artists from Africa abroad. In addition, Amé was appointed as the curator for the 2022 South African Pavilion at La Biennale Arte in Venice.
What I love most about what we do is working directly with artists, learning about them and their creative processes and maintaining a relationship in order to support their long-term careers as artists. Also, without a doubt, working alongside a team of inspiring individuals from whom there is so much to be learnt, and supporting careers in the arts in even the smallest way, has been an unbelievable privilege. 
Amé Bell was born in Johannesburg in 1988 and completed a Master's Degree in Art History at the North-West University in Potchefstroom in 2012. Bell further holds diplomas in Graphic Design and Project Management, and is currently persuing her PhD in Art History at the University of the Witwatersrand.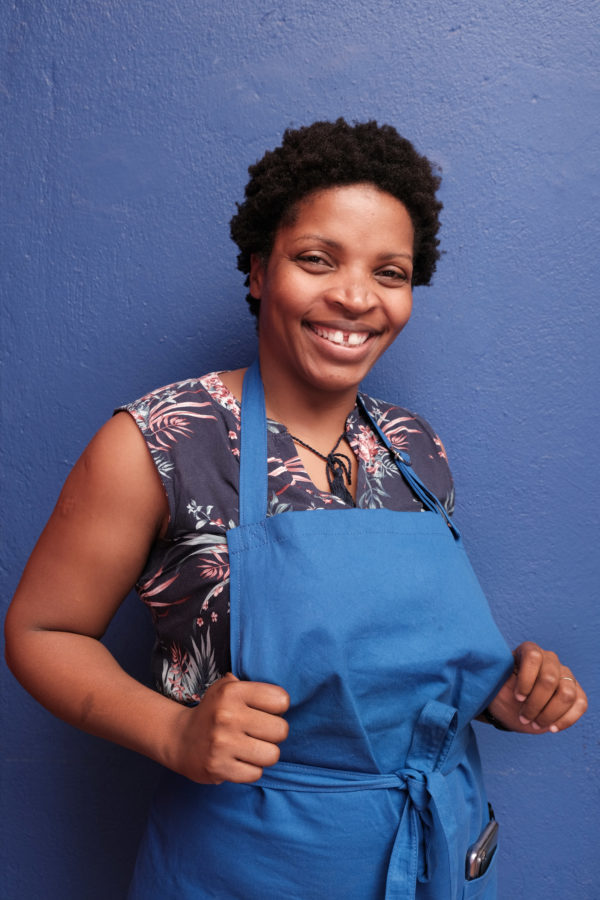 Nomazitah Ngwenya
Gallery Admin and Archive Team
Nomazitah Ngwenya began working at the David Krut Projects in 2010 as an assistant (or clean hands) to the printers in the Print Workshop. Her role at DKP developed into archivist, administrator and all-rounder – logistics, sales, dealing with clients, shipping, packing.
Currently Noma Ngwenya works at the 151 Blue House in the Gallery and Archive. She has extensive knowledge of how works were created and should be archived from her time in the print workshop. She is an excellent person to liaise with clients and hangs works/shows.
Noma values meeting and working with different artists and people from different parts of the worlds. She says:
You get to see the baby being born (art being made) and the nurturing of that baby. All those stages are so fascinating and sometimes they really work when trying to sell the art piece to clients because you can relate and tell the story of how it was made. I love this about having the DKW because you talk about the things that you see everyday and you get to engage with the artists, and they let you into their world.
A special memory that stands out for me, is the time that Siphiwe (Ncube) and myself, where given the task to plan and execute Senzo (Shabangu's) show in 2011. We were still new, but we pulled it off and it was a success. I am still proud of myself.
Noma Ngwenya was born in Bulawayo, Zimbabwe in 1983. She studied Electrical Engineering specialising in light power. She left Zimbabwe in 2006.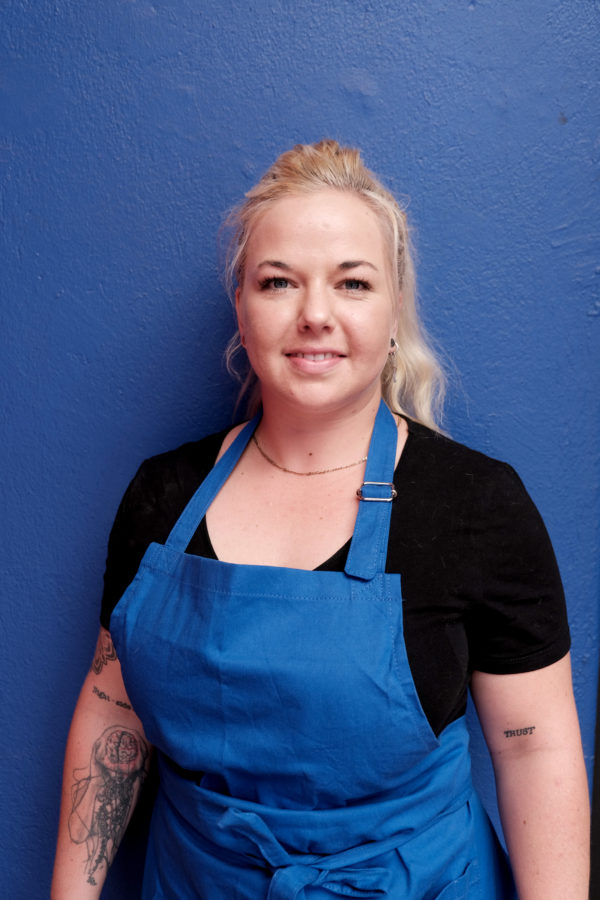 Britt Lawton
Head of Communication
Britt Lawton began her career at David Krut Projects interning during the concluding year of her studies of Fine Art in 2017. From what was initially a stepping-stone opportunity, established through the Visual Arts Network of South Africa (VANSA), continued for Britt as a permanent role of gallery assistant at the Projects space in Parkwood, to gallery director, Amé Bell, with exhibitions, related events and sales.
Britt Lawton currently works alongside the rest of the DKP Communications team overseeing the external communications and social media of the organisation, maintaining a consistent voice and message across David Krut Projects, its various locations and platforms. Apart from social media management, Lawton hosts and produces the David Krut Projects Podcast channel. She interviews a variety of key people that make up the DK community. This expands into a Saturday Talks Program at the David Krut Bookstore and Gallery at 151 Jan Smuts Avenue, Parkwood, also known as The Blue House.
Britt still can't believe she is able to interact with some of her artistic heroes and their artwork on a daily basis:
My favourite part of working at DKP is that I get to travel the world from the comfort of my 'DK office'. I have the opportunity to meet people from all over the world who are interested in the arts from a unique perspective. I enjoy listening to people talk about their passion for creativity and what art means to them. I recognise the value in learning from every interaction I have at this unique organisation David Krut has created.
Britt is South African born and graduated from the University of Witwatersrand in 2019, with a degree in Fine Arts.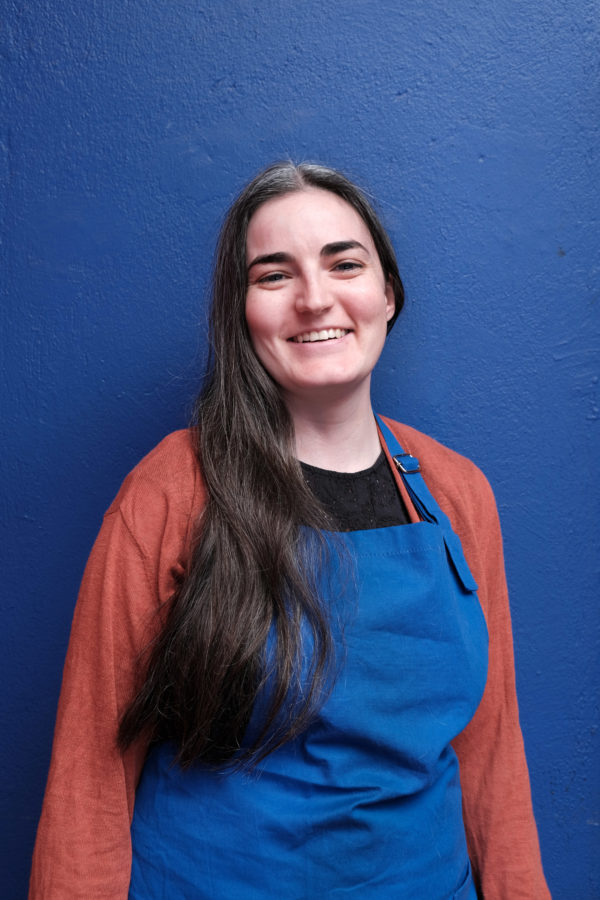 Melissa Waters
Gallery Assistant
Melissa Waters joined the team at David Krut Projects in July 2021 as a Gallery Assistant. Her duties range from assisting with all stages of exhibition enactment, writing, graphic and web design, client relations, and assisting with various gallery administration tasks. She also holds the role of assistant to the Gallery Director, allowing her to be a part of all of the organisation's activities, extending to the David Krut Workshop and David Krut Publishing.
Melissa Waters joined the team at David Krut Projects in July 2021 as a Gallery Assistant. Her duties range from assisting with all stages of exhibition enactment, writing, graphic and web design, client relations, and assisting with various gallery administration tasks. She also holds the role of assistant to the Gallery Director, allowing her to be a part of all of the organisation's activities, extending to the David Krut Workshop and David Krut Publishing.
Melissa has always felt a connection to the arts, and works on paper have particularly held her interest for many years.
The combination of the technical production and creativity in the Workshop, the collecting and discussing of knowledge in the publishing house activities, and the chance to be play a significant role in generating exhibitions is what drew me to David Krut Projects. I enjoy the level of multitasking required in such a space and having my hands in many pots!
Melissa was born in Johannesburg in 1994. She studied Archaeology and Human Geography at Wits University and obtained a BSc in 2017. In 2018, she completed her BA Honours in Curatorship with distinction at the University of Cape Town. Melissa is interested in the intersection between Art and Science, as well as archives and the history of collecting.
Innocentia Mthunzi
Books and Accounts Administrator
Innocentia Mthunzi is the Books administrator and school liaison at David Krut Bookstores. Originally from Vereeniging, Innocentia has been a member of the David Krut team for the last ten years.
What she loves about her job is being a jack of all trades, learning about art and interacting with interesting artists from South Africa and abroad. When asked about the best part of her job, she answered
I love being surrounded by books. I also love the school visitations that I do because this gives me a chance to showcase the knowledge that I have to the teachers and this boosts my confidence.
Innocentia's favourite memory is the time the team went to see Steven Spielberg's War Horse at Monte Casino.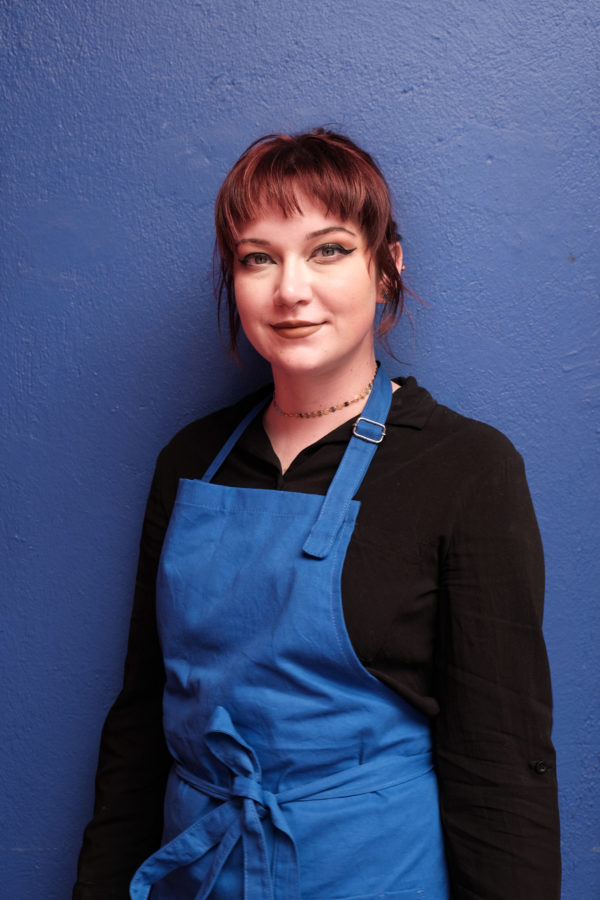 Christa Swanepoel
Gallery Assistant
Christa Swanepoel joined the David Krut Projects team in January of 2022. As an assistant, her responsibilities include working both in the gallery as well as the bookstore at 151 Jan Smuts Avenue.
Christa is passionate about art history, -writing and art education. She enjoys learning about local, contemporary artists and their works, writing blogs for the David Krut Project website, and interacting with others in the interest of teaching and learning.
My favourite part of working at David Krut Projects is being able to pick the brains of some of the best local and international artists that we work with, learning about their art and then being able to share that valuable information with visitors to the gallery. This ensures that local contemporary art can be appreciated by members of the public and collectors both.
Christa was born in Pretoria in 1997. She graduated from the University of the Free State with a Bachelor's degree in Fine Art as well as Art History and Image Studies. During her time at university she specialized in printmaking, while researching themes relating to feminism and world history to supplement her work.