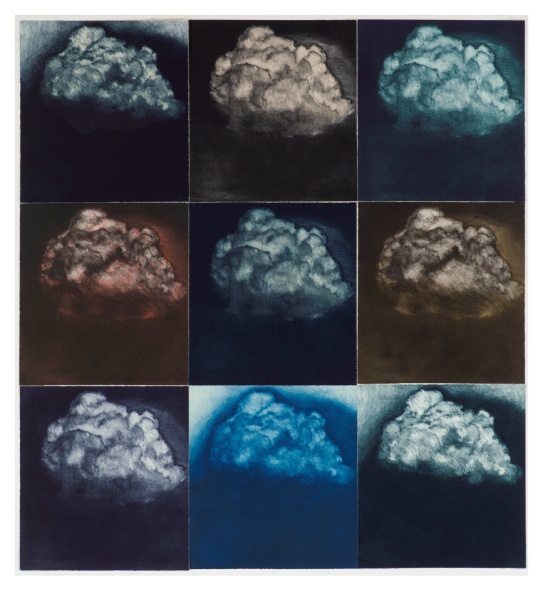 Robyn Penn was born in Pretoria, South Africa, and currently lives and works in Johannesburg as a fine artist, an art teacher and a printmaker. Penn's prolific printmaking career started in August 2011, when she began collaborating with David Krut Workshop (DKW) on a series of monotypes and gave a lecture to the DKW team on colour palettes. Penn had her first solo exhibition with David Krut Projects (DKP) in November 2011, titled
Pretty World
. Since then, she has had four solo shows with DKP, most recently 
Cloud of Unknowing 
in June 2016. Penn's enduring fascination with cloud imagery is evident from her early shows to the present day. Initially, this took the form of an exploration of the sublime, but her clouds have since shifted from romanticized sky-scapes to beautiful but politically charged meditations on climate change denial. Penn has an honours degree, with distinction, in Fine arts from Canterbury University, New Zealand, and did a year's training in Fine Arts at The University of the Witwatersrand (Wits), South Africa. She also has a BA in Psychology from Wits. In 1998, Penn was awarded the Bickerton – Widdowson Trust Memorial scholarship. That year, she completed her BAFA, majoring in painting. Since collaborating with DKW in 2011, Penn has produced numerous series' of prints, ranging from mezzotints to sugarlifts, totalling twenty-two editioned works.
Solo exhibitions with DKP
Scroll down to view works. 
Articles/reviews
"Pulling the woolly clouds over our eyes": Sunday Times review Cloud of Unknowing
Robyn Sassen reviews Robyn Penn's solo exhibition with DKP - Cloud of Unknowing
Related blog posts
Penn's solo show - Cloud of Unknowing - at DKP 2016
Penn on her largest cloud painting, Epitaph (2016)
The clue is in the clouds: Robyn Penn prepares for upcoming solo exhibition at DKP
Nearing the finish line: Penn on her latest cloud prints
A fabulous foundry visit with Robyn Penn
Robyn Penn makes an epic cloud print
The storm before the calm: preparations for exhibitions by Endale Desalegn & Robyn Penn
Interview with Robyn Penn – Nine Views of a Cloud