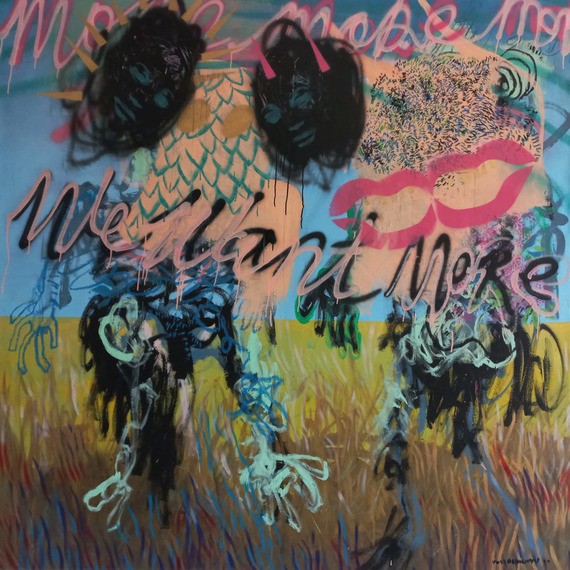 Collaboration History
Vusi Beauchamp began collaborating with the David Krut Workshop in 2021 where he created a series of monotype prints with printer Kim-Lee Loggenberg. These monotypes were featured in the Alone of its Kind group exhibition in early 2022. Vusi's first solo exhibition in collaboration with David Krut Projects, titled The Cult of One, was launched in July of 2022 and featured additional monotypes as well as large scale paintings. The exhibition is a continuum of Beauchamp's ongoing Paradyse of the Damned series, which has been exhibited at the Pretoria Art Museum, the Johannesburg Art Gallery and recently in Romania at Borderline Art Space (2019). Later in 2022, Vusi will be featured in an upcoming exhibition at the David Krut New York gallery.
Biography
Vusi Beauchamp, born in Johannesburg in 1979, studied printmaking and painting at the Tshwane University of Technology and Graphic Design at Damelin.  
Beauchamp's paintings are created by using various methods, including spray painting and stenciling, as well as materials such as crayons, charcoal, oil sticks and acrylic paints. Beauchamp's somewhat controversial works are meant to comment on social issues, politics and events that are currently taking place in South Africa. Beauchamp's provocative iconography employs popular culture, satire and stereotypes in service of a visual political commentary. He seeks to examine the post-apartheid South African government embattled within itself, the disconnect with its people and our vexed social climate under this new viral threat, mired by false news and heightened insecurities over corruption.
Beauchamp challenges preconceived constructed societal associations through the juxtaposition of contrasting iconography, marks, mediums and colours. His works echo the palimpsest of graffiti and decayed advertising in urban spaces through the use of multiple mixed media layers. This layering of media include images from popular culture as well as figures and portraits depicted mimetically in dramatic colours. These striking compositions contribute to the overall sense of vibrant turmoil that Beauchamp's works instill on the viewer. Although his works address South African societal issues, they could easily be related to express the dissatisfaction felt by many international communities with regards to their political and economic leaders.
Exhibitions with David Krut Projects
January 2022 – Alone of its Kind – group exhibition
July 2022 – The Cult of One – solo exhibition
September 2022 – The Cult of One, Part II, David Krut Projects, New York – solo exhibition
Additional Media
City Life Arts: Vusi Beauchamp's A Cult of One Man: Who's Laughing Now? exhibition captures the uneasiness of the contemporary 18.07.2022
Bubblegum Club: Racism in Art is sometimes Okay? The artist challenging current understandings of Blackness, Mxolisi Vusi Beauchamp 2016
Borderline Art Space Paradyse of the Damned exhibition text by Judy Peter 2019
IOL Artists #Mabulu and #Beauchamp disrupt art norms with 'Freedom of eech' 18.10.2017
Widewalls Vusi Beauchamp Exhibition to Open at Kalashnikovv Gallery 05.10.2017
Latitudes I TRY NOT TO BOX MY IMAGINATION | Q&A WITH VUSI BEAUCHAMP 15.02.2022
Solo exhibitions
Paradyse of the Damned, Johannesburg Art Gallery, Johannesburg 2018. Whatiftheworld Gallery, Cape Town 2017. The Great Grotesque Woordfees, Stellenbosch 2016. Terrorist, Kalashnikovv Gallery 2016. Paradyse of the Damned, Pretoria Art Museum, Pretoria 2015. smokin cheese, Obert Contemporary, Johannesburg 2009.
Selected group exhibitions
Arising African Perspectives, LKB/G, Hamburg, Germany 2017. The Gallery at Glen Carlou Wine Estate, Cape Town 2016. Scramble for Africa, Kalashnikovv Berlin 2016. Protest, Hazard Gallery, Johanesburg 2015. Fetish, Art Ec 2015. Twenty Contemporary Art from South Africa, North America 2014 – 2015. Tshayile, Platform, Pretoria 2012. World Art Day, Pretoria Arts Association, Pretoria 2012. FADA Gallery, Johanesburg 2011. Fortitude, Platform, Pretoria 2010. Duiwel in my huis, Outlet Gallery, Pretoria 2007. Curated by Carinna Classens, Amsterdam 2007. Stones and glass houses, TUT, Pretoria 2006. Of want and desire, curated by Nadja Danke, Cape Town 2006. Kaffirs paradise: fear of young black men, Gordart, Johannesburg 2006. Absa Atelier finalist exhibition, Johannesburg 2005. Centurion art gallery, Pretoria 2004.