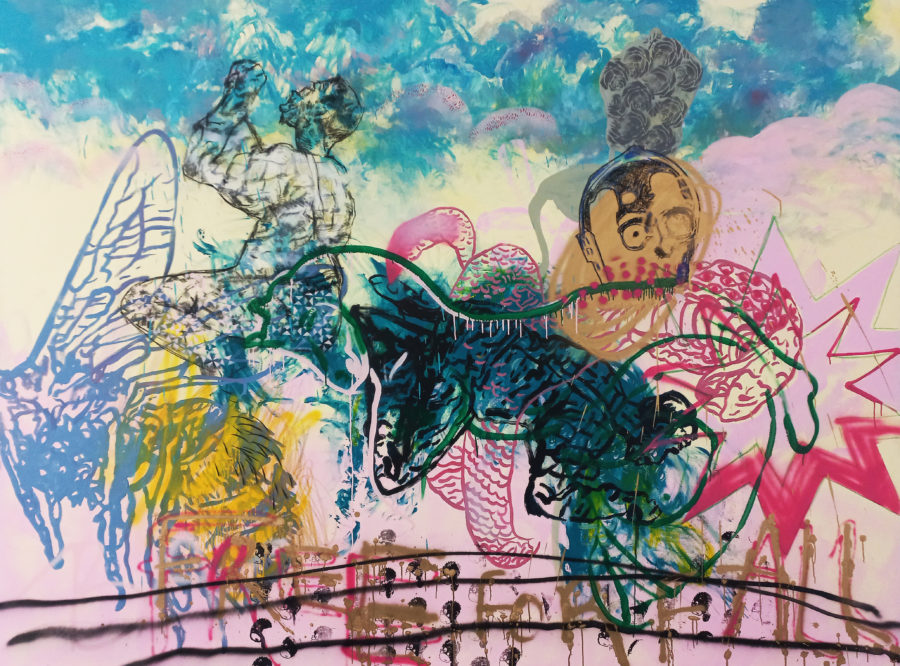 The title of his work – Trojan horse – is taken from the famous Trojan horse story where a wooden horse said to have been used by the Greeks, during the Trojan War, to enter the city of Troy and win the war. Vusi using this story from history and conveys it in the context of politics, and African politics.
In this painting, the outline of the horse becomes a creature that is full of different things, like the Trojan Horse. A beautiful object filled with enemies. Vusi has also included the symbol of a 'bee' to reference the BEE (Black Economic Empowerment) – a post-apartheid policy of the South African government which aims to facilitate broader participation in the economy by black people in order to redress inequalities created by apartheid. A potential way to bring financial liberation to the people, but Vusi has suggested that it became like a Trojan horse where it can be admired from outside, but inside is its full of dangerous elements.
Vusi also uses a repeated image of the black faces of the coon cartoon – a stereotypical cartoon that once upon a time was normal, and nothing was wrong with the use of these caricatures to define or to symbolize black people.
Artist:
---
Title:
Trojan Horse
---
More about:
---
Year:
---
Artwork Category::
---
Media & Techniques:
---
Edition Size:
Unique
---
Image Height:
264 cm
---
Image Width:
200 cm
---
Availability:
Available
---
Framing:
Unframed
---