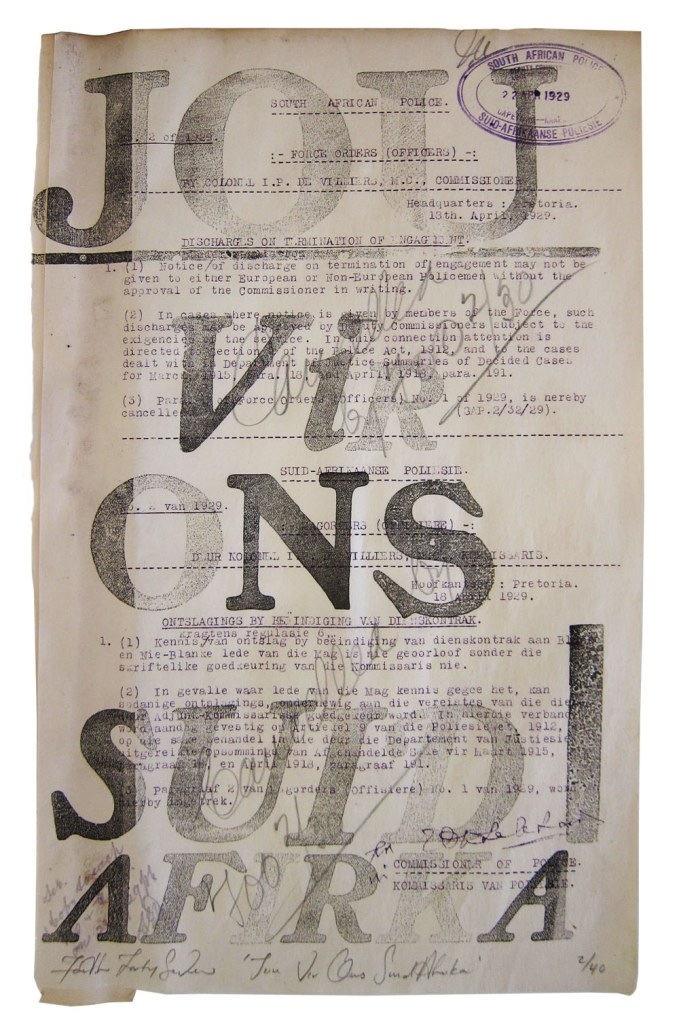 Collaboration History
In 2012, Faith47 collaborated with David Krut Projects Johannesburg on a large-scale installation-based exhibition titled Fragments of a Burnt History. The body of work presented in this exhibition, which included found objects and artwork created in the artist's studio, as well as work produced in collaboration with the David Krut Print Workshop, was drawn from the artist's experience of her own country, particularly the city of Johannesburg. Although the work is not a direct interpretation of the city, her experience is of Johannesburg as a representative African city, the streets full of the energy of transformation and endless possibility, but also the evidence of the harsh realities of day to day life.
Faith47 spent some time at the David Krut Workshop leading up to the show, making a body of prints using various techniques, including monotype, etching, letterpress and handpainting. Some of the images form the monotype series depicting jaded figures waiting – for taxis, for jobs, for better days – were also used in a poster campaign, for which Faith47 wheat-pasted large-scale reproductions of the images in strategic places all over Johannesburg as a way to promote Fragments of a Burnt History. Faith47's prints and unique works have also been included in various group exhibitions at David Krut Projects in Johannesburg and Cape Town.
Biography
Faith47 is an internationally acclaimed South African street artist who, over the last decade or so, has also developed and honed her studio practice, producing work based on her experience of the streets and the people she has encountered there. This work has been shown in gallery exhibitions in her home country of South Africa, as well as in Europe, the United States and Australia. She is currently living and working in Los Angeles, United States.
Faith47's work investigates how humans interact with their environment, and what scratches and memories they leave behind. Her work – both street and studio – is politically and environmentally engaged and socially aware, asking tough questions through ethereal and delicately rendered images. The scale of her work is often overwhelming, pointing to the existential overtones that she aims to achieve.