Gallery collaborations, artist residencies and curated art exhibitions are all ways that David Krut Projects are involved with the youth in arts. Emerging young artists to keep your eye on are FORMS Gallery Collab artists Khotso Motsoeneng, Adrian Fortuin and Matty Monethi. A few young artists we are working with include Lebogang Mabusela, Heidi Fourie, Lebo Thoka and Adele van Heerden.
FORMS x David Krut Projects : Khotso Motsoeneng, Adrian Fortuin and Matty Monethi.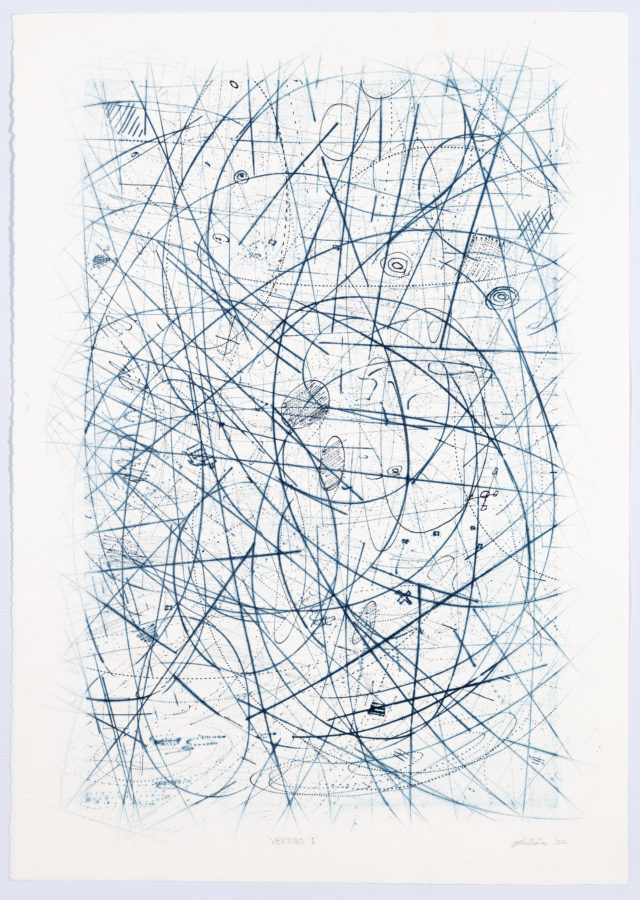 Lebogang Mabusela (Monotypebabe)
Lebogang Mogul Mabusela (b.1996) is a multidisciplinary artist and a self-proclaimed monotypebabe and zinequeen based in Johannesburg. In 2019 she graduated from the Wits School of Arts where she was also awarded the Standard Bank Fine Arts Prize. Mabusela has participated in a number of group exhibitions and in 2020 she was the top 50 Emerging Creatives at the Design Indaba. More recently she was a runner up recipient of the Young Womxn Studio Bursary sponsored by Sam Nhlengethwa and the Bag Factory Artists' Studios. She continued her Johannesburg Word Series and the Weh Beyontse Series in collaboration with David Krut Projects in 2021. View her works available to purchase.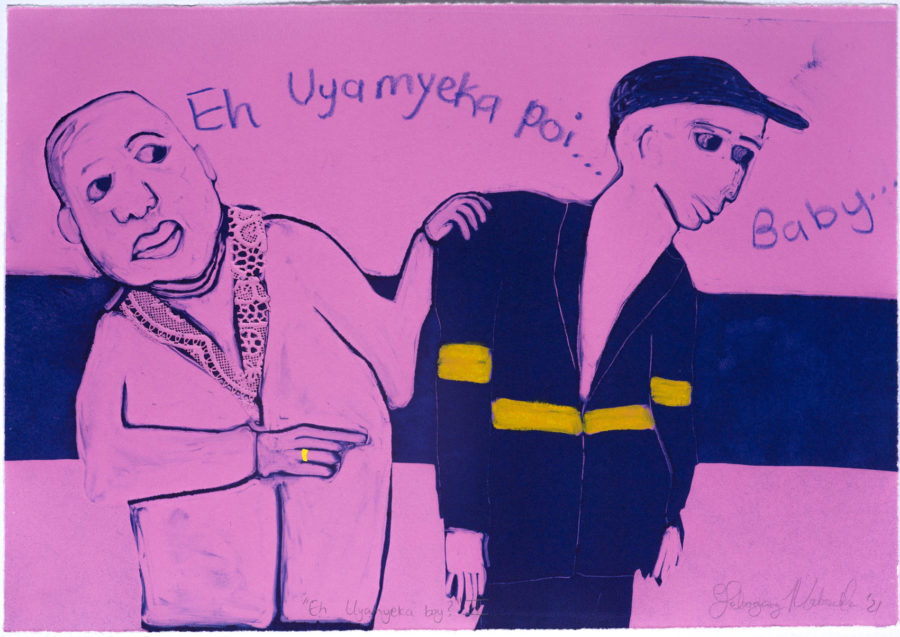 Heidi Fourie
Heidi Fourie's preferred medium is painting and she has mastered the painterly print technique in our workshop and produced a wide range of unique monotypes. Her subject matter is simple – everyday scenes of figures and familiar objects such as the grasslands of Gauteng which was featured in her 'Grass you can swim in' exhibition. Add Heidi's works to your collection now.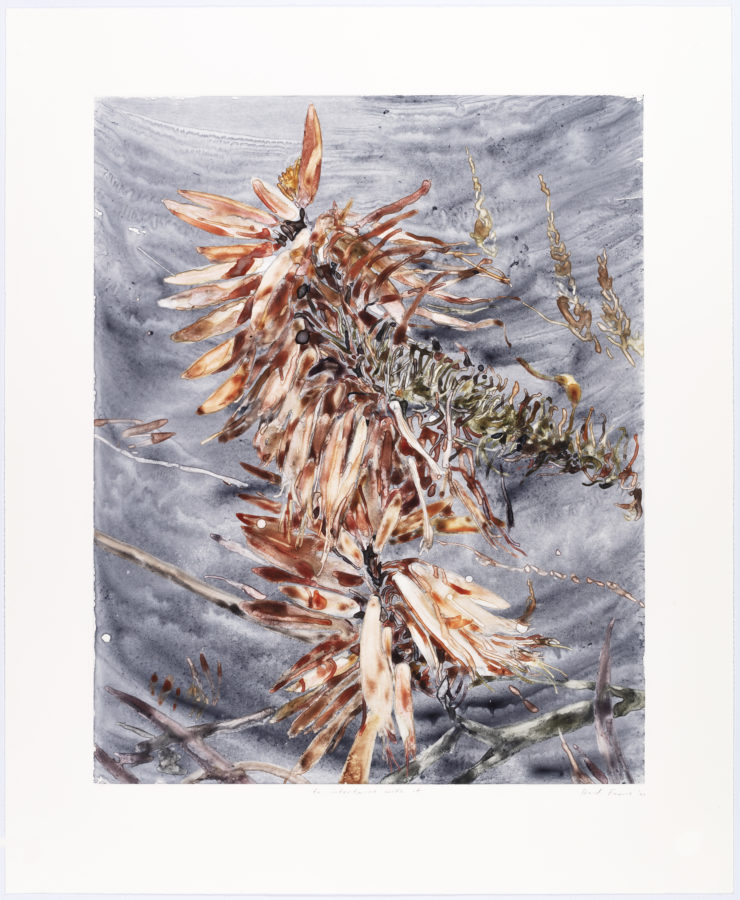 Adele van Heerden pays close attention to complexity and as an artist and curator living in a world where the binary has been replaced by the spectrum she revels in the beauties of the multifarious. Adele creates intricate pieces in ink and gouache on paper which juxtapose the natural world with human history. In 2022 Adele had a solo-exhibition 'Field Trip' with David Krut Projects where she showcased etchings, monotypes and editions that she produced in our workshop. Add Adele's works to your collection now.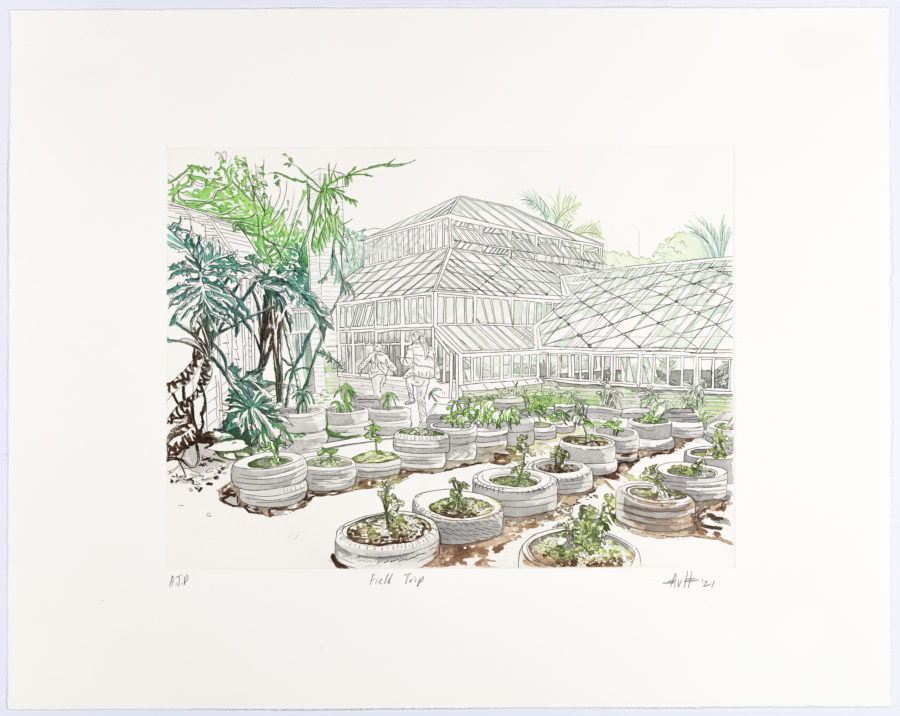 Lebo Thoka is a photography graduate from the Open Window Institute in Pretoria and works with themes of feminism, black womanhood, and the lived realities and oppressive systems faced across the African diaspora. Thoka has collaborated with David Krut Projects by extending on her series 'It is well: An Ode to Karabo', Seeds of the Dirt' featuring two new images 'Black of my Flesh' 2020 & 'Initiation of Mary' 2020 in her solo-exhibition 'Eden'. In 2022 Thoka was the winner of the 'Womxn to watch' award from the META Foundation. Add Lebo's works to your collection now.