Adrian Fortuin is a Johannesburg-based artist who graduated in 2020 with the Wits Young Artist Award, after receiving the Martienssen Prize in 2019. Since graduating, his practice has shifted from a performative and lens-based approach to a transmedia engagement with painting and drawing. What continues to inform his work is a research-driven, conceptual approach that considers process, along with a myriad of historical, literary and art history sources and socio-political themes.
Adrian is one of three artists we have collaborated with this year in association with FORMS Gallery, founded by Anthea Buys. The results of his short residency in the David Krut Workshop can be viewed in the 'Parallel Process' exhibition at our Johannesburg Gallery (142 Jan Smuts Avenue, Parkwood) until 25 June 2022, along with work by FORMS artists Matty Monethi and Khotso Motsoeneng. During his short time in the workshop Adrian produced a large body of work, each piece rich with symbolism.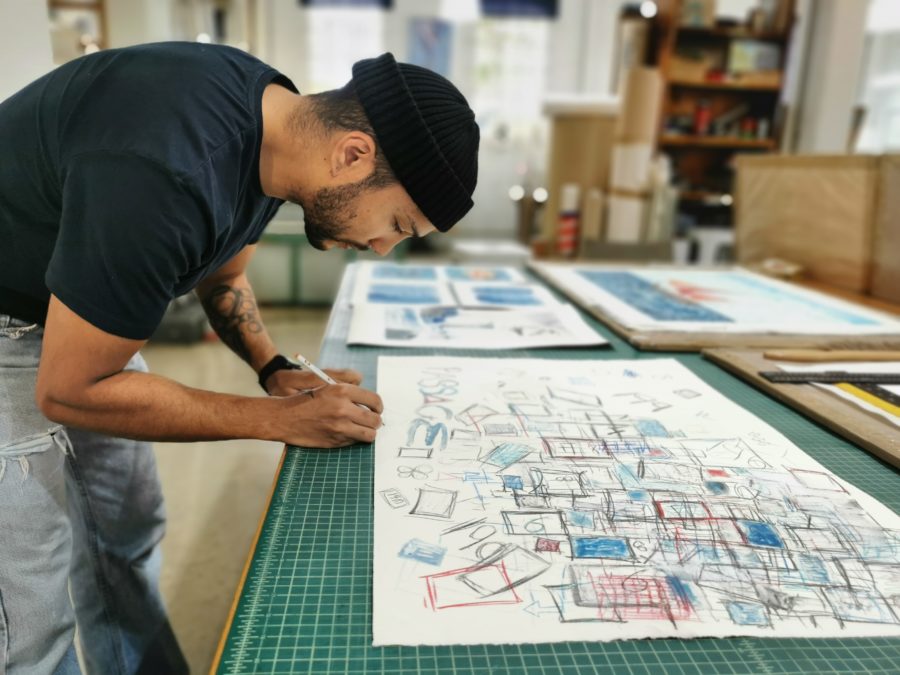 The themes that interest Adrian in his artistic practice include identity, intersubjectivity (the intersection between people's cognitive perspectives – the process and product of sharing experiences, knowledge, understandings, and expectations with others), intuition, representation (and the limits thereof) and historical legacies connected to family, community, and society.
Fortuin is influenced by the work of South African artist Tracey Rose, who was his advisor at the Wits School of Arts, Moshekwa Langa, and Japanese photographer Daisuke Yokota, as well as expressionist tendencies in African modernisms and postmodernisms. His paintings are characterised by an obsessive process of revision, in which paintings are sedimented under newer paintings, so that the painted surface becomes an archive of thought and gesture, and a metaphor for the endurance of personal historical traces in the present. His work is strongly informed by the emancipatory potential of abstraction in varying degrees.
Each unique work on paper that Adrian made in the workshop was prefaced by a preparatory sketch, mapping out the composition, thoughts and influences on the image, and identifying every colour to be used. The titles were also mostly set out in this stage. Despite this apparent rigidity to a pre-formed plan, Adrian worked loosely and was not hesitant to dive right in and see where the process took him.
Printer on the project Sbongiseni Khulu observed that Adrian "made a point of utilising as many printmaking disciplines as possible, as though subconsciously driven by the motifs imbued in his works on a post-colonial South Africa to a 'born free' … a desegregation of print with each individual layer." This 'desegregation' refers to Adrian layering different printing techniques on top of one another – drypoint, monotype, embossing and chine colle, or using both oil- and water-based pigments on one sheet. For Khulu, the most defining aspect of Adrian's practice is the influence of history, which can be observed in both the imagery he uses and his art-making process.
Below we unpack the ideas behind some of his works in the Parallel Process exhibition.