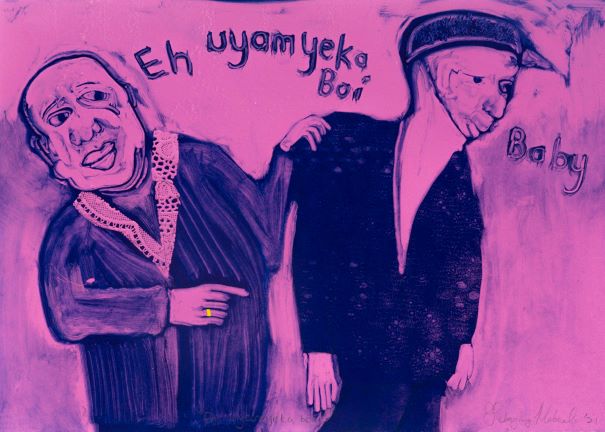 Collaboration History
Lebogang Mogul Mabusela began collaborating with the David Krut Workshop in 2021 on oil-based monotypes.
Biography
Lebogang Mogul Mabusela (b.1996) is a multidisciplinary artist and a self-proclaimed monotypebabe and zinequeen based in Johannesburg. In 2019 she graduated with a BA in Fine Arts from the Wits School of Arts where she was also awarded the Standard Bank Fine Arts Prize. Mabusela has participated in a number of group exhibitions at the Wits Art Museum, The Project Space, Turbine Art Fair, Latitudes Art Fair, and the Design Indaba in Cape Town as part of top the 50 Emerging Creatives class of 2020. More recently she was a runner up recipient of the Young Womxn Studio Bursary sponsored by Sam Nhlengethwa and the Bag Factory Artists' Studios. She is currently running a printmaking curatorial scheme called The Monotypebabe Curatorial. Mabusela prides herself in being the founder of Makoti Technologies™ (est. 2017), a Bridal gifts shop offering a dynamic range of gunz, tools and technologies that enhance women's desires and roast patriarchy, keeps them safe while maintaining their attitudes.
Mabusela critically analyses and focuses on issues such as the patriarchy, racism and heteronormativity, exploring these themes through a variety of formats and methodologies. Mabusela uses humour and satire in her artworks to address serious issues such as rape, harassment, shaming, etc. Her monotypes depict scenarios wherein incidents of the issues she addresses arise, but from a somewhat humorous perspective.